About the DJI Mavic 2 Pro Quadcopter
Take flight with an iconic Hasselblad camera on board
The DJI Mavic 2 Pro takes aerial photography to a whole new level, with a 20-megapixel
Hasselblad
camera mounted on the fuselage. The famous Swedish company created a state-of-the-art, drone-friendly camera with adjustable aperture, 10-bit HDR video, and D-Log M color profile, for incredibly sharp and accurate images.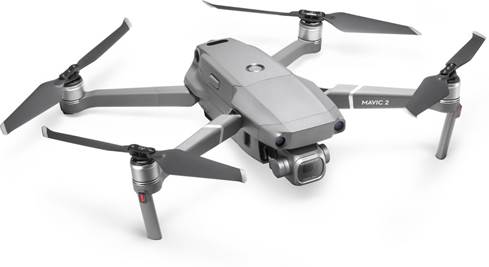 The DJI Mavic 2 Pro with Hasselblad camera is a state-of-the-art aerial photography quadcopter.
Take flight with an iconic Hasselblad camera on board
The DJI Mavic 2 Pro takes aerial photography to a whole new level, with a 20-megapixel Hasselblad camera mounted on the fuselage. The famous Swedish company created a state-of-the-art, drone-friendly camera with adjustable aperture, 10-bit HDR video, and D-Log M color profile, for incredibly sharp and accurate images.
Fly fast and far
The Mavic series has always been popular with our customers, and the Mavic 2 Pro builds on that legacy. It can fly for up to 31 minutes at a time, with a top speed of 44.7 miles per hour. Omnidirectional obstacle sensing helps you navigate safely.
New low-noise flight technology makes for quieter flights. And the whole thing folds up so you can transport it to and from your launch site with ease.
Special flight modes
Pre-programmed flight modes help you create amazing images with minimal effort. New Hyperlapse mode creates time-lapse photos and processes them automatically, so you don't have to wait for post-production.
You can send the drone on a pre-set flight path, or create and store your own in the Task Library. Either way, you can repeat the same route at any time, and see what's changed. If you want to get a lot of scenery into one image, use one of the four panorama modes: Sphere, Horizontal, Vertical, or 180°.
Monitor your flight with OcuSync
The 'copter comes with a handheld controller, with a dock for your smartphone so you can use it as a screen. The drone uses the OcuSync 2.0 digital video transmission system to send 1080p video to your controller from up to 4.9 miles away. It works over dual-band Wi-Fi with automatic switching to seek out the strongest frequency.
READ LESS
Product highlights:
quadcopter with Hasselblad L1D-20c camera, controller, rechargeable intelligent flight battery, and charger
foldable, lightweight design makes it easy to carry to your launch destination
low-noise flight technology for a quieter flight
flight time: up to 31 minutes
maximum speed: 44.7 mph
dock your smartphone with the included controller
GPS/GLONASS positioning allows super-accurate navigation
omnidirectional obstacle sensing helps you fly safely
records to optional microSD memory card (64 GB max., Speed Class 10 or UHS-1 rating required)
9-1/2"W x 3-5/16"H x 12-11/16"D (unfolded)
weight: 1.62 lbs.
Hasselblad L1D-20c Camera:
20-megapixel 1" CMOS sensor
adjustable aperture: f/2.8-f/11
4K 10-bit HDR video
Hasselblad Natural Color Solution (HNCS) technology provides stunning color detail
D Log-M color profile
Special Features:
HyperLight improves low-light photography
Hyperlapse mode creates time-lapse photos and processes them automatically
multiple flight modes including POI 2.0, Waypoint 2.0, Asteroid, Boomerang, and more
ActiveTrack 2.0 accurately tracks a moving subject at high speed
4 panoramic photo modes: Sphere, Horizontal, Vertical, and 180°
tap where you want to go on your smartphone's screen and the Mavic Pro will smoothly fly there in TapFly mode
OcuSync 2.0 digital video transmission system:

sends 1080p live video to the controller from up to 4.9 miles away
dual-band Wi-Fi® with auto-switching
40 Mbps download speed

share footage with the free, downloadable DJIGO app for iOS® and Android™ devices
flight telemetry data is stored internally and can be downloaded via micro USB port
Included Accessories and Warranty:
pocket-sized remote controller (2.4 GHz wireless band)
three pairs of propellers
one micro USB cable
one Apple® Lightning®-to-micro USB cable
one Type-C-to-micro USB cable
one pair of replacement control sticks
rechargeable intelligent flight battery
battery charger
warranty: 1 year
Note: The FAA requires users to register their drones. State and/or local laws may also restrict the use of this drone in certain areas.
MFR # CP.MA.00000019.01
KEEP READING
READ LESS
What's in the box:
DJI Mavic 2 Pro Quadcopter owner's manual
Aerial drone w/ gimbal camera
Remote controller
Intelligent Flight Battery (pre-installed)
AC power adapter
39" Power cable
6 Propellers
41" USB-C to USB-A cable
USB-C to microUSB adapter
Gimbal protector (pre-installed)
4 Joystick knobs (2 pre-installed)
3.75" Ligtning adapter cable
3.75" microUSB adapter cable
3.75" USB-C adapter cable
Quick Start Guide
Intelligent Flight Battery Safety Guidelines
"In The Box" booklet
"DJI Support" card
DJI Mavic 2 Pro Quadcopter reviews
Average review:
Customer photos
More details on the DJI Mavic 2 Pro Quadcopter
Researched by Crutchfield's

Stacey B.
Product Research
Aerial Drone
4K Gimbal Camera
Remote Controller & Apps
Intelligent Flight Battery
Aerial Drone
Optimally Designed: After countless hours of research and testing, the Mavic 2 Pro has been optimally redesigned to increase propulsion, lower power consumption, and reduce noise. These subtle yet powerful improvements, along with an improved FlightAutonomy system, offer a smoother, quieter flight for greater discretion and safety. The Mavic 2 Pro is an improvement in almost all aspects over DJI's previous Mavic series drone - including camera performance, video transmission, fight time, flight speed, low-noise, omnidirectional obstacle sensing, intelligent functions, and its unique Hyperlapse feature.
Aerodynamic Performance. The Mavic 2 Pro's rebuilt aircraft body presents better aerodynamic performance. The body drag of the Mavic 2 Pro is 19% less than that of the previous Mavic series drone when flying at full speed. It can reach a maximum speed of 44.7 mph (72kph). The Mavic 2 Pro can resist up to level 5 winds on the Beaufort scale.
Max Ascent Speed: 5m/s (Sport mode), 4m/s (Positioning mode)
Max Descent Speed: 3m/s (Sport mode), 3m/s (Positioning mode)
Max Speed: 44.7 mph in Sport mode without wind
Max Height: 19,685 feet
Max Wind Speed Resistance: 18mph to 23.6mph
Low-Noise Propellers: Low-noise propellers make your flight incredibly quiet, eliminating any worries of disturbing your surroundings. The propellers adopt a brand new aerodynamic design, which results in quieter flight, increased efficiency, and extended flight time. They also offer a quick-release design.
Omnidirectional Obstacle Sensing: FlightAutonomy has been upgraded to include Omnidirectional Obstacle Sensing. The Mavic 2 Pro is equipped with Forward, Backward, Downward, and Lateral Visions System, plus Upward and Downward Infrared Sensing Systems, providing omnidirectional obstacle sensing (if lighting conditions are adequate). The main components of the Forward, Backward, and Downward Vision Systems are six cameras located on the nose, rear side, and the underside of the aircraft. Lateral Visions Systems are two cameras located on either side of the aircraft. The main components of the Upward and Downward Infrared Sensing Systems are two 3D infrared modules located on the upper and underside of the aircraft.
Forward & Backward Visions Systems: Using the Forward and Backward Visions Systems, the aircraft can actively brake when detecting obstacles in front. The Forward and Backward Visions Systems work best with adequate lighting and clear marked textured obstacles. To allow for sufficient time to break, the aircraft should not fly more than 31mps when fly forward or more than 27mps when flying backward.
Lateral Visions Systems: The Lateral Vision Systems require better lighting and more textured or clearly marked obstacles, and cannot sense dynamic objects such as moving people, vehicles, tree braches, or blinking lights. The Lateral Vision Systems are only available in ActiveTrack 2.0 and Tripod Mode, as well as QuickShots mode.
Downward Visions & Infrared Sensing Systems: The Downward Vision System and Infrared Sensing System helps the aircraft maintain its current position and hover in place more precisely and fly indoors or in other environments where GPS signal is unavailable. In addition, the Auxiliary Bottom Light located on the underside of the aircraft improves visibility for the Downward Vision Systems in weak light conditions. The Downward Vision System and Infrared Sensing System activate automatically when the aircraft is turned done.
Note: FlightAutonomy only provides a certain amount of protection in specific environments and does not compensate for user judgment during flight. The Omnidirectional Obstacle Sensing technology does not fully cover the circumference of a 360° arc. DJI warranty does not cover any loss caused by crashing. Please be aware of your surroundings and app notifications when operating the Mavic 2 Pro to ensure safety.
Advanced Pilot Assistance Systems (APAS): When the Advanced Pilot Assistance Systems (APAS) feature is enabled, the aircraft continues to response to user commands and plans its path according to both control stick inputs and the flight environment. APAS makes it easier to avoid obstacles, obtain smoother footage, and give a better flying experience. The Advanced Pilot Assistance Systems (APAS) feature is only available in P-Mode (Position).
OcuSync 2.0 Digital Video Transmission System: OcuSync 2.0 video transmission performance is greatly enhanced with improvements made to communication distance, video quality and anti-interference, offering you unprecedented control. OcuSync 2.0 supports both 2.4 GHz and 5.8 GHz frequency bands, featuring stronger interference resistance and auto-switching capabilities to deliver 1080p video transmission feeds with low-latency (120-130ms) at up to 5 miles (8km). The all-new OcuSync 2.0 allows you to fly further without constraints.
Dual-Band Auto-Switching: The Mavic 2 relies on 2.4GHZ trans mission, a signal frequency commonly interrupted by multiple wireless devices. However, by support auto-switching between both 2.4 and 5.8GHz bands, the Mavic 2 can always transmit on the clearest signal which is crucial for high-interference environments.
Fast Download & Low-Latency: OcuSync 2.0 offers a download speed of up to 40Mbps and latency as low as 120ms, delivering a smoother video feed and overall better control experience.
Note: OcuSync specifications based on an environment that is unobstructed, free of interference and is FCC compliant.
Flight Modes: The Mavic 2 Pro has three flights modes (Positioning/Sport/Tripod), plus a fourth flight mode (Attitude) that the aircraft automatically switches to in certain circumstances.
P-Mode (Positioning): The Positioning mode works best when the GPS signal is strong. The aircraft utilizes GPS and the Vision Systems to locate itself, stabilize, and navigate between obstacles. Intelligent Flight Modes are enabled in the mode. The maximum forward flight speed is 31mph and the maximum backward flight speed is 27mph when in P-mode.
A-Mode (Attitude): The aircraft will automatically changes to Attitude mode when the Vision Systems are unavailable or disabled and when the GPS signal is weak or the compass experiences interference. When the Vision Systems are unavailable, the aircraft cannot position itself or brake automatically, which increases the risk of potential flight hazards. In Attitude mode, the aircraft may be more easily affected by its surrounds. Environmental factors such as wind can result in horizontal shifting, which may present hazards, especially when flying in confined spaces.
S-Mode (Sport): In Sport mode, the aircraft responses are optimized for agility and speed making it more responsive to joystick movements. The maximum flight speed is 44.7mph. The Vision Systems are disabled and the aircraft only uses GPS for positioning when in Sport mode. Intelligent Flight Modes are not available and the aircraft cannot sense or avoid obstacles when in Sport mode.
T-Mode (Tripod): Tripod mode makes the aircraft more stable during shooting with limited flight speed. The maximum flight speed, maximum ascend speed and maximum descend speed are 1 m/s. Intelligent Flight Modes are not available in Tripod mode.
Return To Home (RTH) w/ Precision Landing: The Return to Home (RTH) function brings the aircraft back to the last recorded home point. Its Forward Vision System allows the aircraft to create a real-time map of its flight route as it flies, so it can retrace its flight pattern to return to the home point. Once the aircraft has returned to its home point, it will scan the terrain below and attempt to land automatically. There are three types of Return to Home (RTH) - Smart RTH, Low Battery RTH, and Failsafe RTH.
Smart RTH: If the GPS signal is sufficiently strong, Smart RTH can be used to bring the aircraft back to the home point by manually activating this feature from the remote controller or DJI GO 4 app on your Apple iOS or Android OS device.
Low Battery RTH: Low Battery RTH is trigger when the Intelligent Flight Battery is depleted to the point that the safe return of the aircraft may be affected. The DJI 4 GO app will display a warning when the battery level is low. The aircraft will then automatically return to the home.
Failsafe RTH: Failsafe RTH automatically activates after the remote control signal is lost for more than two seconds. When Failsafe RTH is activated, the aircraft will start to retrace its original flight route to the recorded home point.
Flight Recorder: Flight data is automatically recorded to the internal storage of the aerial drone. This includes flight telemetry, aircraft status information, and other parameters. You can connect the aircraft to a computer via the USB port and export this data via the DJI Assistant 2 software program for Windows and Mac.
Foldable & Portable: The DJI Mavic 2 Pro features a foldable & portable design. The optional DJI Mavic 2 Protector Case (sold separately) provides both protection and excellent storage ability when the Mavic 2 Pro is folded. The interior of the case is carefully-designed to fit DJI's Mavic 2 Pro aerial drone with EVA foam inserts that provide an exact fit and keep it safe from impact. Ample interior space accommodates the aircraft and remote controller, as well as three spare batteries, power adapter, car charger, battery charging hub, power cable, battery to power bank adapter, ND Filters Set, and a pair of spare propellers.
Note: Folded measurements - 3.625" (w) x 3.3125" (h) x 8.4375 (d)
Optional "Fly More Kit: The optional Mavic 2 Fly More Kit (sold separately) includes two Intelligent Flight Batteries, a Mavic 2 Car Charger, a Battery Charging Hub, a Battery to Power Bank Adapter, Low-Noise Propellers, and a Carry Bag.
FAA Rules & Regulations: Please familiarize yourself with the FAA's rules & regulations for unmanned aircraft systems before flying your drone. Click here for more details.
4K Gimbal Camera
Hasselbald Camera: The Mavic 2 Pro comes equipped with the all-new Hasselblad L1D-20c camera. DJI and Hasselblad have spent the last two years in collaboration making the L1D-20c camera, co-developing attributes such as lens definition, image processing engine, and image effect optimization, to make a Hasselblad quality camera small enough to fit on the new Mavic 2 Pro. The L1D-20c also possesses Hasselblad's unique Hasselblad Natural Colour Solution (HNCS) technology, helping your to capture gorgeous 20-megapixel aerial shots in stunning color detail.
1" CMOS Image Sensor: The brand new 1" CMOS sensor has an active sensing area 4x more effective than the original Mavic Pro. The large sensor also means better performance in low-light environments with a more extensive ISO range, and max ISO lifted from 3200 to 12800.
Adjustable Aperture: The f/2.8-f/11 adjustable aperture delivers outstanding image quality both in high and low-light environments. When shooting in low light, set the aperture to f/2.8 to allow more light in and to capture bright and clear photos. When shooting in well-lit environments, set the aperture to f/11 to lower the shutter speed and make your videos smoother.
10-bit Dlog-M Color Profile: The Mavic 2 Pro supports a 10-bit Dlog-M color profile that yields higher dynamic range for more flexibility in the grading room. The system records over 1 billion colors (compared to the 16 million colors from traditional 8-bit color coding technologies) and retains more in-depth details in both highlights and shadows. Now you can capture the subtlest gradations at sunset or sunrise, leaving greater space for post-production.
Note: For the Mavic 2 Pro, Full FOV down samples from the 5.5k sensor to 4K resolution while HQ crops in the center for finer image quality but less FOV. Full FOV is 75° and HQ view is 55°. You can select between them according to your actual shooting demands.
3-Axis Gimbal: To provide true 4K aerial video and a smooth live feed, the Mavic 2 Pro employs DJI's latest 3-axis gimbal technology, ensuring smooth, stable footage in just about any situation. With brushless motors on all three axes (tilt/roll/pan), the gimbal can control the camera with precision, adjusting it to eliminate shake caused by movement from the Mavic 2 Pro drone. Two gimbal operation modes are available - Follow Mode and FPV Mode. In Follow Mode, the angle between the gimbal's orientation and aircraft's nose remains constant at all time. In FPV Mode, the gimbal synchronizes with the movement of the aircraft to provide a first-person perspective flying experience.
Mechanical Range: -135° to +45° (Tilt), -100 to +100° (Pan)
Controllable Range: -90° to +30° (Tilt), -75° to +75° (Pan)
Max Control Speed: 120°/s
Angular Vibration Range: +/- 0.005°
4K/HDR Video: The Mavic 2 Pro is capable of recording 3840×2160 10-bit 4K Dlog-M and 4K HDR 10-bit videos @ 100 Mbps. With 4K 10-bit HDR support, the Mavic 2 Pro can be plugged into a 4K TV with HLG and will immediately play back footage with the right color tones. The brighter highlights and increased contrast are what make HDR video so appealing. Video is recorded in either MP4 or MOV (MPEG-4 AVC/H.264 or MPEG-4 AVC/H.265). Up to eight videos in H.265/HEVC codec maintain 50% more information than videos in H.264/AVC, creating high-quality videos with better-preserved details. You can choose between 3 video resolution settings -
4K: 3840x2160 @ 24/25/30p
2.7K: 2688x1512 @ 24/25/30/48/50/60p
FHD: 1920x1080 @ 24/25/30/48/50/60/120p
20MP Photos: The DJI Mavic 2 Pro's 3-axis gimbal 4K camera will also capture 20 megapixel (5472x3648) still images in JPEG or DNG RAW format. The camera's shutter speed can be set to 8s to 1/8000s, while the ISO range can be set to 100-3200 (auto) or 100-12800 (manual). Still photography modes include Single Shot, Burst Shooting (3/5/7 frames), Auto Exposure Bracketing (AEB), Interval (2/3/5/7/10/15/20/30/60s), and Panoramas (Sphere/180°/Horizontal/Vertical).
Enhanced HDR: The Mavic 2 also supports enhanced HDR photos, an improved technique that blends a sequence of photos for ghost-free high dynamic range, offering increased image clarity while avoiding unwanted artificial effects.
HyperLight: Brighten up your photos with HyperLight, a low-light setting designed to enhance your images while reducing noise significantly.
MicroSD Card Slot: The Mavic 2 Pro features a microSD card slot with support for microSD, microSDHC, and microSDXC memory cards with a capacity up to 128GB and speed up to UHS-1 Grade 3. All video and photos are recorded on a microSD, microSDHC, or microSDXC card (not included). The Mavic 2 Pro also feature an integrated 8GB internal memory for storing videos and photos.
Intelligent Flight Modes: With its powerful cameras and easy-to-use Intelligent Flight Modes, the Mavic 2 Pro makes creative aerial photography more accessible to users of all levels.
TapFly: TapFly offers three different modes - Forward, Backward, and Free. In Forward mode, the aircraft flies towards the target with the Forward Vision System sensing obstacles. In Backward mode, the aircraft flies in the opposite direction of the target with the Backward Vision System sensing obstacles. In Free mode, the aircraft flies towards the target and the remote controller can be used to maneuver the orientation of the aircraft freely (the aircraft cannot avoid obstacles in this mode).
ActiveTrack 2.0: With improvements to both hardware and software, ActiveTrack 2.0 takes your tracking experience to a whole new level. Previously, ActiveTrack mainly relied on 2D images from the main camera to track a subject. Now with ActiveTrack2.0, the Mavic 2 Pro maps a 3D view of the surrounding environment through the main camera and forward dual vision sensors for greater recognition and accuracy. Trajectory prediction algorithms help to maintain tracking when your subject is blocked by an obstruction temporarily. In open and unobstructed environments, the Mavic 2 Pro can track fast moving subjects like cars and boats at speeds of up to 45mp. When tracking a target, the Mavic 2 Pro can plan a flight path on its 3D map. It will sense, recognize, and avoid obstacles in front of and behind the aircraft - all while shooting your target without interruption. You can choose between three ActiveTrack 2.0 modes - Trace (tracks subject at a constant distance), Parallel (tracks subject as a constant angle and distance), and Spotlight (does not track subject automatically, but keeps the camera pointed in the direction of the subject).
POI & Waypoints 2.0: Thanks to vision and GPS distance measurement technologies, flying to a center point before circling is a thing of the past. Point of Interest (POI) 2.0 increases workflow efficiency like never before, empowering you to circle and shoot subjects with ease. With Waypoint 2.0, the aircraft no longer needs to fly to an exact shooting spot to mark waypoints. By simply tapping the desired waypoints and point of interest in the DJI GO 4 app, you can plan a flight path quickly and save it for your next flight.
QuickShots: QuickShots mode records a video according to the select shooting mode and then automatically generate a 10-second video. The video can then be viewed, edited, or shared to social media. QuickShots shooting modes include Dronie, Circle, Helix, Rocket, Boomerang, and Asteroid.

Dronie: flies backward and ascends with the camera locked on the subject during recording
Circle: circles around the subject while recording
Helix: ascends and spirals around the subject during recording
Boomerang: flies around the subject in an oval path during recording, ascending as it flies away from it starting point and descending as it flies back
Asteroid: flies backward and upward, takes several photos, and then flies back to the starting point

Hyperlapse: With Hyperlapse, the aircraft shoots stable aerial shots and processes them automatically, enabling you to create professional-looking timelapses with a simple tap of a button, which you can share to social media immediately. JPEG and RAW photos can be simultaneously saved on a microSD card, leaving more room for post editing. There are four Hyperlapse shooting modes to choose from - Free, Circle, Course Lock, and Waypoints.

Free: automatically takes photos and generates a timelapse video, while you manually control its flight pattern.
Circle: automatically takes photos while flying around the selected subject to generate a timelapse video.
Course Lock: automatically takes photos and generates a timelapse video in a fixed orientation; you can also select a fixed object for the auto generated timelapse video.
Waypoints: automatically takes photos on a flight path of two to five waypoints and then generates a timelapse video.

Cinematic Mode: In Cinematic mode, the aircraft's braking distance is extended and it rotation speed is reduced. The aircraft slows down gently until is tops, keeping video footage smooth and stable even if control inputs are choppy.
Optional ND Filters Set: The optional ND Filters Set (sold separately) includes ND4, ND8, ND16 and ND32 filters. ND filter reduces the amount of light coming into the sensor, giving you the freedom to create your own work by allowing more control of the camera's aperture, exposure time and sensor sensitivity settings.
The ND4 filter allows 1/4 of incoming light through, equal to a 2-stop filter.
The ND8 filter allows 1/8 of incoming light through, equal to a 3-stop filter.
The ND16 filter allows 1/16 of incoming light through, equal to a 4-stop filter.
The ND32 filter allows 1/32 of incoming light through, equal to a 5-stop filter.
Optional Gimbal Protector: This optional gimbal protector (sold separately) protects the Mavic 2 Pro's gimbal and camera from collision, dust and water during transportation and while in flight.
Remote Controller & Apps
Remote Controller: The included remote controller is a multi-function wireless communication device that integrates the video downlink system (requires DJI GO 4 App for Apple iOS or Android) and aircraft remote control system. The video downlink and aircraft remote control system operates at 2.4GHz and 5GHz (with auto-switching) using OcuSync transmission technology for a wireless range up to 5 miles (8km). In addition to flight controls, the remote controller features a number of camera control functions. The remote is equipped with joystick and push-button control, as well as a LCD screen for real-time flight data. The included remote controller offers up to 2 hours and 15 minutes of battery life on a full charge. It features an ergonomic and foldable design with detachable sticks, making it convenient to carry and store.
Joystick Control: The slightest movement of your fingers on the controller's joysticks is translated almost immediately into movement in the air, so you always feel in complete control.
LCD Screen: The LCD screen displays various system statuses including flight telemetry and battery level in real-time (the LCD screen does not offer live view).
Customizable Buttons: The push-buttons of the controller are customizable.
Note: The remote controller and aircraft are already linked out of the box.
DJI GO 4 App: The DJI GO 4 app (for Apple iOS 10.0+) and Android OS 5.0+) lets you control flight, gimbal, and camera functions from your compatible Apple iOS or Android OS device.
Flight Controls: Control the flight pattern of the Mavic 2 Pro from your compatible mobile device and the DJI GO 4 app, while viewing a live video feed (up to 1080p) and flight telemetry data. Virtual joysticks on your compatible mobile device's touchscreen let you control the direction of the aircraft. A brand new Flight Record feature automatically synchronizes flight data, keeping it readily accessible for you to review at any time.
Camera Functions: The DJI Go 4 app gives you complete control of your camera and a live HD video feed right on your mobile device's touchscreen. You'll be able to adjust camera settings and use this real-time view to line up the perfect shot. You can snap photos and record vides with just a tap on your Apple iOS or Android device's touchscreen.
Intelligent Flight Modes: Create professional aerial videos and photos effortlessly with advanced Intelligent Flight Modes that can be accessed through the DJI GO 4 App. Capture shots that would once have required practice and training with just a few taps of your finger.
Edit & Share: Use music and video templates to create productions ready for sharing in minutes then share them with a tap on the DJI GO 4 app. For even more customization, import your own music and clips, add filters, and tweak your sound mix. How your videos look is up to your imagination.
DJI Academy & SkyPixel: Use DJI Academy to be a better pilot with a built-in flight simulator, video tutorials, tutorials and user manuals, giving you all the knowledge you need to fly. You can also take part in the world's largest aerial imaging community at SkyPixel. Learn tips and tricks from power users, find people to fly with and give your productions a global audience.
Mobile Cradle: The included remote controller features a mobile device cradle which allows you to use the RF remote controller and the DJI Go 4 app on your smartphone in conjunction with one another. Use the RF remote for longer range control of the Mavic 2 Pro and use the DJI GO 4 app on your compatible Apple iOS or Android device as a live view screen. This type of configuration also requires your smartphone to be connected to the remote controller via USB (cables included).
Note: Apple iPhones and Android smartphones that are 0.25-3.125" thick and no more than 6.3125" long will fit in the remote controller clamps comfortably. For tablets beyond this measurement range, please purchase the DJI Mavic 2 Tablet Holder (sold separately from DJI).
Optional DJI Goggles: The optional DJI Goggles Racing Edition (sold separately) is equipped with high-performance displays and an ultra-low latency video downlink a real-time First Person View (FPV) aerial experience. Using DJI's OcuSync wireless transmission system, DJI Goggles RE wirelessly link with DJI's Mavic 2 Pro aerial drone for a wireless transmission range of up to 4.3miles/7km with latency as low as 50ms. Four antennas built into the Goggles RE provide signal detection in all directions, staying connected to the drone even when it's behind you. The DJ Goggles RE support head tracking, allowing both aircraft and gimbal to be controlled with head movements for a hole new flying experience.
Intelligent Flight Battery
Rechargeable Lithium-Polymer Batteries: The DJI Mavic 2 Pro is powered by a high-density, rechargeable lithium-polymer (LiPo) battery that has a capacity of 3850mAh and voltage of 15.4V. This battery can provide a flight time of up to 31 minutes (at a constant speed in conditions with no wind) and a hover time of 29 minutes (with no wind). The included remote controller is equipped with a rechargeable lithium-polymer battery with a capacity of 3950mAH and has a run of approximately 2 hours and 15 minutes. Operating temperature for both batteries is 41°F to 104°F. The batteries must be fully charged before using them for the first time.
Intelligent Flight Battery: The DJI Intelligent Flight Battery in the Mavic 2 Pro adopts the latest technologies to ensure that the flight control system is able to obtain accurate battery level. This allows it to calculate remaining flight times more accurately. It also gives pilots a full understanding of the overall battery status, including real-time battery cell status, circle number, temperature and more, and all in the DJI GO 4 app on your smartphone. The aerial drone will automatically return to home if the battery signal is getting too low. The drone may land automatically if the current battery level can only support the aircraft long enough to descend from its current altitude.
BMS (Battery Management System): As well as monitoring the battery status during flight, the BMS (Battery Management System) also has overcharge and over discharge protection, reducing the likelihood of battery damage. When not in use for extended periods of time, DJI Intelligent Flight Battery automatically discharges to 50% charge, keeping it at an optimum charge level for extended battery life. When flying in cold temperatures, the BMS will activate low-temperature protection and will control power output according to the temperature. This ensures the battery can provide adequate propulsion without damage from the cold.
AC Power Adapter: An AC power adapter is included to charge the Mavic 2 Pro's lithium-polymer (LiPo) battery. The AC power adapter is also outfitted with a USB (type-A) port to charge the included remote controller and microUSB jack to charge your smartphone. Charging times is approximately 1.5 hours. However, it will take longer to fully charge the battery when also charging the controller and your smartphone.
Q
Crutchfield asked: Why did you buy this?
A
To take awesome pictures and videos
[ Kyle Oct 16, 2018 ]
1 question already asked