DJI Phantom 4 Pro (Factory Refurbished)
Aerial drone with 20-megapixel gimbal-mounted 4K camera, controller, and carrying case
Item # 964P4PROR | MFR # CP.PT.000488.R
This item is not available at this time.
Temporarily Sold OutEmail me when available
Earn up to 1,199 Rewards points

Our VirginiaVA-based experts can help.
Overview
Our take on the DJI Phantom 4 Pro (Factory Refurbished) by Crutchfield's Eric Angevine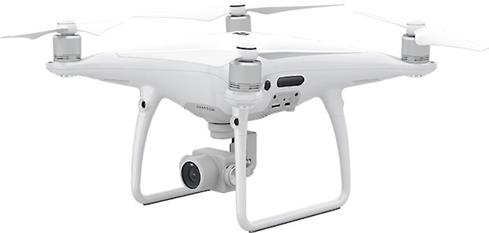 The manufacturer-refurbished DJI Phantom 4 Pro comes with a powerful 20-megapixel camera that shoots 4K video at up to 60 frames per second.
Smooth, dazzling 4K aerial video
The DJI Phantom 4 Pro is an amazingly lightweight, maneuverable quadcopter that lets you see the world from its point of view. And this manufacturer-refurbished version comes with the full factory warranty while saving you a little dough.
It carries a powerful 20-megapixel camera that shoots 4K video at up to 60 frames per second. The camera's on a steadying gimbal mount, so you can bank and turn and swoop without transmitting any judder or shake to the camera.
The 'copter responds to "tap-to-fly" commands, meaning that you can use your smartphone's touchscreen to take off, land, and navigate. Built-in GPS positioning helps your drone stay on course, and its five-direction Obstacle Sensing System helps you avoid trouble.
Adapt to your surroundings with multiple flight modes
Three flight modes let you choose which of the drone's capabilities best suit you during any given outing. For most pilots, including first-timers, Position mode offers simple flight controls with plenty of help with navigation and safety assistance. For smoother, more responsive maneuvering during a video shoot, try Attitude mode. And when you're ready to open up the throttle and go for the Phantom 4 Pro's top speed, Sport mode gives you maximum piloting control.
Easy navigation
The included remote controller connects with your smartphone (not included) to enable TapFly mode. Simply use your finger and the device's touchscreen to tell the Phantom 4 Pro where to go next. If you'll be running, biking, skiing or otherwise occupied, go hands-free with ActiveTrack mode, and the drone will follow faithfully behind as you get your move on. If you're really new to drone piloting, a special Beginner Mode will let you learn the ropes with maximum safety protocols in place.
Product Highlights:
manufacturer-refurbished quadcopter with 20-megapixel 4K Ultra HD camera, controller, rechargeable intelligent flight battery, and charger
Drone:
titanium/magnesium core makes for a lightweight, durable, maneuverable aircraft
flight time: up to 30 minutes
maximum speed: 44 mph
adapt to flight conditions with three flight modes (Position, Sport, or Attitude)
five-direction obstacle sensing

detects potential obstacles up to 49 feet away (disabled in Sport mode)

use your smartphone to navigate in TapFly mode
GPS/GLONASS positioning allows super-accurate navigation
drone will automatically follow a subject in ActiveTrack mode
Draw mode lets you draw a route for the drone to follow
control the camera with arm movements in Gesture Mode
weight: 3.04 lbs.
Camera:
20-megapixel camera with 1" CMOS sensor
records 4K video at up to 60 frames per second (Full HD at up to 120 fps)
3-axis gimbal mount stabilizes camera in flight
wide, 94° field of view
takes up to 7 still photos per second in burst mode
fast shutter speeds down to 1/8000 sec.
ISO range: 100-3200
navigational alerts include sounds and vibrations
records to optional microSD memory card (64GB maximum capacity)
built-in rechargeable battery
Included Accessories and Warranty:
portable remote controller with 4.3 mile transmission range
rechargeable intelligent flight battery
micro USB cable
battery charger
carrying case
warranty: 1 year
Note: The FAA requires users to register their drones. State and/or local laws may also restrict the use of this drone in certain areas.
What's in the Box:
Refurbished quadcopter
Gimbal camera (installed on quadcopter)
Remote controller
Intelligent Flight Battery
8 Propellers
AC battery charger
39" AC power cord
16GB microSD card (installed)
4' microUSB-to-USB cable
5" USB OTG cable
Gimbal clamp (installed)
Carrying case
Drawstring pouch (for propellers)
Quick Start Guide
"In the Box" booklet
Intelligent Flight Battery Safety Guidelines
Disclaimer And Safety Guidelines
"DJI CARE REFRESH" card
"Know Before You Fly" card
Why Shop
With Us?
12 Reasons.
---
Details
Product Research
Aerial Drone
Gimbal Camera
Remote Controller
Aerial Drone
Aerodynamic Titanium & Magnesium Alloy Body: The Phantom 4 Pro's titanium & magnesium alloy body reduces weight while keeping stiffness at a maximum to minimize vibration. The Phantom 4 Pro's sleek and aerodynamically designed body minimizes buffeting when flying in strong winds and against gusts from any angle, keeping its movements predictable and precise. The deeply integrated gimbal and the new placement of battery lift Phantom 4 Pro's center of gravity, improving balance, enhancing agility and adding more accuracy to how it reacts to your commands.
FlightAutonomy: FlightAutonomy is an advanced aerial intelligence and flight automation platform. It is made up of a complex network of ten component groups including seven cameras - forward, rearward and downward dual vision sensors and the primary camera - an infrared sensing system, dual-band satellite positioning (GPS and GLONASS), two downward facing ultrasonic rangefinders, redundant IMUs and compasses, and a group of powerful, specialized computing cores. The Phantom 4 Pro acquires a real-time view of its environment and information about the height and position of nearby obstacles to create a 3D map it can locate itself within. The IMU and compasses collect crucial flight status, speed and direction data, while redundant IMUs and compasses monitor critical data and rule out possible errors, dramatically enhancing the reliability of flight.
Obstacle Sensing & Avoidance: Flight Autonomy is expanded with an additional set of high-resolution stereo vision sensors placed at the rear in addition to the pair placed at the front as well as infrared sensing systems placed on the left and right sides. This network creates a total of 5-direction of obstacle sensing and 4-direction of obstacle avoidance, protecting the Phantom 4 Pro from more obstacles and giving filmmakers the confidence to capture more complex images.
Six Camera Navigation System: Three sets of dual vision sensors form a 6-camera navigation system that works constantly to calculate the relative speed and distance between the aircraft and an object. Using this network of forward, rearward and downward vision sensors, the Phantom 4 Pro is able to hover precisely in places without GPS when taking off indoors, or on balconies, or even when flying through windows with minimal pilot control. In the unlikely event that front and downward sensors are unable to operate, the aircraft can still hover in place using the rear stereo vision system. The Phantom 4 Pro also is able to fly in complex environments at a flight speed of up to 31mph (50kph) while avoiding obstacles in its path. In Narrow Sensing Mode, the Phantom 4 Pro narrows its sensing scope enabling it to see in more detail and fly through small spaces.
Infrared Sensing System: The Phantom 4 Pro is the first DJI aircraft to use an infrared sensing system. Placed on the left, and right sides of the aircraft, these measure the distance between the aircraft and any obstacles using infrared 3D scanning. When in Beginner Mode and Tripod Mode, these sensors have a horizontal field of view of 70° and a vertical field of view of 20°, providing a wide view of the scene to the sides of the Phantom, and a maximum range of 23'. Traditional ultrasonic sensors only have a detection range of 3-5m and may be confused when affected by propeller vibration. The infrared sensing system is able to sense larger areas and measure the distance between the aircraft, identifying the closest objects accurately while avoiding interference, providing more reliable sensing and protection.
Flight Modes: Different productions require different flight characteristics, and the Phantom 4 Pro offers four modes for flight: P (Positioning), A (Altitude), S (Sport), T (Tripod). Switching between them allows pilots to get the control they need, whether they seek smoothness, simplicity, intelligent navigation or speed. Both the infrared sensing system and vision sensors are enabled in these modes for a safer flight experience.
P-Mode (Positioning): In Positioning Mode, TapFly, ActiveTrack, obstacle sensing and positioning features are available with a maximum speed of 31 mph.
S-Mode (Sport): Sport Mode adds extra agility and higher speed, reaching 45 mph.
A-Mode (Altitude): Altitude Mode switches off satellite stabilization and holds the Phantom 4 Pro's altitude. It is ideal for experienced pilots looking to capture smoother footage with a maximum speed of 36 mph.
T (Tripod): Tripod Mode, which limits speed to 4mph provides precision control for fine framing and indoor flying.
Intelligent Flight Modes: The Phantom 4 offers a variety of Intelligent Flight modes that make piloting and aerial photography easier.
Draw: Draw is a brand new technology for waypoint control. Simply draw a route on the controller's screen and the Phantom 4 Pro will move in that direction while keeping its altitude locked. This allows the pilot to focus on camera control and enables more complex shots. There are two Draw modes that can be used in different scenarios -

Forward: The aircraft follows the route at a constant speed with the camera facing in the direction of flight.
Free: The aircraft only moves along the route when instructed. In this mode, the camera can face in any direction during a flight.

ActiveTrack: The Phantom 4 Pro automatically recognizes subjects, follows and captures them as they move, making it easier to get complex shots. Following fast-moving objects can be very challenging, but advanced image recognition algorithms used by the Phantom 4 Pro allow it to recognize and track the object while keeping it in frame. This new algorithm also recognizes more subjects, from people to vehicles to animals, and will adjust its flight dynamics to match, ensuring smoother shots. You can choose between 3 ActiveTrack flight modes -

Trace: Follow behind or in front of a subject, avoiding obstacles automatically.
Profile: Fly alongside a subject at a variety of angles to get profile shots of the subject.
Spotlight: Keep the camera trained on a subject while the aircraft flies almost anywhere.

TapFly: Fly in any direction visible on-screen with a simple tap. Tap anywhere on-screen to smoothly adjust the direction of flight while automatically avoiding obstacles and tap the screen again or use control sticks to change direction. A new AR route function shows the aircraft's real-time flight direction for reference as its route is adjusted. As it can be difficult to control altitude, course, speed and camera pitch simultaneously using joysticks, TapFly Free allows a pilot to set the direction of flight, allowing them to turn the Phantom 4 Pro or tilt the gimbal as required without changing the direction of flight. In total, there are now three TapFly modes -

Forward: Tap to fly in the selected direction.
Backward: Tap to fly in the opposite direction of the tap, i.e. tap in the bottom right corner of the screen to fly backward towards the top left.
Free: Lock the forward direction of the Phantom without locking the camera direction allowing it to turn.

Return to Home: In its upgraded Return to Home mode, the Phantom 4 Pro can automatically choose the best route to return home depending on environmental conditions. It records its route as it flies, allowing it to return along the same route avoiding obstacles if the control signal is disconnected. Based on its altitude at the time of disconnection, the Phantom 4 Pro is also able to adjust its flight path to avoid obstacles it has seen during its flight. At takeoff, the Phantom 4 Pro will record the scene below and compare its recording with what it sees as it returns, for more precise landing. It can also detect the ground to see whether there is suitable spot for landing. If any obstacles are found, or there is water on the ground, it will alert the pilot and hover at an appropriate height, helping the aircraft to land more safely.
Gesture Mode: Using Gesture Mode, selfies can be captured easily using a few gestures without the remote controller. Advanced computer vision technology allows the Phantom 4 Pro to take instructions through gestures. The subject simply lifts their arms when facing the camera and the aircraft will recognize this movement by locking on and placing the subject in the center of the frame. When ready for a photo, the subject holds their arms out to signal the aircraft. A three second countdown will begin, making time to strike a pose, allowing moments to be captured without the remote control.
Flight Recorder: Flight data is automatically recorded to the internal storage of the aerial drone. This includes flight telemetry, aircraft status information, and other parameters. To access this data, connect the aircraft to your Windows PC through the Phantom 4 Pro's microUSB port.
Intelligent 30 Minute Battery: Professional aerial imaging benefits from longer flight times. The Phantom 4 Pro has a maximum flight time of 30 minutes thanks to its high efficiency motors and custom-designed large-capacity 5870mAh battery, providing more time in the air to capture the perfect shot. The DJI GO 4 app shows battery lifetime and calculates remaining flight times according to distance traveled and more. It will give alerts when it reaches a minimum safe amount required for a safe journey back to the takeoff point. An advanced battery management system is also in place to prevent overcharging and over draining. When placed in longer term storage, batteries will discharge power to maintain good health.
Carry Case: The Phantom 4 Pro comes with a foam carrying case with handle.
FAA Rules & Regulations: Please familiarize yourself with the FAA's rules & regulations for unmanned aircraft systems before flying your drone. Click here for more details.
Gimbal Camera
High Performance Camera: The Phantom 4 Pro camera system has been significantly upgraded from the Phantom 4, improving every part of the camera including sensor size, resolution, image processing system, and more, making it the most powerful Phantom camera ever. The onboard camera has been redesigned to use a 1" 20-megapixel CMOS sensor. A custom engineered lens made up of eight elements is arranged in seven groups, it is the first DJI camera to use a mechanical shutter, eliminating rolling shutter distortion which can occur when taking images of fast moving subjects or when flying at high speed. In effect, it is as powerful as many traditional ground cameras. More powerful video processing supports H.264 4K videos at 60fps or H.265 4K at 30fps, both with a 100Mbps bitrate. Advanced sensors and processors ensure everything is captured with more image detail and the image data needed for advanced post-production.
1" 20MP CMOS: Sensor size is more important to image quality than the number of pixels because a larger sensor captures more information in every pixel, improving dynamic range, signal-to-noise ratio, and low light performance. The 1" 20-megapixel CMOS sensor in the Phantom 4 Pro is almost four times the size of the Phantom 4's 1/2.3in sensor. It uses larger pixels and has a maximum ISO of 12800 as well as increased contrast. It is good enough for images to be used immediately, while also capturing enough detail for advanced post-processing.
High Resolution Lens: The resolution and contrast of a lens is critical to image quality, because only a quality lens can capture sharp, vivid photos at high resolutions. The brand new Phantom 4 Pro camera has an aerial optimized F2.8-F11 wide-angle lens with a 24mm equivalent focal length. It features eight elements (2 aspherical) arranged in seven groups that fit into a smaller, more compact frame. Its images are consistently detailed with low distortion and low dispersion, ensuring that photos and videos are sharp and vivid.
Mechanical & Electronic Shutter: Aerial imaging is not only used to capture landscapes; it brings new perspectives to everything from action scenes to motor racing. Capturing objects moving at high speed has always been a challenge for flying cameras using an electronic shutter. This is why the Phantom 4 Pro is the first DJI Phantom to use a mechanical shutter and a large-aperture prime lens. A mechanical shutter with a max speed of 1/2000s eliminates rolling shutter distortion which can occur when taking images of fast moving subjects or when flying at high speed. The electronic shutter has also been improved with a max shutter speed of 1/8000seconds, and a new Burst Mode shoot capable of shooting 14 fps at 20 megapixels to catch the perfect moment.
Auto Focus: It also supports auto focus by half-pressing the shutter button, and has a focus range, from 1m to infinity. Always refocus before capturing additional shots in the event that the subject has moved beyond the focus point. Focus at infinity if the subject is over 98ft away. Refocusing is also needed when switching from close shots to long shots during recording.
4K Video Processing System: An enhanced video processing system allows video to be captured in cinema and production optimized DCI 4K/60 (4096 x 2160/60fps) at a bitrate of 100Mbps, enabling you to get high-resolution slow motion shots. The Phantom 4 Pro also supports the H.265 video codec (Maximum resolution 4096X2160/30fps). For a given bitrate, H.265 doubles the amount of image processing as H.264, resulting in significantly enhanced image quality. Record in the high dynamic range D-log mode to make the most of this image data for color grading.
H.265: available video modes & resolutions

C4K: 4096×2160 24/25/30p @100Mbps
4K: 3840×2160 24/25/30p @100Mbps
2.7K: 2720×1530 24/25/30p @65Mbps or 2720×1530 48/50/60p @80Mbps
FHD: 1920×1080 24/25/30p @50Mbps, 1920×1080 48/50/60p @65Mbps, or 1920×1080 120p @100Mbps
HD: 1280×720 24/25/30p @25Mbps, 1280×720 48/50/60p @35Mbps, or 1280×720 120p @60Mbps

H.264: available video modes & resolutions

C4K: 4096×2160 24/25/30/48/50/60p @100Mbps
4K: 3840×2160 24/25/30/48/50/60p @100Mbps
2.7K: 2720×1530 24/25/30p @80Mbps or 2720×1530 48/50/60p @100Mbps
FHD: 1920×1080 24/25/30p @60Mbps, 1920×1080 48/50/60 @80Mbps, or 1920×1080 120p @100Mbps
HD: 1280×720 24/25/30p @30Mbps, 1280×720 48/50/60p @45Mbps, 1280×720 120p @80Mbps
Still Photography: In addition to video recording, you can capture high resolution still images in JPEG, DNG (RAW), or JPEG + DNG. You can select between three different aspect ratios and image sizes - 5472x3648 (3.2), 4864x3648 (4:3), and 5472x3072 (16:9). Still photography shooting modes include - Single Shot, Burst Shooting (3/5/7/10/14 frames), Auto Exposure (3/5 bracketed frames a 0.7 EV Bias), and Interval (2/3/5/7/10/20/30/60s).
microSD Card Storage: All of your captured photos and recorded videos are stored on a microSD/SDHC memory card (Class 10 or UHS-1; up to 128GB). One 16GB microSD card is included. The photo and video files can then be downloaded directly to your computer via the camera's microUSB port.
Remote Controller
Remote Controller: The included wireless remote controller is responsible for control of the Phantom 4 Pro drone, including piloting and aerial capture, through its joysticks and your docked Apple or Android device running the DJI GO 4 App. Use the controller's joysticks to control the flight pattern of the drone, while the DJI GO 4 app on your mobile device provides a live video feed of the Phantom 4 Pro's gimbal camera. The controller is powered by a built-in, rechargeable 5 hour battery.
DJI GO 4 App: Download the onto your Apple iOS 9.0+ or Android OS 4.4+ device to turn your mobile device into a user-friendly interface for controlling the Phantom 4 Pro's camera operation and flight settings. The Phantom 4 creates its own WiFi network that streams a real-time view from the camera to your USB-connected mobile device. Use your smartphone or tablet device to frame shots, watch the world below, and see everything from a new perspective. pp is built into the controller's screen, hardware and software can be fully optimized, allowing you to edit and share instantly.
Flight Functions: Using the DJI GO 4 app, a large number of Intelligent Flight Modes are available. Vital flight data and video transmission status are easy to check in-app, further enhancing control efficiency and convenience. After each flight, flight routes and data are automatically recorded and synchronized to the attached DJI GO 4 account, keeping it readily accessible for you to review. Both flight logs and data are easy to record and review.
Camera Functions: The app also provides access to full manual camera controls, including ISO, aperture, shutter speed, image formats, and more. In addition, the DJI GO 4 app includes editing features for quick editing and sharing to social media and even live streaming.
Lightbridge Video Transmission System: The Phantom 4 Pro utilizes an upgraded Lightbridge HD video transmission system for live video feed between the aerial drone's gimbal camera and the controller's built-in monitor. The Lightbridge video transmission system uses advanced transmission technologies and can automatically adjust to environmental conditions. It ensures high quality, low latency image transmission across its range and offers pilots a better shooting experience. Traditional analog video transmission occupies a larger bandwidth and is more susceptible to interference. It also suffers from poor image quality and short range. WiFi transmission also compares poorly, suffering from low latency, lengthy re-connection times, and short transmission distances due to the high cost of more powerful Wi-Fi transmission.
2.4GHz & 5.8 GHz Dual-Band: The Phantom 4 Pro controller's upgraded Lightbridge HD video transmission system that adds 5.8 GHz transmission support. The ability to choose between 2.4GHz and 5.8GHz allows pilots to cut through interference and eliminates image lag caused when flying in an area with extensive 2.4GHz frequency use. Normally, Wi-Fi video transmission systems use a 2.4GHz frequency to work with a controller using a 5.8GHz frequency as this prevents interference that can occur when both use the same frequency. If using the same frequency the video transmission system and the remote controller will interfere with each other, causing image lag.
4.3 Mile Wireless Range: The Lightbridge HD video transmission system used in the Phantom 4 Pro uses TDM (Time Division Multiplexing) to transmit signals, allowing it to send controller signals and receive video transmission signals at the same frequency. When switched on, the Phantom 4 Pro evaluates local signal levels, automatically choosing the transmission frequency with the lowest level of interference. This ensures the optimum range of a maximum video transmission of 4.3 miles (unobstructed, free of interference).
Our Product Research Team
At Crutchfield, you'll get detailed, accurate information that's hard to find elsewhere. That's because we have our own in-house Product Research team. They verify what's in the box, check the owner's manual, and record dimensions, features and specs. We stay on top of new products and technologies to help people make informed choices.