About the DJI Spark Mini Drone
Hands-free aerial fun with a serious camera
Looking for a drone that's easy and fun to fly? One that can capture great-looking videos and still images? The DJI Spark needs to be on your short list. This compact quadcopter can take off, fly, and shoot pictures with little more than its own built-in face recognition software and your occasional hand gesture.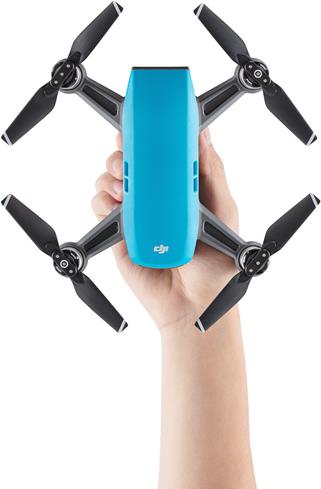 The compact DJI Spark features intuitive gesture-based control and a built-in HD video camera.
Hands-free aerial fun with a serious camera
Looking for a drone that's easy and fun to fly? One that can capture great-looking videos and still images? The DJI Spark needs to be on your short list. This compact quadcopter can take off, fly, and shoot pictures with little more than its own built-in face recognition software and your occasional hand gesture.
Launch it automatically from the palm of your hand. Then change its altitude by moving your hand, or have it enter "follow" mode with a simple wave. It's one of the coolest control systems we've seen yet.
Note: we recommend adding Spark Propeller Guards for an added layer of safety.
Great DJI image quality
Sure, the Spark is easy to fly, but that doesn't mean it's a toy. DJI has taken their usual care with the imaging system: a full HD video camera that takes 12-megapixel still photos. And it's mounted on a 2-axis gimbal, so your aerial footage comes out looking smooth and stable.
Intelligent flight modes help make amazing videos
The Spark has some flight and photography modes that make it easy for even a novice filmmaker to shoot excellent video:
Activetrack automatically follows subjects that are in motion
Quickshot mode features pre-programmed movie-style shot options that mimic crane and dolly shots
Palmcontrol lets you direct the camera with gestures
TapFly lets you pilot the drone by tapping and swiping on your smartphone screen
Dual-band Wi-Fi® lets you monitor your shots in 720p HD from up to 1.2 miles away. 3D obstacle sensing with GPS assist helps you avoid crashes.
READ LESS
Product highlights:
remote-controlled flying drone with wide-angle HD video camera
2-axis camera gimbal lets you shoot steady footage during flight
FaceAware technology launches the drone and makes it hover when it recognizes your face
Intelligent Flight modes help you capture amazing cinematic video

TapFly lets you pilot the drone by tapping and swiping on your smartphone screen
Activetrack automatically follows subjects that are in motion
Quickshot mode features pre-programmed movie-style shot options
Palmcontrol lets you direct the camera with gestures

31 mph top speed
obstacle-sensing technology helps avoid collisions
equipped with dual-band Wi-Fi
16 minutes of flight time with included rechargeable battery
battery charger and cable included
automatically returns to its takeoff point
built-in camera takes 12-megapixel stills and shoots 1080p video
records to microSD memory card (not included)
edit and share video with DJI GO 4 app
720p real-time video transmission from up to 1.2 miles away
Dimensions and Warranty:
5-5/8"W x 2-1/8"H x 5-5/8"D
weight: 10.5 oz.
warranty: 1 year
MFR # CP.PT.000732
KEEP READING
READ LESS
What's in the box:
DJI Spark Mini Drone owner's manual
Mini aerial drone
Intelligent flight battery (pre-installed)
USB-AC battery charger
33" microUSB-to-USB cable
6 Propellers (4 pre-installed)
Foam storage box
Quick Start Guide
Intelligent Flight Battery Safety Guidelines
Disclaimer And Safety Guidelines
DJI Spark Mini Drone reviews
Average review:
Customer photos
More details on the DJI Spark Mini Drone
Researched by Crutchfield's

Stacey B.
Product Research
Aerial Drone
Gimbal Camera
Controls & Apps
Rechargeable Battery
Aerial Drone
Mini Aerial Drone: The Spark is a mini-drone that features all of DJI's signature technologies, as well as new technologies currently only found in the Spark. The Spark mini-drone provides intelligent flight control options, automatic obstacle avoidance, a mechanical gimbal, and a high-quality camera for your piloting and photography enjoyment.
Powerful Propulsion with Speed & Precision Control: With its aerodynamic, lightweight, and slick design, the Spark soars through the air with minimal wind resistance. The gimbal and camera are flush with the aircraft significantly increasing stability. Powerful propulsion offers steady flight at up to 31mph (50kph) in Sports mode. Its advanced flight control system means flying is fun and intuitive.
Max Ascent Speed: 9.8ft/s (3m/s) in Sport mode
Max Descent Speed: 9.8ft/s ( 3m/s) when using auto landing
Max Speed: 31mph in Sport mode without wind
Max Height: 1640 feet
Notes:

Spark can withstand wind speeds between 13‑18 mph (20‑28 kph).
It is recommended to avoid flying Spark in rain, fog, snow, or wet weather.
Avoid landing in or taking off from puddles, as the chassis is close to the ground
Flight Autonomy: Spark's Flight Autonomy system includes the main camera, vision positioning system (VPS), 3D sensing system, dual-band GPS, high-precision inertial measurement unit, and twenty-four powerful computer cores. This allows the Spark to hover accurately anywhere with VPS assistance at up to 98' (30m) sense obstacles from up to 16' (15m) away, and land safely.
3D Sensing System: The Spark is equipped with a 3D Sensing System consisting of a 3D infrared module at the front of the aircraft which scans for obstacles during flight. The 3D Sensing System constantly scans for obstacles, allowing the Spark to avoid obstacles when lighting is sufficient. The aircraft will actively brake when obstacles are detected in front. The Spark will automatically avoid obstacles up to 16' (5m) in front of it with a maximum speed of 6.7mph (10.8kph).
Vision Position System (VPS): The main components of the Vision System is located on the underside of the aircraft body. This includes a camera and a 3D infrared module. The Vision System uses the 3D infrared module and image data to help the aircraft maintain its current position, enabling precision hovering indoors or in environments where GPS signal is not available.
Flight Modes: The following flights modes are available for the DJI Spark.
P Mode (Positioning): P Mode works best when the GPS signal is strong. The aircraft utilizes the GPS and Vision System to locate itself, automatically stabilize, and navigate between obstacles. Intelligent Flight Modes such as QuickShot, TapFly and Active Track are enabled in P Mode. Forward Obstacle Sensing is also available in P Mode. The Spark has a maximum flight speed of 13.4 mph (21.6kph) in P mode.
S Mode (Sport): Sport mode is only available when using the optional DJI Spark Remote Controller (sold separately). Sport Mode unleashes the Spark's speed potential, reaching speeds up to 31mph (50kph). The aircraft's responses are optimized for agility and speed making it more responsive to joystick movement. In this mode, the aircraft uses GPS for positioning. Forward obstacle sensing is disabled so the aircraft will not be able to sense and avoid obstacles when in Sport mode. Intelligent Flight Modes, Pano Mode, and ShallowFocus are not available in Sport mode.
Intelligent Flight Modes: Intelligent Flight Modes and intuitive controls help you create cinematic aerial videos with just a few taps.
QuickShot: QuickShots helps you shoot amazing footage with a cinematic composition. Choose from Rocket (ascend with the camera pointing downward), Dronie (fly backward and upward with the camera locked on your subject), Circle (circle around your target), Helix (fly upward spiraling around your subject). It will record a video according to the selected shooting mode and then automatically generate a 10-second short video.
ActiveTrack: With ActiveTrack, Spark automatically recognizes object of different shapes and sizes them tracks them according to what they are and how fast they move. This make tracking a subject much easier and more reliable. Choose between two modes - Trace (track your target from in front or behind, or even circle around it) or Profile (follow your subject from a fixed perspective).
TapFly: Tap your phone screen and Spark, using vision technology, flies in the direction of your tap or exactly where you tapped while actively sensing obstacles. Capture shot after shot with just your finger tips. Choose between two modes - Direction (keep flying in the direction you tap on the screen) or Coordinate (tap the screen & fly to that spot while maintaining altitude). The aircraft will automatically avoid obstacles it sees or brake and hover in from of them provided that there is sufficient light between <300 lux and >10,000 lux.
Gesture: Gesture recognition allows you to take aerial selfies with simple hand motions. Choose between a variety of modes - Sefie (raise your arms and wave your hands or make a frame with your fingers to maneuver Spark and shoot selfie photos), PalmControl (Spark follows your hands movements or even takes off and lands on your palm), PalmLaunch (using the built-in camera and new FaceAware technology, the Spark lifts off from your hand and hovers in place when it recognizes you), PalmLand (with your face pointed toward the camera, place your had underneath the aircraft and it will slowly descend and land on the palm of your hand), or Beckon (raise your arms above your head in a Y shape and the aircraft will fly toward you and hover in place).
Tripod Mode: Tripod Mode limits the mini-drone's maximum speed to just 2.2mph, and the control sensitivity of the remote app is slowed to give you the precision you need for accurate framing. It is also great for flying indoors in small spaces where the mini-drone's normal speed may make it more challenging to fly.
Quick Launch w/ FaceAware: Using the built-in camera and new face detection technology, the Spark lifts off from your hand by recognizing you. It will take off and hover in place within seconds of powering on.
Return To Home: The Spark will return to its home point automatically with sufficient GPS signal. If the battery gets too low, connection is lost, or you hit the Return to Home (RTH) button, the Spark flies back to the preset home point while sensing obstacles in its path. Spark's downward-facing camera captures images of the area surround home point and references these images during RTH for a safe landing.
Flight Protection: DJI's GEO system lets you know where drone flights may raise safety or security concerns, such as near airports or stadiums. This provides the information needed to fly the Spark mini-drone safety and responsible.
Flight Recorder: Flight data is automatically recorded to the internal storage of the aircraft. This includes flight telemetry, aircraft status information, and other parameter. To access this data, connect the aircraft to your computer through the microUSB port and included cable.
FAA Rules & Regulations: Please familiarize yourself with the FAA's rules & regulations for unmanned aircraft systems before flying your drone. Click here for more details.
Gimbal Camera
High-Performance Camera with Gimbal: The Spark's high-performance camera features a 1/2.3" CMOS image sensor, powerful wide-angle lens, mechanical gimbal stabilization, and UltraSmooth technology for amazing images (up to 12MP) and stabilized video (up to 1080p). A live preview of what the camera sees can be monitored on a connected mobile device via the DJI Go 4 app.
1/2.3" CMOS Image Sensor: The camera features a 1/2.3" CMOS image sensor, allowing you to shoot stabilized video at 1080p and stills at 12MP. Larger pixels mean Spark is acutely sensitive to light and records colors precisely.
Powerful Wide-Angle Lens: The camera has an f/26 wide-angle lens with a 25mm equivalent focal length. Five elements are arranged into a single group that fit into a compressed frame. Images are consistently sharp and vivid with very little color aberration and distortion.
Mechanical Gimbal Stabilization: Spark's 2-axis (pitch/roll) mechanical gimbal stabilization and UltraSmooth technology dramatically reduce shake and rolling shutter effect, keeping shots stable and detailed. The gimbal has an 85° tilt range.
Two Gimbal Operation Modes: Two gimbal operations modes are available. In the Follow mode, the angle between the gimbal's orientation and aircraft's nose remains constant at all times. In FPV mode, the gimbal will synchronize with the movement of the drone to provide a first-person perspective flying experience.
microSD Card Slot: Video footage and still image photography is recorded onto a microSD/SDHC memory card (up to 64GB). No microSD card is included with mini-drone. A UHS-1 microSD memory card is recommended due to t heir fast read and write speeds for high-resolution video recording.
Note: Video and still image footage can be saved to your mobile device (running the DJI Go 4 app) if there is no microSD card installed or the microSD card is full. Not that the resolution of photos is limited to 1024x768 and video to 12870x720.
Video Recording (up to 1080p): With the Spark, you are able to shoot video up to 1080p at 30 frames per second. Video is recorded in MP4 (MPEG-4 AVC/H.264).
Photo Capture (up to 12MP): The Spark is capable of capturing 12 megapixel photos in JPEG format. Spark offers the following still image resolutions - 3968×2976 (when shooting without tracking an object), 1440×1080 (when tracking an object in ActiveTrack or Gesture mode), 1440×1080 (with ShallowFocus), 2300×1280 (with Panorama horizontal), & 960×1280 (with Panorama vertical). The Spark adopts all previous DJI drone shooting modes, while adding two new modes (Pano & ShallowFocus).
Single or Bust: Capture one still image (single) or three images at a time (burst) with each press of the shutter button.
Auto Exposure Bracketing (AEB): Three bracketed frames at 0.7EV bias
Interval: Set to capture a still image every 2, 3, 5, 7, 10, 15, 20, 30, or 60 seconds.
Panorama: Shoot horizontal or vertical panoramas by automatically adjusting its gimbal and heading. In Vertical mode, the camera will capture three photos vertically and then combine them to make a vertical panorama. In Horizontal mode, the camera will take nine photos from different angles vertically and horizontally and then combine them to make a horizontal panorama.
ShallowFocus: Uses it 3D vision technology to create photos with a shallow depth of field.
Controls & Apps
DJI Go 4 App: The DJI Go 4 app (for Apple iOS 9.0-up & Android OS 4.4-up) lets you control flight & camera functions from your compatible mobile device, while also providing a live video feed from the Spark's camera on your mobile device's screen. The DJI Go 4app and your compatible mobile device has a wireless range of 328' from the Spark mini-drone.
Flight Controls: Control the flight pattern of the Spark from your mobile device and the DJI Go 4 app, while viewing a live video feed and flight telemetry data. Virtual joysticks on your compatible mobile device's touchscreen let you control the direction of the aircraft.
Live Video Feed: The DJI Go 4 App provides a live video feed (720p) of the mini-drone's camera. The video transmission latency to your mobile device is about 200 ms. It is subject to the performance of your mobile device and signal interference.
Camera Functions: The DJI Go 4 app gives you complete control of the mini-drone's camera right on your mobile device's touchscreen. You'll be able to adjust camera settings and line up the perfect shot. You can snap photos and record vides with just a tap on your Apple iOS or Android device's touchscreen.
Video Editor: An intelligent video editor is built into the DJI Go 4 app. After recording several video clips and downloading them to your mobile device, you can select a template from the DJI Go 4 app and specify which clips you want to combine and create a short film that can be shared immediately.
SkyPixel: Take part in the world's largest aerial imaging community at SkyPixel. Learn tips and tricks from power users, find people to fly with and give your productions a global audience.
Me: If you have a DJI account, you will be able to participate in forum discussions, and share your creating with the community.
Flight Simulator: The DJI Go 4 app even includes a flight simulator that gives you the lifelike experience of flying the mini-drone in a safe, controlled virtual environment.
Optional Remote Controller: An optional DJI Remote Controller (sold separately) is available to pilot the Spark with more precision at a greater distance (up to 1.2 miles). The remote controller still uses the DJI Go 4app on your compatible mobile device for a live video feed of the mini-drone's camera. Your mobile device clamps onto the controller. The remote controller has a battery life of approximately 2.5 hours.
Optional DJI Goggles: Optional DJI Goggles (sold separately) will make flying totally immersive, putting two lifelike displays with a wide-angle of view in front of your eyes for a true bird's eye look at the world around you. You will also need the DJI Remote Controller (sold separately) in order to connect the DJI Goggles.
Rechargeable Battery
Intelligent Flight Battery: The Spark uses a high-energy density LiPo battery for optimal performance with twelve intelligent protection functions to help deliver safe flight. Additionally, the Intelligent Flight Battery estimates remaining flight time letting you know when to land in real-time. You can fly for up to 16 minutes with a fully charged battery (no wind at a consistent 12.4mph). Spare batteries are sold separately.
Battery Type: LiPo 3S
Capacity: 1480 mAh
Energy: 16.87 Wh
Voltage: 11.4V
Max Charging Voltage: 13.05V
Operating Temperature: 41°F to 104°F
Weight: 0.2 lbs
Hibernation Mode: When the battery is less than 10% charged, it will enter Hibernation Mode after approximately six hours of nonuse. When a battery is completely drained, it will enter Hibernation Mode within 10 minutes of turning off.
Battery Charger: Use the included microUSB-to-USB cable and the USB/AC battery charger to charge the Spark's battery inside the drone. During charging, do not remove the battery from the aircraft. You can use the optional Charging Hub (sold separately) to charge three batteries simultaneously. If using the Charging Hub, you will need to remove the batteries from the aircraft and place them all in the Charging Hub.
When using the included charger, it takes 80 minutes to fully charge a battery.
When using the optional Charging Hub (sold separately), it takes 52 minutes to fully charge one battery, 55 minutes when charging two batteries and 85.2 minutes when charging three batteries at the same time.
Note: It is recommended to fully charge the battery or batteries at least once every three months.
Q
Crutchfield asked: Why did you buy this?
A
Very good drone for the price
[ M Mar 22, 2018 ]
A
I'm a 1st time drone user and I can't describe the amount of joy this brings me. Make sure your buy from Crutchfield because the shipping is free and fast, no sales tax, and crutchfield rewards points for more accessories in the future.
[ Chris Jul 18, 2017 ]
A
On sale
[ MARIA C Nov 27, 2018 ]
A
Entry level to get my feet wet with drones. I want a better one eventually, but have zero experience right now. So like buying cameras, you don't need the best or top of the line when starting out. And this little compact drone has great reviews!
[ CRAIG Feb 06, 2018 ]
SHOW MORE
SHOW LESS
4 questions already asked