ELAC Navis™ ARB-51
Powered stereo speakers (Gloss Black)
California customers: Please click here for your Proposition 65 warning.
Item # 970NAVISGB | MFR # ARB51-GB
In Stock

Our VirginiaVA-based experts can help.
Overview
Our take on the ELAC Navis™ ARB-51 by Crutchfield's Eric Angevine
Powered speakers for audiophiles
ELAC Navis ARB-51 speakers offer simplicity, convenience, and high-end audiophile performance inside a pair of very stylish cabinets. "Listening to them, I'm really happy," said ELAC's speaker design guru Andrew Jones, as he demonstrated the Navis for me on one of his frequent visits to Crutchfield HQ. "They're open and transparent. You can play all different sorts of music on them. Even with contemporary music with a lot of bass, they do really well." As Mr. Jones streamed his favorite tracks in one of our dedicated listening rooms, I found myself bobbing my head to the beat by way of agreement.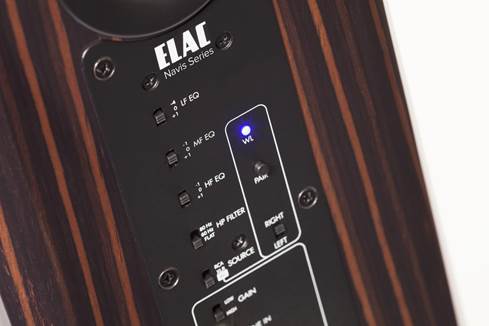 Each ELAC Navis speaker features handy EQ switches on the back panel, so you can tweak the sound to suit your unique listening space.
Ideal amplification
In audio-design lingo, these speakers are "three-way" — each features a separate woofer, midrange, and tweeter. To make sure each driver does its job with maximum efficiency and precision, ELAC gave them individual amplifiers, each with their own power supply. There's 160 watts for each woofer, 100 watts for the midrange driver, and 40 for the tweeter. "We went to the three-way design so we could get full excursion on the woofer," Mr. Jones explained, "and not have it be limited by acting as a midrange as well. It'll play much louder and lower." 'Nuff said.
All analog, all the way
These speakers make one major departure from the usual design approach used by others in their class. "We're not using DSP (digital signal processing)," Mr. Jones explained, "so if you're using a turntable, we're not digitizing that analog sound you love. You can get an upgrade in sound because the stuff inside is of high quality."
Wired and wireless connectivity
Ever the innovators, ELAC created their own wireless protocol called AirX that helps solve a specific bothersome issue: "Usually when you're on Wi-Fi, the only way to synchronize the left and right speaker is to run a cable between them," said Mr. Jones. "We don't have to do that." The ELAC Discovery Connect (not included) provides a robust streaming platform for Spotify® Connect, Bluetooth®, Apple® AirPlay and Roon, so you can eliminate one more wire from your system.
For making wired connections, each speaker has a single unbalanced RCA input and a single balanced XLR input.
Customizable EQ
The final piece of the puzzle when trying to get the best sound out of any pair of speakers is finding out how they sound in your unique listening space. The ARB-51s provide separate EQ switches on the back of each speaker for adjusting high, mid, and low frequency response. "You can match the sound to your environment," said Mr. Jones.
Each also has a switchable low-pass filter that can be set "flat" to get the most out of the speakers alone, or switched to cut off at 60 Hz or 80 Hz for easy integration with a subwoofer. A subwoofer can be added to your wireless system with the help of an ELAC AirX2 wireless transmitter.
Take a stand (or two!)
When you're trying to get optimal sound out of a great speaker like this one, you owe it to yourself to place it on a quality speaker stand. Stands make it easier to put your speakers at ear level, adjust their directional output, and they eliminate bad vibrations and reflections from furniture and walls that can impact sound quality in a negative way.
Product Highlights:
stereo pair of powered bookshelf speakers
5-1/4" aluminum woofer
4" aluminum midrange driver with concentrically mounted 1" soft-dome tweeter
300 total watts of amplification per speaker

160 watts to each woofer (BASH amplifier)
100 watts to each midrange driver (BASH amplifier)
40 watts to each tweeter (pure Class AB amplifier)

bass reflex cabinet design with rear-firing port
frequency response: 44-28,000 Hz
add ELAC Discovery Connect to wirelessly stream Spotify® Connect, Bluetooth®, Apple® AirPlay and Roon
three EQ switches for adjusting Low Frequency, Mid Frequency and High Frequency response on the back of each speaker
switchable high-pass filter: flat, 60 Hz, or 80 Hz
Input (each speaker):
switch for selecting RCA, XLR, or wireless input
one unbalanced RCA input
one balanced XLR input
selectable high/low input gain
Dimensions and Warranty:
7-3/4"W x 13-5/8"H x 9-1/2"D
weight: 17.85 lbs. each
warranty: 3 years
What's in the Box:
2 Powered bookshelf loudspeakers
Two 8' AC power cords
Operating Instructions
Why Shop
With Us?
10 Reasons.
---
Details
Product Research
Features
Navis B51 Power Speakers: Designed from the ground up, the full-range, monitor-quality Navis B51 bookshelf speakers feature ELAC concentric-driver technology to deliver unsurpassed mid- and high-frequency performance, coupled with a custom aluminum woofer for truly impressive bass, all in one compact, elegant package. Each of the three transducers is powered by its own dedicated analog amplifier, with a selection of unbalanced RCA or XLR balanced inputs.
Discrete Powerful Amplification: Inside each Navis B51 bookshelf speaker is a Tri-Amp Pure Analog Amplifier, employing three separate amps for each transducer - a 160-watt BASH AB amplifier for the woofer, a 100-watt BASH AB amplifier for the midrange, and a 40-watt Class AB amplifier for the tweeter. A total amplifier power of 300 watts ensures that each speaker is optimally powered, eliminating clipping and crossover distortion, and driving each transducer with authority.
Custom-Designed Drivers: One reason the Navis powered speakers sound so natural is because of its in-house developed transducer, a 4" aluminum midrange driver with a concentrically mounted 1" soft-dome tweeter. Combined, this signature configuration lets Navis set the performance standard for its class. A single woofer reproduces bass with authority, thanks to the special design of its driver. Developed in-house, the 5.25" aluminum cone is the ideal structural material, specified for its ability to deliver punch and accurate low-frequency fundamentals.
Elegant Cabinet Design: The Navis B51 powered speaker's elegant cabinet design integrates perfectly with any interior or decor. Its enclosure has a fine-furniture finish, available in Gloss Black, Gloss White, and Wood Veneer. No grilles are included. A rear-firing flared port on the back of each speaker cabinet provides smooth bass response.
Balanced XLR and Unbalanced RCA Inputs: Connect the variable outputs of your preamplifier or external audio source to either the balanced XLR or unbalanced RCA inputs on each of the powered speakers. There is an input switch on the back of each speaker to indicate an XLR or RCA type connection. Balanced XLR connections guard against induced noise and allow long cable runs without compromising sound quality. There is also an input Gain switch that can be set to High or Low depending on the incoming audio signal.
Note: The Navis B51 powered speakers do not have a volume control. If connected directly to a fixed output source, the volume will be at maximum level and may damage the speakers and your hearing. Only use these speakers with variable output sources and/or a preamplifier.
Optional Wireless Audio Transmitter: The Navis B51 powered speakers feature a built-in wireless receiver that is compatible with ELAC's AirX² wireless audio transmitter (sold separately) which allows you to wirelessly transmit an audio signal from an external source device or preamplifier featuring a line-level output and variable volume control to the speakers.
Press and hold the "Wireless Pair" button on the Navis B51 speakers until the LED begins to flash rapidly (around 2x per second).
Press and hold the "Wireless Pair" button on the back of the AirX² wireless transmitter until the wireless pair LED on the Navis B51 speakers stops flashing and goes off (no LED means the speaker is wirelessly paired.)
Note: You can connect up to three ELAC Navis B51 powered speakers to one AirX² wireless audio transmitter.
Optional Discovery Connect: ELAC's Discovery Connect wireless transmitter (sold separately) gives you the ability to wirelessly stream Spotify Connect, Bluetooth, AirPlay and Roon audio content to The ELAC Navis B51 powered bookshelf speakers. ELAC's companion Discovery app (for Apple iOS 9.3+ and Android OS 5.0+) provides setup to your home's WiFi network and control of the Discovery Connect.
Bluetooth: Bluetooth connectivity means you can easily stream audio from your Bluetooth enabled smartphone, tablet, laptop, or desktop computer to the ELAC Discovery Connect and Navis powered speakers.
Spotify Connect: The integration of Spotify Connect will enable Spotify Premium users to instantly select and wirelessly stream music to the ELAC Discovery Connect and Navis powered speakers from within the Spotify app (Apple iOS or Android). Subscription & fees will apply.
AirPlay: Apple AirPlay allows you to wirelessly stream your iTunes music library from your Mac computer, Windows PC or Apple iOS device to the ELAC Discovery Connect and Navis speakers . You also be able to wirelessly stream music apps from your Apple iOS device to the Discovery Connect and Navis speakers. Your Apple iOS device must be running 4.3.3 or better, and your iTunes music software must be running 10.2.2 or better.
Optional Discovery Music Server w/ Roon & Tidal: When used with ELAC's Discovery Music Server (sold separately), the Discovery Connect acts as a Discovery endpoint and allows connectivity to your networked music collection on your Windows PC or Mac computer using Roon, and gives you access to Tidal (subscription and fees will apply).
Sound Adjustments: The Navis B51 powered speakers provide several adjustments to tailor the sound to your specific environment or taste. Please note these settings should always be set the same on both speakers (except for Right/Left Setting).
Right/Left: You can designate which speaker will be used at the Right channel and which one will be used as the Left channel.
3-Band EQ: The Navis B51 speakers provide a 3-band EQ with Low frequency, Mid frequency, and High frequency adjustment. You can increase or decrease the Low, Mid, and High frequencies to best match your listening content and the room. The Low frequency can be set to +1dB if you like a little more bass or -4dB if the bass is too boomy. The Mid frequency can be set to +1dB to increase detail and vocals or -1dB to offset a room with overly bright acoustics. The High frequency can be set to +1dB to add an extra sense of air and crispness or -1dB to tame harsh sounding rooms.
High-Pass Filter (HPF): The HPF adjustment allows the addition of a subwoofer to the Navis B51 speaker system through your preamplifier's subwoofer output (the Navis B51 speakers do not feature a sub out). The HPF setting provides a choice cutoff filters (80Hz, 60Hz, or Off) to allow optimum match with your powered subwoofer's capabilities. This setting should be set to "Flat" when no subwoofer is being used.
Gain: The Gain adjustment allows you to match the input sensitivity of the Navis B51 speaker to the gain of your preamplifier or external variable source. If when setting your volume level you cannot turn the system up loud enough use the "High" setting, if alternatively you find that the speaker is too loud at a moderate volume control setting then use the "Low" setting.
Note: The Navis B51 powered speakers do not have a volume control. If connected directly to a fixed output source, the volume will be at maximum level and may damage the speakers and your hearing. Only use these speakers with variable output sources and/or a preamplifier.
Placement Options: For the best results and the most realistic stereo image and lifelike sound, place the speakers so that an equilateral triangle is created between the speakers and your favorite listening position. This set up creates the optimum imaging performance. If you find that the Navis B51 left and right speakers are too far apart, angle or toe-in the speakers toward the listening position to gain a more focused central image. Place the speakers approximately 1' to 2' away from boundaries such as wall(s) and especially corners. Close proximity to a side or rear wall will enhance bass performance (output), but being too close (particularly to a corner) may result in bass that is unnatural. If a corner location is unavoidable, try to position the loudspeaker so that the distance to the rear wall is not equal to the distance to the side wall.
Note: The ELAC Navis B51 speakers do not provide brackets, key-hole slots, or threaded inserts to wall-mount the powered speakers.
AC Power: Each powered speaker comes with a detachable 8' AC power cord that will need to be plugged into the back of the speaker and into an AC wall outlet or surge protector (sold separately).
Our Product Research Team
At Crutchfield, you'll get detailed, accurate information that's hard to find elsewhere. That's because we have our own in-house Product Research team. They verify what's in the box, check the owner's manual, and record dimensions, features and specs. We stay on top of new products and technologies to help people make informed choices.