---
Get a free system design
After we gather your information, we'll send you a detailed system plan. It will include a link to a pre-filled shopping cart. Ordering is easy, and delivery is fast.
---
Background music and paging system
If you want the ability to play background music, page someone, or make announcements in your place of business, Atlas Sound's AA60G mixer amplifier can provide the power and distribution of the audio to your speakers.
The AA60G puts out up to 60 watts RMS for a single 8-ohm speaker, like for an auditorium PA for example, or for multiple transformer-coupled speakers in a 70-volt distributed system throughout the building. Four inputs — one microphone and three stereo pairs — let you play three different sources of audio and music and make announcements.
PA features
You can set the AA60G so the music mutes when the microphone is on or when its button activates the remote trigger. You can also route any combination of inputs to a Zone 2 output for a second set of speakers or for music on hold (MOH) in a telephone system.
Helpful connections, controls, and indicators
The microphone channel has phantom power available, so you can use a condenser microphone. A preamp output allows the AA60G to work in conjunction with another amplifier or external audio device. The neatly laid-out front panel includes a volume control for each channel, along with bass and treble controls so you can tweak the tone of the final mix. A Peak light indicates signal clipping, so you'll know to ease off the volume in order to maintain clean sound.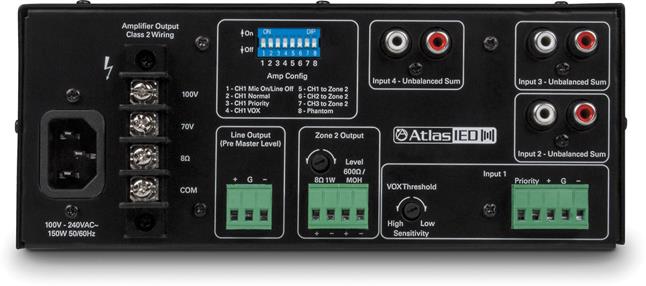 Atlas AA60G rear connection and routing panel
Product highlights:
amplified 4-channel mixer for commercial audio distribution
output: 60 watts RMS x 1 at 8 ohms, 70 volts, and 100 volts
Zone 2 output: 1 watt at 8 ohms, 1.5 volts at 600 ohms (for MOH)
4 inputs: one balanced microphone/line, three unbalanced stereo pair line
dip switches for input routing, mute selection, phantom power, and low-cut filter (400 Hz, 6 dB/octave)
remote and voice-activated mute
individual input volume controls
bass and treble tone controls
balanced preamp output
Other Features:
universal power supply: 100 - 240 VAC, 50/60 Hz
optional Atlas Rack Mount Kit available
dimensions: 8-1/4"W x 3-7/8"H x 13-3/4"D (including knobs)
weight: 9.4 lbs.
warranty: 3 years
MFR # AA60G
What's in the box:
Mixer Amplifier
35" Power cord (IEC 3-prong plug)
Owners Manual
AtlasIED AA60G reviews
Average review:
Customer photos
AtlasIED AA60G
Daniel C. from Albuquerque, NM on 8/30/2018
Great sound. Easy and straightforward implementation!
0 of 0 found this helpful
AtlasIED AA60G
Crutchfield customer from Jackson, TN on 3/1/2018
Excellent product. Does exactly what we need it to do. It runs our wireless mic on channel 1 and our projectors sound on channel 2 and a DVD players sound on channel 3
0 of 0 found this helpful
More details on the AtlasIED AA60G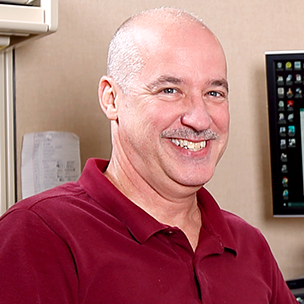 Researched by Crutchfield's

Russ B.
Product Research
Features
Overview: The Atlas AA60G is a 4 input channel mixer/amplifier designed for distributed business paging and background music systems, small to medium speech privacy systems, and in applications where music on hold plus paging is required. With one balanced microphone/line input and 3 stereo unbalanced line inputs, the AA60G will accommodate a variety of input sources including paging microphones, cd players, and digital music receivers. A dip switch selectable matrix allows the creation of a Zone 2 mix from any or all of the input sources for music or messaging on hold applications. The amp also provides 70V, 100V, and 8Ω connections, with 60 watts of output power.
Inputs: All inputs are located on the rear panel and are as follows:
Input 1: This is a 5-pin Euroblock (Phoenix) connector that can accommodate a mic or line level signal . It also includes Priority terminals for a "push-to-talk" mic, which mutes the other inputs when activated. This input can also use voice-activated (VOX) muting, which is triggered by a signal on the microphone and includes a Threshold dial, which adjusts how loud the mic signal must be to mute the other channels.
Inputs 2,3 and 4: All three of these inputs are stereo, unbalanced RCA inputs for running audio signals such as a CD or MP3 player. The stereo signal on these inputs gets summed to a mono signal.
Outputs: All outputs are located on the rear panel and are as follows:
Amplifier Output: The main speaker output is a 4-terminal set screw block, that includes connections for 100V, 70V, and 8Ω speaker configurations. This section has a pre-installed protective metal cover that is easily removed to access terminals.
Line Output: This section uses a 3-pin Euroblock (Phoenix) connector to pass the main audio signal out to another amplifier. This output is not affected by the Master Level control on the front panel.
Zone 2 Output: This 4-pin Euroblock (Phoenix) connector includes an MOH (Music on Hold) input, which ties into a phone system, allowing any music source connected to the amp to play over a phone line while a caller is on hold. There is also an 8Ω/1W output, for a direct speaker connection, and also has an adjustment dial to control the level of the Zone 2 signal.
DIP Switches: The AA60G includes a DIP switch matrix for quick and easy configuration of inputs and outputs. This allows for the following settings:
1 - CH1 Mic on/Line off
2 - CH1 Normal
3 - CH1 Priority
4 - CH1 Vox
5 - CH1 to Zone 2
6 - CH2 to Zone 2
7 - CH3 to Zone 2
8 - Phantom
Controls: The front panel controls of the AA60G include:
Input Levels: Each of the four inputs has its own level control.
Master Level: Controls the overall signal to the speaker output. This does not affect the Line Output level.
Tone Controls: Recessed Bass and Treble controls allow ± 10dB of adjustment at 100Hz and 10kHz.
Power Switch
LED Indicators: A Power indicator lights blue when the unit is powered on. A green LED above each of the Input Level controls lights when the input signal level exceeds -40dBu and flashes brightly if the signal reaches the distortion level. The Master Level section also includes a green signal indicator, which lights when the signal exceeds -40dBu, and a red Clip indicator that will flash brightly if the output signal reaches the distortion level.
Phantom Power: If DIP switch 8 is turned on, the AA60G will provide 15V of phantom power to Input 1. Condenser mics that require more than 15V of phantom power will not work.
Rack Mount: The AA60G can be rack mounted using the optional Atlas Rack Mount Kit (Item# 978AAGRMK2). This allows the amp to be mounted in a standard 19" rack space. Joiner plates are also included, with the Rack Mount Kit, so two of the AA60G's can be rack mounted side-by-side.
Specifications:
Frequency Response: 50Hz - 20kHz
Output Power: 60 Watts
Zone 2 Output 1W: 1 Watt @ 8Ω
Zone 2 Output 600Ω: 500mV into 600Ω
Phantom Power: 15VDC
Dimensions: Width = 8.25", Height = 3.875", Depth = 13.75"
Weight: 9.4 lbs.