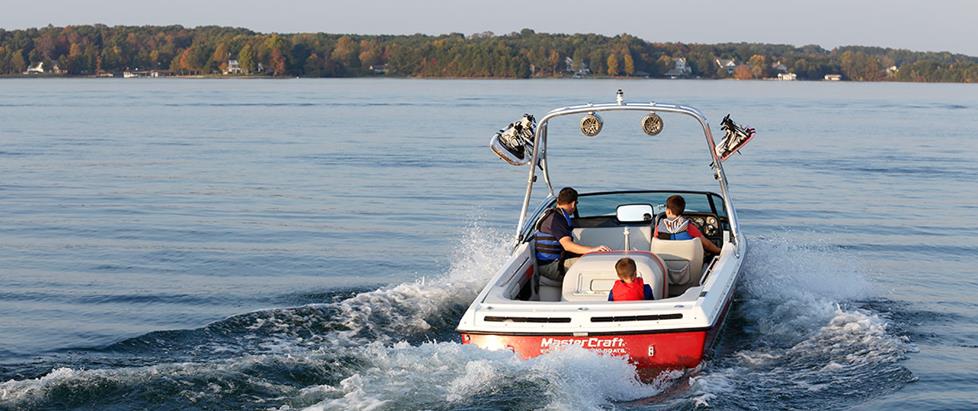 In a nutshell: In this article, we'll take a look at the hows and whys of adding a marine amplifier to your boat.
nstalling a new marine receiver and speakers in your boat will give you an immediate upgrade in sound quality. But if you want to get the most out of your system, you need to add a quality marine-rated amplifier.
Most people associate amps with high volume. And while that's very true (and very necessary on ski boats and other open vessels), an amp brings more to your boat than just decibels – you'll also hear details. Instead of losing most of the notes to wind and engine noise, you'll hear your favorite songs the way you know they're supposed to sound.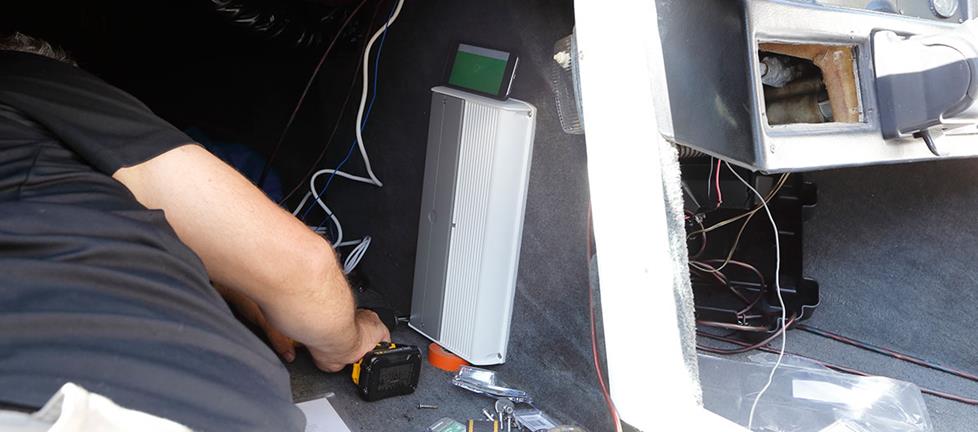 Why add an amplifier to your boat?
Unlike a receiver's built-in amp, an external amplifier isn't limited by the space available — it can be designed without compromises, so it's bigger and better. The result is bigger and better sound, which you'll definitely appreciate when you're running through open water at full throttle,
If you're adding aftermarket marine speakers to your system, it's safe to assume that they'll need more power than your old receiver can provide. If you're adding a subwoofer, you'll definitely require a lot more power. If you're into big bass, a separate amp isn't just a good idea, it's an absolute necessity.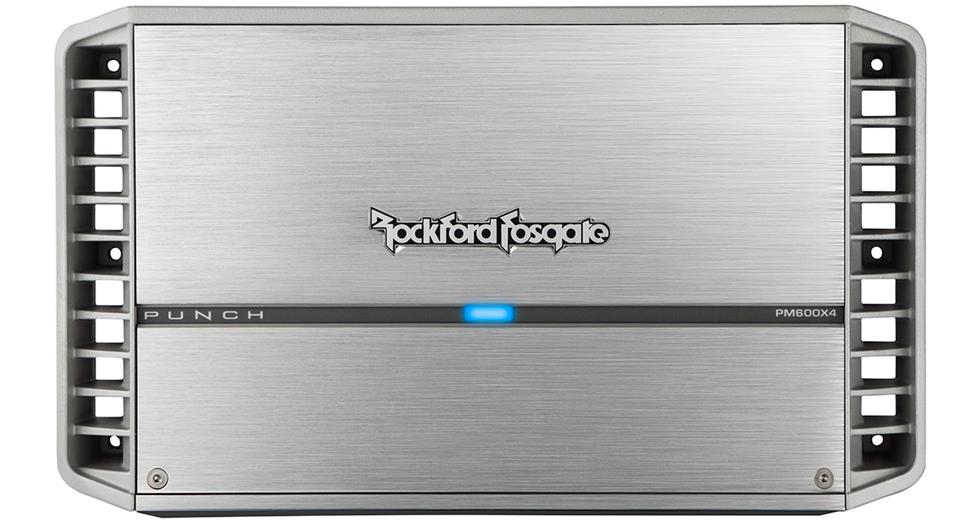 Rockford Fosgate PM600X4 4-channel amp
Adding more "oomph" to a boat's stereo system
If you want to enjoy better sound without replacing your boat's receiver or speakers, get a 4-channel amp. There are plenty of marine amps that are small enough to install out of sight, but still powerful enough to make a noticeable difference in sound quality.
If you're just looking to get more out of a stock or low-powered stereo, look for an amp with speaker-level inputs. Even if you have a small boat, this is a reasonably-priced upgrade that will make a difference.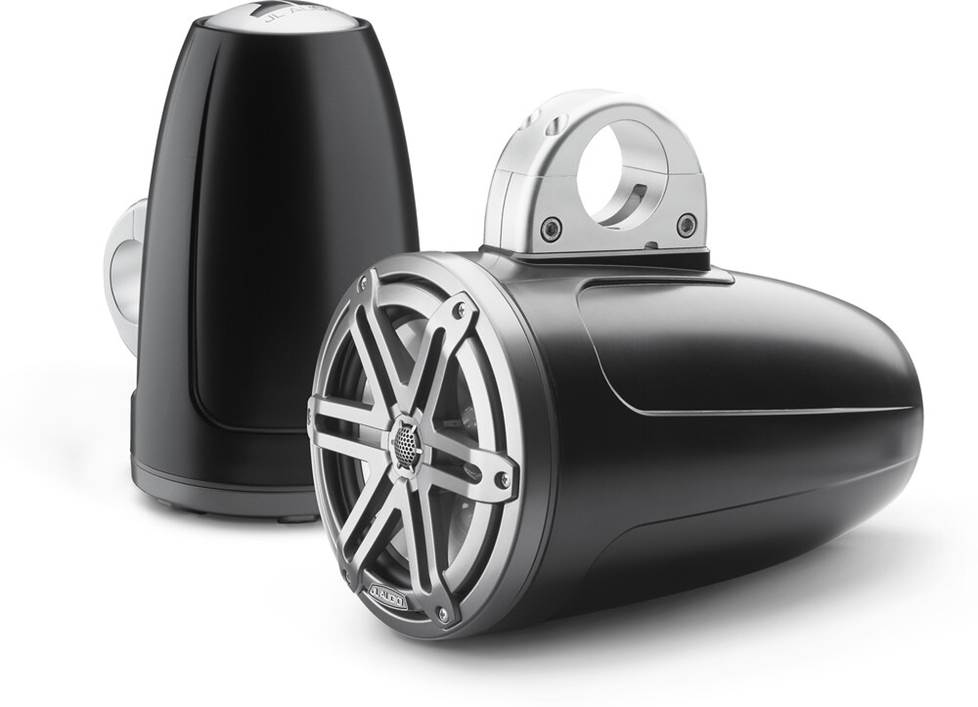 Getting the most out of your new marine speakers
When you invest in a set of marine speakers for your boat, it's important to make sure that they're getting the power they need to perform at their best. When you're looking over the specifications you'll see the RMS (or "continuous") power rating. It's usually expressed as a range — "5-60 watts RMS power range" for example. The higher number represents the approximate driving power at which the speaker will sound its best, according to the manufacturer.
Do not exceed the RMS ratings
For your speakers, use an amplifier whose top RMS output per channel is no higher than each speaker's top RMS rating.

For your amplifier, get speakers with top RMS ratings that are equal to or higher than each amp channel's top RMS output.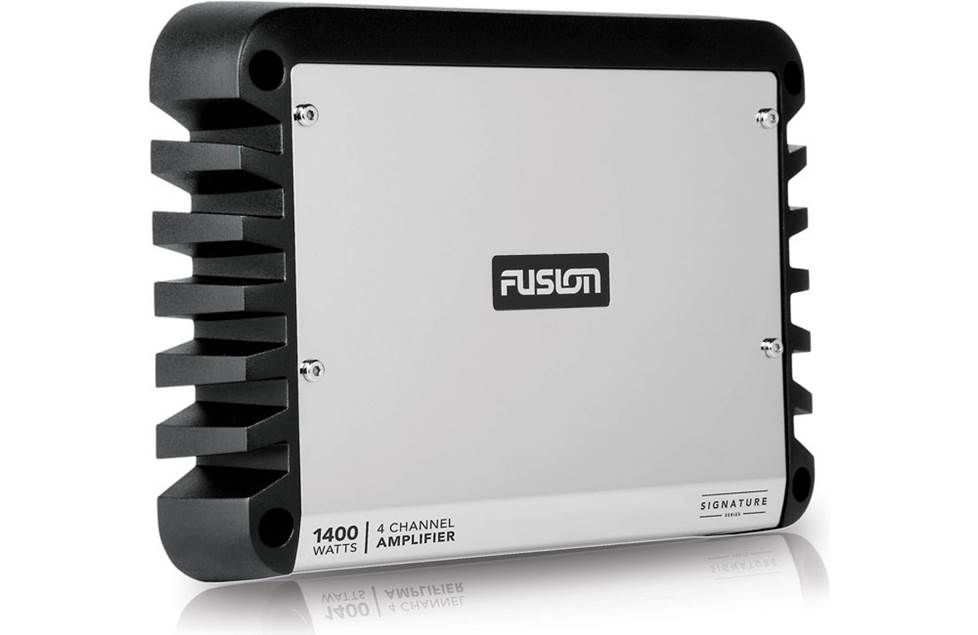 Fusion SG-DA41400 4-channel marine amp
How many amplifier channels do I need?
If you have a smaller boat, or just don't want a massive sound system, a 2-channel amplifier is a practical solution if you only want to power a single pair of speakers. But if you think you might want to add another set of speakers in the future, get a 4-channel amp now, so you'll be ready when the time comes.
If you're thinking about adding a subwoofer, there are some other amp configurations to consider. A 3-channel amp can take care of a single pair of speakers plus a sub quite effectively. A 4-channel amp can also be employed to run a pair of speakers and a sub, with two channels bridged to run the sub and the other two to drive the speakers. With this set-up, you can change the amp over to run four speakers and add a separate amp for the sub when you decide to expand your system
Of course, you may want to consider a 5-channel amplifier that can power your entire system from one convenient package. Some manufacturers offer 6-channel marine amps, which can be configured to run almost any speaker combination — from multiple speakers and tower set-ups to high-powered subwoofers. If you're going big, this is what you need.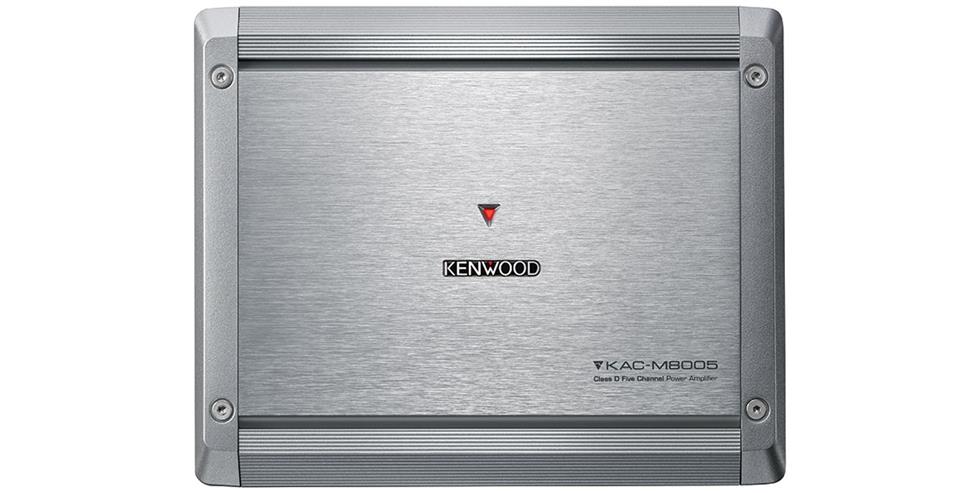 Kenwood KAC-M8005 5-channel amp
Planning your marine audio system
When you're considering what you want in a new marine audio system, one of the main questions you should ask yourself is, "Exactly how big do I want this thing to be?" Marine audio systems don't necessarily need massive amounts of amp wattage to get loud when you're moored in a creek or tied up at the marina, but having the right amount of power makes a huge difference when you're underway.
On a smaller boat, a 50 watts RMS per channel (or smaller) amp can probably make a big difference in your overall sound. Look for speakers with a top RMS rating of at least 50 watts RMS to go along with the amp.
If you have a bigger boat, or just like your music loud, you should look for an amp offering 75 watts RMS per channel at least. A difference of 5 or 10 watts either way won't matter much, but somewhere in that range is the sweet spot. Your new speakers will each need to have a top RMS rating of 75 watts RMS or more.
Of course, there's also the "max power" approach, which is a smart (and totally appropriate) approach for speedboats and ski boats. If you already have an engine that sounds awesome, you'll want to go for an amp with 100 watts RMS or more per channel. Get speakers or component sets that are each rated for at least the top RMS output power of each amp channel., and you should be able to hear your music over the engine.
If you add multiple sets (on a tower, for example), make sure you have enough amps for all of them. And if you have a seriously loud high-performance engine, plan to build a system that's powerful enough to be heard over it.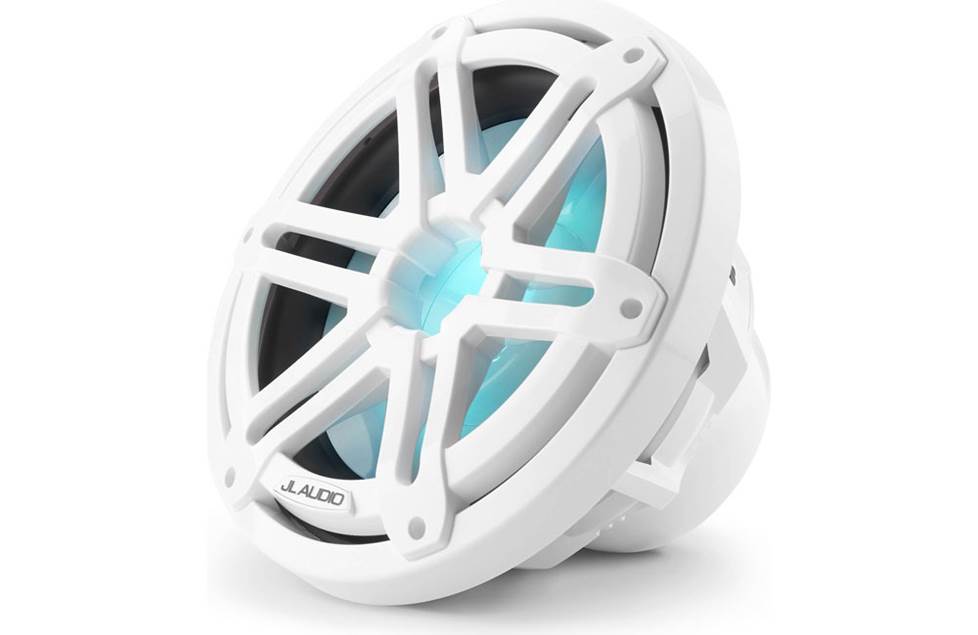 JL Audio M3-10IB-S-GW-I-4 with built-in RGB LEDs
Boosting your boat's bass with a subwoofer
Bass is much harder to amplify than anything else on the sound spectrum, but it's also hard to live without if you're used to a thumpin' car or home stereo. Luckily, there are numerous powerful marine subwoofer amplifiers out there dedicated solely to reproducing bass. These 1-channel "mono" amps are designed for subwoofer duty, so they work with a wide range of impedances and have tone controls and filters designed to maximize bass.
In theory, many 2- and 4-channel marine amps can be bridged to increase their power enough to run a sub. In practice, though, they often can't handle the sub's low impedance, so they overheat or go into protect mode. A dedicated mono amp is essential if you like to hear low-end thump at high volume. What you want is bass that blends into your overall sound instead of overwhelming it. Here's a good rule-of-thumb guide to sub power:
Stock stereo — 50 to 200 watts RMS of power for the bass will do nicely.
Aftermarket stereo — you might want to have 200 to 300 watts RMS for your subwoofer.
Amplified speakers with around 50 watts RMS per channel — plan on 250 to 500 watts RMS for bass
System with 100 watts RMS per channel or higher— you'll want at least 1000 watts RMS for your sub.
It's absolutely essential to match your mono amp and subwoofer before you order either one. You'd hate to hook up your new gear and discover that the amp can't run the subs because their impedance is too low for the amp to run without overheating. Remember, if you're adding a sub to a factory system; get a subwoofer amp with speaker-level inputs, so it can get a signal from the factory speaker wires. To learn more, check out our informative article on matching amps and subs.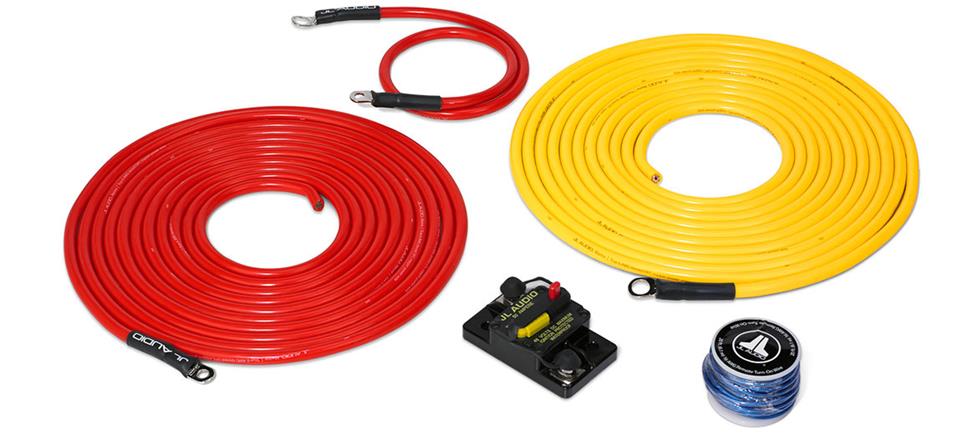 DIY installation help in the marine world
Amplifiers don't come with the wiring you need to connect them to your stereo. Marine-rated wiring and wiring kits provide everything you need to send signal and power to your amp. You'll also need marine-rated speaker wire to send signal from your amp to your existing speakers. A capacitor will store reserve power and delivers it when your amp needs it most.
We also recommend installing a secondary battery to power your amps. Nothing ruins a party faster than calling for a tow because you drained the main battery cranking your stereo. Our expert advisors will help you choose the right XS Power battery for your boat.
And don't forget the extra hardware you might need for a truly professional installation: power distribution hardware, fuses, etc.
Want to learn more about adding audio gear to your boat?
Browse our entire selection of marine amplifiers. If you have questions, give our Advisors a call at 1-888-955-6000. They have the knowledge and experience to help you find an amp that will make your marine audio system rock.