hen I bought my house two years ago, one of the first things I needed to address was the lighting. Most of the light fixtures were unattractive and dated-looking. A few of the wall switches were a pain to get to, and a couple rooms didn't even have wiring for light fixtures.
I started using smart lights last year. Their flexibility has helped me solve many of my lighting problems. And they've boosted my quality of life in ways I never expected. Wondering what smart lights can do for you? This guide will break down the different kinds of smart lighting products and what you can do with them. Hopefully you will find it illuminating.
What are the benefits of smart lighting?
Since I work from home, I spend most of my time in my house. Being able to change the lighting for different activities and times of day helps me maintain a work/life balance. Plus it keeps things interesting. And those are major benefits I hadn't anticipated.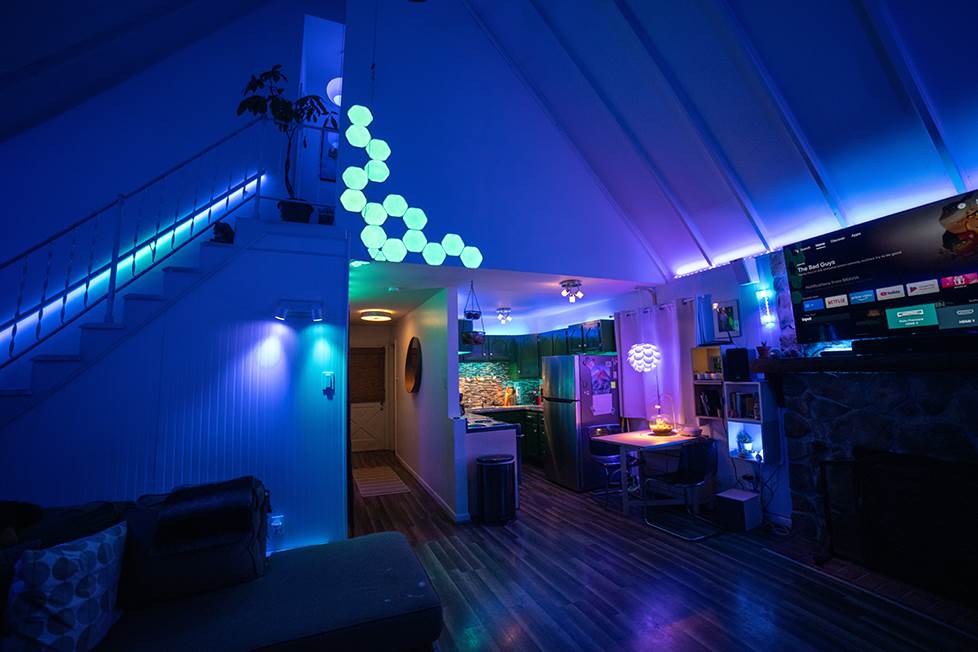 The more you learn about how to use smart lights, the more value they have. I'm always discovering new features and capabilities that let me get even more out of my smart lights. Here is a basic breakdown of some of the ways smart lights can give you peace of mind and make your life a little easier. We'll expand on these ideas throughout the article.
Automation
Having my lights turn on or off automatically at different times of day is more useful than I ever imagined. You can schedule routines to help you wake up or fall asleep. Or have your lights come on when you get home, dim the lights in your living room when you turn on your TV, and a whole lot more.
Smart lights are long-lasting and energy efficient
LED lights use much less energy than their older, incandescent counterparts. And they last a lot longer, too. Most smart LED bulbs have an expected lifespan of 15,000-25,000 hours. That breaks down to roughly 10-20 years if you use them for four hours a day.
Being able to set schedules and control your lights from anywhere means you'll use them even less. No more having to leave the porch lights on all day just to see your way to the door when you come home in the evening.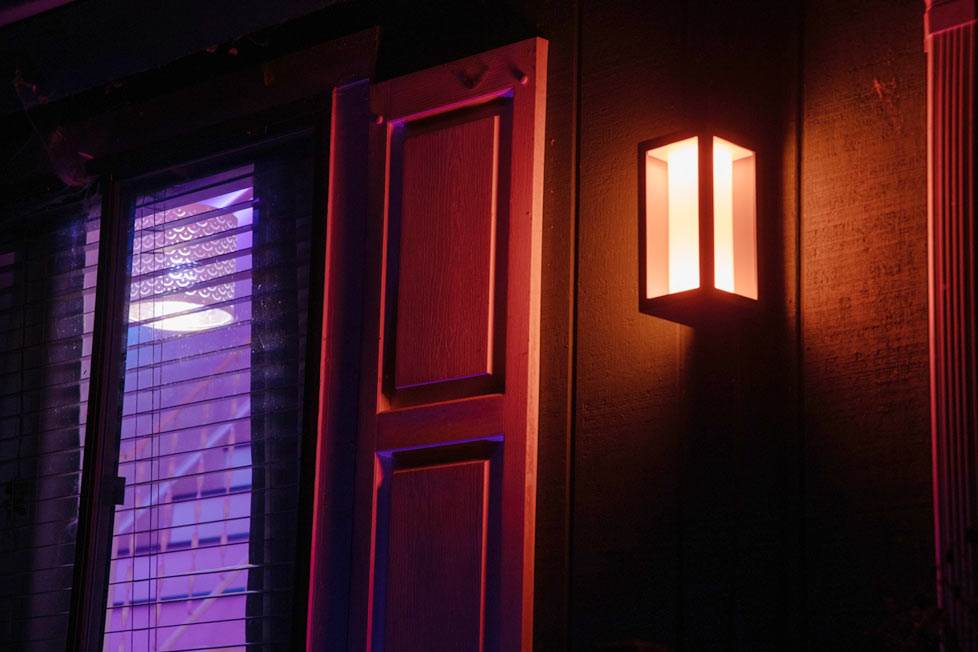 Come home to inviting lights, without having to leave them on all day.
Customized lighting boosts the ambiance in your home
Using smart lighting is a great way to highlight different features of your home. You can change the ambiance in any room or outdoor area with a quick tap or voice command. Change colors or brightness to accent your décor. Create an immersive home theater or gaming environment. Or dial in the right vibe for a dinner party — the options really are endless.
Integration with other smart home products
Smart lights work with voice control assistants, Smart TVs, Wi-Fi thermostats, and other smart devices. And they're a great place to start building a smart home if you haven't invested in any of these things yet. Once you get a feel for the kinds of automations you can create with lighting, it's easy to add other devices to the mix.
Safety/security
You can automate your smart lights to randomly turn on and off in different areas of your house to make it look like someone is home when you're away. And smart motion sensors can trigger lights to come on when movement is detected, so you can safely navigate dark spaces at night.
How do smart lights work?
Unlike traditional lights, smart lights can connect wirelessly to your phone and other devices. This gives you a range of new options for controlling and personalizing your lighting. Different smart light brands use different wireless standards to connect. Getting familiar with them will help you figure out which smart lights are best for your situation.
Do smart lights need a hub?
Lots of brands offer smart bulbs and lights that connect directly to Wi-Fi or Bluetooth without a hub. This is convenient when you don't want to commit to a single brand, or if you aren't planning on adding a lot of lights.
But if you want a large percentage of the lighting in your home to be smart, having a hub is less taxing on your home's Wi-Fi. It ensures your lights stay connected and work reliably.
I use two hub-based systems. My Hue Bridge controls 36 connected lights and ten accessories. And I have a hub for three hardwired smart switches in my kitchen. This amounts to two devices connected to my router instead of 49.
I also have some smart plugs and a few other smart lights that don't require a hub. Most of the time they work great. But they're a little finicky compared to the rock-solid hub-based systems I use. I don't have super-strong or fast Wi-Fi to begin with, but adding a Wi-Fi extender has helped my hub-free lights stay connected.
Some hub-free smart light platforms allow up to 200 connected lights. But the actual limit depends on your home network. A single smart bulb won't slow down your Wi-Fi. But if you have a lot of devices already connected to your router, you might see a drop in performance after adding 20 of them. The lights will be slow to respond or even lose their connection if your Wi-Fi is strained.
Check out our wireless router buying guide for info on how to get more from your home network.
Wi-Fi or Bluetooth?
Most smart lights connect through Wi-Fi, but a few brands also work with Bluetooth. Bluetooth smart lights are great for areas where Wi-Fi is limited or non-existent. And they're easy to set up and connect. But the Bluetooth connection has some limitations compared to Wi-Fi. One of them being that you can't control your lights when you're out of Bluetooth range.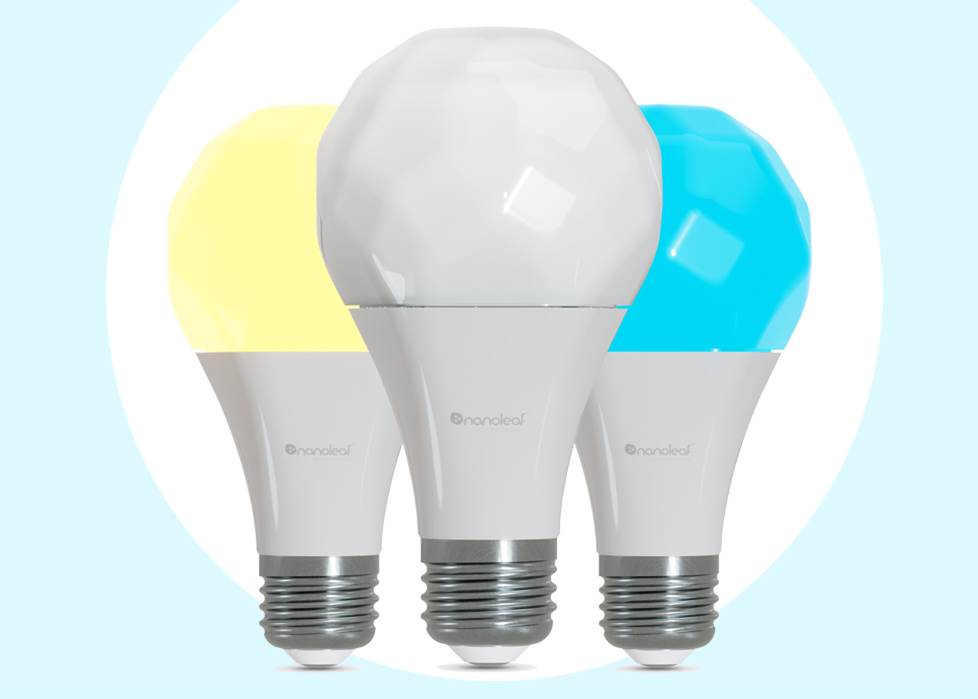 You can connect an unlimited number of lights from Nanoleaf's Essentials line via Bluetooth on iOS devices, and up to eight on Android devices.
I set up my first Hue light and dimmer switch via the Hue Bluetooth app. Being brand new to smart lighting at the time, I didn't notice any real shortcomings with the Bluetooth system and happily began adding more Hue Bluetooth lights. The range was better than expected. I could control all my Hue lights from anywhere inside the house, and even turn them on and off from the driveway.
You can add up to ten Hue lights with Bluetooth, which is a decent number when you're starting out. But you might end up wanting more like I did. Once I got up to seven lights, I realized I was going to max out that ten-light limit before long, so I decided to switch to the Bridge. It was easy to transfer all my existing lights from the Hue Bluetooth app to the Bridge. And the process is even simpler now that the regular Hue app supports Bluetooth.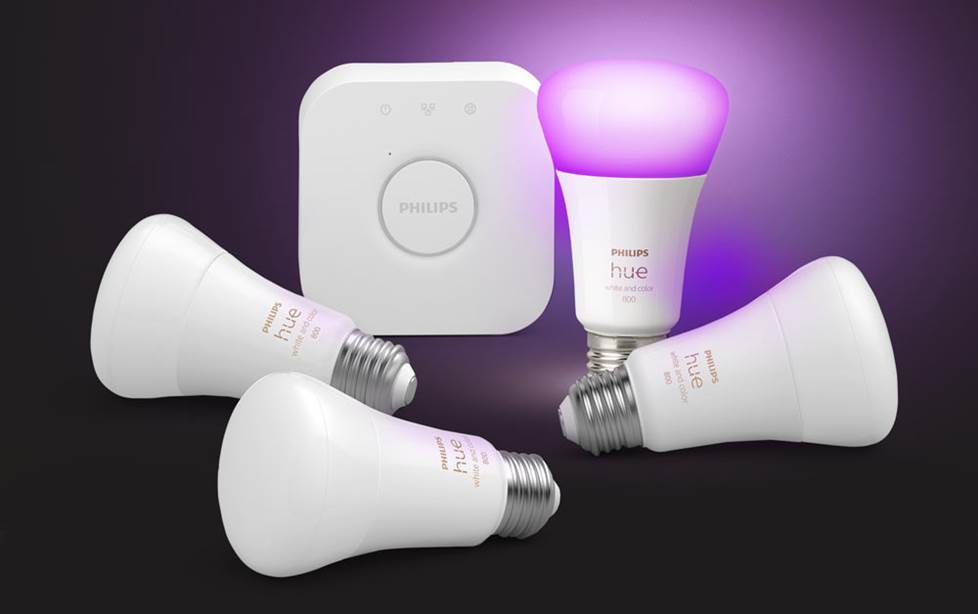 You can save a little on a Hue Bridge and bulbs by picking up a Hue Starter Kit.
Here is what the Hue Bridge added to my system:
Out-of-home control
More advanced grouping options for better control of lights in different rooms
The ability to set up custom automations (Bluetooth does allow a couple of basic ones.)
Room to add up to 50 lights and 12 accessories (It is possible to use multiple Bridges to add more lights and accessories.)
Voice control with Siri (in addition to Alexa and the Google Assistant, which are supported by Bluetooth and the Bridge)
The ability to add custom light settings to Hue dimmer switches
Compatibility with Hue motion sensors, Hue outdoor lights, and Hue Play lights, which don't support Bluetooth
Other brands of Wi-Fi connected smart lights offer similar benefits to Hue when it comes to grouping, automation, and out-of-home control. Voice assistant compatibility varies between different brands. And the maximum number of connected lights is also different for each brand.
Can you mix and match smart light brands?
Sticking with just one brand of smart lights might make things a little easier, but you can use as many different brands as you like. And you can even control them all together using a voice assistant.
Check to be sure that any brands you are considering will work with your voice assistant of choice. Otherwise, you might have to use multiple apps to get everything to work.
What are the different types of smart lights?
Smart lights are available as bulbs, fixtures, light strips, lamps, and more. You can also use smart plugs and hardwired switches to make regular lights smart. Here's a breakdown of the different kinds of smart lighting products and how they work.
Smart plugs — a simple way to make your lamps (and other plug-in devices) smart
Smart plugs let you set schedules and use app and voice control like you can with any other smart light. They also have a built-in power button, so you can turn your lights on and off from the plug any time you need to.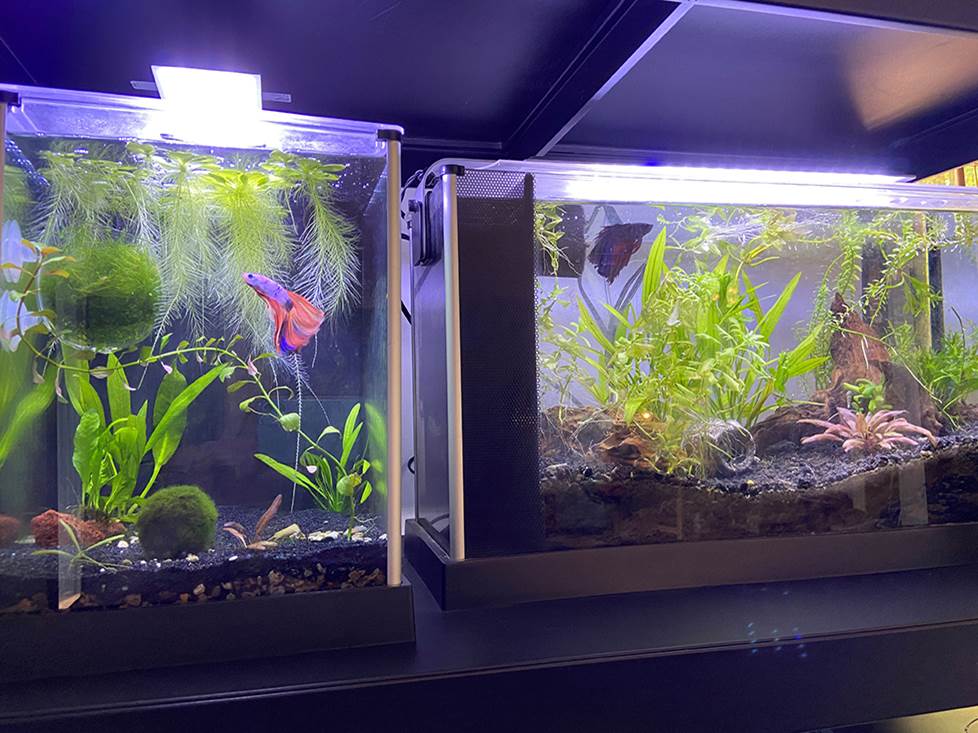 Smart plugs help me keep my aquatic plants on a regular lighting schedule.
Crutchfield smart home expert Emily uses Wemo smart plugs to schedule seasonal lights for different holidays. And our web editor Jim uses WiZ smart plugs to control some fluorescent plug-in lights in his basement setup.
The uses for smart plugs extend beyond lighting. Pretty much any plug-in device with an on/off switch can become a smart device when you connect it to a smart plug. That means you can use smart plugs to control appliances like coffeemakers, which is great if you have a habit of forgetting to turn them off.
Smart light bulbs
Replacing a regular light bulb with a smart bulb is the perfect low-commitment way to get started with smart lighting. A normal lamp becomes a smart lamp you can control with an app or your voice.
Adding smart bulbs to my lamps meant I didn't have to cross my entire living room to turn on the lights. It might not sound like a big deal, but having to traverse different corners of the house or bend down to switch lights on and off actually kept me from using some of them.
When I started looking at smart lights, I was happy to find there's a smart light bulb for nearly any application. Crutchfield carries smart bulbs in these form factors:
Basic white smart bulbs
Most plain white smart bulbs fall into the "soft white" or warm white category, with a color temperature around 2700K. But some are on the warmer or cooler end of the spectrum, so be sure to check the specs. Most of these bulbs are dimmable via their app, voice control, or a smart switch or remote, which is an exciting improvement over a regular white bulb. But if you're looking for more versatility, you should step up to a tunable white or full-color option.
Get more from a tunable white bulb
I had a little difficulty choosing bulbs for the new fixtures I put in my house after I moved in. I basically froze in front of the huge wall of light bulbs at my local big box hardware store and ended up picking up "daylight" LED bulbs for my bedroom ceiling fixture. It came out looking like a garage in there — not a relaxing vibe at all! And I'm not the only person I know who's made that mistake.
Tunable white bulbs, like the ones in Hue's White Ambiance collection, let you change the color temperature of white light from warm to cool. This is extremely convenient for different tasks, times of day, and weather conditions. And, of course, it's great when you're not sure which sort of white will look best in a given space to begin with.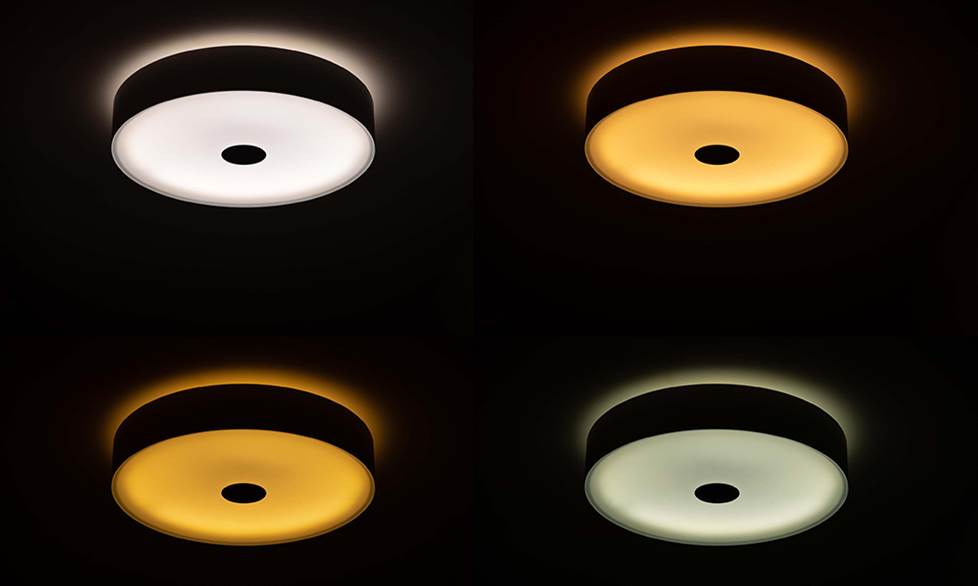 Tunable white smart lights let you change the temperature of white light from warm to cool, and they're also dimmable.
I have a few Hue White Ambiance filament bulbs and a couple White Ambiance light fixtures, and I love changing the lighting to suit my needs. I can make them a cool, bright, clinical white when I'm cleaning. And when it's time to relax, I can make them warmer and dim them to make the house look more inviting.
Color-changing smart bulbs — even cooler than you might think
The most versatile smart light bulbs are the ones that offer a range of colors and tunable whites to choose from. I've long been a fan of using colorful lights in creative photography or to add some funky ambiance to a room (I'm certainly no stranger to string lights!) but even I didn't realize how amazing color-changing lights could be.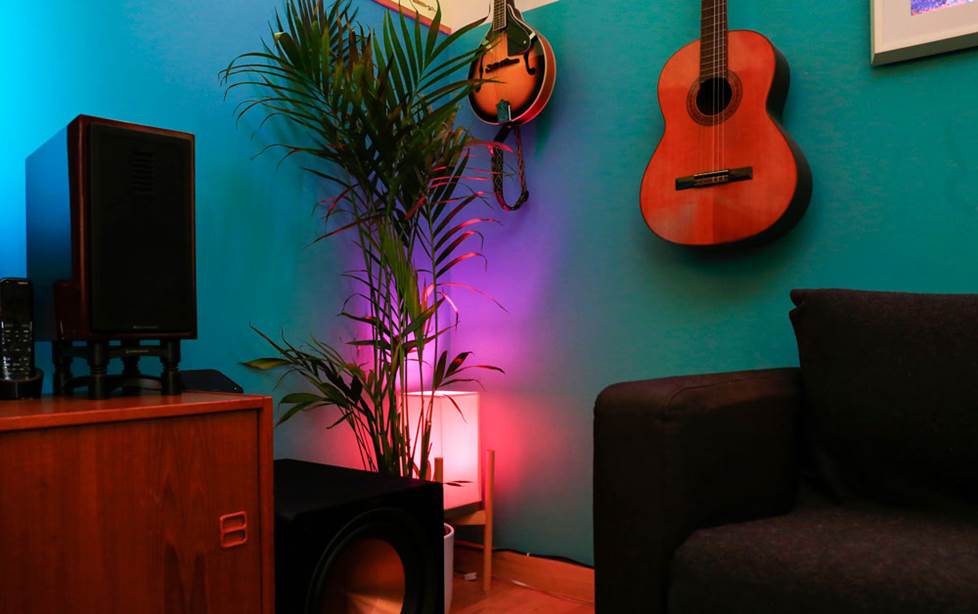 Crutchfield smart home writer Emily uses color-changing smart bulbs to highlight plants in different parts of her home.
I started off with tunable white smart lights, but as soon as I added a Hue White and Color Ambiance bulb, I was hooked. They do everything the White Ambiance lights do, with the addition of millions of custom colors. I love the range of soft, warm peaches and pinks that are just a little more exciting than your average white. But the rich, saturated colors these lights can display are nothing short of magical.
The sky is pretty much the limit when it comes to smart color-changing lights. You can make your lights any color that you like. Or choose a preset color scene to show an array of coordinating colors at the same time across multiple bulbs.
Most color-changing smart lights can do both static scenes (where the colors don't change after you apply them) and dynamic scenes, where your lights cycle through all the colors in a given scene. You can slow down the speed of the transitions for a more subtle color-morphing effect or make it faster for more of a "disco" vibe. Default speeds are usually on the slower side.
Décor-friendly ways to show off your smart bulbs
Most smart light bulbs have a pretty utilitarian look that you might not want on display. But there are definitely exceptions. For example, Nanoleaf's color-changing smart bulbs have a cool geometric design that makes them fun to look at.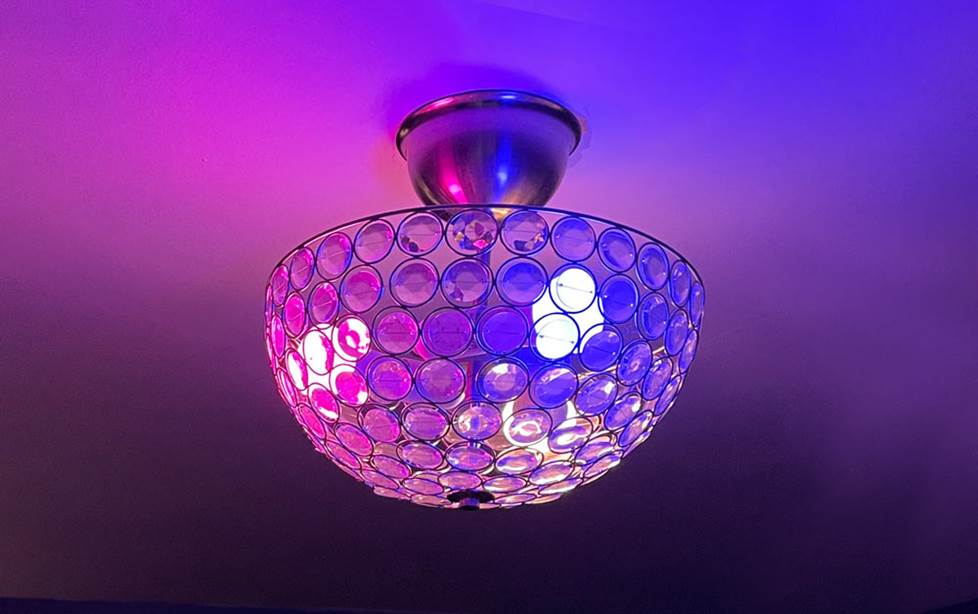 Color-changing smart bulbs look fantastic when their light is diffused by a translucent white shade. Transparent shades are also nice, but they distribute the light differently.
Smart filament bulbs look incredible in open fixtures and lamps with clear shades, or no shades at all. Being the only transparent smart bulb option, filament bulbs also work well with opaque shades that have patterned cutouts when you want the patterns to show on the wall or ceiling.

Filament bulbs were made to be shown off.
Set the mood with smart accent lamps and light strips
One area where smart lighting really "shines" is its ability to transform a space in an instant. Smart lamps and light strips give you versatile accent lighting and provide great supplemental lighting where you need it. You can use them together with smart bulbs and fixtures to create layered lighting throughout a room. And you can use them to highlight architectural elements and other features of your home.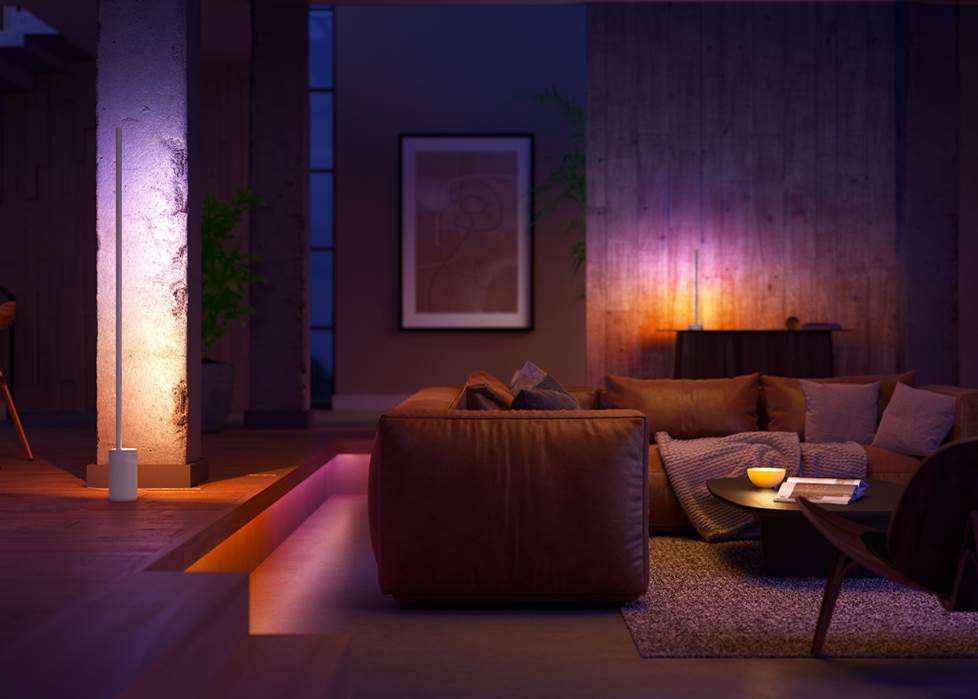 Smart lamps like the Hue Gradient Signe can transform your space with beautiful accent lighting.
I have a couple of small Hue table lamps in my living room that I'm currently using for shelf lighting. Hue Play Light Bars are another super-versatile option. Mine looked great as up-lights on the mantel before I mounted my TV, and now they're part of my TV backlight setup.
Hue Lightstrips have been game-changers in a few areas of my house. They contribute a lot to the overall light level when they're on a white setting at full brightness. And when I change over to a color scene in the evening, they give the space a whole new look.
Décor-friendly ways to use smart light strips
There are so many clever uses for smart light strips, I couldn't begin to list them all. Some applications are simple, and others require a little more DIY work.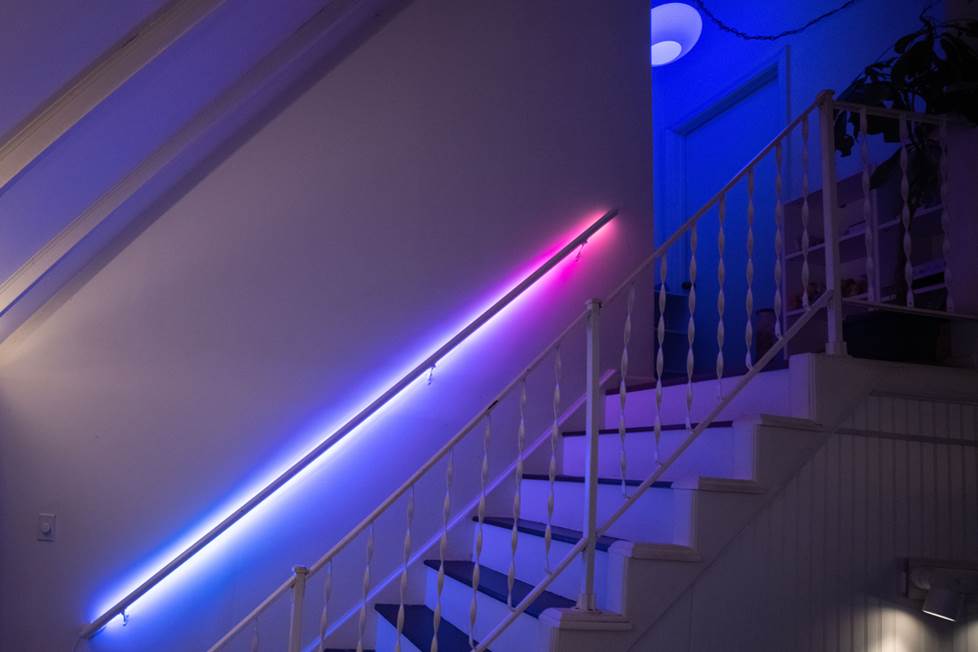 The Hue Gradient Lightstrip can show multiple colors at once.
I added a Hue Gradient Lightstrip (courtesy of Philips Hue) with an extension (courtesy of me) to the back of my staircase handrail. I love the indirect lighting on the stairs with the strip completely hidden behind the handrail. It's both fabulous and functional — it keeps me from stepping on cat toys when I go upstairs and it's the one piece that really ties all my Hue lights together.
Here are some popular uses for smart LED light strips: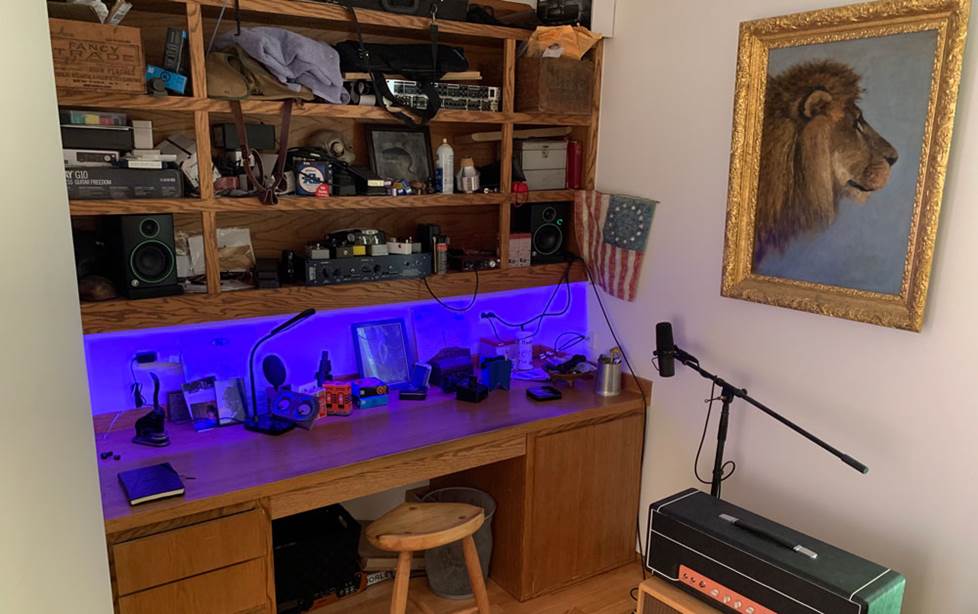 Under shelves
Crutchfield writer Ned added a Satco Starfish light strip under the shelf above his desk. It provides task lighting when he needs it and adds to the ambiance in the room when he isn't working. Ned's advice is to experiment with your exact placement before you stick a light strip under a shelf. "When it's dark, if possible, because parts of your overhang might cast shadows."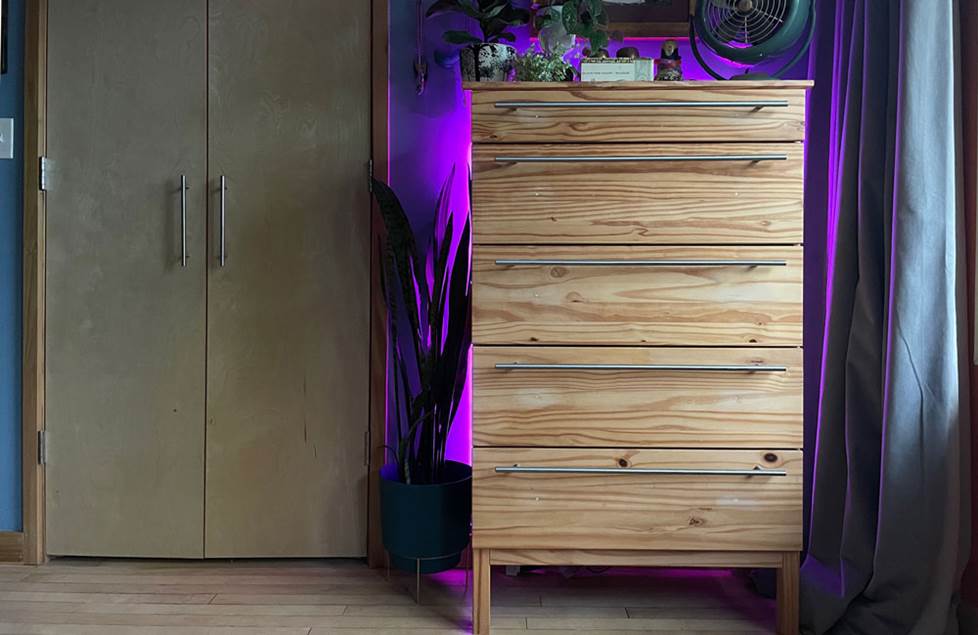 Behind furniture
Emily got some awesome indirect lighting effects by putting a Nanoleaf light strip on the back of her dresser. You can use smart light strips to add some glow behind or below any piece of furniture that sits near a wall or has a little space between it and the floor (TV stands, couches, and beds are popular choices). These applications are all pretty easy to pull off.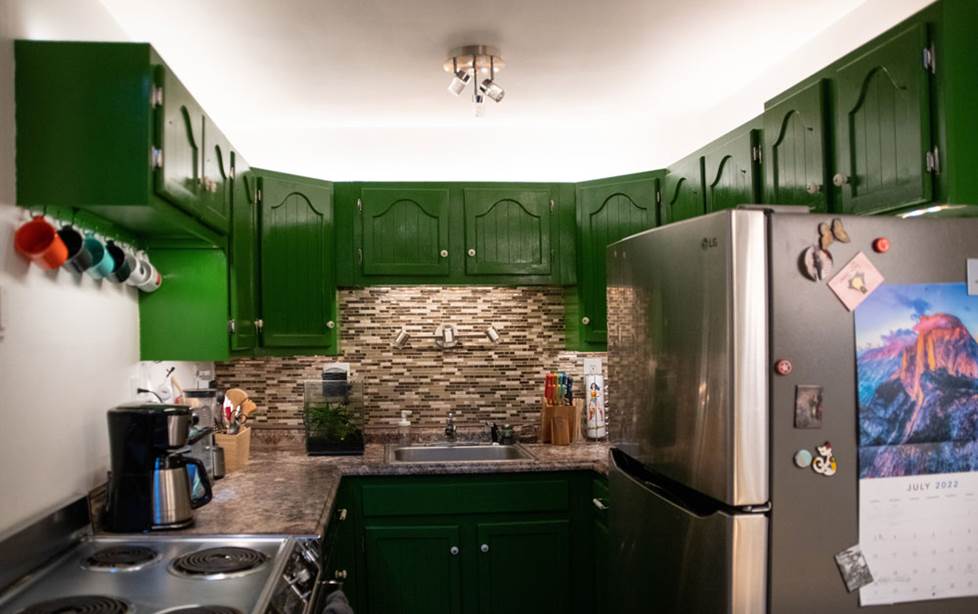 Under/above cabinets
Installing Hue light strips under my kitchen cabinets took more work than any of my other light strip applications, but it was worth it for the amount of light they added. First, I had to cut the strip and extensions to fit under each cabinet. This part is easy because there are clear marks on the strip to show you where you can cut.
I used third-party connectors to attach the cut pieces to one another through holes I made in the sides of the cabinets using a small saw. I also put aluminum channels with diffuser covers under the cabinets to give the strips a more finished look. But you can't see them at all from most angles because I put them at the outermost edges of the cabinet undersides. This puts more light on the countertops where I need it.
For the cabinet tops, I played around with placement until I got the right effect. The strips put a harsh line on the ceiling if they were too far forward, and when I put them all the way back, there were noticeable LED spots on the wall. I ended up placing them just forward enough from the back to get rid of the "hot spot" effect.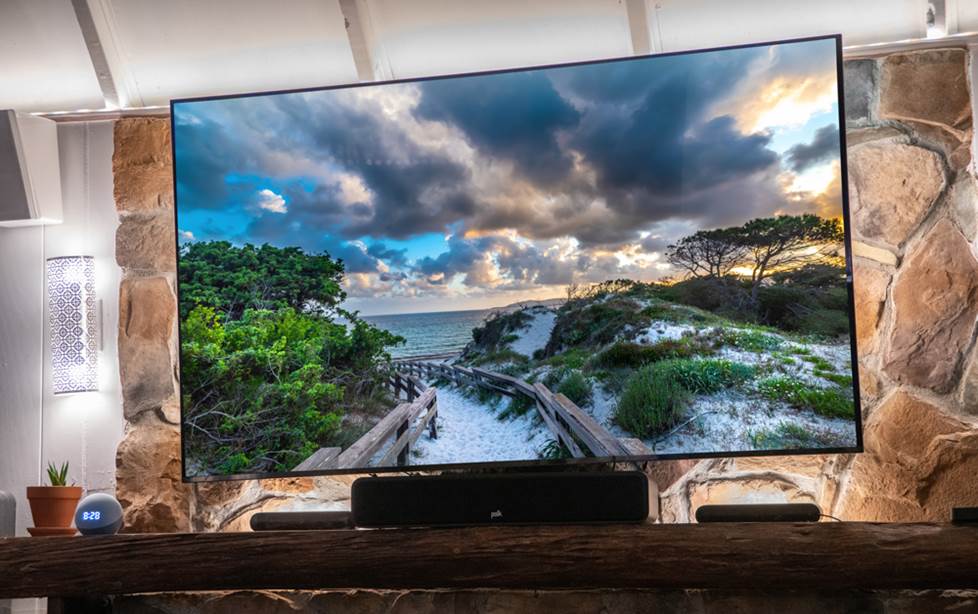 Bias lighting for TV
Adding a backlight to your TV makes it easier on the eyes, plus it's undeniably cool to look at. I recently upgraded from a regular LED strip to a Hue Play Gradient Lightstrip (which I received from Philips Hue). This premium TV backlight can show multiple colors at once. When I'm not watching TV (and often even when I am), I like to match it up to the rest of the living room lights. It can get bright, so it adds to the ambient lighting in the room.
There are lots of other ways to get smart bias lighting for your TV. You could use any smart light strip as a TV backlight. Or you could simply add a smart plug to a regular LED strip. And there's no rule that says you have to use light strips for bias lighting, but they do work great for big TVs. If you have a smaller TV, you could also try setting a smart table lamp or two behind it for a similar effect.
Smart light panels
I love any kind of statement lighting. So when I first saw Nanoleaf's Elements wood-look hexagon light panels, I knew I had to have them. I got the Smarter Kit and one Expansion Pack and put them on the wall behind my bed. This solved the problem of not knowing what to do with that empty space and added some beautiful lighting to the room.
It was lots of fun setting all these light panels up in the Nanoleaf app. You can figure out your design using the app's layout assistant. And the augmented reality feature shows you what the panels will look like on your wall before you put them up.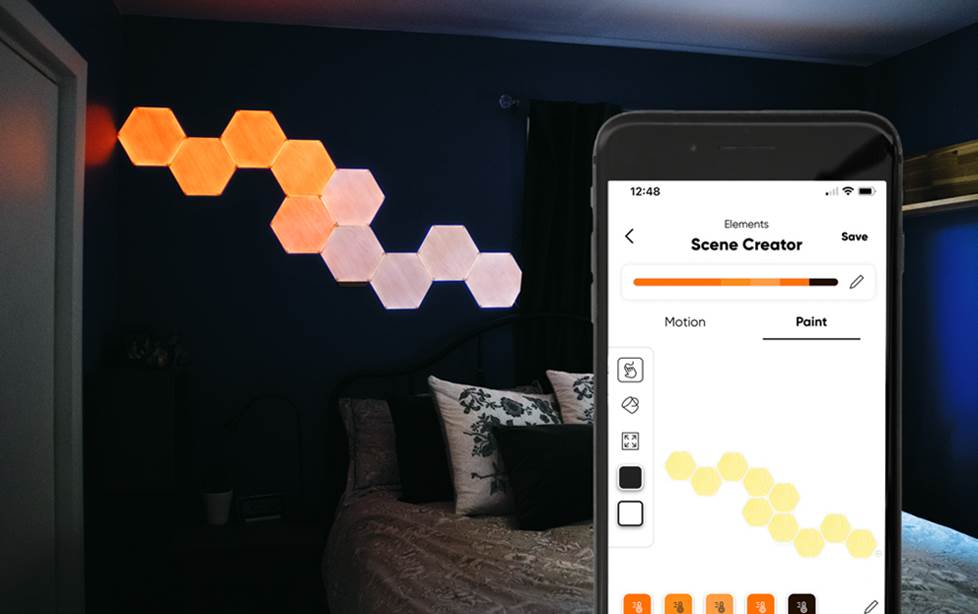 Once your panels are mounted, the Nanoleaf app recognizes your configuration so you can create custom lighting scenes where you can control what each panel does.
You can add up to 50 custom or preset scenes to a set of light panels within the Nanoleaf app. And all your saved scenes are stored in the wall-mounted controller, so you don't have to use the app every time you want to call up one of your favorites. I love the controllers because they work without Wi-Fi, and I put mine in a convenient spot where I can turn the lights on or off manually if I want to.
Using touch gestures to interact with my Nanoleaf panels is also fun. You can customize them to do a few different things. Mine are set to switch to the next scene if I swipe left or change to a random scene if I swipe right. And swiping up or down makes the lights brighter or dimmer.
I fell in love with the Elements because they look great on or off. But these lights are limited to warm and cool shades of white light only. That's perfect for where I set them up, but I was still pretty curious to see what the color-changing light panels from Nanoleaf's Shapes lineup would do. So I started on a larger installation of colorful hexagons and mini triangles that I'll add to over time.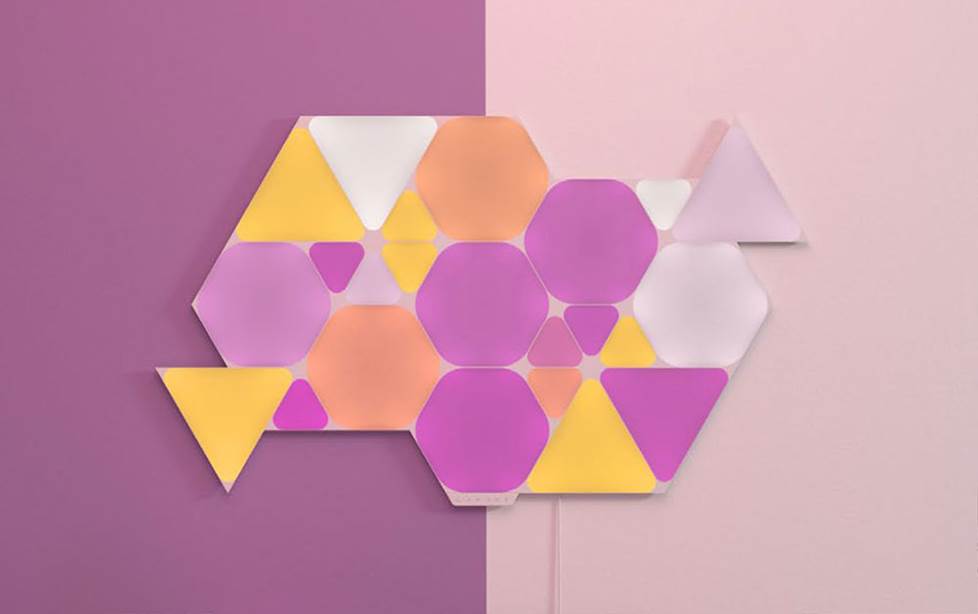 Create unique patterns and colorful light mosaics with Nanoleaf Shapes.
Hardwired smart lighting options
All the plug-and-play smart light options I covered above have done a lot to brighten up my house and make the whole place look more attractive. But I also wanted to get my hardwired light fixtures in on the action.
I added smart bulbs to two fixtures, replaced some of the outdated ones I still had with smart fixtures, and added hardwired smart dimmers to a few others. I've done a fair amount of light electrical work since I moved, so I was already comfortable with changing out light fixtures and switches. But if you're not sure about it, don't be afraid to enlist the help of a qualified electrician.
Smart light fixtures
Changing out a light fixture can give a room an immediate style upgrade, which my house really needed. When I first started shopping for fixtures, I was surprised by the number of options that had integrated LEDs. And a little nervous to try them since you can't change them once they burn out. But it was reassuring to learn that integrated-LED fixtures have a long, maintenance-free lifespan.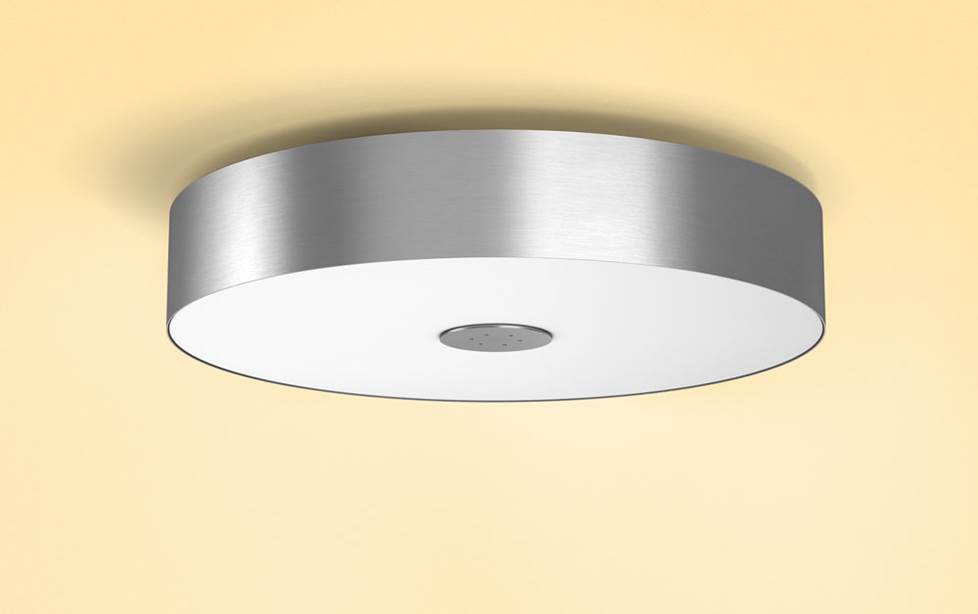 The Hue Fair ceiling light looks great and gives me versatile tunable white lighting in my hallway.
I had already invested in some integrated-LED light fixtures by the time I got into smart lighting. So Hue fixtures, with the added value of being smart, were sort of a no-brainer for me. They have a modern, minimalist look that would work well in any space but really adds a needed touch of class to my 50-year-old chalet-style house.
If you have recessed lights and want to take advantage of dimming, scheduling, and the ability to change colors, Hue's recessed retrofit light fixtures are worth taking a look at. Satco Starfish also offers affordable smart downlights.
Hardwired smart switches
If you want to make your existing light fixtures smart but can't change the bulbs or don't want to, a hardwired smart switch is the way to go. I installed integrated-LED fixtures in my kitchen after I moved in, and the only way to make them smart was to replace the corresponding switches with smart ones.
Some smart switches offer basic on/off functionality, and others allow dimming with compatible lights. But they all let you automate your lights and control them through an app or your voice. They also retain their basic on/off and dimming functions without Wi-Fi, so you don't have to worry about not being able to use them if your Wi-Fi ever goes out.
If you're comfortable replacing your own light switch, I've found that smart switches are even easier to install than standard ones — I hooked up three of them in under 15 minutes. But you'll want to be sure you have the right kind of wiring before you buy one.
Most hardwired smart switches, including the ones we currently carry, require a neutral wire to operate. Neutral wires are standard in light switch boxes found in homes built in the mid-1980s or later. But if your house was built before then, you might not have one in every switch box.
Outdoor smart lights
There are lots of great options for adding smart lighting to your outdoor space. I replaced the two lights on either side of the sliding glass doors on my deck with Hue Appear hardwired fixtures (one of which I received from Philips Hue). I use them more now than I ever did before. We enjoy stargazing at night, so the ability to dim the outdoor lights and change colors is very handy.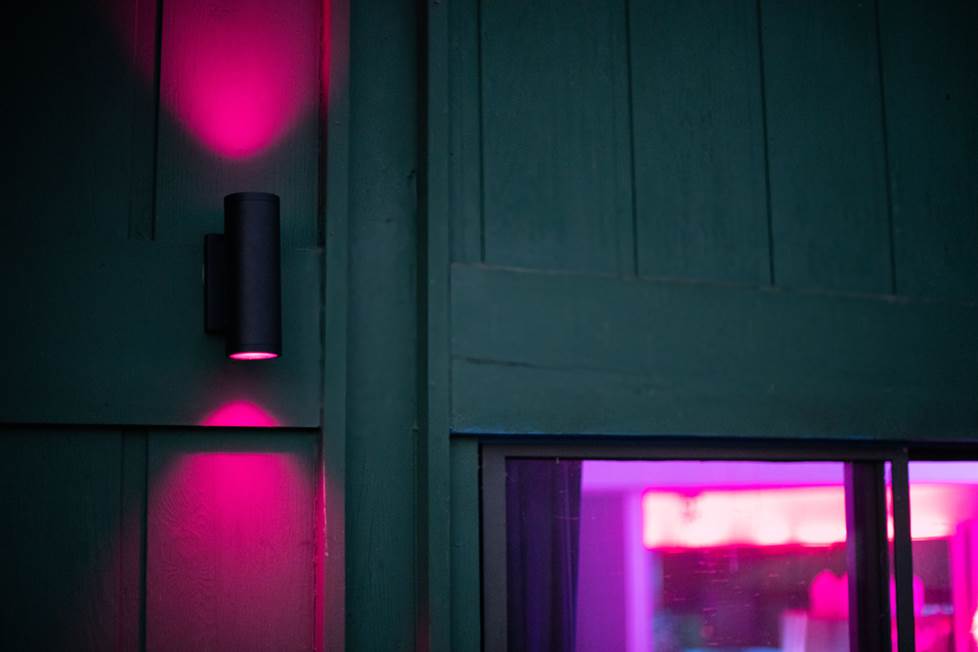 I love outdoor smart lights for their many practical uses, but I particularly enjoy matching them to my indoor smart lights.
Hue also makes low-voltage outdoor fixtures, spotlights, and path lights that plug into a Hue outdoor power supply. They hooked me up with a 100-watt power supply, one Impress wall light, and one Lily spotlight. The two lights combined only use 24 watts, so I've got plenty of room to keep expanding my outdoor smart lighting.
Both lights were very easy to hook up. I put the Impress wall light on the side of the house where it lights the steps to the deck. The Lily spotlight is currently illuminating a dogwood tree in the front yard, and I'm impressed by how much light it puts out.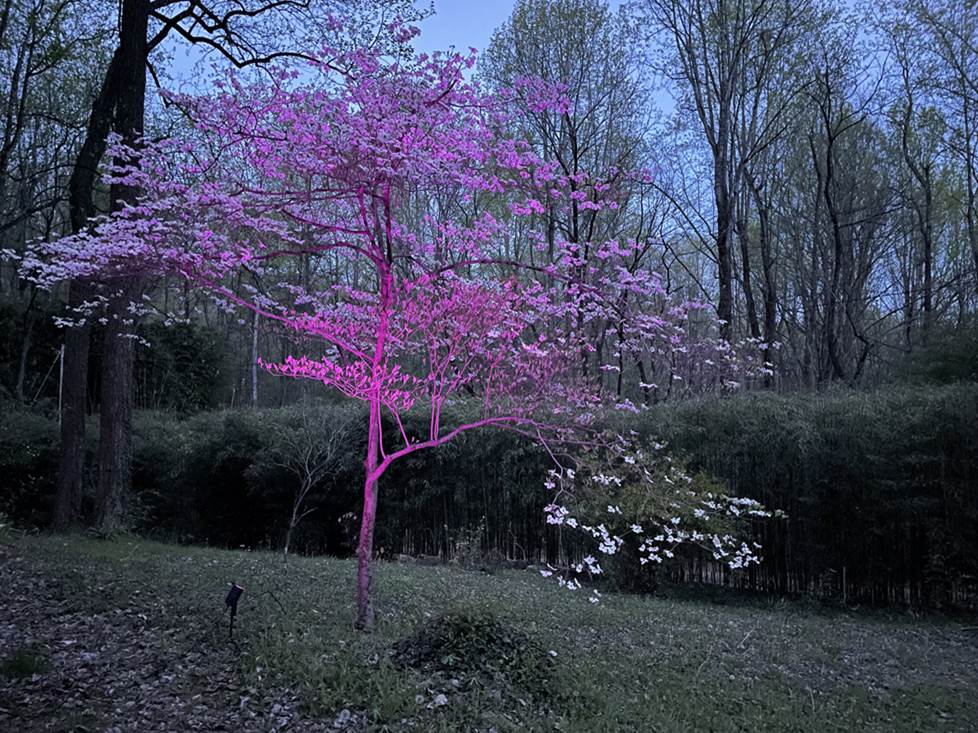 One small Lily spotlight is enough to illuminate a small- to medium-sized tree. When this tree is in bloom, the colorful lighting gives the white blossoms an otherworldly glow.
Hue's outdoor light strips are another great option for illuminating gardens, pathways, and other outdoor spaces. They have a thick silicone covering that diffuses them beautifully so you can put them anywhere.
Satco Starfish also offers outdoor light strips, along with some lovely color-changing outdoor smart string lights. And Ring offers some nice-looking solar- and battery-powered path lights and step lights that can be integrated with their home security products.
You can find smart outdoor floodlight bulbs from Satco Starfish or Hue, but Hue currently only offers them in white. I picked up a Satco Starfish PAR38 bulb to see if I could do something about the obnoxious motion-sensing floodlight we were using in our driveway. I'm thrilled that I can have it come on at a dimmer setting and I like being able to change its colors.
Connecting outdoor smart lights to Wi-Fi
Basically, if you can get a good Wi-Fi signal on your phone in the location where you want to put an outdoor smart light, it will work for you.
My Hue outdoor lights are, of course, connected to my Bridge, so they work flawlessly. I did set the low-voltage ones up indoors before I plugged them in outside, just in case. But when I tested the Wi-Fi signal strength on my phone outside the house, I was surprised to find I've got great coverage on all sides. It encouraged me to try the hub-free Satco bulb, which I also set up indoors before hooking it up outside.
How to control your smart lights
Since my smart lighting system incorporates multiple brands and types of lights, I use a combination of app and voice control, automations, and physical switches (both hardwired and wireless) to control everything. One of these options always makes more sense in a given situation.
I pull up the Philips Hue app at least once a day. I use it when I want to set up a color scene, tweak the settings on my lights, or whenever I happen to be sitting with my phone in my hand and I want to turn a light on or off. I don't use my other smart lighting apps quite as much since I have automations set up for those lights and don't make as many changes to them.
Using voice assistants to control your smart lighting
Most smart lights are compatible with Amazon Alexa and Google Home, and many brands are also compatible with Apple HomeKit. The lights we carry all work with the three major voice assistants.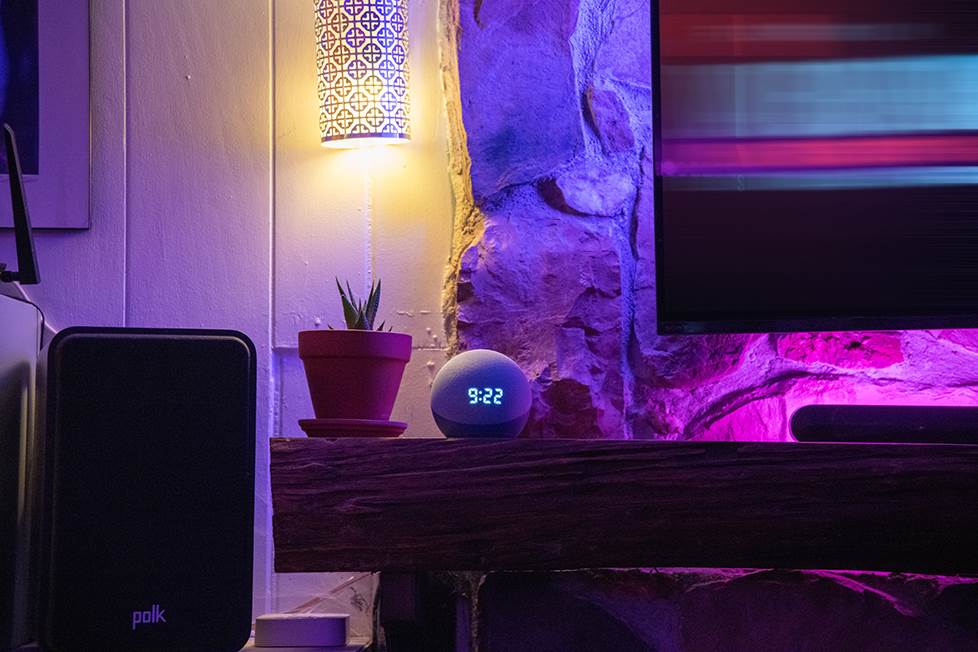 Alexa is always there when I need her, but her most important task is turning off every smart light in and outside my house when I tell her "Goodnight".
I use Alexa via the Echo Dot, but since I'm an iPhone user I've also tried Siri. They work similarly for controlling lights and setting up routines, but not everything I have works with Siri.
Since all of Emily's smart lights and plugs are HomeKit compatible, her go-to is controlling them from the lock screen of her iPhone. "I almost never use my voice," she says.
Jim uses the Google Assistant to control his WiZ lights through his Google Pixel phone and says he has no need for a dedicated smart speaker. "We happen to have smart sound bars on both floors of our house, so we always have Google Assistant within earshot to control the lights via voice," he explained.
Voice control is obviously great for turning entire groups of lights on or off, or for turning on a light in another room if you don't have your phone nearby. But my favorite thing about it is that you can combine smart lights and accessories from different brands within your voice assistant's app and control and automate them together.
Using smart motion sensors to automate your smart lights
I have some "dumb" motion sensors controlling floodlights outside my house, and they can be a little frustrating. Something like a moth flitting by is enough to trigger a blast of unnaturally bright light, and then it takes forever for that light to turn off again. But smart motion sensors give you complete control over how the lights come on and what happens after motion is no longer detected.
I set up a Hue motion sensor in my hallway to trigger Hue's "nightlight" preset on the bathroom ceiling light when I walk out of the bedroom late at night. Just enough light spills out into the hall for me to avoid tripping over the dog or any other unforeseen obstacle that might be in my path.
You can adjust the Hue motion sensor's sensitivity to motion so it doesn't get triggered accidentally. I definitely did this so my dog doesn't cause the bathroom light to come on when she goes up and down the hall at night.
Make your smart motion sensor even smarter
Of course, you can only set up a Hue motion sensor to control Hue lights from within the Hue app. And the same goes for any other brand. But you can do more with your smart motion sensor if you use a voice control assistant.
I have the Hue motion sensor that controls the bathroom light set up in the Alexa app to make the Nanoleaf panels in my bedroom come on when I go down the hall during waking hours. Now I don't have to leave them on all day just to see how pretty they are when I walk past the bedroom. And when I need to go in there for any reason, it's the equivalent of having a light come on as I walk in.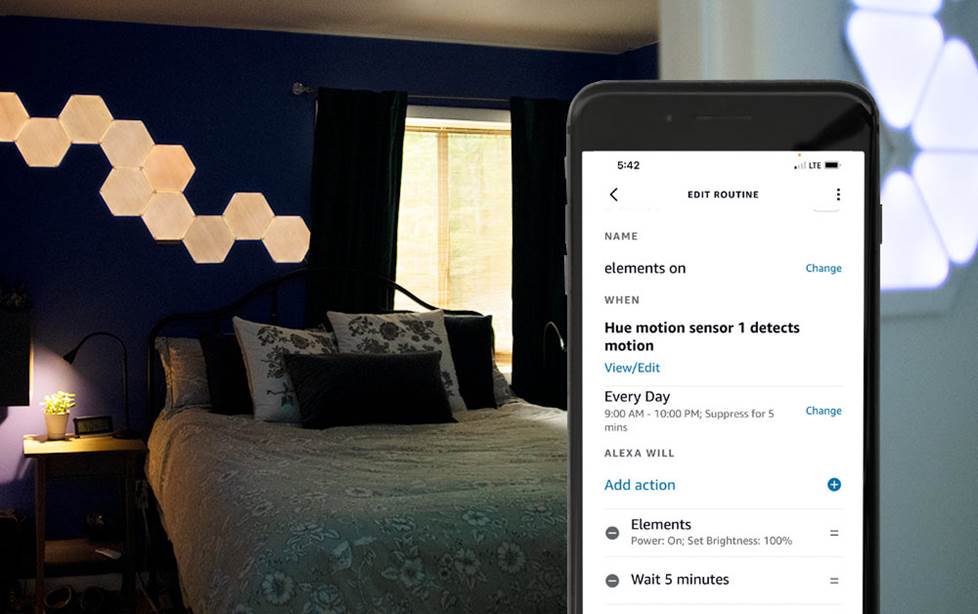 It's easy to combine motion sensors and lights from different brands within the Alexa app.
My Hue outdoor sensor is set up in the Alexa app to control my Starfish floodlight along with my Hue outdoor lights. When the sensor detects motion, the floodlight comes on at 80% brightness at a warmer white setting that's less jarring than the default. And it only stays on for three minutes.
Light switches
App and voice control add lots of convenience, and many smart light users use them exclusively. But sometimes it just makes more sense to use a switch when you walk into a room than it does to dig out your phone or yell out a command to your voice assistant. This is especially true for rooms that get a lot of traffic, like your kitchen or bathroom. You also want to be sure that guests and family members can use the lights as easily as you can.
You can incorporate switches into your smart light setup in a few ways. Starting with simply using your existing switches when you need to. But if you want things to be seamless, you might be better off picking up an accessory with some built-in smarts. We covered using hardwired smart switches to turn regular lights smart above. So here we'll focus on switches that can actually control your smart lights.
Using a "dumb" switch to control your smart lights
When your smart lights are powered off at the switch, you won't be able to use app or voice control to make them come back on. And they also won't be able to execute any automations. But if they're in a spot where it's easy for you to flip a switch when you walk in, you might enjoy the simplicity of this scenario. It certainly makes things easier for housemates and guests who aren't tech-savvy.
Keep in mind that most smart lights default to their brightest white setting when they're powered off and on at the switch. But some brands will let you customize this setting so the lights come on at the color and brightness of your choice. Doing this adds some smartness to your existing switch.
You can set each of your Hue lights to come on at your preferred color and brightness when powered on by a normal light switch. WiZ takes this flexibility one step further with a feature called WiZclick that lets you bring up a second light scene by toggling the switch twice.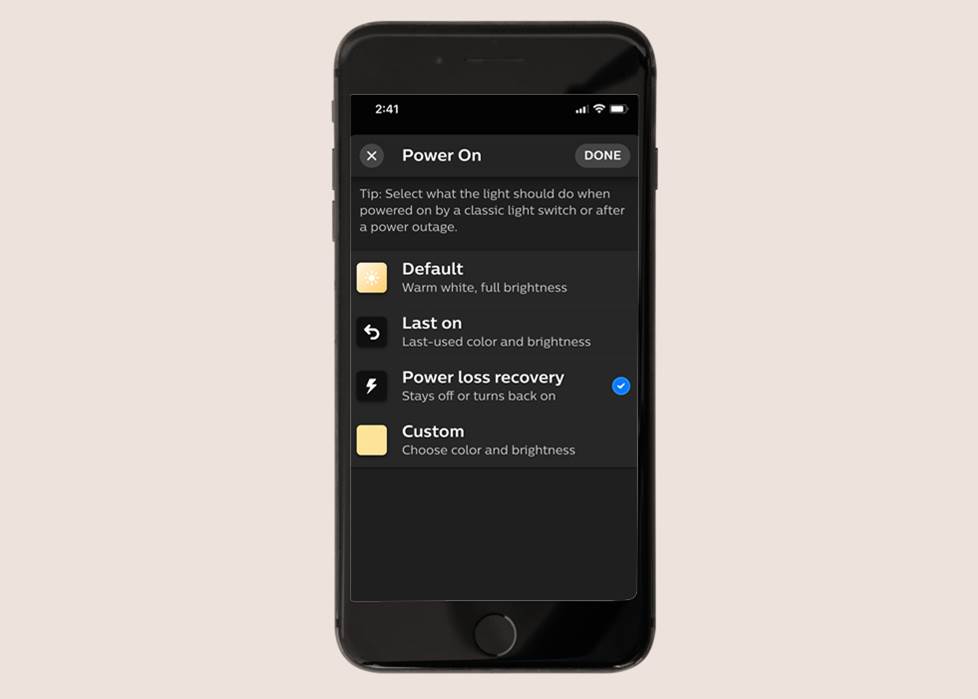 Hue lets you choose between customizing your light switch settings or having your lights revert to their previous on/off state after a power interruption.
Changing this setting also impacts what happens to your lights when there's a power outage. Your lights lose their connection to Wi-Fi whether you flip the switch off or the power goes out. Their behavior will be the same when power is restored in either case.
Wireless dimmer switches for smart lights
Smart bulbs and fixtures aren't compatible with wired dimmer switches. But you can control them easily with wireless dimmers. Most wireless dimmer switches are essentially wall-mountable remote controls for smart lights. But the WiZmote for WiZ lights has the look and feel of an actual remote.
Hue dimmer switches are great for controlling multiple lights in the same room. There are over 10 Hue lights plugged in throughout my living room, and I can turn them all on at once with one conveniently placed dimmer.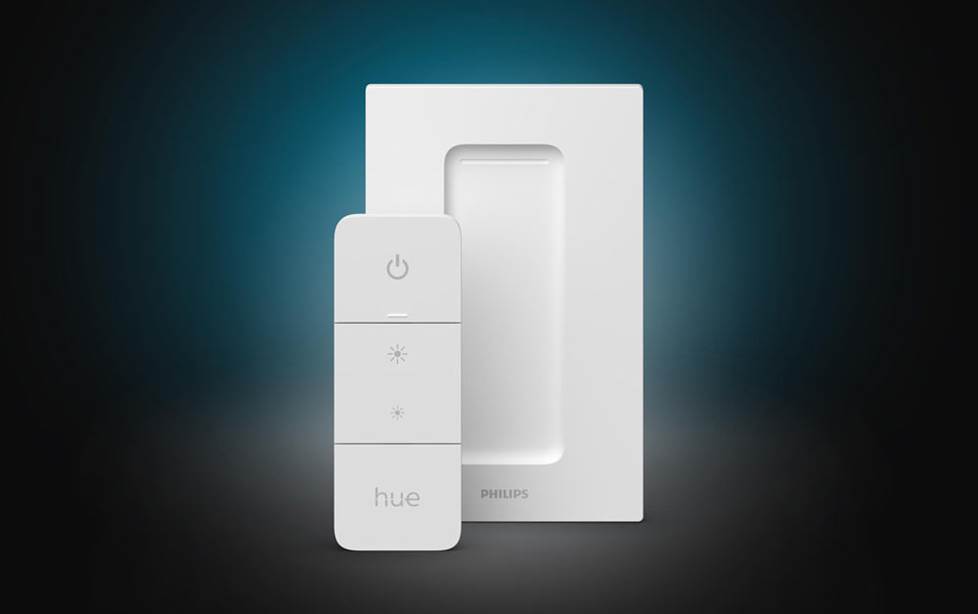 The "Hue" button at the bottom of the Hue wireless dimmer switch lets you toggle through five lighting scenes to suit your activities or preference.
Sometimes your light switches aren't in the best spot to begin with. But you can put a wireless smart dimmer anywhere you want. When I installed a Hue ceiling fixture in my hallway, I put the wireless dimmer for it at the opposite end of the hall from the existing switch. And that turned out to be pretty life-changing.
Want to use a wireless dimmer to control a fixture that's hooked up to a traditional switch? You'll need to figure out how to keep other people from turning off the main switch and causing your lights and dimmer to lose their connection.
I can leave the switches to my outdoor lights on all the time and no one touches them. Plus they're automated to turn on and off at certain times, so there's no real need for a physical switch. But I use Hue dimmers to control most of my indoor Hue lighting and have dealt with the existing switches in a couple of ways.
I'm using custom 3D-printed switch plates in three rooms. They let me install my Hue dimmers right over the existing switches, so they stay in the "on" position and out of sight. These plates do add some extra bulk, but to me that's not as bad as having the old switches exposed or taped over.
Convert a regular switch to a smart switch to control your Hue lights
Hue's battery-powered wall switch module installs behind your existing light switch. It lets your Hue lights keep their connection to your home network when the switch is in the "off" position. It doesn't allow dimming but it's a simple, clean way to continue using your old light switches to control fixtures with Hue lights in them.
Another cool (and apartment-friendly) option for converting a regular light switch to control Hue lights is the Friends of Hue smart bulb dimmer made by Lutron. This dimmer knob fits right over a regular toggle switch and locks it into the "on" position. I have two of these, and they look and work like traditional dimmer knobs and are very satisfying to use.
One switch for all your smart home devices
If you want to make your home smarter all around, the Brilliant Smart Home Control is worth taking a look at. It can make regular lights smart in addition to controlling smart bulbs and fixtures. And it even has a built-in motion sensor. Plus it's compatible with lots of popular smart home platforms. It can control thermostats, security cameras, multi-room music systems, and more.
Emily uses two Brilliant controls in her home. Take a look at her review if you'd like to know more.
Getting to know your smart lights
Here are some fun and useful things you can try out once you've added some smart lights.
Make a scene
Preset lighting scenes are great. But creating your own scenes lets you personalize your lighting in some cool ways. Lately I've been making custom scenes to match colors between Hue and the other brands of lights I use.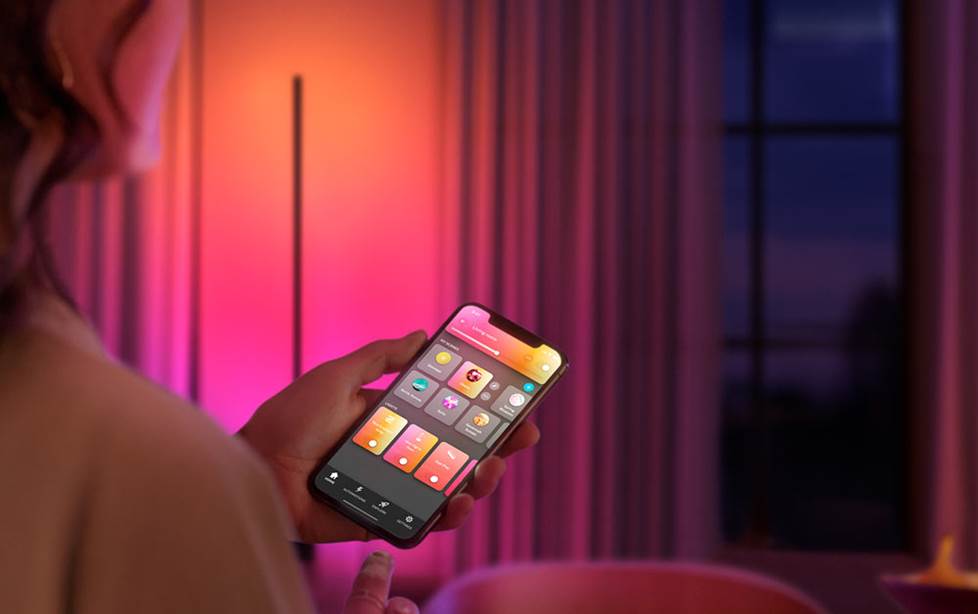 Creating your own lighting scenes lets you dial in the exact look you want.
Think about your favorite activities and what kind of lighting works best for them. A lot of us end up customizing scenes for things like watching TV. My personal "TV time" scene makes the lights around the TV a deep turquoise and the rest of the lights around the room a dim warm white.
Try setting up some routines
I have around 20 automations set up for my smart lights, and I love coming up with new ones. My current favorite is my daily "wake up" routine. The Nanoleaf Elements light panels in my bedroom come on dim at first and then ramp up over 30 minutes until they reach full brightness. It's a lovely way to greet the day without the lights being overly aggressive when you first crack an eyelid.
Automations like this are easy to set up within your smart lights' native app or your voice assistant app. And if you live with other people who aren't used to smart lighting yet, it's nice to set up some routines to help them out so they don't have to think about it.
My partner leaves for work about two hours before my workday begins, when it's still dark outside. Rather than give a crash course on all the intricacies of smart lighting, I set up some key automations. A single light in the kitchen comes on at 50% brightness at 6:00 a.m., and one of the bathroom lights comes on at the same time. Both lights go off after 30 minutes without me having to get out of bed to turn them off like I used to before we had smart lights.
Advanced automations with IFTTT
The IFTTT (If This Then That) app seems useful for integrating different smart home products with smart lights. For example, if you have a Ring video doorbell, you can set it up so that one or more of your Hue lights comes on whenever someone presses the button.
I tried out IFTTT to see what I could do with my lights. One of the handiest things I got out of the free version is a widget on my phone that I can use to turn all the Hue lights in my house on or off from anywhere, without having to open an app. There were a few other fun automations I tried, like having all the lights turn blue when it rains. But I learned the hard way that I would need to upgrade to a paid version to set them up to not come on if it rained in the middle of the night.
Sync your lights with music
If you're a Hue user, you can sync up to 10 lights that you have set up in an "entertainment area" to a Spotify account. You can change color scenes and how quickly the lights move within the Hue app.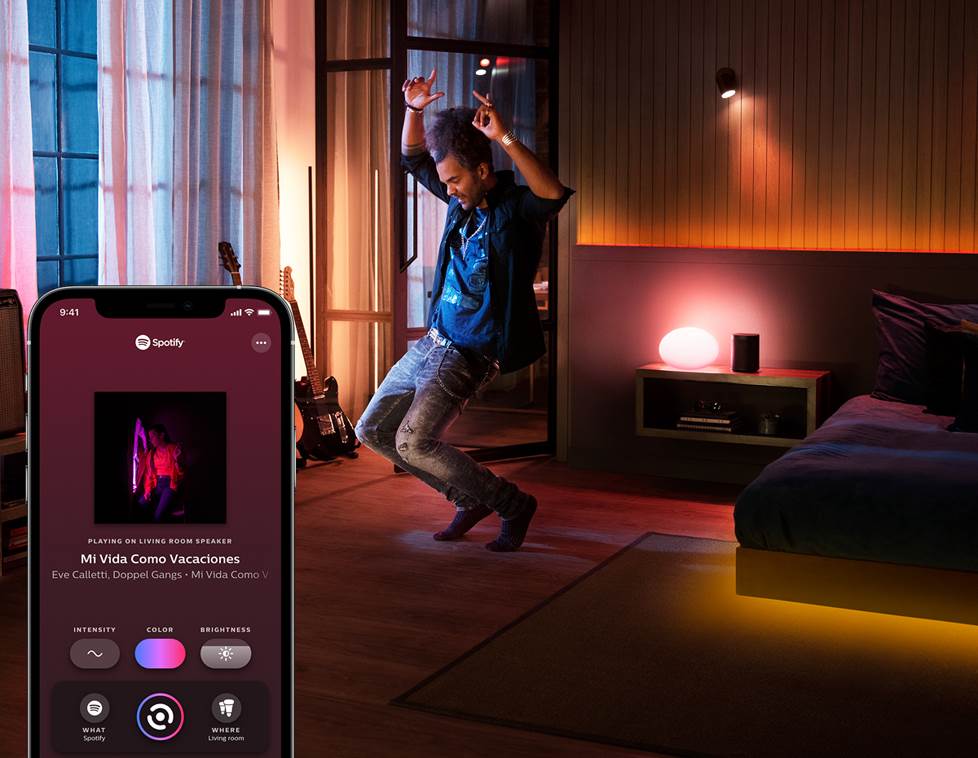 Philips Hue + Spotify works with free or paid Spotify accounts.
Some other brands of smart lights can react to music and other sounds by activating the mic on your smartphone to listen. Satco Starfish has this feature in their app, and while it may not be as precise as Hue's method, it's very easy to use and not too restrictive.
The controller for Nanoleaf light panels has a built-in microphone and a music note button that activates a saved "rhythm scene". And of course, you can also choose a rhythm scene from the Nanoleaf app or ask your voice control assistant to bring it up.
From there, the light panels react to any sound. That means they can play in time with music as well as sound effects from movies or video games. Different panels light up at different times, accurately following along with the sound. Other smart lights sort of flash or pulse to the beat, which is cool, but dancing light panels are on a whole different level.
Sync your lights with video
Nanoleaf and Hue both offer options for syncing your lights to your TV or monitor to make movies, shows, and video games more immersive.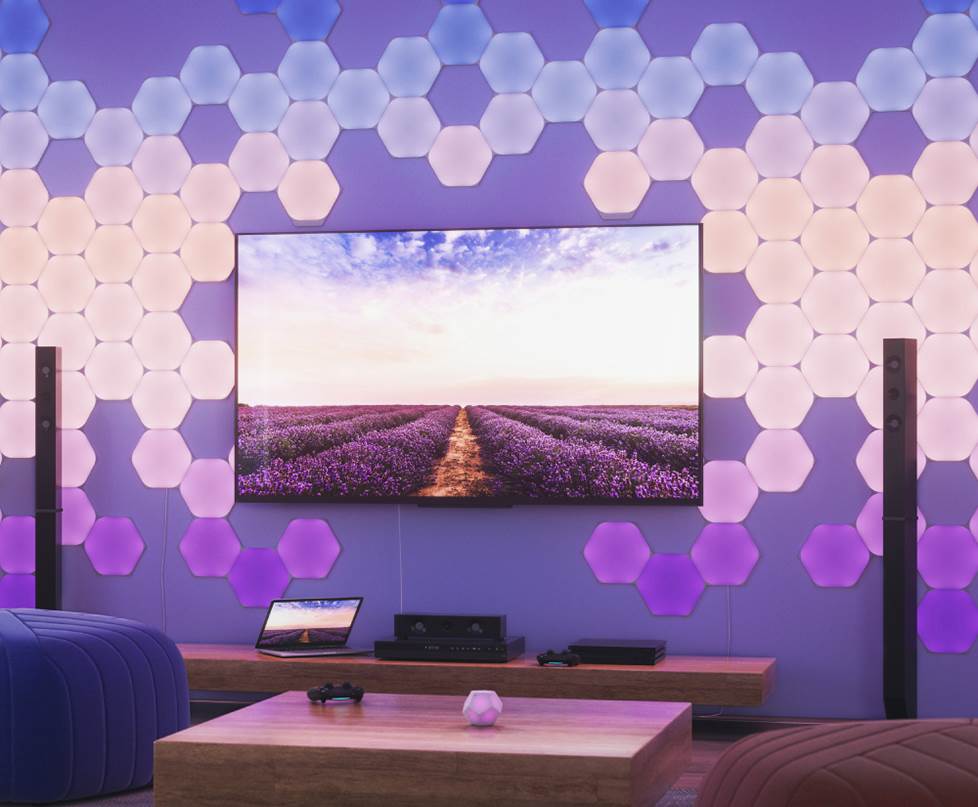 Nanoleaf's Screen Mirror feature (available in the Nanoleaf desktop app) lets you sync your Nanoleaf lights to the action on your screen.
There are a couple of ways to sync Hue lights with video. The best way to get this effect on a TV is with the Hue Play HDMI Sync Box. It works with any color-changing Hue lights, but the Play Gradient Lightstrip seems like it was made to go with the Sync Box since it can give you some awesome multi-colored "surround lighting" effects without any other lights in the mix.
Hue's Sync app is great for syncing Hue lights with video from a computer. The Play Light Bars work especially well for desktop applications. As with the Spotify syncing feature, you can add up to ten lights to your Hue entertainment area for video syncing via the Sync Box or Sync app.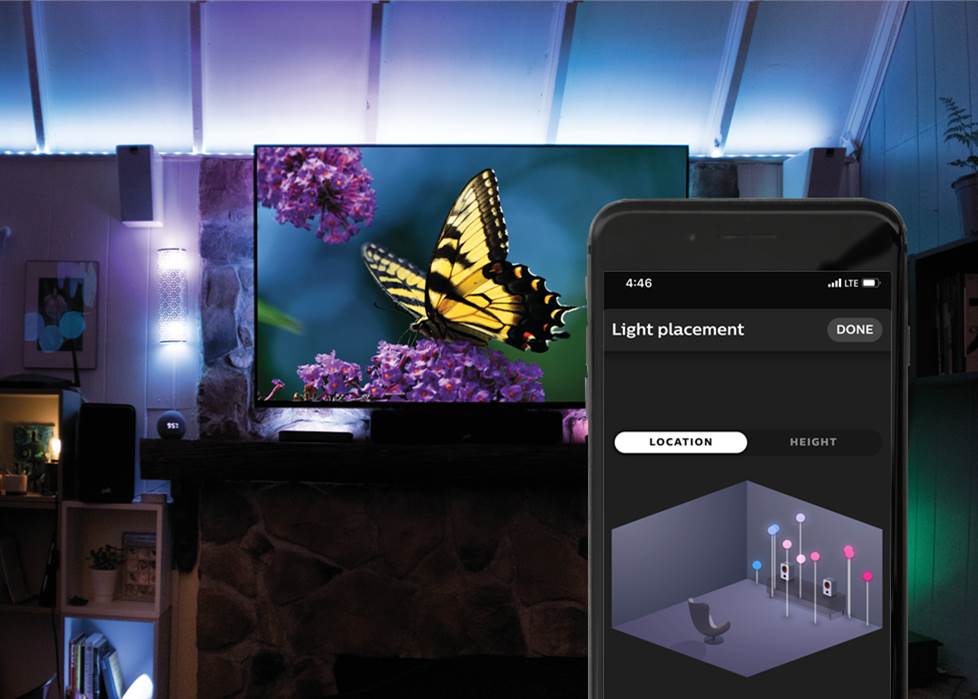 The Hue app lets you specify the location and height of each light in your entertainment area, for extremely accurate video syncing.
Get inspired
Check out the Hue Blog for some fun and practical indoor and outdoor lighting tips. And visit Nanoleaf's Design Inspirations page for ideas on how to set up smart light panels.
To learn more about different smart home products, take a look at Emily's Smart home buying guide. And if you're looking for some great smart light recommendations, see our top picks for 2022.
Still have questions?
If there's anything you aren't sure about, don't hesitate to get in touch with one of our Advisors. Or feel free to leave me a question in the comments below, and I'll be happy to respond.
And don't forget, free lifetime tech support is included with your Crutchfield purchase.