How to use PreSonus products in the classroom, at home, and in performance venues
These video tutorials are just a small sample of the resources PreSonus provides to help you get the most from your investment. Visit musiced.presonus.com to see the complete portfolio of lesson plans, tutorials, courses, and methods available to teachers and students.
Video tutorials for teachers
Video tutorials for students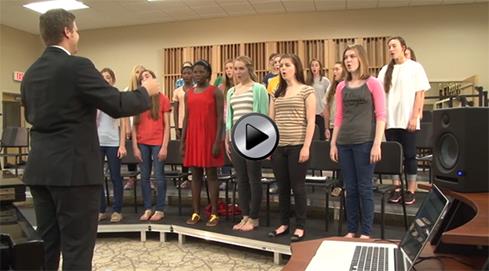 Shop our music education packages
Band/Choir room recording
This package is perfect for recording group rehearsals. Instantly replay your takes to help your ensemble learn by listening. When your students hear themselves nail a challenging part, their confidence will soar! Rehearsals become much more fun and productive.
It's easy to set up and operate the PreSonus AudioBox Stereo recording hardware and the included Studio One recording software. The microphones capture a rich stereo soundscape, which the group will hear clearly on the Eris studio monitor speakers. You also get cables, headphones, and a mic stand.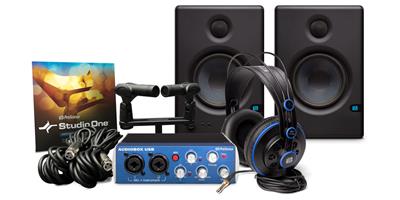 Student practice
The PreSonus® Music Creation Suite recording kit is a complete solution for classrooms, school music labs, and home practice studios. The tools built into the included Studio One recording software help evolving musicians get the most from their practice time. PreSonus provides lessons on how to play in tune and in time, how to compose music, and much more. See the entire curriculum.
The package includes an AudioBox USB interface, the recording software, Notion music-notation and composition software, a USB MIDI keyboard, headphones, a microphone, and more.
Live sound and performance recording
Please contact us for expert help designing a live sound system that's perfect for the size of your auditorium and your ensembles.
Call 1.800.261.7008
Need help choosing the right solution?
Call a Crutchfield music education specialist
One of our advisors will take the information you provide and then recommend the gear that best meets your needs. They'll make sure you have everything you need to get it all set up.
Call 1.800.261.7008
Purchase orders accepted.
Free tech support with your Crutchfield
purchase — available 7 days a week
Expert help with setup and operation of your gear.
Crutchfield Advisor Cory
For 10 years before joining Crutchfield, Cory taught audio engineering, live sound production, and digital music creation to middle- and high-school students at Charlottesville's Music Resource Center and at the local technical education center. He's eager to share his experience and help music teachers and students choose the right gear for their classrooms and practice spaces.
Fundraising and fan cultivation
Nimbit
Nimbit is a service lets you easily upload and share music with families, promote your music programs, and raise funds. Because Nimbit is integrated with Studio One recording software, you can easily upload your concert recordings and sell downloads online. You can also sell merchandise and concert tickets.
With Nimbit, you can securely accept credit cards and PayPal for donations and purchases. Manage email campaigns and social media outreach. No more CD burning or door-to-door candy bar sales! Watch this video and try the interactive demo below to see how it's done.