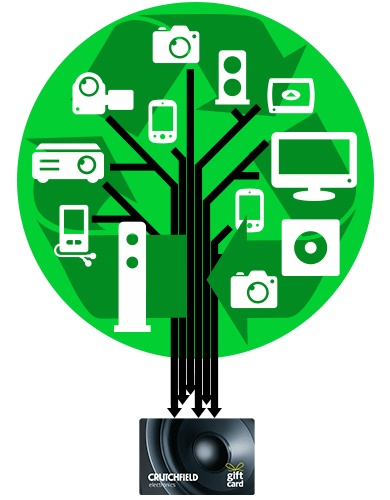 Do you have old components, cameras or MP3 players lying around gathering dust? Don't throw them in the landfill — trade them in and earn Crutchfield gift cards. You may be surprised by how much your unwanted electronics are worth.
Crutchfield and CExchange® have teamed together so you can easily get value out of the equipment you no longer use. Appraise your items online, and send them in. CExchange even pays for the shipping. And their environmentally friendly policy means that none of your old equipment will end up in the landfill.
You can learn more about CExchange in their FAQ.
Note: By clicking on these links you will be transferred to the CExchange web site and subject to their privacy and security policy. We encourage you to read their policy if you have any questions as to how information you provide may be used by CExchange.
If there's anything in your Crutchfield shopping cart, please complete your transaction before going to CExchange.