Polk Audio Hampden Bluetooth powered speaker system review
The look and sound of retro-cool
Ralph Graves is one of Crutchfield's blog editors, and part of the company's social media team. He writes about home audio/video gear, specializing in Apple-related and wireless technologies. Ralph holds a master's degree in music composition, and his works have been released on various labels. He's served as product manager for an independent classical and world music label, produced several recordings, and worked extensively in public broadcasting. Since 1984 he's hosted a weekly classical music program on WTJU, and is also active as a blogger and podcaster.
More from Ralph Graves
Heads up!
Welcome to this article from the Crutchfield archives. Have fun reading it, but be aware that the information may be outdated and links may be broken.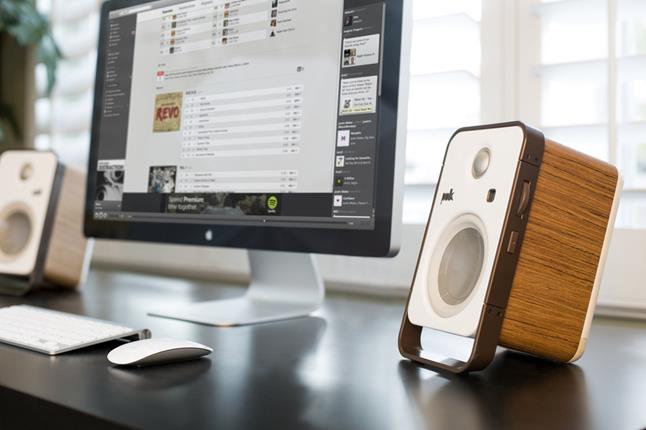 Wireless Bluetooth connectivity helps minimize desktop clutter.
My first impression of the Polk Audio Hampden powered speakers turned out to be the same as my final impression — a retro-cool system that got both the look and the sound exactly right. Not only are these a joy to listen to, but they're also a joy to behold.
First impressions
The Hampden speakers' design pays homage to the early Space Age 60's. The sides have a muted teak surface, and the exposed cabinet front and speaker material are beige and off-white, with a light brown accent bands (that also double as speaker stands). It's a sophisticated and understated appearance, just as cool-looking today as it would have been in the 60's.
What I really liked about the styling was that Polk didn't stop with the superficial — the details were also satisfyingly retro. The volume control is analog, using a wheel that you turn to make adjustments. The volume level numbers can be read through a small window on the front of the speaker. Its styling reminded me of the one on my parent's vintage hi-fi console.
Turn the dial to click on the power, and turn on the back light that lets you read the volume control numbers. Press the side button to engage Bluetooth, and that backlight changes to blue.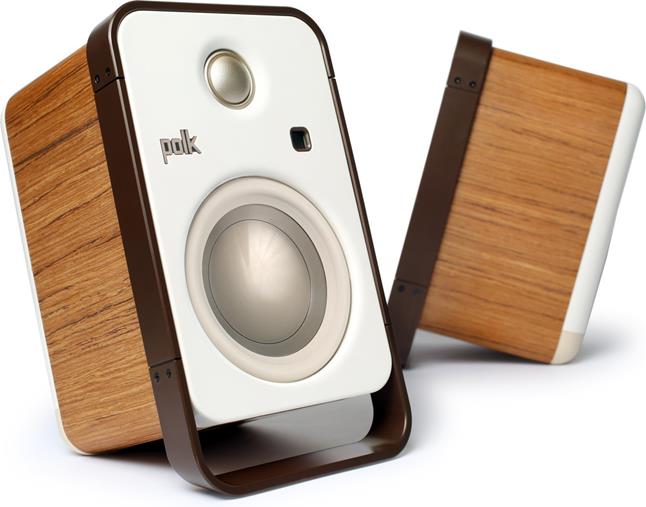 Wood tones and teak veneer give the Hamdpen speakers a retro early 60's look.
Easy setup
There wasn't a lot to getting the Hampdens up and running. Bluetooth pairing was a straightforward process; my computer found the system almost immediately. The Hampden speakers don't come with a remote — another retro touch, I suppose. But that didn't bother me – just one less thing to misplace. I set the general volume with the Hampden's dial, and did any fine adjustments that needed to be made with the volume control on my computer, smartphone, or whatever device I was streaming music from.
Retro look, retro sound
Although the Hampdens are ideal for a desktop system, they actually performed well as room speakers. I had them set up in our family room, which is a large open space with a vaulted ceiling. Even with the Hampdens set at medium volume level, I had no trouble hearing my music anywhere in the room, or in any of the adjoining rooms for that matter.
The overall sound had a quality that I found instantly appealing — perhaps because I had already received visual cues from the Hampden's appearance. Music sounded full-bodied, with plenty of detail and clarity. And yet, there seemed to be a little softness around the edges -- almost as if I was listening to an analog sound source.
Bass notes hit with appropriate impact — the integrated speaker stands angle the speakers in a way that allow the down-firing bass ports to operate effectively. Low tones hit the table top and bounce outward in the direction the speakers are pointed.
In rap tunes the lows boomed with authority, in metal tracks the double bass drums sounded cleanly so I could hear every note. And in my classical music tracks, the lows were there without overpowering the mix, nicely filling out the ensemble sound. The definition was there, without the harshness I usually associate with digital sources.
The better the source, the better the sound
The Hampden speakers are compatible with aptX® audio coding, an advanced form of Bluetooth that allows higher-fidelity sound with compatible devices. When I streamed from an aptX device, the sound quality was impressive — as it should have been. What I found even more impressive was how much fidelity the speakers delivered from music streamed from my non-aptX laptop via Bluetooth. I still heard plenty of detail with all my test tracks, regardless of genre.
Great for home or office
Because the Hampdens had not only a distinctive sound but a look to match, I can see them being used in a variety of settings. If I had a large office, for example, these would be my speakers of choice. They provided enough volume to fill a large space, and even at low volume levels, they never lost their clarity. And the impression they would make on visitors would just be icing on the cake.
The Hampdens definitely looked great in our family room, where I auditioned them. By going with wood tones, Polk created speakers that fit well into our living space, and I think would work well with many décors. After living with them a while, I can heartily recommend the Hampden powered speakers to anyone who's looking for desktop speakers with above-average performance. You'll find that in the Polk Audio Hampdens — wrapped up in a package that's as retro-cool as its sound.