Outdoor speakers buying guide
Bring your music outside with the right speakers
Want to add music to your backyard, porch, patio, or pool? There are lots of outdoor speakers that can help you take your tunes outside.
This guide will show you the different options, from portable wireless speakers to larger models that can be permanently installed outdoors.
Types of outdoor speakers
Permanently installed stereo speakers
If you want to enjoy detailed, immersive sound on a deck or porch, or in a small backyard, a pair of stereo speakers is the best option. Outdoor stereo speakers are similar to indoor speakers, with two big differences:
Resistance to the elements. Many outdoor speakers are weatherproof, meaning they can withstand direct assaults of rain, sun, and cold. Other speakers are weather-resistant, so they require some protection from rain and ice. With either type of speaker, we recommend mounting them under eaves.
Mounting brackets. These speakers include brackets for easy mounting onto the side of your house. Brackets also allow you to angle the speakers toward your listening area.
Many outdoor speakers also have paintable grilles and enclosures, so you can match them to your color scheme.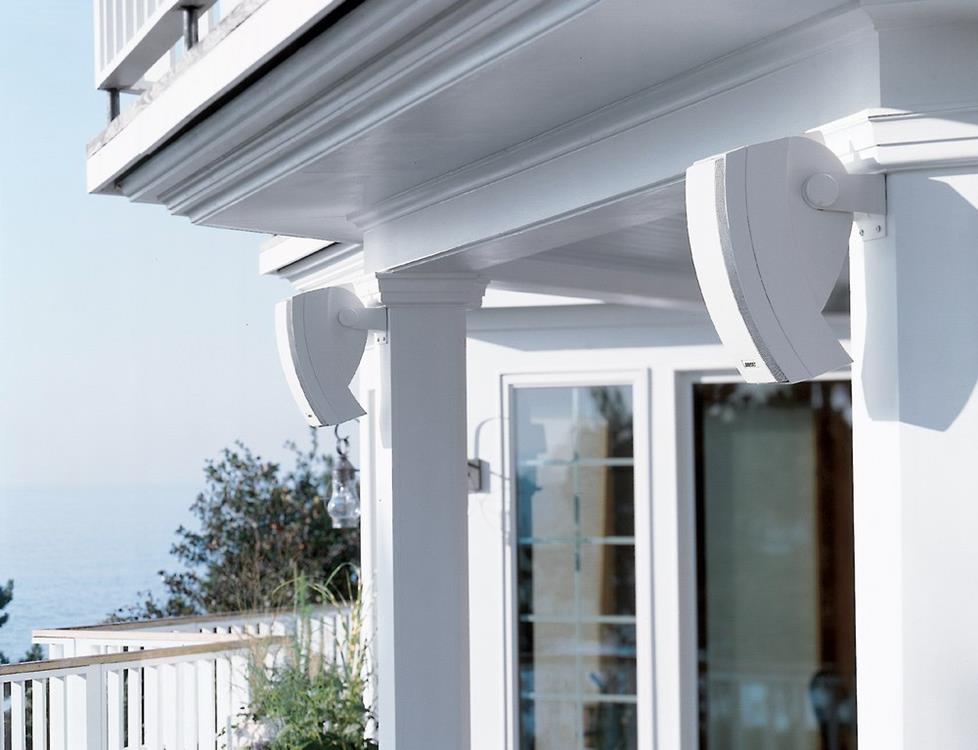 Speakers that mount to the side of your house offer robust stereo sound for your outdoor space.
Patio and garden speakers
If you want to listen in an area that's farther from your house, look for speakers designed to sit on the ground or be mounted on poles or stakes. These speakers are ideal for gardens, patios, and pools. They're weatherproof for permanent outdoor installation without any cover or protection. And they're a better option than simply blasting music from your house out into the yard — your neighbors probably wouldn't appreciate that.
Some of these speakers are even designed to blend into their outdoor surroundings (like these "rock" speakers). Others are compact and rounded, so they don't take visitors' eyes away from your beautiful landscaping.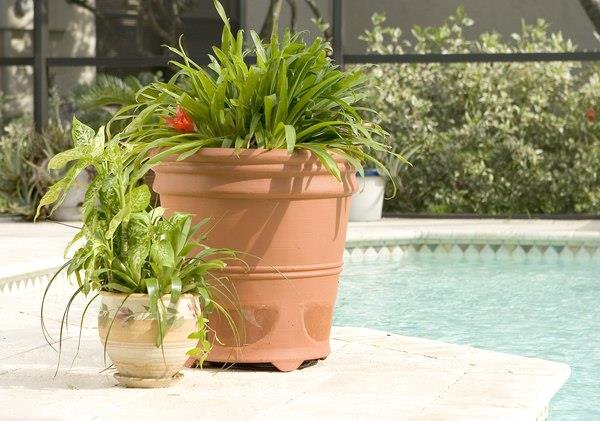 Environmental speakers blend into their surroundings. You can even plant flowers in this one.
Stereo-input speakers
If you need to add sound to a large outdoor space, stereo speakers might not make sense. After all, if you're in one end of the pool or yard and closer to the left speaker, you're only going to hear half of your music. That's when you need to get stereo-input speakers.
These speakers have inputs for both left and right channels. Often, they can be switched between stereo or traditional left or right playback.
Note: Use four-conductor cable for stereo-input speakers. These cables contain wires for both left- and right-channel inputs in a single casing.
This stereo-input speaker has inputs for both left and right channels, for stereo playback from a single speaker.
Outdoor subwoofers
If you choose compact outdoor speakers, you may need to augment their bass response with a subwoofer. Yep, there are subwoofers designed for outdoor use. These are a great option for more low-frequency punch when used with smaller satellite speakers in a yard or garden.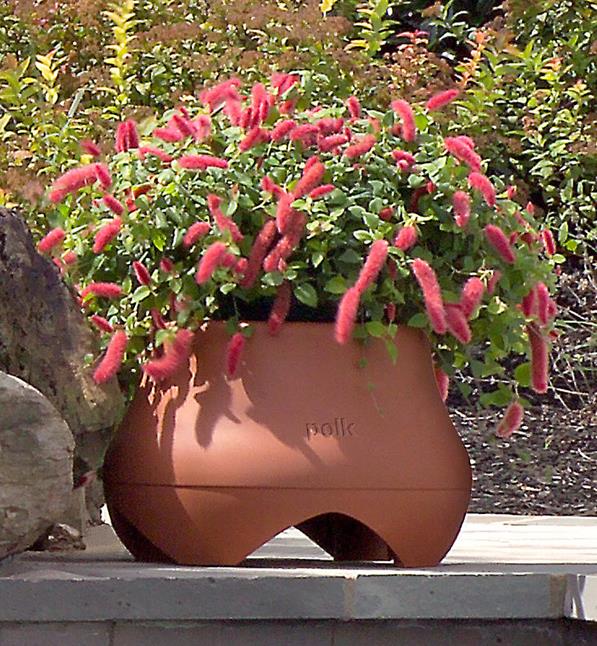 It may look like a planter, but it's actually the Polk Atrium Sub10 subwoofer, which offers powerful bass response in an attractive design.
70-volt speakers and amps
If you want music to play in several discrete outdoor zones, a 70-volt system is a smart choice. Designed primarily for commercial use, 70-volt systems make sense if you need lots of speakers.
A large system comprised of conventional speakers and stereo receivers or amps can be pricey and complicated to set up. A 70-volt system can run many speakers off of a single amplified mixer.
70-volt systems are ideal if you need multiple speakers on a porch, in your patio, out by the pool, and in the garden. Need help designing and choosing a 70-volt system? Call our design team at 800-315-2758.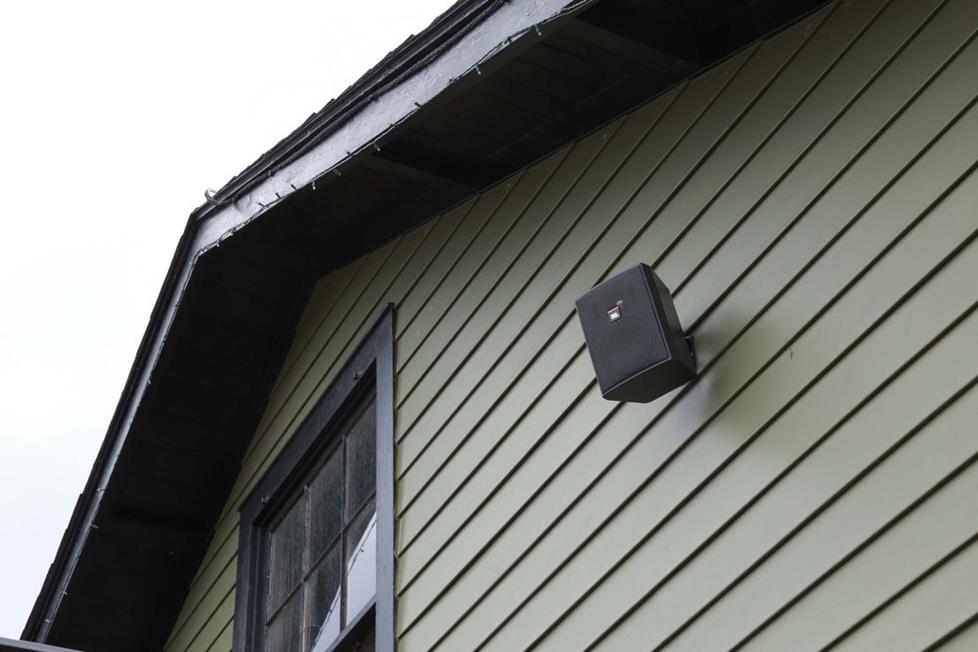 70-volt outdoor speakers are great for larger installations and commercial use.
Portable wireless speakers
A permanently installed outdoor system is going to offer the best sound quality. But if you're more interested in convenience, you can always go with a portable wireless speaker.
Portable wireless speakers have rechargeable batteries and are compact enough to move anywhere. They range from very small models that you can easily grab with one hand, to larger ones that can put out a lot of sound.
Weather-resistant and waterproof models are great for outdoor use, particulary by the pool. And unlike permanently installed models, you can take them with you to the beach or campgrounds.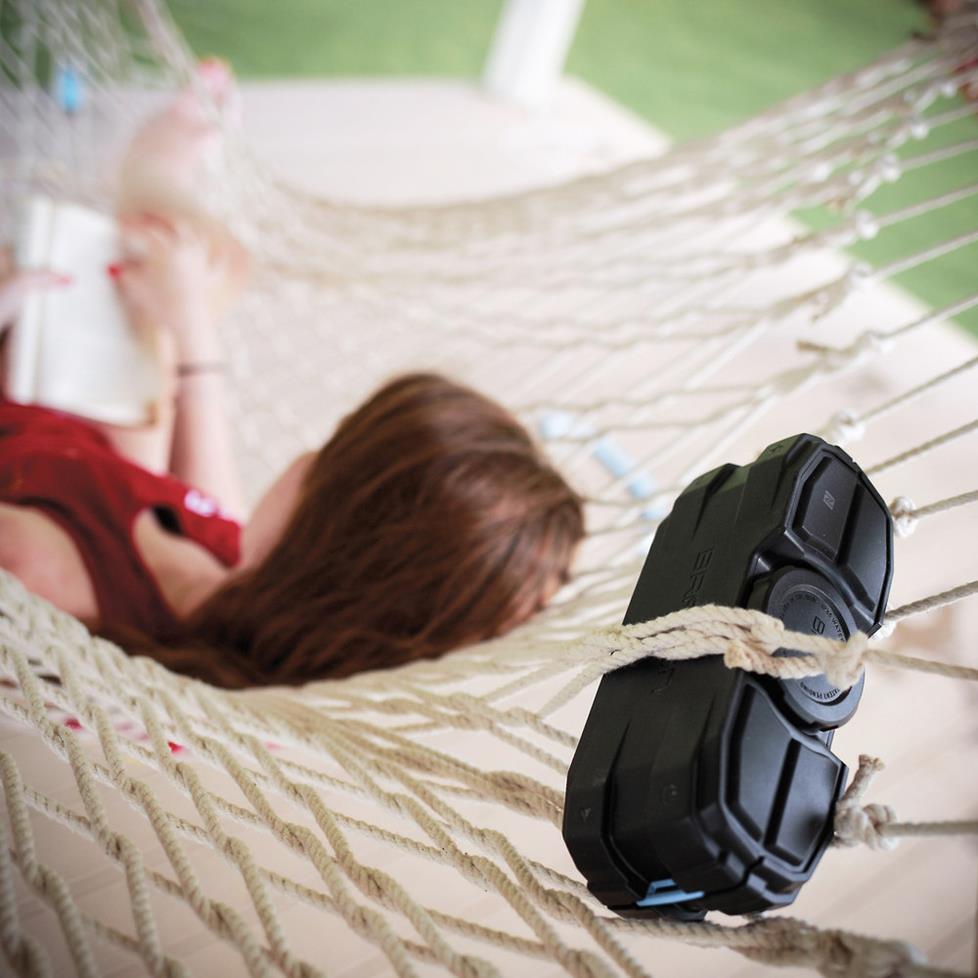 Many wireless speakers are rugged and even water-resistant, for outdoor use.
These speakers usually operate via Bluetooth®, so you can stream music wirelessly from your smartphone or tablet. Some have built-in Wi-Fi®, so you can stream music from networked computers. If you select a speaker with Wi-Fi, be sure your home network reaches outdoors to where you'll be using the speaker.
Important note: Not all portable speakers are weather-resistant, and none are designed to be left outdoors permanently. Be sure to read the specification on our website to determine if the speaker is water- or weather-resistant, and always bring them inside when not in use.
We can help you choose
Have questions about choosing the right outdoor speakers? Call, email, or chat with us today.
Our expert Advisors know the gear inside and out. Your Advisor can send specific Crutchfield pages to your screen, saving you a lot of browsing time. You'll get a shopping cart loaded up with everything you need for your new TV sound system.
Free lifetime tech support is included with your Crutchfield purchase.