Home theater subwoofers buying guide
How to choose the right one for your surround sound system
If you're like me, you love the intense, spine-tingling impact of bass hitting your body. You want to feel the power of the jet screaming by. The bomb exploding off screen. The Tyrannosaurus Rex taking crushing steps towards you. They are part of the home theater experience, and that's what a subwoofer gives you.
A powered subwoofer delivers thrilling bass for movies, music, and video games.
We offer lots of different subwoofers — from compact subs that will fit under small end tables, to enormous ones that will make your hair stand up. With so many options out there it can be a little tricky figuring out which one to pick.
During the eight years I spent as a Crutchfield Advisor, I helped hundreds of customers choose a sub. Here's what you need to consider when starting your quest for the right subwoofer.
Choosing the right size
Generally speaking, the larger the surface area of the woofer, the deeper it will play. You'll also want your subwoofer to blend in seamlessly with your other speakers to create an immersive listening experience. If you have small satellite or bookshelf speakers, an 8" or 10" sub will pair nicely. Using big tower speakers? Consider a 12" or larger sub to turbo-boost the low-end.
Your room's size will also play a role in picking a sub. If you're filling a big, open living room a large subwoofer is worth pursuing. If this is for a cozy den or bedroom, a more modest one may make better sense.
Measure the area where you plan on placing your subwoofer to get a sense of footprint. Make sure the subs you're looking at fit comfortably in your desired location.
Front-firing vs down-firing
Decide where you're going to put the sub. One of the benefits of low-frequency sounds is that they are less directional than higher frequencies. That means you don't have to put it near your front speakers. But if that's where you want it, then I recommend choosing a front-firing sub (below left) to push the bass directly towards you. Corner or side-wall placement? Go with a down-firing sub (below right). It has the driver on the bottom, which delivers bass more evenly throughout the room.

A forward-firing sub (left) is ideal for the front of your room. A down-firing sub (right) evenly distributes bass if placed along a wall.
Sealed vs ported enclosures
Sealed enclosures (also known as acoustic suspension) offer tight, accurate bass. Because air doesn't move in or out, they are very responsive. However, sealed boxes are generally less efficient than a ported (or bass reflex) enclosure, meaning they require more power to deliver the same amount of bass.
Ported boxes have a vent that reinforces low bass frequencies. You'll get more output from a ported enclosure without needing as much power, but they sacrifice some accuracy in exchange for the added punch.
Both designs offer high-quality bass for home theater. If you like jazz, classical, or other acoustic music, I recommend a sealed enclosure. If you prefer hard rock, hip-hop, or EDM, a ported design might be a better choice.
Shop for sealed-box subs Shop for ported-box subs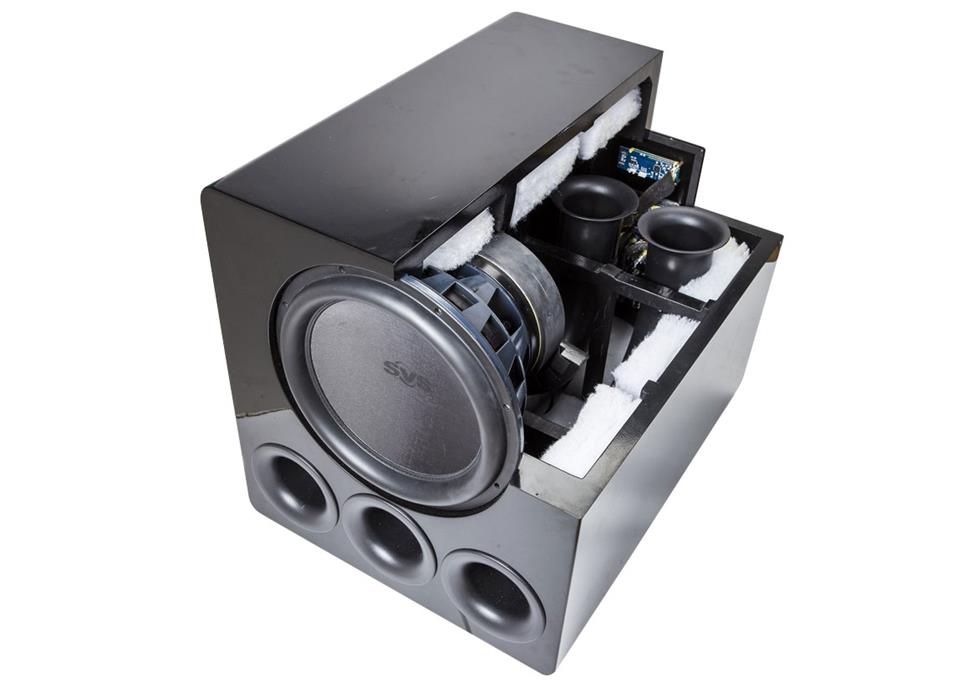 The massive 13" SVS PB13-Ultra features three carefully tuned ports that provide powerful low-frequency reinforcement.
What are passive radiators?
Passive radiators are additional unpowered woofers within the enclosure that move in tandem with the powered driver. Several manufacturers use passive radiators to provide deep, powerful bass from a surprisingly compact enclosure.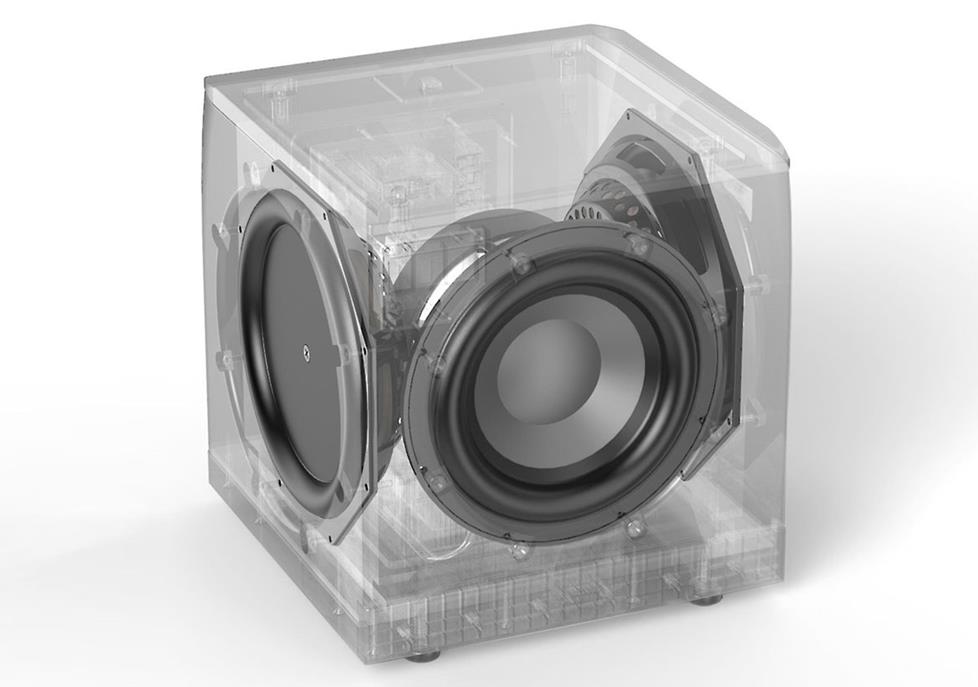 Definitive Technology's SuperCube® 6000 matches a powered 9" woofer with two 10" passive radiators for room-shaking bass in a roughly one cubic foot enclosure. A mighty 1,500 watt RMS amplifier provides ample power to fill large rooms.
What about power?
One of the best things about powered subwoofers is that the amplifier is built right into the sub. There's no need for an additional amp or power from your home theater receiver. Plus, the amps and drivers in the subs are optimized to work together, so you get the best performance possible. That means it's possible to get plenty of bass from a relatively low-powered subwoofer. But as a general rule, larger rooms are better served by a more powerful sub.
Fine-tuning the sound
Check out subs with preset modes — they customize the sub's bass response depending on what you're listening to (Movie, Video Game, Rock Music, Jazz Music, Sports, or Night Listening).
Many subs also have some form of built-in equalization to help you customize the sub to the acoustics of your particular listening space. Some subs simply allow you to indicate your sub's placement (corner, mid-wall, in-cabinet, etc.), while higher-end subs may actually take sound samples using an included microphone and automatically tailor the sound to suit your room.
Remote control
To help you manage all your sub's features, look for one that includes a wireless remote control. You'll really appreciate the convenience of not having to get up to adjust the subwoofer's volume knob on the back of the sub every evening when your spouse or children go to bed.
Wired vs. wireless
Many of the subs that come with sound bars are wireless. Most home theater subwoofers are not. You'll need to buy a subwoofer cable to connect your sub to your receiver.
With some subs, wireless connection is an option. Look at the accessories offered with the sub you're buying, and add the wireless kit to your order. Or choose this universal wireless adapter kit to transform virtually any sub into a wireless sub.
Add a second sub for more evenly distributed bass in your room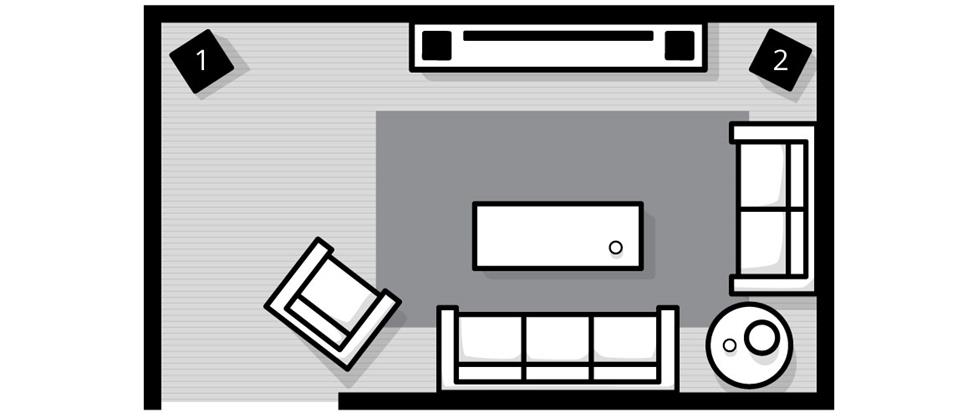 Use two subwoofers in your room for balanced, chest-thumping bass in video games and movies.
Home theater receivers use an RCA output for the subwoofer connection — that's the ".1" in a 7.1 system. Many receivers have two sub outs ("7.2-channel"), giving you the ability to add a second subwoofer to your system. Using two subs will improve bass distribution in a room that has multiple seating locations, giving everyone great performance. Two subwoofers also provide more impactful dynamics and greater system headroom. Here's a link to find a home theater receiver with dual subwoofer outputs.
Why does a second sub help to distribute the bass more evenly throughout the room?
Low frequency sound waves are very long. As these waves reflect against the walls in your room, they return toward the subwoofer and can overlap with the original sound wave. In some spots, the waves will cancel each other out, creating a "node" or "null point." This means some areas of your room will have significantly weakened bass response compared to others.

In the diagram above, the orange lines represent the original sound waves and the blue lines represent the reflected ones. Where they meet are the nodes, shown by the red "x."
Adding a second subwoofer can fill in those gaps where bass response is weak. This helps make every seat in your home theater a good one, with plenty of tight, deep bass.
How much should you spend?
The sweet spot for most of our customers is the $300-$500 range. These subs deliver thunderous bass with long-lasting performance. So why should you consider spending more? Premium subs use speakers with giant magnets, amps with large transformers, and thick-walled, heavily braced enclosures. Each of these improvements lend to a better quality home theater experience.
Heft is also an important factor. Just like with traditional component amplifiers, a subwoofer's weight is a good indication of what's inside. Elite subs can weigh twice as much as their comparably-sized counterparts.
If you're looking for the absolute best bass possible, consider a premium sub from a specialty manufacturer like SVS or JL Audio. In a dedicated theater room, with a giant TV and a comparably stout set of speakers, a high-end sub will blow your mind.
Connect with a Crutchfield Advisor for a personalized recommendation
Have questions about choosing a subwoofer? One of the great benefits of shopping with Crutchfield is working with an expert advisor. For one-on-one shopping advice, call, email, or chat with us today. Our advisors can send specific Crutchfield pages to your screen, saving you a lot of browsing time. Best of all, they know the gear inside and out, so they can help you make the right choice.
Get the most out of your subwoofer
Once you've gotten your new sub home, check out our tips for placement and setup to get the best performance out of your home theater system. Need help? Free lifetime tech support is included with every Crutchfield purchase.