Sonos buying guide
Want more music in your life? Sonos makes it easy
Hanging out with friends, relaxing after work, house parties — all things that are better with music. One of the easiest ways to add music to lots of rooms in your house (and one of our favorites) is with Sonos. It's easy to set up and control wirelessly with your smartphone, and it's cost-effective compared to hiring a custom intstaller. We can help you get started. Read on for advice on what you need to add wireless audio (and much more music) to your life.
Want tunes? Here's what you need
Choosing the right powered speakers for music (and talk radio, sports, and more)
If you want to add music to a room without an existing speaker system, Sonos offers three different all-in-one speakers (each is available in black or white):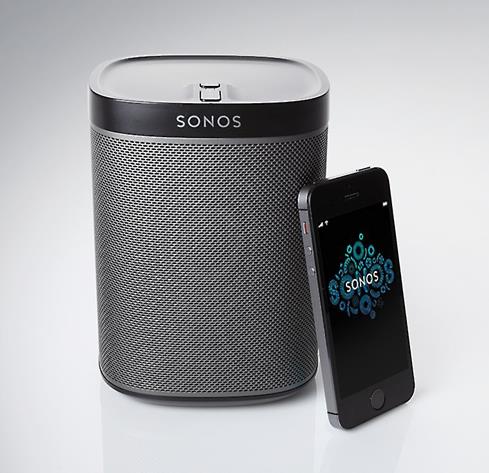 The compact PLAY:1 is great for smaller rooms.
Great for: smaller rooms like a bedroom or a dining room
Built-in speakers: 2 full-range drivers
Placement: vertical; wall- or stand-mountable
Play/Pause button: yes
Line in: no
Headphone jack: no
Weight: 4.08 lbs.
Sound: Very well balanced with tight bass and clear detail. Impressive output for such a compact wireless speaker.
The PLAY:3 is great for medium-sized rooms.
Great for: medium-sized rooms like an office or a kitchen
Built-in speakers: 2 midrange drivers and 1 tweeter
Placement: vertical or horizontal; wall- or stand-mountable
Play/Pause button: yes (with "mute" button)
Line in: no
Headphone jack: no
Weight: 5.71 lbs.
Sound: Quite smooth, especially for a wireless speaker, with nice midrange warmth and decent bass response.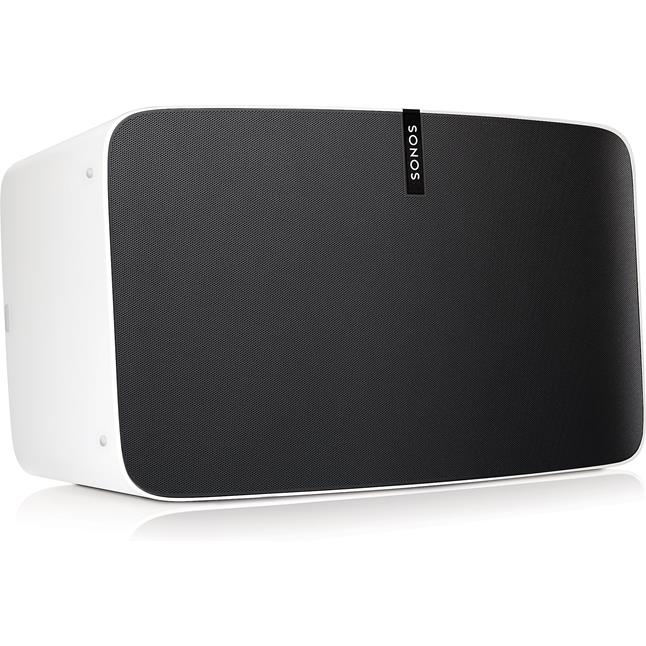 The PLAY:5 is ideal for larger rooms.
Great for: large rooms like a living room, master suite, large kitchen, or open floor plans
Built-in speakers: 6 balanced drivers
Placement: horizontal or vertical
Play/Pause button: yes
Line in: yes (3.5mm)
Headphone jack: yes.
Sound: Full-bodied, clean and clear, with impressive bass and a wide soundstage that makes this speaker sound huge.
Use two PLAY wireless speakers in the same room for bigger sound
All models of PLAY speakers can be set to function in stereo pairs, for a wide stereo image and left/right separation. It's a great option for large rooms where a single speaker may not be enough.
Get more bass with a SUB
If you're really serious about excellent sound with plenty of deep bass, we recommend adding a Sonos SUB to a pair of PLAY speakers. The SUB features dual woofers and acoustic ports, so it will fill out the low frequencies. It's great for a system that will rival some pretty nice receiver-and-speaker setups (it's also a great for movies and TV — keep reading). You can also pair the SUB with a single Sonos PLAY speaker, though we recommend using it with stereo pairs.
Add Sonos to your current stereo
The CONNECT allows you to enjoy all the wireless music benefits of Sonos wireless speakers through your stereo system. It offers digital and analog audio outputs, so you can connect it to an integrated amplifier, preamp, stereo receiver, home theater receiver, or powered speakers.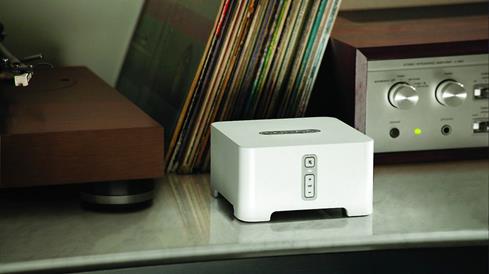 The CONNECT lets you enjoy Sonos with your existing stereo or home theater system.
Multi-room installations with in-wall or in-ceiling speakers
If you're looking to put together a large multi-room system with in-wall, in-ceiling, or outdoor speakers, the CONNECT is the perfect music source. You can use multiple CONNECT devices along with multi-room amplifiers to power in-wall or in-ceiling speakers in several rooms. It's a great way to enjoy music throughout your home while all the gear remains out of sight. To learn more about this, read our article Sonos and a multi-room amplifier, or call our A/V Design group at 1.800.555.9407.
Already have speakers? Get the amplified Sonos player
The CONNECT:AMP is an amplified player for use with any pair of stereo speakers. Just connect your speakers to the terminals and start streaming tunes wirelessly. It's a great option for powering outdoor speakers on a porch or deck. The CONNECT:AMP also offers analog inputs for connecting a source component like a CD player, as well as a preamp output for a powered subwoofer.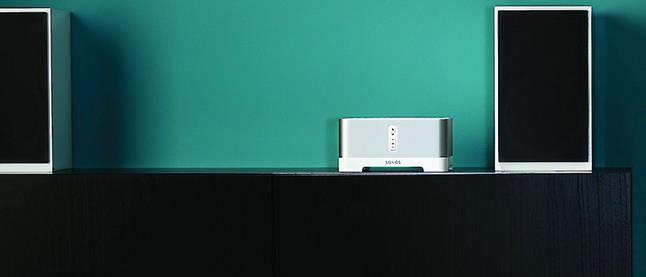 Use the CONNECT:AMP to enjoy Sonos with a pair of stereo speakers.
Sonos for TV and movies
If you want to put together a system for your TV room or home theater, Sonos offers some cool options that offer great sound and wireless music capability.
PLAYBAR is a three-channel sound bar (left, right, and center channels) with nine built-in speakers. It delivers detailed, powerful sound with clear dialogue for movies and TV. It connects to your TV with a single optical cable. Like all Sonos speakers, it can play wireless music from the same sources as all other Sonos components.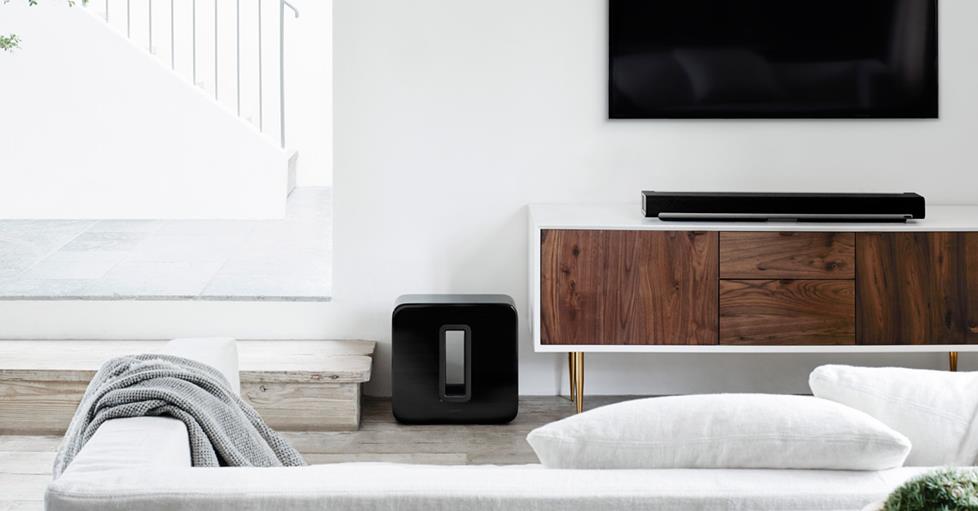 PLAYBAR and SUB — the Sonos sound bar and subwoofer offer dynamic, impactful sound for movies and TV.
The SUB can be paired with the PLAYBAR for 3.1-channel sound in your home theater — left and right channels, plus a center channel for dialogue and the SUB (.1) for deep bass. Or, you can pair it with other Sonos speaker or stereo pair for deeper, richer bass response with your music.
The PLAYBAR can rest on a TV stand or be mounted on the wall above or below your TV with the Sonos wall-mount kit.
Wireless surround sound for home theaters
You can use two PLAY:1 or PLAY:3 speakers as surround speakers with the three-channel PLAYBAR. Along with the SUB, this gives you a 5.1-channel surround sound system, for immersive sound in your home theater.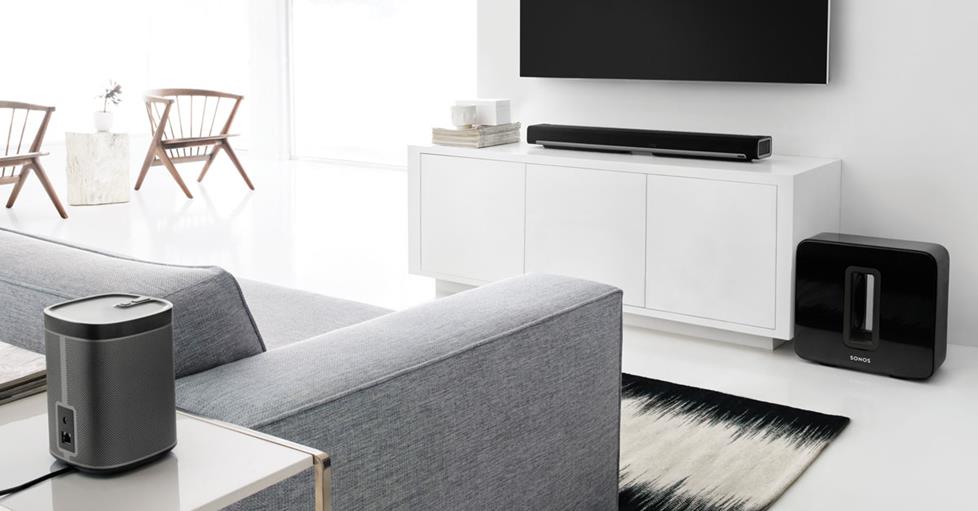 Getting your Sonos system set up
Do I need to connect anything to my network router?
All Sonos devices now work with your existing Wi-Fi® network, without any hard-wired connection to your router. The only exception is a home theater installation using PLAYBAR and one or more other speakers — this requires a hard-wired Ethernet connection. This can be accomplished by connecting one of the devices to your router via Ethernet cable, or with the Sonos BOOST.
The BOOST is a compact device that connects to your router via Ethernet cable. Once connected, it creates its own dedicated wireless network for Sonos. This allows all the rest of your Sonos devices to operate wirelessly without being affected by traffic on your existing Wi-Fi network. The BOOST also offers expanded range compared to many wireless routers, so you can extend your Sonos network to more rooms.
If you plan on purchasing three or more Sonos devices or wish to place a speaker in a room where your Wi-Fi signal is weak or non-existent, we recommend that you use the BOOST to ensure reliable wireless performance.
Enjoying your Sonos system
If you're concerned that setting up and using a Sonos system is complicated, let me alleviate your concerns. Few products that we sell are as easy and enjoyable to use as Sonos gear. That's why it's been among a customer favorite for years, and why so many of us at Crutchfield use Sonos in our own homes.
The key to setting up and enjoying Sonos is the free app for your smartphone or tablet (Apple® and Android™ devices). When you first plug in your Sonos speaker, just download the app, follow the simple on-screen instructions, and you'll be listening to music in minutes. Once you've set up one Sonos component, it's even easier to add more.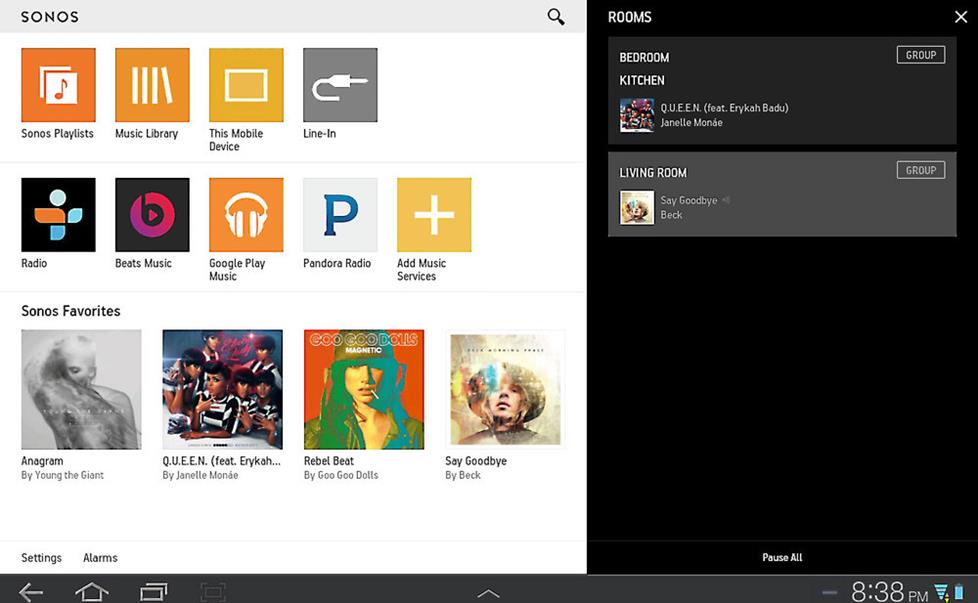 The free Sonos app for Apple and Android tablets (also available for smartphones).
Once you're set up, you can customize the app to show the various music services you would like use. You can even add multiple accounts for the same service, so your wife doesn't have to be subjected to your Pandora® stations. Remember: some services require subscriptions.
With your music options in place, you can search across all of them simultaneously. Want to listen to B.B. King but aren't sure which album or what's available to you? Just enter the artist name in the search field, and you'll get results from all your music services as well as music stored on your device or networked computers.
You can also queue up tunes and create playlists from different listening options. Want to play a new song from Spotify®, followed by an old favorite song stored on your iPhone? No problem. It's another feature that makes the Sonos app such a pleasure for music lovers who are always in search of the right song for the right time.
The app also makes it easy to group rooms together for playing back the same song through multiple speakers, or queue up different songs in different rooms. You can easily see what's playing where at any given time.
Trueplay speaker tuning for optimal sound
If you use your Sonos control app on an iPhone®, iPad®, or iPod touch®, you can fine-tune your PLAY:1, PLAY:3, and PLAY:5 wireless speakers with the Trueplay feature. This free software upgrade deepens your listening experience by optimizing your Sonos speaker for the room it's in. Trueplay tuning is applied through the Sonos control app to your Sonos speaker. It uses your Apple® portable to measuring how the sound reflects off your walls and furnishings and adjusting the speaker's settings for the best possible balance. (For iOS devices only.)
Add a universal remote
There is another control option for Sonos: a universal remote. It's particularly usefull if you're using Sonos with your stereo or home theater system. To learn about controlling Sonos along with all your other home theater gear, read our article on using the Harmony Ultimate remote with Sonos.
Is there a way to help Sonos devices fit my décor?
Flexson makes stands and wall-mount brackets for all Sonos speakers and components. Check out our article to learn more.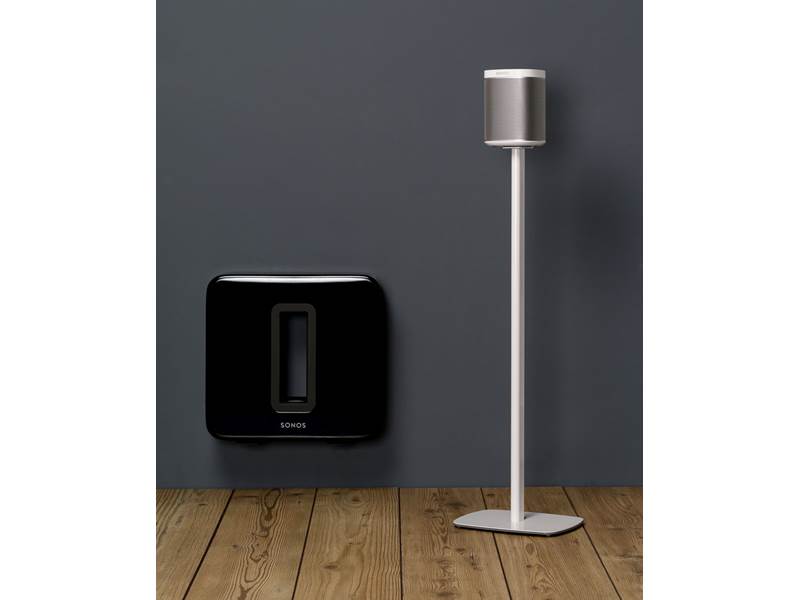 Check out this video to see Sonos in action: