iTunes Tune-up: Creating an Exercise Smart Playlist
Ralph Graves is one of Crutchfield's blog editors, and part of the company's social media team. He writes about home audio/video gear, specializing in Apple-related and wireless technologies. Ralph holds a master's degree in music composition, and his works have been released on various labels. He's served as product manager for an independent classical and world music label, produced several recordings, and worked extensively in public broadcasting. Since 1984 he's hosted a weekly classical music program on WTJU, and is also active as a blogger and podcaster.
More from Ralph Graves
Heads up!
Welcome to this article from the Crutchfield archives. Have fun reading it, but be aware that the information may be outdated and links may be broken.
The portability of an iPod® or iPhone® makes it a great source of music when you exercise. Just strap one on your arm (or clip it to your belt), connect the headphones, and you're ready to go. Maintaining a consistent pulse throughout your workout keeps you moving. Individually selecting songs for an exercise playlist can be time-consuming, especially if you have to continually revisit the lists to add new tunes and get rid of the ones you're tired of. iTunes® 11 has an easy way to organize your exercise tunes — the smart playlist. A smart playlist can sort the songs in your iTunes library by beats per minute. It can provide a ready supply of appropriate songs that updates and changes automatically every time you sync your device.
Step 1: Set up a new smart playlist
Open up iTunes on your computer. In the lower left corner of the window, open up the folder options (marked with a "+"). Select "New Smart Playlist."
When the window opens, choose "BPM" from the menu option as the criteria.

Enter the beats per minute you want the smart playlist to match. It can either be a single number, or a range of tempi.


Once you've created and saved the smart playlist, it automatically shows all of your songs with the matching BPM number (or range of numbers). If there's not a lot there, don't worry -- that's step 2.
Step 2: Fill in the BPM field
To fill in the BPM field for a track, highlight it and select "Get Info" from the File menu.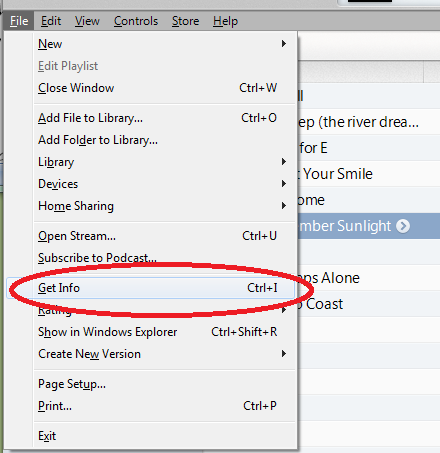 This shows you the text and graphic info for the track. Click the Info tab to reveal the BPM field. Just enter the appropriate number, and hit "OK."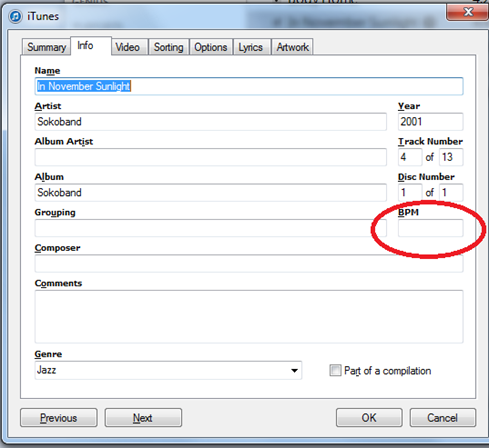 Don't know what tempo your song really is? That's step 3.
Step 3: Get the beat
There are a variety of apps and software programs that can help you figure out a song's tempo. Usually they scan the tracks in your iTunes library, determine the tempo for each track and autofill the BPM field.
You can also do it low-tech. Start up the song, and whenever you're ready, start a timer. Count the number of beats for ten seconds. Multiply that number by 6, and you have the tempo.
So how do you get your exercise playlist to update automatically? Just set some parameters. You can determine how many songs – or how much playing time the playlist will have. And you can instruct the playlist to select songs that fit the criteria by random, least recently played, or some other means.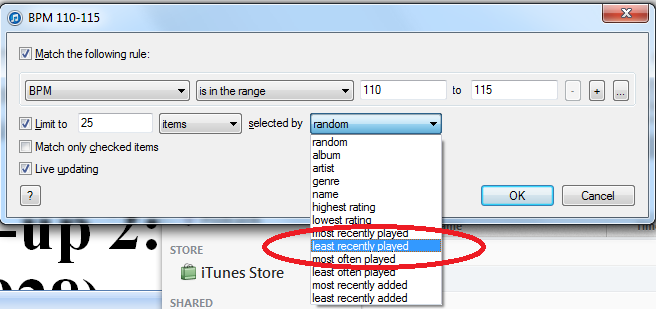 Each time you sync your device, iTunes will look at the smart playlist and automatically adjust the entries.
And you can have as many of these playlists as you desire. Have a one for running, one for power walking – even one of slower tracks for your after-workout cool down.