Travel-friendly headphones
Tara W. has worked for Crutchfield since 2004. She writes about whole-house music and video gear, and works on Crutchfield's video team.
More from Tara W.
Heads up!
Welcome to this article from the Crutchfield archives. Have fun reading it, but be aware that the information may be outdated and links may be broken.
When I travel, I'm surprised at the number of people on their cell phones, listening to MP3 players, and working on laptops. We live in a world of portable electronics that let us communicate, work, and enjoy music wherever we are. It's great that we can take our favorite music, movies, and TV shows with us, but it can be dangerous if we don't take the proper precautions for our hearing. I've been guilty of cranking up the volume when I want to tune out the rest of the world. At that moment, the volume doesn't seem too loud since there's so much other noise around me. Afterwards, I'll turn on my player in a quieter environment, and then I realize just how loud I was blasting my tunes.
In louder listening situations, a good pair of headphones can help you block background noise without sacrificing the safety of your ears. And some 'phones are designed for this specific purpose. So I set out to test a few sets of headphones in a very noisy environment — the cabin of a commuter jet. I wanted to see which headphones would let me comfortably hear my music without turning up the volume too high.
I'd already read Ralph Graves's article on safe use of portable players, and used his guidelines to help me decide which headphones to take. If you haven't read it yet, check it out — it's got a lot of tips for safe listening.
For my flight, I packed my trusty iPod®, the earbud headphones that came with my iPod, Shure's E3 in-ear headphones, and a pair of Bose® QuietComfort® 3 Acoustic Noise Canceling® headphones in my carry-on bag. I planned to listen to the same songs, selections from the Decemberists' The Crane Wife and Ray LaMontagne's Till the Sun Turns Black, with each pair of headphones.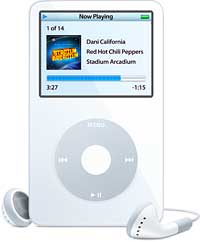 My iPod came with these small earbud headphones.
Cruising altitude: music in the friendly skies
I started with the iPod earbuds. Immediately, I realized that these 'phones were made for casual use, and not intended for more challenging, noisy environments. Typically, I don't turn my iPod's volume up past 50%. With these small headphones, I had to turn it up past 80% to hear the music over the noise of the jet engines. The earbuds didn't fit snugly in or on my ear, so I heard a lot of background noise and found it difficult to concentrate on the songs. And my tunes didn't do so well with the high volume — the overall tone was flat and tinny, and the female vocals were muffled and distant. The mid-range passages were the exact opposite — they were loud and almost harsh. When I played a slower, softer song from Ray LaMontagne's album, the earbuds weren't able to produce the depth and detail that I normally hear in the track, even when I turned the volume up further. These 'phones work fine if I'm listening to music in a quiet environment, but for extended listening sessions in noisy environments, they probably aren't the best choice.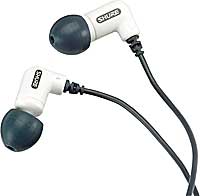 Shure's E3 headphones are small in-ear headphones, which makes them convenient for traveling.
Next up were the Shure E3 in-ear headphones. These small headphones fit just inside my ear canal, which helps them block out background noises. I was able to set the volume between 30% and 40%. I noticed one difference right away — I heard less noise from the jet engines. Songs were clear, and the female vocals complemented the mid-range sounds. These 'phones didn't produce a superior amount of bass, but it didn't take away from my listening experience — the melodies of my music came through smooth and clear. They do a great job for their small size, and would be ideal for people who want improved audio performance but don't want to carry around larger headphones.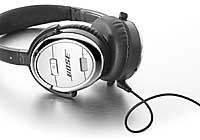 The Bose QuietComfort 3 headphones fit comfortably on my ears — perfect for longer listening sessions.
Last on my list was the pair of Bose QuietComfort 3 headphones. They have an active noise-canceling feature that minimizes outside sounds. The QC3s are lightweight and rested comfortably on my ears. I set the volume to 40% and again noticed an improvement right away — they blocked most of the noise from the rumbling airplane. This was, by far, the clearest listening experience, and it closely mirrored my home listening environment. Without the whine of the jet engine to distract me, I was able to hear more detail and an improved range of sounds in the slower acoustic songs — from the rich, warm, vibrato-filled notes of the string instrumentals to the crisp, rhythmic chords of the acoustic guitar. These 'phones are marketed for travelers, and rightly so — they'd be really comfortable for extended listening sessions.
Conclusions
My best experience on the airplane came from the most expensive pair of headphones — shocking, right? Probably not. However, it is worth noting that almost any pair of noise-cancelling or in-ear headphones will provide a better, and safer, listening environment when you're in a noisy place since they're designed specifically for that purpose. The combination of being able to listen at lower volume levels and hear detailed, full-range sound has me convinced that noise-cancelling or in-ear 'phones are definitely the right choice for frequent fliers like me.
This post was originally written as a collection of tips for CrutchfieldAdvisor.com's "The Audio Files?" column.