The Batteries That Always Forget
The Crutchfield writing team is a group of full-time, in-house copywriters who share a passion for consumer electronics. In addition to creating the articles and videos you find in the Research area of the Crutchfield website, these hard-working and talented people write the informational copy for the products on our website and in the Crutchfield catalog. Our writers constantly research the latest products, technologies, and industry trends, so that we can bring you the most helpful information possible.
More from Crutchfield Writing Team
Heads up!
Welcome to this article from the Crutchfield archives. Have fun reading it, but be aware that the information may be outdated and links may be broken.
I really hate not having a battery when I need it. When I'm battery-less, sometimes I have to forego winning my latest Wii® game, or I fumble around in the dark with a dead flashlight, or I even, gasp, get up and change the channel on my satellite box manually. Ugh!
With so many different devices that run on batteries (especially "AA") it's easy to run up quite a bill just powering our stuff. It's also pretty bad for the environment to keep throwing old batteries away and buying new ones. Lastly, if we're not organized enough to have a stockpile of fresh batteries, it's really annoying to make a separate trip to the store just for batteries.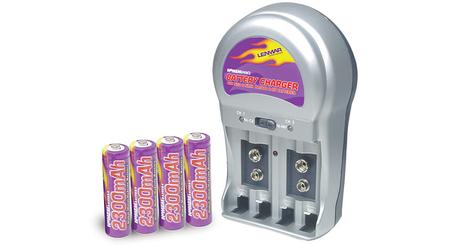 I've happily said "good-bye" to such trials and tribulations of modern life, because I now use rechargeable batteries.

Rechargeable batteries have improved over the years. They are much more resistant to developing a "memory," which is when they only charge to the power level they were at when they last recharged, leading to decreased battery life. That "memory" issue frustrated many people who once used rechargeable batteries — including me.
Once I heard that the technology had improved, though, I decided to give it another chance. I bought a charger and some rechargeable "AA" & "AAA" batteries, and I was good to go. Without the memory issue, it's a lot easier keeping charged batteries on hand than it used to be trying to remember to buy new ones. I just store the charged batteries in a convenient place, so all my remotes, flashlights, and Wii controllers are ready to use.
I do have a couple words of caution, though -- don't leave the batteries in your equipment for long periods of time (weeks or months) after they have died. Also don't leave them in the charger for long periods of time after they have finished charging (as the manufacturer recommends). Not heeding this advice can "force' the batteries to gain memories, or just fail.
No matter where you stand on the issue of the environment and climate change, it feels nice to decrease wastefulness. As Jim R pointed out in his post, Five tips for greener electronics, there are tremendous numbers of disposable batteries produced each year. Using rechargeables helps put a dent in that figure.
I no longer have to worry about going on an emergency battery run. Now, however, I have to worry about making excuses for why I haven't won that game, why I'm stumbling anyway with my flashlight working, and why the TV has been on The Weather Channel for the past five hours.