Adding Great Sound to your TV, Tip#4 - Component surround sound systems
Ralph Graves is one of Crutchfield's blog editors, and part of the company's social media team. He writes about home audio/video gear, specializing in Apple-related and wireless technologies. Ralph holds a master's degree in music composition, and his works have been released on various labels. He's served as product manager for an independent classical and world music label, produced several recordings, and worked extensively in public broadcasting. Since 1984 he's hosted a weekly classical music program on WTJU, and is also active as a blogger and podcaster.
More from Ralph Graves
Heads up!
Welcome to this article from the Crutchfield archives. Have fun reading it, but be aware that the information may be outdated and links may be broken.
In previous posts we've discussed getting great sound from your TV by adding a soundbar, or an easy three-speaker system, or even a pre-matched surround sound system. But in the end, nothing does quite the job of a component surround sound system -- especially in larger rooms.
Component surround sound systems
A system built from separate components gives you the best possible home theater sound, but also requires the most space. These systems typically involve between five and seven medium to large speakers, depending on the individual system. You'll also need a powered subwoofer, a home theater receiver, and a disc player (like a DVD or Blu-ray player). And keep in mind that you'll need to run wires across your room to hook up your surround speakers.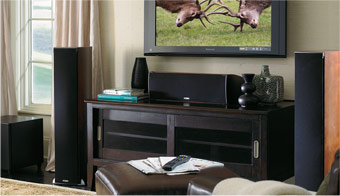 A component surround sound system is a smart way to go when:
You have a large room.

Nothing fills a big room with sound like a set of full-sized speakers driven by a dedicated receiver.

You do a lot of music listening.

Music presents any audio system with just as great a challenge as movie sound. Larger speakers and a good receiver let you experience your favorite recordings with especially powerful and nuanced sound.
You want maximum flexibility. A lot of options open up when you go the component route. Many home theater receivers now allow multi-room music or PC networking possibilities. You can also make creative substitutions, like using in-wall speakers (this requires involved installation but saves lots of space). Down the road, you'll also enjoy more potential for system expansion.
This post is excerpted from Barry Montgomery's recent article in our Learning Center,
Four Ways to Add Great Sound to Your TV
.