Easy to use sound bars
During his tenure as a Crutchfield staff writer, Marshall Chase wrote about home theater receivers, sound bars, and in-wall and in-ceiling speakers.
More from Marshall Chase
Heads up!
Welcome to this article from the Crutchfield archives. Have fun reading it, but be aware that the information may be outdated and links may be broken.
In my last blog post I wrote about how much I've learned about technology from my 85 year old mom. I now understand what features make something accessible and which ones mean that certain items won't ever see the light of day in some homes because they're just too intimidating.
Lots of us, tech-happy or not, have fairly new televisions in our homes. The switch to digital broadcast and advances in technology have made TVs bigger, better, brighter and more attractive. But what today's televisions don't do is provide adequate detail and clarity to the sound track. Mom leans forward trying to squeeze out what's happening. Then she turns the volume up so she can hear the dialog over the sound effects and music. Before you know it, it's rather loud in her living room. One thing that becomes certain is that TV speakers by themselves just don't cut it any longer. A very simple and enjoyable solution to being able to hear and enjoy all that's missing from TV speakers is the sound bar:

A sound bar will give you much better sound than you get with just your TV.
Why is it so hard to hear what's on TV?
Today's televisions look great but they don't sound so great. Quite simply they're so thin that speakers have to be fairly puny. This condition is aggravated because the sound tracks of movies and TV programs are chock full of music and sound effects that overtake the dialog. All of these sounds may add a tremendous amount to the experience when they are distinct, but the overall effect on TV speakers is something akin to trying to have a conversation when you're in the front row at a rock concert. The sound bar separates the spoken word from the rest of the sound, moving the speech to the center where it becomes clear to the listener. You can still hear the music and sound effects, but they don't take over the show, they enhance it like they were meant to.
The Simplest Solution
The easiest to use sound bars have an amplifier built-in. I like the simplicity of the Z-Vox Z-Base 550. You just set your TV on top of the Z-Base, plug in the power and run the included cable from the soundbar into the TV's headphone jack.


This soundbar is easy to use, has five 2" speakers and one 5-1/4" speaker. It's a little over 28" wide but sounds much bigger. Quite honestly, I think this is the sort of thing Mom would like best. In less than five minutes, it's ready to go. And the remote has only 8 buttons. In fact Mom can set the volume, bass and treble and the '550 can just go on and off with the TV. Then the only remote she'll need is the one that came with her television. I can see Mom smiling already.
What about a subwoofer?
Now, on the phones I spoke with a lot of people who didn't think you could call it a "home theater system" without there being a subwoofer someplace. I used to think that subs were something only for people who liked to rattle the good china from a distance. Not true! A sub adds low frequencies to the sound mix that are downright irreplaceable if you want the dramatic sound that comes with a lot of today's movies. If you want that experience, or need to placate someone who does, you will want to consider a two-piece system.

For some people it's not the sub, but the wire to the sub that bothers them. Not to worry. Systems like the Boston Acoustics TVee M20 use a wireless subwoofer. This is a great solution because there's no wire to have to hide, clean around or trip over.
One thing to keep in mind
Cautionary tale. There are some excellent soundbars on the market that require the use of a home theater receiver. These are great systems, offer excellent sound quality and easy placement. But if you're like Mom and don't have a home theater receiver, this won't help you . But if you have a receiver and would like something that saves you the hassle and clutter of separately placing five speakers, then consider something like the Polk Audio SurroundBar50®;. I was delighted by the big, enveloping sound of this system combined with a great home theater receiver, both for music and film alike. Polk includes a wire harness that makes connection to any receiver quick and simple.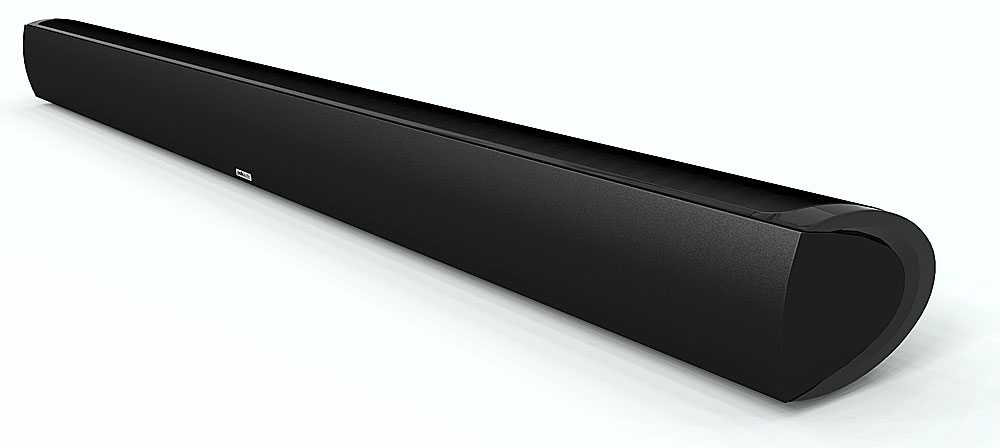 Other posts in the series:
Easy to use point and shoot cameras