Spotlight on the Logitech Squeezebox Radio
Tara W. has worked for Crutchfield since 2004. She writes about whole-house music and video gear, and works on Crutchfield's video team.
More from Tara W.
Heads up!
Welcome to this article from the Crutchfield archives. Have fun reading it, but be aware that the information may be outdated and links may be broken.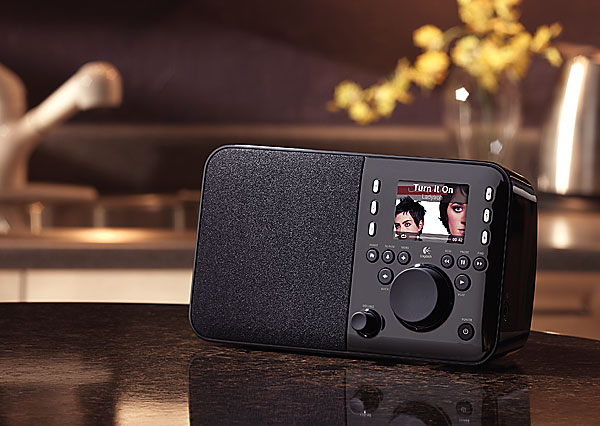 Logitech's Squeezebox® Radio is a small clock radio with a twist: it uses the wireless network that many of us have coursing through our homes to play music from a computer, Internet radio stations, Pandora® Radio, and the subscription-based Rhapsody® service.
I had the radio connected to my wireless network and playing within minutes of cracking open the box (I could also have made a wired connection if I chose). Now, I'll admit that I do have quite a bit of experience with networkable products, but my expertise didn't come into it; I simply followed the instructions on the screen as it walked me through the setup.
How'd it sound?
Well, the Squeezebox Radio certainly isn't going to replace my main audio system, but that's not its purpose. For a small radio with just a single tweeter and 3" woofer, it has a big sound. It did an especially good job on the middle and low-end frequencies. That made it a good fit for my kitchen; it didn't take up much precious counter space, and it put out sound I could hear even with food cooking, water running, and the fan on.
But what to listen to?
Even though it doesn't have an AM/FM tuner, the Squeezebox Radio plays a big variety of music. I started by flipping through Internet radio stations, and then created a custom station at Pandora®.
I began by basing it on Matt Nathanson, a favorite of mine. Then Pandora found similar music from other artists. As I skipped songs that I didn't really like, Pandora remembered my picks and tailored the station to mirror my musical preferences. Pretty cool.
Next, I installed the Squeezebox Server software on my computer, and presto! I could scroll through lists of my albums and artists to find whatever song I wanted to hear.
Flickr and Facebook, too!
Last but not least: Logitech was obviously looking to win the "everything but the kitchen sink" category. The Squeezebox can also access certain areas of Flickr and Facebook, so you can check out photos and updates on the LCD screen. I wouldn't have thought this was necessary for a radio, but I ended up liking it. I found myself flipping through Facebook photos to kill time while I waited for the water to boil.
Final thoughts
The Squeezebox Radio is an extra-strength table radio. I got the wide-ranging music options that I would expect of a wireless music player, with the added bonus of countertop-friendly size. And I got a little something extra with Facebook and Flickr.
Originally printed in Crutchfield: The Magazine. Read the digital edition.