IDAPT I3 Charging Station - I like
Ralph Graves is one of Crutchfield's blog editors, and part of the company's social media team. He writes about home audio/video gear, specializing in Apple-related and wireless technologies. Ralph holds a master's degree in music composition, and his works have been released on various labels. He's served as product manager for an independent classical and world music label, produced several recordings, and worked extensively in public broadcasting. Since 1984 he's hosted a weekly classical music program on WTJU, and is also active as a blogger and podcaster.
More from Ralph Graves
Heads up!
Welcome to this article from the Crutchfield archives. Have fun reading it, but be aware that the information may be outdated and links may be broken.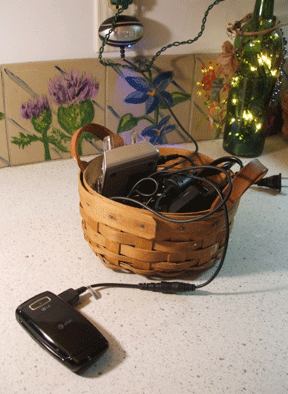 I had an opportunity to take the IDAPT I3 charging station home and give it a workout recently. It's a simple device, based on a simple concept, and it worked beautifully.The IDAPT I3 serves as a single charging device for just about any type of portable electronic device.
At left is the setup we normally live with. The edge of the kitchen counter, on the way in and out of the house, serves as a dump site for our portables and their chargers. Inside that basket is a jumble of cell phone chargers, camera charging stations, MP3 player adapter/chargers and who knows what else. Fishing out the cable you need to charge a device is often a challenge. And because one of the outlet's plugs is already taken, only one device can be charged at a time.
Below right is the same space with the IDAPT I3 replacing our ad hoc system. What a difference! Once I set the IDAPT I3 up (basically, just plugged it in), I could charge three difference devices simultaneously.
The IDAPT I3 comes with three charging ports, and six different charging tips. I just pressed in the silver tabs on either side of the tip, and it popped right out (below, left). It was easy to then snap in the tips I needed to configure the IDAPT for an LG phone, Motorola phone, and iPod classic, as seen below.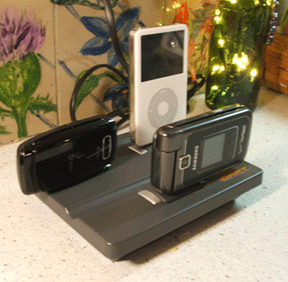 Even if the tip I needed didn't come with the charger, I was still covered. IDAPT offers a wide variety of charging tips for sale separately. I might have needed to purchase an additional tip (but fortunately I didn't need to).
The IDAPT I3 provided a welcome alternative to clutter. With it in place, we could repurpose our little basket, and reclaim some kitchen counter space. And while I had to return the review sample, the story doesn't end there. This week I purchased my own IDAPT I3 for our kitchen.