Bowers and Wilkins Zeppelin Lifts the Party
Ralph Graves is one of Crutchfield's blog editors, and part of the company's social media team. He writes about home audio/video gear, specializing in Apple-related and wireless technologies. Ralph holds a master's degree in music composition, and his works have been released on various labels. He's served as product manager for an independent classical and world music label, produced several recordings, and worked extensively in public broadcasting. Since 1984 he's hosted a weekly classical music program on WTJU, and is also active as a blogger and podcaster.
More from Ralph Graves
Heads up!
Welcome to this article from the Crutchfield archives. Have fun reading it, but be aware that the information may be outdated and links may be broken.

I had an opportunity to borrow a Bowers & Wilkins Zeppelin powered speaker system last week. I'd heard the Zeppelin in some demonstrations, but I wanted to get a better idea of what it would should like in my house playing my music from my iPod®.
First impressions
The sheer mass of the Zeppelin impressed me mightily. While this is an integrated iPod dock and powered speaker system, it does takes a fair amount of space (over 25" in length). And that's good, because it meant Bowers & Wilkins didn't have to make compromises with speaker size or placement. And they didn't skimp on build quality, either. The body is stainless steel, with a good deal of electronics packed into the shell. Weighing in at 16.5 lbs., the Zeppelin has a fair amount of heft to it.
I also liked the styling of the Zeppelin, with its rounded profile and polished stainless steel finish. The curved arm that holds the iPod dock appeared to lift my player up and out from the system. The overall effect was that of a retro-modernist abstract sculpture. Very cool.
Unqualified sound quality
I have an older iPod powered speaker system that I've been pretty happy with -- until now. While neither my older system nor the Zeppelin have a subwoofer, the Zeppelin pushed out a much fuller sound with more low end tones. The two rear-firing ports in the back of the system made all the difference. Bass tones had a good, solid sound to them. And the stereo tweeters and midrange woofers did their part, too.
Most of my digital music is stored in Apple Lossless format. Even on low quality playback systems these files tend to sound more detailed than their 128kbps MP3 counterparts (at least to my ears). But when I played these tracks through the Zeppelin I could really hear a great deal of the detail I knew was in the music.
The Zeppelin created an expansive sound stage. The effect is difficult to describe, but to me it sounded like the music had room to breathe. Sounds that were supposed to be concentrated in different channels were clearly separate, while blended ensembles presented a smooth spread from left to right.
Don't try this at home (even though I did)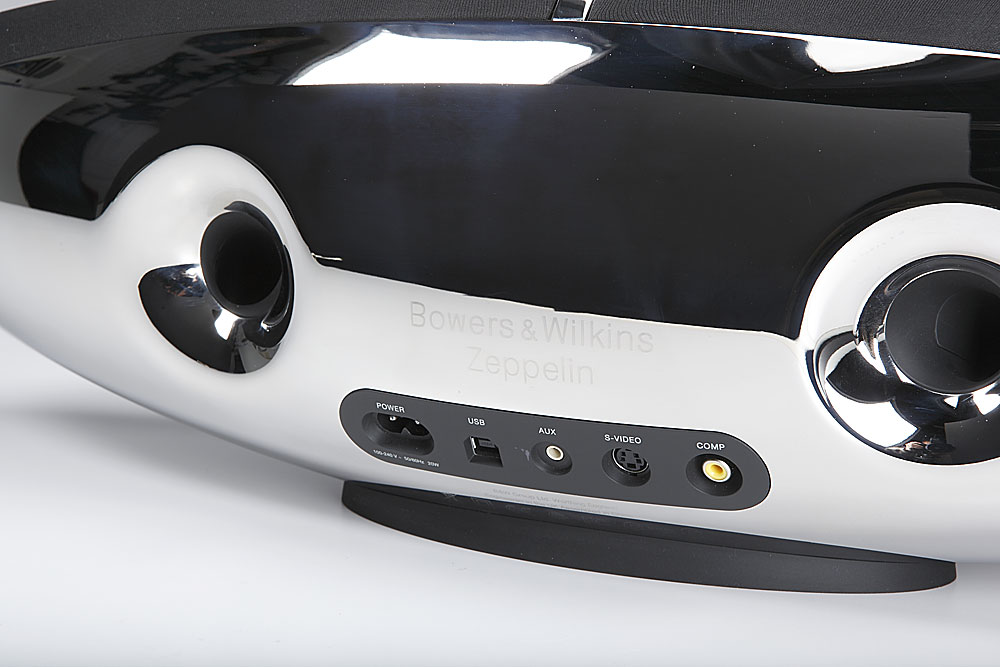 Although Crutchfield knew I was interested in test-driving the Zeppelin because I was hosting a party, I don't think they realized it was an outdoor event. Now the Zeppelin isn't designed for operation a la fresco. But even at the highest volume settings the sound didn't distort, so it was the system I wanted for our backyard get-together.
Placement is key with the Zeppelin. Those rear-firing ports (pictured, right) can round out the bass, but only if the sound isn't dissipated. The system works best when it's placed against a wall, so that the lows can reflect off a vertical surface close to the ports and bounce into the room along with the output of the front-facing speakers.
While I wasn't concerned about overall volume (loud enough to hear outside, not too loud to inhibit conversation), without strong bass most of my party tracks would sound washed out. My solution was to place the Zeppelin against an outside wall, facing out into the party area.
It worked great. The house acted like a sounding board, and the overall effect was as I intended. Plus, the party was on the east side of the house. Since the sound was reflected in that direction, our sometimes grumpy neighbor on the opposite side of our property hardly heard a thing (I walked over to the property line just to make sure).
Based on my experience, the Bowers & Wilkins Zeppelin is a high-quality system worthy of its reputation. Even under unusual conditions, it performed admirably.