Crutchfield video team takes on CES
Tara W. has worked for Crutchfield since 2004. She writes about whole-house music and video gear, and works on Crutchfield's video team.
More from Tara W.
Heads up!
Welcome to this article from the Crutchfield archives. Have fun reading it, but be aware that the information may be outdated and links may be broken.
This year, Crutchfield sent our video team to Vegas to cover the Consumer Electronics Show (known as CES in the industry). In 3 days of running around the show floor, we visited over 20 booths and racked up over 200 gigabytes of video footage. We'll use the space below to give our highlights (and we'll update as we release more videos).
Highlight #1
How can you prove that sports headphones will really stay in your ears? Jump on a trampoline.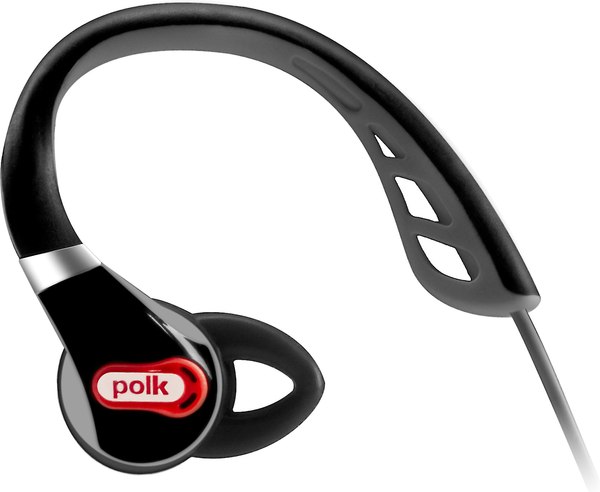 The Polk Audio UltraFit 1000 in-ear sports headphones stay in place, even during rigorous exercise.
Polk Audio set up a trampoline in North Hall to show that their latest headphones, the UltraFit 500 and UltraFit 1000, are designed for movement — all types of movement. They had future Olympic hopefuls jumping and flipping on the trampoline all while wearing Polk headphones. The results? The headphones stayed in place.
I've been running and working out while using Polk UltraFits for the past month and they definitely stay in place. But it's nice to know that they'll still work if I take up trampolining or other more extreme sports.
Highlight #2
Monster's latest gaming headphones and a visit with Xzibit
We visited Monster's booth to check out the new headphones they're selling this year, and we got the chance to talk Call Of Duty with Xzibit. He told us how the new T1 headphones by Monster give him an advantage when he's trying to hear enemies creeping up on him.
Kind of crazy to think that you or I may be playing against Xzibit when we log on to COD. (I'm sure he's much better than me, too.)
Highlight #3
Apps designed for your car stereo
The Parrot ASTEROID digital media receiver has an Android™ based operating system and comes with six apps preloaded. We got the chance to check it out and it's perfect for someone with tons of music stored on different devices. When you want to search for a particular song or artist, speak the name at the ASTEROID and it searches all connected devices — whether it's a USB drive, SD card, iPod®, or all three.
Highlight #4
Bringing out the big guns — the camcorder we used at CES
We were very fortunate in that Canon lent us their high-end XF305 HD camcorder to shoot all of our CES footage. This camera was phenomenal. The XF305 has three huge sensors so we were able to shoot video-light-free on the show floor even though the lighting was darker than optimal, and all the footage came out fantastic — bright colors and stunning detail of all the booths we entered.
We sent the XF305 back to Canon after the show and our video editor/director Jon was very sad to see it go. I think he's probably still dreaming of this camcorder.
Highlight #5
Sophisticated sound for your iPad®, iPhone®, or iPod®
We had the chance to check out JBL's OnBeat Air powered speaker system. It looks cool and sounds fantastic, even in the less-than-stellar listening conditions of the Las Vegas Convention Center. And it has AirPlay® so you can play music from your iPad, iPhone, or iPod but keep the device near you. That way, you can check email, surf the web, or play games all while listening to great JBL sound.
Highlight #6
One of the year's most exciting new cameras (according to our camera enthusiast Zak)
Zak got a little hands-on time with Canon's new PowerShot G1 X camera at the Canon booth, and he's still talking about it. This camera has a huge sensor compared to other cameras in Canon's PowerShot line so it gathers a lot of light. That means you'll get crystal-clear well-lit photos, even in low light settings, and it's great for HD video, too.