Digitizing Your LPs
Ralph Graves is one of Crutchfield's blog editors, and part of the company's social media team. He writes about home audio/video gear, specializing in Apple-related and wireless technologies. Ralph holds a master's degree in music composition, and his works have been released on various labels. He's served as product manager for an independent classical and world music label, produced several recordings, and worked extensively in public broadcasting. Since 1984 he's hosted a weekly classical music program on WTJU, and is also active as a blogger and podcaster.
More from Ralph Graves
Heads up!
Welcome to this article from the Crutchfield archives. Have fun reading it, but be aware that the information may be outdated and links may be broken.
What to do with those old LPs? For years I've heard the same advice, and passed it on to friends. Digitize your vinyl collection and enjoy it with all the convenience of your iTunes® library (like having it on your smartphone, for example).
Seemed like a logical solution, especially for folks like myself who are reluctant to discard our vintage vinyl. So I was glad to finally try out the process for myself. After working with the Denon DP-200USB turntable and the Pro-Ject Debut III USB turntable, I'm still giving that same basic advice — but with some additional tips and caveats.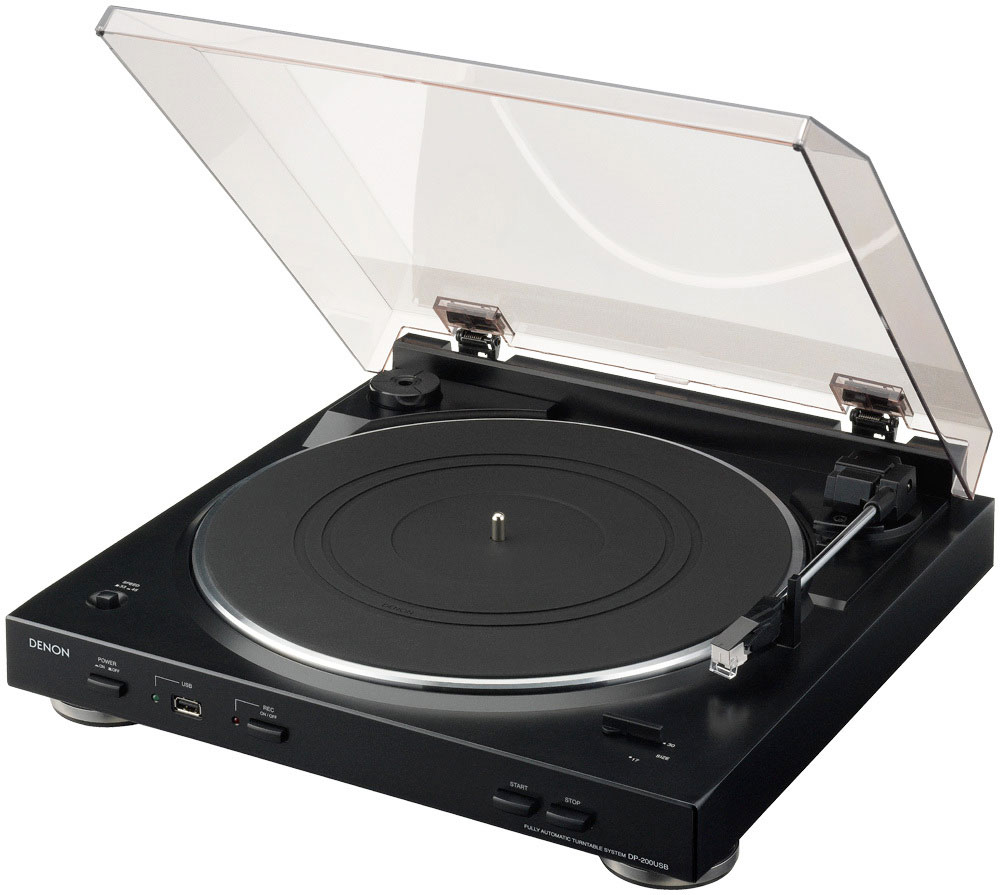 Denon DP-200USB turntable
The turn-key solution: Denon DP-200USB
If you're just interested in getting those old LPs digitized as easily as possible, the Denon DP-200USB is a no-frills way to do it. The system has a USB output designed for use with flash drives.
When I inserted the flash drive, the status light next to it showed green, assuring me it was connected. When I pressed the record button, the light turned red until the tonearm was placed on the spinning album. Then it started blinking, indicating that recording was taking place.
The DP-200USB automatically created an MP3 file on my thumb drive for the sound file it recorded. The resulting MP3 is a single track consisting of the entire side of the LP. The bit rate of the recording is automatically set at 198kbps, which represents better-than-average sound quality.
A CD with Trans Music Manager software came with the turntable. I loaded it onto my computer to complete the digitization process. After I finished playing both sides of my LP, I had two MP3 files in the audio folder the system created on my thumb drive.
I then plugged the drive into my computer, and opened the Trans Music Manager program. One of the editing options is silence detection. I opened the window, selected the MP3 file, and let the program do the rest. It went through the file, detecting the silences between the LP tracks. It then inserted break points, dividing the one long MP3 file into separate files, one for each song.
Once that was finished, I could then use the program to name the files. Trans Music Manager accesses an online musical database to find album, song, and artist information. It then showed me the results and asked permission to fill in the information. In some cases, the system worked just fine, and I let it run. But there were some tracks that were misidentified, and I declined, going in and typing in the correct information myself.
On the whole, the system worked pretty well. As a turntable, the Denon is a good, entry-level device. And for those who just want to digitize their LPs as easily as possible, the DP-200USB is a good solution.
The hands-on solution: Pro-Ject Debut III USB
If you're serious about your music and want a greater amount of control over the sound, the Pro-Ject Debut III USB might be a better choice. It's a high-performance turntable, with a carefully balanced tonearm that lets the stylus more accurately track the grooves.
The turntable has a USB jack and a connecting cable so you can send the digital output directly into your computer's USB port. Rather than providing software, Pro-Ject recommends using Audacity, a freeware audio editing program (although you can use most any other sound-editing software).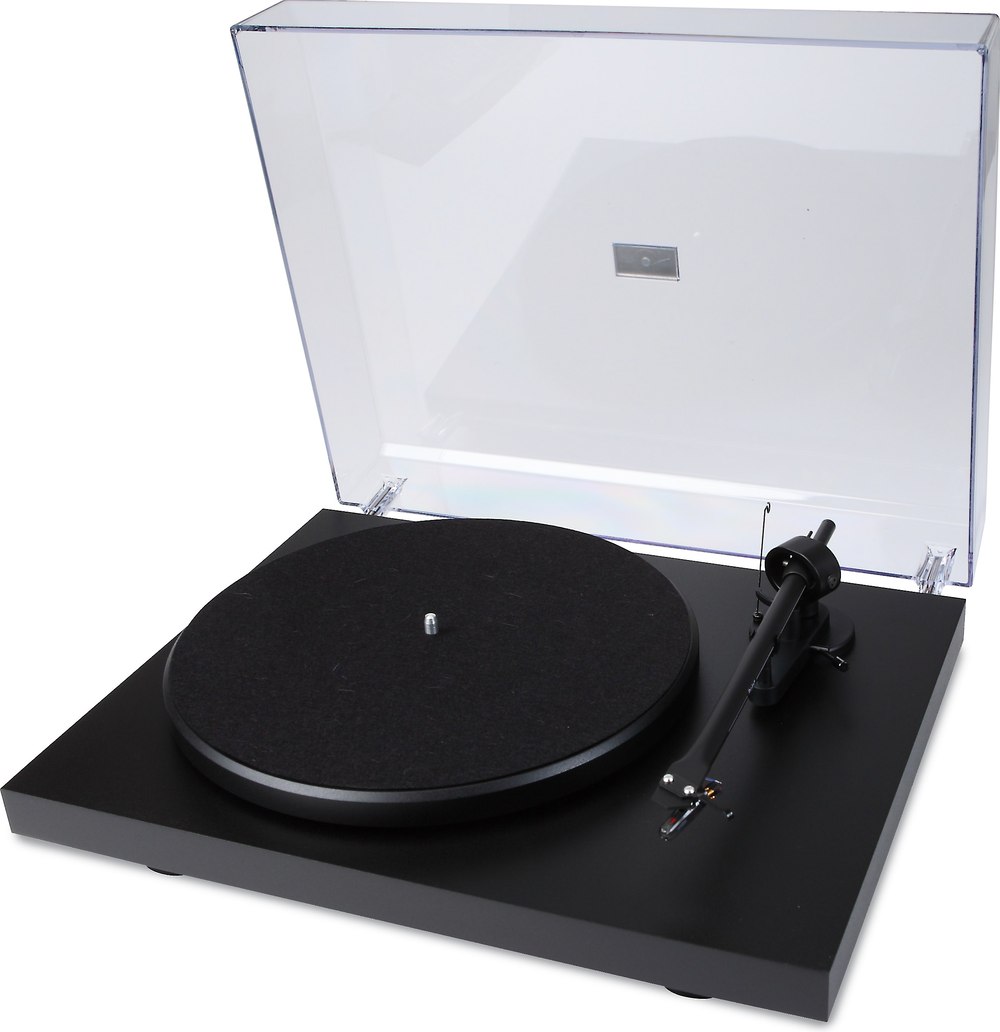 Pro-Ject Debut III USB
As with the Denon DP-200USB, the Pro-Ject Debut III created one big sound file as the LP played. The difference was that I could see the sound file as it was being created.
With the Denon system, if there was a problem with the recording, I wouldn't know it until I had removed the thumb drive, plugged it into the computer and opened up the file. With the Pro-Ject system, I could see immediately what was happening with the recording and stop the process if necessary.
The Audacity sound file showed the peaks and valleys of the music (as well as the pops and clicks). It was easy to see the silences between the tracks when I looked at the completed recording of the LP side.
Audacity also has an automatic silence-detecting feature that breaks the sound file into individual tracks. But I had more options with Audacity, so I chose to separate the tracks manually. I could edit out more of the silence between the tracks and have the music either fade in or fade out smoothly..
Also, I had the option of saving the final results in a variety of file formats, including WAV, AIFF, and MP3. Since most of my digital library is in Apple Lossless, I chose to save my new songs in that format.
When I saved them, I was prompted to fill in all the metadata (artist, title, album, etc.). It wasn't automatic like it was with the Denon system. But that was fine, since I personally preferred more control over that part of the process.
I saved some of my music as 198kbps MP3s to do some direct listening comparisons. The tracks digitized with the Pro-Ject turntable seemed to have better sound quality overall than those from the Denon. But in a way, that's not surprising. The Pro-ject Debut III is a higher-performance device, so there's more detail being captured by the turntable.
Also the editing software allowed me to keep the sound files in a high-resolution format. That meant the more of the details picked up by the stylus were preserved by virtue of the file format chosen.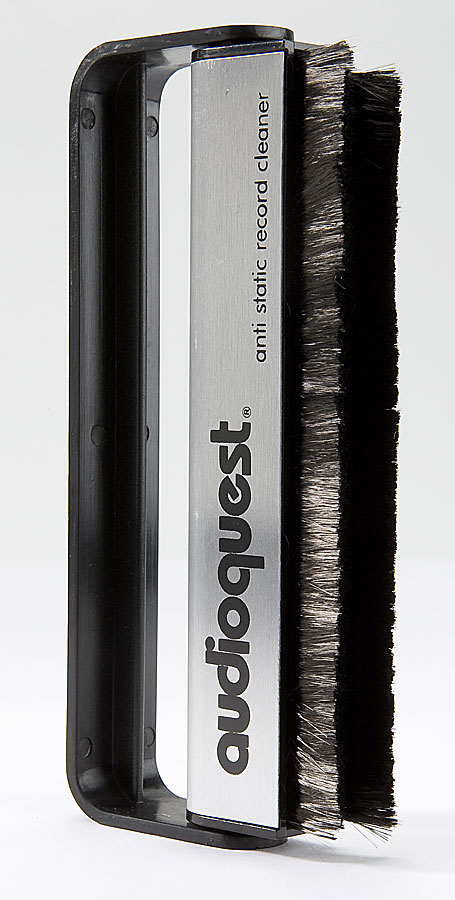 Some things I discovered
I have no problem recommending either of these USB-output turntables. If you just want a simple transfer device, or if your records are pretty beat up, go with the Denon DP-200USB. If you want to do more with your sound files, I'd suggest the Pro-Ject Debut III USB turntable.
After working with both, though, I have a few suggestions:
Make sure your LPs are as clean as possible. Any dirt, dust, mold or grit will affect the sound. Scratches will, too. Cleaning your discs will minimize the effects of these problems. If you don't have any disc cleaner, you can wash your LPs in warm water with mild dish detergent (obviously, you don't want to scrub them) and a soft cloth. If your LPs are just a little dusty, a brush with fine soft bristles — such as the AudioQuest record brush — may be all you need.
Digitizing LPs represents a major time commitment, so plan accordingly. Unlike ripping CDs to a hard drive or downloading songs, this transfer process takes place in real time. So an LP that has 45 minutes of music on it will take 45 minutes to transfer. Remember to add time for using the editing software (with practice, I got that part down to about ten minutes).
Go ahead, give it a spin
On the whole, digitizing my LPs was a fairly simple — but time-consuming — process. So while it was nice to get some of those old vinyl tracks into my digital library, I very soon arrived at a major personal decision. I have a lot of LPs in my collection. In order to make the most of my limited time, I needed to prioritize my transfer candidates.
For readily available albums (such as those by the Beatles), I opted to save time and just purchase the downloads. Those were the LPs that had a lot of wear, so sound quality would have been problematic anyway. In those cases, the downloads were an audio upgrade over my battered (but well-loved) LPs.
Where digitization benefited me was in the other part of my collection. I have quite a few LPs that had never been released on CD or made available as legal downloads. I have another group of LPs that have been rereleased on CD, but the reissues are unavailable or outrageously expensive. In both cases, I was more than happy to digitize my LPs and enjoy music that I hadn't heard in years.