Introducing the new Infinity Reference home speakers
Dave Bar worked for Crutchfield from 1981 until his retirement in 2016. After a 23-year stint in the sales department, he joined the home A/V writing staff. Dave's expertise and good humor will be sorely missed.
More from Dave Bar
Heads up!
Welcome to this article from the Crutchfield archives. Have fun reading it, but be aware that the information may be outdated and links may be broken.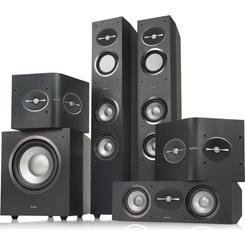 A few members of the new Infinity Reference speaker family.
It isn't every day that Infinity announces an entirely new line of home speakers. In fact, it's been a number of years since we've seen their previous series arrive. But as they say, good things come to those who wait. During that interim, the engineers at Infinity have been hard at work perfecting their latest creation, the all-new Reference Series.
The new Reference line consists of nine speakers designed from the ground up to provide rich, engaging sound for both stereo music fans and home theater enthusiasts alike.
Along with two different space-saving bookshelf models and two full-range floor-standing towers, the new Reference line includes your choice of a large or small center channel speaker as well as a pair of dedicated surround sound speakers — all sonically matched to create a seamless listening experience.
Two new Reference powered subwoofers are also available to provide deep, high-impact bass for your music, movies, and video games.
Better sound through better technology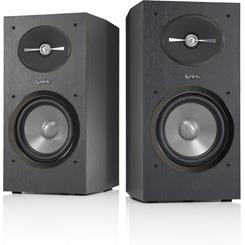 The Reference speakers' high-tech CMMD drivers and wave-guide tweeters deliver precise, spacious imaging.
The secret to the Reference Series' sound goes back to the company's engineering roots. Infinity has always been on the leading edge of speaker design with innovative technology. And their new series is no exception.
Each Reference speaker incorporates Infinity's CMMD® (Ceramic Metal Matrix Diaphragm) drivers. This advanced composite material places a core of aluminum between two thin layers of ceramic to create an extremely lightweight-but-rigid diaphragm that responds rapidly to music signals without flexing. That means greater accuracy and detail with no unwanted sonic coloration. Plus, each speakers' CMMD tweeter features a waveguide structure in front of it to provide better dispersion of high frequencies for spacious imaging and improved sound over a wider area.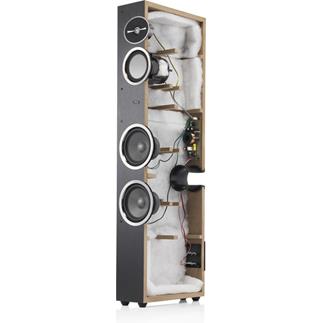 The Reference R263 tower's well-braced cabinet, computer-optimized crossover network and driver placement unite to deliver lifelike, room-filling sound.
The drivers are mounted into a tapered, low-resonance cabinet with extensive internal bracing to minimize performance-robbing vibration and noise. Finally, each driver is tied together using a carefully computer optimized crossover network for perfectly blended sound. The result is an attractive looking package that delivers outstanding performance.
Demo time for our crew
Naturally, Infinity was excited to share their new creations with Crutchfield, so they stopped by recently to give us a first-hand look (and listen). Feet were tapping and heads bobbing as the sound of the References filled our training room. Quite a few comments were overheard praising the speaker's warm, detailed midrange, smooth, spacious highs, and tight, punchy bass. And even when compared head-to-head against several more expensive speakers, many listeners preferred the sound of the Infinitys. Well done Infinity. Next time, let's not wait so long!
What the press is saying...
Praise for the Infinity R263 floor-standing speakers from Home Theater Review.com
'"Boy, do these things have detail, subtlety, and air,"' I wrote in my lab notebook".
"…The acoustic guitar, upright bass, and drums were wonderfully portrayed, stretching wide across the stereo soundstage and sounding incredibly detailed, but not in any way hyped or exaggerated. Every little scrape of Lage's virtuosic picking and every little acoustic subtlety of his ultra-fancy Manzer archtop came through, in a way I hadn't noticed before with the other speakers and headphones I've played this recording through."
"…The mids and highs of the R263 are the cleanest I've heard from a tower speaker below, let's say, $2,000 (and probably even higher). …If you're a devoted audiophile who's looking for an affordable tower speaker, I'd say look no further. "
— From Brent Butterworth's review in Home Theater Review.com, July 7, 2014
Read the full review
Infinity Reference home speakers