Understanding DVD Camcorders
Tara W. has worked for Crutchfield since 2004. She writes about whole-house music and video gear, and works on Crutchfield's video team.
More from Tara W.
Heads up!
Welcome to this article from the Crutchfield archives. Have fun reading it, but be aware that the information may be outdated and links may be broken.
Is a DVD camcorder right for you? Read on to find out — we'll get into all the details of today's DVD cams. And for a more general look at the digital camcorders available today, you can also check out this article on finding the right camcorder.
DVD camcorders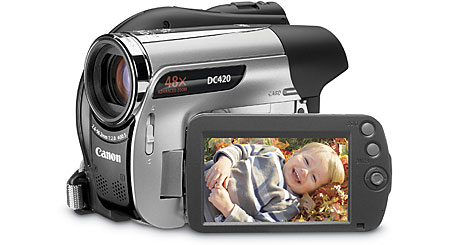 DVD camcorders are not as small as other camcorder formats, but offer the convenience of disc playback in your DVD player.(Canon DC420 shown above)
The big advantage offered by DVD camcorders is their ability to record to DVDs. Generally, they use recordable mini DVD media, such as 8cm DVD-R or DVD-RW discs (a few models use mini DVD-RAM discs). Why is this such a plus? Because most newer DVD players can play both mini DVD-R and mini DVD-RW discs. That means you can finalize a disc, pop it out of your camcorder, put it in your DVD player, and start watching it right away. (Of course, if you're using an older DVD player, you can still use the camcorder's A/V outputs to connect to your TV, VCR, or A/V receiver, and let the cam handle playback.)
DVD camcorders are generally small and fairly portable, and tend to share the same features and optics as most mid-priced hard drive and flash memory camcorders. You do sacrifice some convenience, though. Hard drive and most flash memory camcorders offer built in memory that can be reused thousands of times without degrading. Mini DVDs are much more limited in the amount of footage they can hold and in their lifespan. However, DVD media is much cheaper per disc than most memory cards, and it provides instant playback of your videos in most DVD players. Hard drive and memory card cams, on the other hand, need to be connected to your computer or a DVD burner if you want DVD copies of your videos.
A growing number of DVD camcorders offer two or three recording formats. You'll find DVD camcorders that also let you record to removable memory cards or internal flash memory. In-camera dubbing often lets you select scenes stored on your memory card or flash drive and copy them to DVD discs for easy video sharing.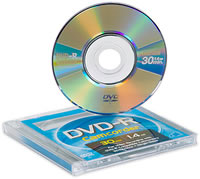 You can pop these smaller 3" DVD discs into most newer DVD players for playback.
Basic video editing on your PC
DVD camcorders use high-speed USB to send video to a PC (they are also backwards-compatible with full-speed USB). Since detailed video files are large, you'll want to make sure you have ample memory space to store these files. Every five minutes of footage will use approximately one gigabyte of memory. We actually recommend using an external hard drive to keep a backup copy of your footage, as it saves space on your PC, and means that priceless family memories aren't gone forever if a disc gets damaged or lost. For more information, see our article on watching, sharing, and editing your home movies.
Once you've transferred video to your PC, you can edit it with compatible digital video editing software (sometimes included with the camcorder). For easier titling and re-ordering of segments, try recording in DVD-VR mode (this mode requires use of a DVD-RW disc). It's worth noting, however, that frame-by-frame editing is difficult to achieve with a DVD camcorder because of the way the files are compressed.
The scoop on high-definition DVD camcorders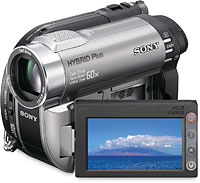 High-def DVD camcorders record files in a newer file format, called AVCHD. (Sony DCR-DVD850 shown above)
To keep up with the popularity of HDTV, some DVD camcorders use a format called AVCHD to record in high-definition. High-def DVD camcorders capture widescreen video in 1080i resolution, which is the top resolution used for high-def programs on TV today. Many of these camcorders also offer a standard-definition mode with a more traditional squarish 4:3 aspect ratio, so you'll be able to choose whichever resolution best suits your needs.
Although these camcorders offer much crisper, more detailed video than a standard DVD camcorder can provide, there are a few limitations to keep in mind. First of all, DVDs with AVCHD movies on them cannot be played back on standard home DVD players. If you want a player that can read them, look for an AVCHD-compatible Blu-ray Disc™ player. Of course, you can always watch your videos by connecting your camcorder's A/V output directly to your TV. To let you take full advantage of your high-def video recordings, high-definition DVD camcorders offer either component video or HDMI outputs. (They also offer other analog outputs for older TVs.)
Second of all, though the AVCHD format compresses high-def footage to fit on a mini DVD disc, the files are still quite large and you get less recording time from a single disc. If you go with a high-def DVD camcorder, you may want to make use of dual-layer or double-sided DVDs so you won't have to change discs as often. And finally, because AVCHD is a newer format, it's not supported by older versions of editing software. So if you plan to purchase an editing program, be sure to check for AVCHD compatibility.
In short, standard-definition DVD camcorders and high-definition DVD camcorders make sense if you:

want the ease of playing back your movies right away on a DVD
want a small, portable camcorder
want a fairly wide range of features
want a camcorder that can transfer video footage via high-speed USB