4 ways to get great TV sound
Options for every room, lifestyle, and budget
My love for all things audio started back in the '90s when I built my first subwoofer enclosure. After joining Crutchfield in 2007, I spent seven years as a product advisor, designing A/V systems for homes, cars, and the occasional party bus. These days I specialize in home speakers and distributed audio systems, focusing on translating technical jargon into easy-to-understand language. My goal is to make shopping for speakers and amplifiers simple. After all, this stuff is supposed to be fun! Outside of work, I'm a hobbyist photographer and enjoy visiting our national parks.
More from Kramer Crane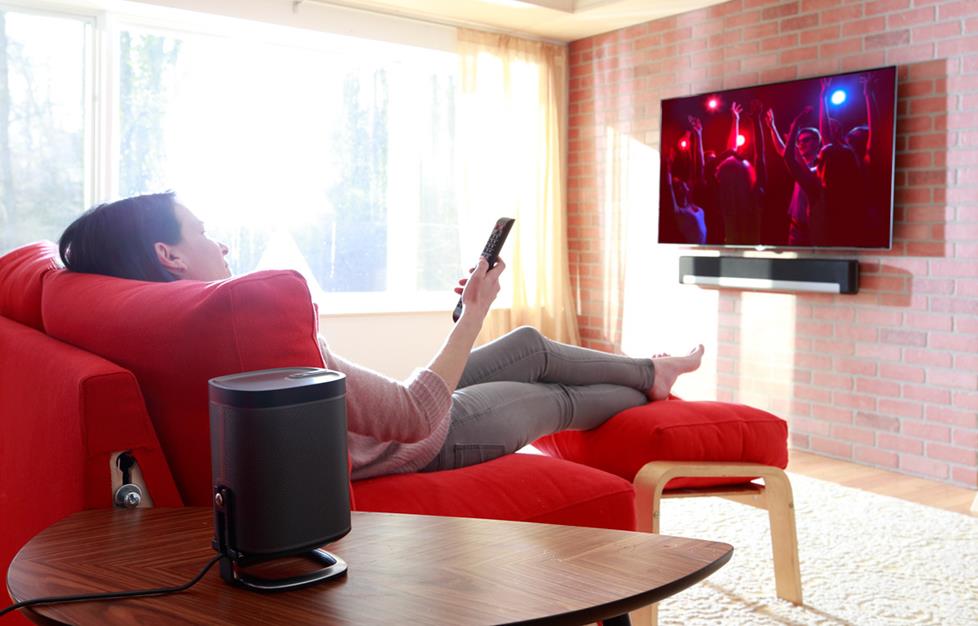 Adding a sound system to your TV brings shows, movies, and music to life.
High-definition TVs offer a stunning picture and a vivid sense of realism. But the flat sound that comes from the tiny speakers inside? Not so much.
Here are four ways to enjoy clearer dialogue, better volume, and lifelike special effects. Choices range from simple, space-efficient options to full-blown home theater systems.
1. Sound bars deliver big sound from a small footprint
Love great sound, but have limited room for speakers or other equipment? Consider a sound bar. These sleek speakers need minimal space and wiring. And many can be wall-mounted below your TV for a neat, clean install.
The beauty of sound bars is their simplicity. Most feature built-in amplification, so you don't need an external amp. And many use just a single digital cable to connect to your TV.
Sound bars with built-in Bluetooth® or Wi-Fi® make listening to music easy and fun. Love bass? Choose a sound bar that includes a wireless subwoofer. Some sound bars can even be expanded to 5.1-channel surround sound with optional wireless rear speakers.
Check out our sound bars buying guide to find the right one for your system.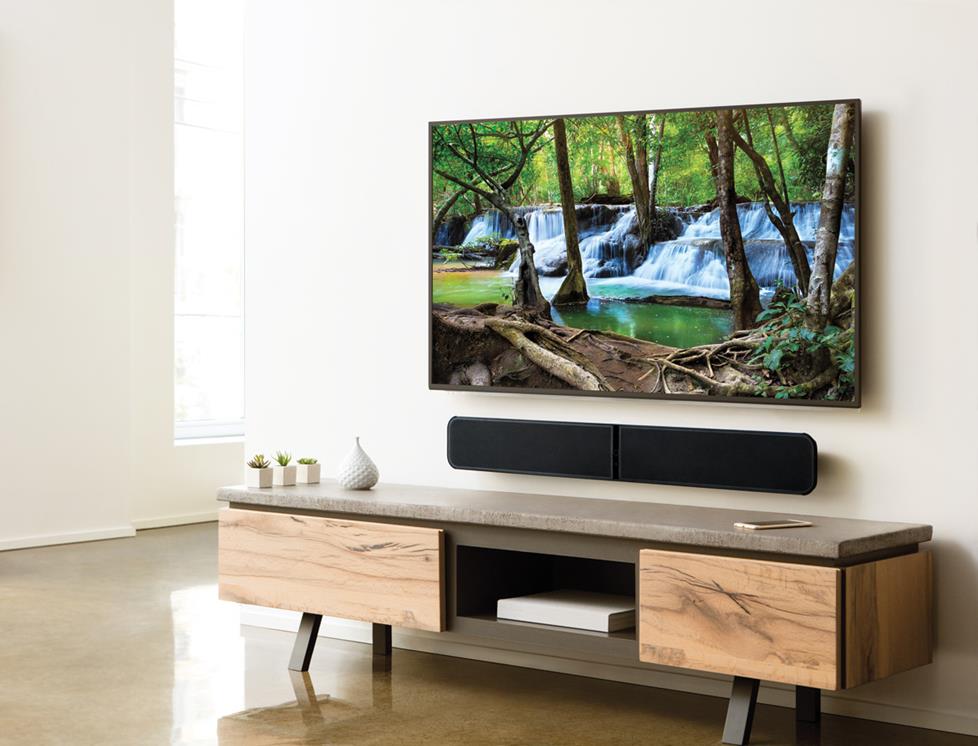 Most sound bars can be wall-mounted below your TV for a neat, clean install.
2. Stereo speaker systems are great for both TV and music
Adding a stereo speaker system to your TV is a great way to get engaging sound. They need relatively little wiring, and offer easy speaker placement options. Stereo systems also offer rockin' music playback.
Start with a stereo receiver. Choose a pair of bookshelf speakers to save space, or go with floor-standing speakers for fuller sound. Round out your system with an optional powered subwoofer to beef up the bass.
Stereo systems with a sub (known as 2.1) can be expanded to 3.1 with a home theater receiver and a center channel speaker. This setup gives you better dialogue and a wide front soundstage — ideal for movie soundtracks. 2.1 or 3.1 systems are perfect for rooms where rear surround speakers aren't a viable option.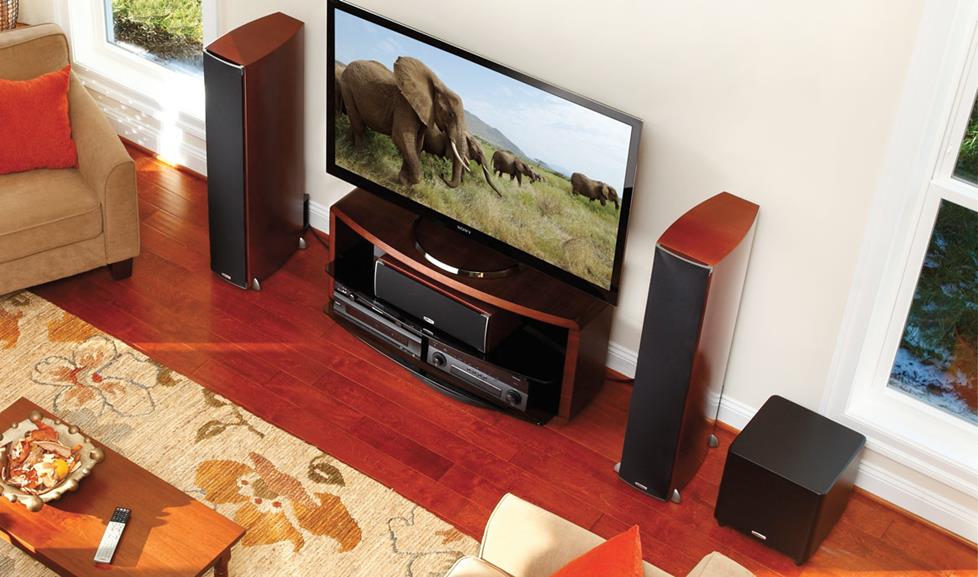 A stereo or 3.1 system is an excellent choice when surround speakers aren't an option.
3. Powered home theater systems come with everything you need
Powered home theater systems are complete solutions that deliver enveloping surround sound without a lot of bulk. These pre-matched systems include everything you need, including amplification and wiring. Many systems even include wireless surround speakers for stealthy rear effects.
Want to play your movie collection? Choose a system that includes a disc player for DVDs and Blu-rays. Love listening to music? Look for a system that offers built-in Bluetooth for streaming from your smartphone or tablet.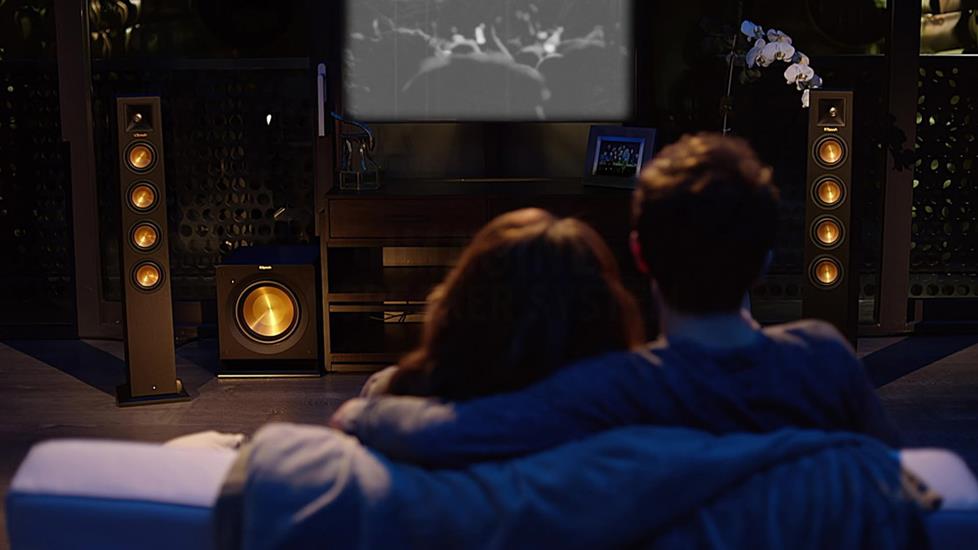 Powered home theater systems (like the Klipsch Reference Premiere HD Wireless system shown above) give you everything you need for immersive surround sound.
4. Component surround sound systems offer the best performance possible
Want the full-blown home theater experience? Nothing fills a big room with sound like a 5.1 or 7.1 system driven by a robust home theater receiver.
These traditional surround sound systems are comprised of five or more speakers. A variety of sizes and finishes are available to match your décor. Mix and match bookshelf, floor-standing, and even in-wall or in-ceiling speakers for a custom system tailored to your space.
Power is supplied by a home theater receiver. Bass is provided by a powered subwoofer. And one or two pairs of surround sound speakers deliver wraparound special effects.
Need some help putting together your system? Start with our guide on how to choose home theater speakers. For a deeper dive into surround sound, check out the components you need for home theater.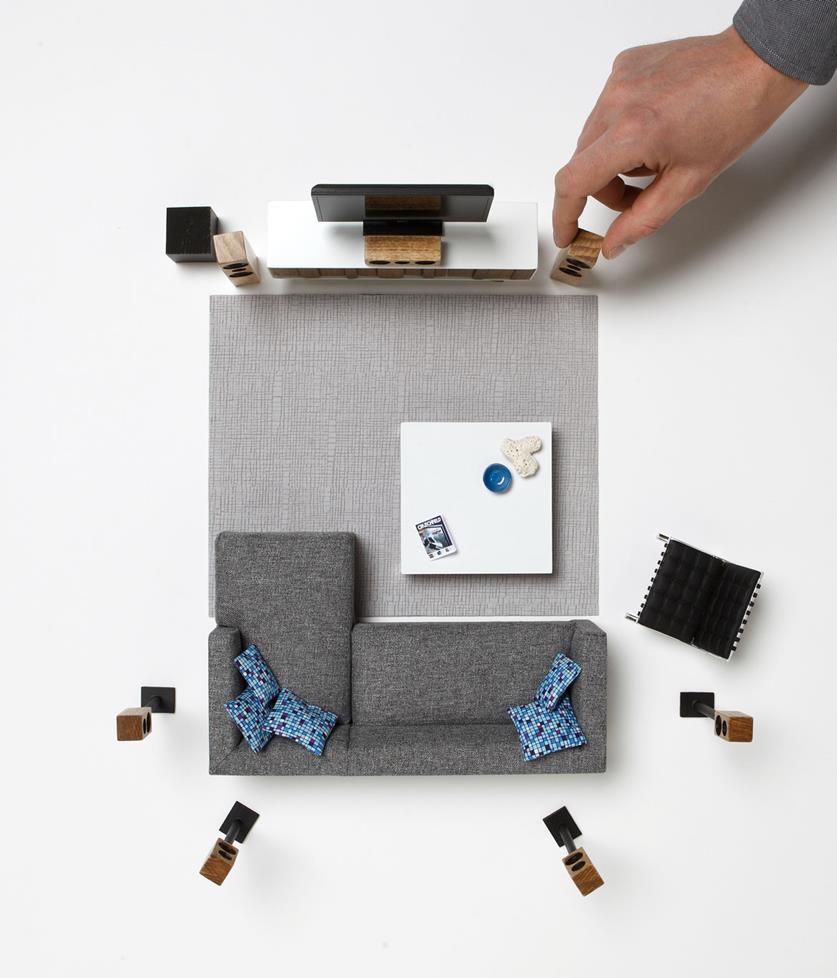 Component home theater systems let you customize a system that's perfect for your room.
We can help you choose
Have questions about choosing the right equipment for your new system? Call, email, or chat with us today.
Our expert Advisors know the gear inside and out. Your Advisor can send specific Crutchfield pages to your screen, saving you a lot of browsing time. You'll get a shopping cart loaded up with everything you need for your new TV sound system.
Free lifetime tech support is included with your Crutchfield purchase.