A Review of the Logitech® Harmony® One
One remote to control them all
Former Crutchfield staff writer Melanie Seibert now works as a content strategist and writer in Texas.
Heads up!
Welcome to this article from the Crutchfield archives. Have fun reading it, but be aware that the information may be outdated and links may be broken.
From the casual couch potato to the most tech-savvy audio/video enthusiast, we all have one thing in common — we love our remotes. And really, what's not to love? They give us complete control over our entire A/V system, from the comfort of our favorite easy chair.
In fact, one could argue that we love them a bit too much.
Take my setup, for example. I have no less than four remotes for four separate devices. And I'm by no means the most acquisitive A/V geek out there.
Fortunately for us, Logitech has crafted the Harmony One universal remote. Reposing attractively in its sleek black charging cradle, this one simple device offers control for all my gear.
So I decided to put it to the test: is the Harmony One really a home theater must-have, or does it deserve afterthought status?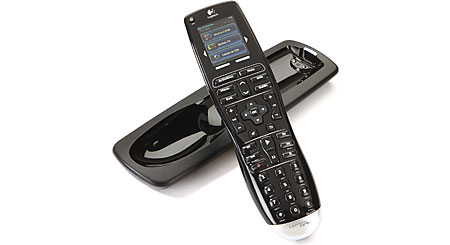 Logitech's sleek Harmony One boasts simple, streamlined control of all your home theater gear.
The Harmony One — seriously simple
One look at the Harmony One told me that Logitech takes this universal remote control idea very seriously. Among the bells and whistles it provides are the aforementioned charging cradle, a large LCD touchscreen, and the ability to connect to your PC for easy programming. Of course, none of my components' remotes offers anything close.
The ergonomically advanced Harmony One feels great in your hand. It's specially contoured for an easy, comfortable grip. It also has a shiny black finish that somehow resists picking up smudges from fingerprints.
I liked the LCD touchscreen — it's large enough that I could easily read the labels on the "soft" buttons (the virtual buttons shown on the LCD screen). The screen's size also makes it easy to push those virtual buttons. I did accidentally push the wrong button a couple of times, since they're fairly close together, but mostly the touchscreen's design worked well.
The remote's cradle is an eye-pleasing little device in itself. Designed with the same smooth black styling as the remote, it also incorporates a cool LED light, so you can find it in the dark. At first glance, it looked a little shallow, as if the remote might wiggle around and fail to charge. But no — the remote fit in the cradle like a hand in a glove.
So, charging the supplied battery couldn't be simpler. Perhaps even more importantly, though, the cradle gives your remote a "home," so it's less likely to get lost.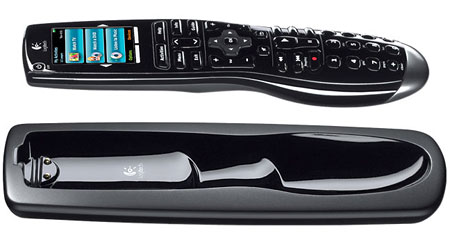 The Harmony One fit securely on its charging cradle, ensuring it was always powered up and ready to go, as well as easy to find.
Smart, easy setup
This was an ingenious, handy feature that I'd never used before: the Harmony One comes with its own USB cable, so you can connect it to your computer to simplify programming.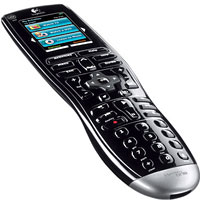 Like all remotes in Logitech's Harmony line, the Harmony One features a USB interface for convenient programming via your PC.
I put the included CD-ROM into my Mac and installed the Harmony One's software. It guided me through every step of the process. (For the most up-to-date version, you can download this software from the "Remotes" section of the Logitech website.)
Next, I ran the setup application. This step of the process requires Internet access, since the application connects to the Harmony website, where it creates your personalized account. At this point, I was glad that I had already compiled a list of the manufacturers and model numbers of all my home theater components — you need to enter each one into your Harmony account, so that the Harmony software can configure your remote.
Because the Harmony site didn't recognize my DISH DVR, I had to point the DVR remote at the Harmony One and press certain buttons, so that the latter could "learn" how to talk to my DVR. The procedure was simple, and I liked that the setup software was flexible enough to accommodate components it can't identify.
Next it was time to set up the "activities" my Harmony One would be performing, such as "Listen to CDs" or "Watch TV." Again, I was glad I had written down the settings that each component used for each activity. For example, I had to tell the Harmony software that when I watch TV, the television needs to be set to "AV1," and the receiver needs to be set to "TV Sound."
I was very impressed with how smoothly the Harmony software compiled all my information. It helpfully guessed which settings were correct, simplifying the setup. It also informed me that the Harmony One couldn't control my Nintendo Wii™, since the Wii responds to a Bluetooth®, rather than a typical IR (infrared), remote signal. There's even a tutorial on using the remote.
Logitech definitely provides plenty of guidance for their customers, which goes a long way toward ensuring a successful experience.
Calling tech support
The final step in programming my remote was connecting it to my Mac via USB. That's when I noticed a problem: my computer wasn't recognizing that the remote was connected. When I didn't see a fix on the Harmony website, I called tech support.
It actually took a couple of calls to pinpoint the problem, and each support rep I spoke with was helpful and friendly. They led me through the troubleshooting procedures and only hung up when the problem was resolved to my satisfaction.
With tech support's help, I realized the culprit was a bad USB cable. I replaced it and presto — the remote and my computer were buddies. The settings downloaded to my remote and it was ready to use.
Benefits to programming the Harmony One via my computer
As you can imagine, I preferred the PC-based method of programming over looking up codes in a manual and punching them into the remote, the way I programmed my old (actually, ancient) universal remote. For one thing, using the computer makes it easier to update components in the future if, say, I get a newer Blu-ray player or a larger TV. I just look up the new component on the Harmony website and it updates my remote for me.
But there are other benefits. The software gave me advanced control over the Harmony One; for example, I could rename activities or change the order in which components are turned on and off. My absolute favorite function, though, was the ability to change the functions of the "hard" buttons and add and name "soft" buttons.
Creating these custom buttons was huge. It made the difference, for example, between having to navigate through three remote screens in order to view my DVR recordings, and having the option readily at hand. And because the remote's so easy to update, I can easily connect it and make changes when I think of them.

Here, you can see this remote's customizable "activities" on the LCD screen. (Click the image above to see a larger version.)
Using the Harmony One
Now, the moment of truth: I kicked back on the couch to test-drive the remote. Right away, I noticed a feature that I have a real soft spot for: to save power, the remote goes into sleep mode when you set it down and "wakes" when you pick it up. It makes me say "Cool!" every time.
It didn't take long for me to get used to pushing just one button to watch TV, rather than three. And the cherry topping on the Harmony One sundae, as far as I was concerned, was the Remote Assistant. If one of your "activities" doesn't make your system work as you planned, just push "Help" and questions will appear on the LCD screen to guide you through fixing the problem.
So, when the DVR failed to turn on when it should have, I pushed "Help" and the Harmony One asked, "Is the DVR on?" When I answered no, it turned the DVR on and asked "Is it on now?" How foolproof is that? It's like a butler who turns your components on and off at your request.
Within the span of just a couple of days, the Harmony One became an indispensable part of our home theater setup. No longer were four remotes crowding our end tables and taking turns disappearing, to our frustration. We can access any A/V function with no searching and no questions. My husband, skeptical of the remote's usefulness at first, is now a confirmed fan.
The bottom line
Okay, obviously, I loved the Harmony One. But how do you know whether it's a worthwhile add-on for your system?
If you've ever spent ten minutes fumbling through TV inputs to watch a movie, or searching for the right remote to turn on a component, the Harmony One's all-in-one usefulness and easy-to-locate charging cradle can ensure that never happens again.
If you have to write out instructions to enable your family to watch TV or listen to music, the Harmony One can make such lists a thing of the past. The remote's customizable buttons and intelligent software ensure that using your home theater is foolproof and simple.
For my part, it's clear now that a quality universal remote like the Harmony One should have been at the top of my must-have A/V equipment list. Easy, one-touch operation of all my home theater gear is just what my system was missing. And, thanks to its intuitive interface and comprehensive array of features, the Harmony One is my home theater remote of choice.