A Review of the Sonos Digital Music System
Former Crutchfield staff writer Melanie Seibert now works as a content strategist and writer in Texas.
Heads up!
Welcome to this article from the Crutchfield archives. Have fun reading it, but be aware that the information may be outdated and links may be broken.
This article was originally published in February, 2008; it was updated to cover the Sonos BU-150 bundle.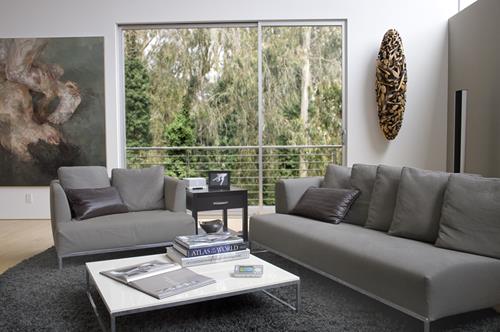 The Sonos system can provide great-sounding PC music while blending right into your décor.
These days, a lot of people have extensive music libraries stored on their computer. It can be great having all your favorite songs in one convenient location. But what happens when you want to enjoy that music around your house, away from your computer? That's where Sonos comes in.
The Sonos digital music system is an innovative wireless solution that lets you listen to music from your PC throughout your house, without running wire from room to room. I wrote my first review of Sonos in 2005, and another one in February 2008. Both times, Sonos truly impressed me by providing intuitive ease of use, flexibility, and great sound.
Recently, I found out that Sonos has redesigned two key components of its system. Naturally, I wanted to find out how the updated system sounded. With some help from my friends at Crutchfield, I was able to test the latest Sonos digital music system — the BU-150 bundle — along with a ZoneBridge 100.
My Sonos gear
The BU-150 bundle can provide for playback in two rooms. It includes one ZonePlayer 120 and one ZonePlayer 90, both of which can wirelessly access PC music. The bundle also includes one handheld Controller, which lets me select music for playback in each zone. The ZoneBridge 100 allows you to expand your Sonos system — by combining it with the BU-150, I could enjoy my PC music in three rooms.
Let's take a more in-depth look at each component and what it can do.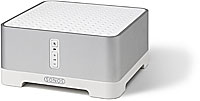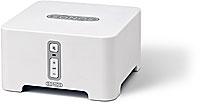 The ZonePlayer 120 (top) and ZonePlayer 90 (bottom) are the building blocks of a Sonos multi-room system.
The ZonePlayers
The ZonePlayers are the building blocks of a Sonos multi-room music system. You'll place one in each room where you'd like to have music. You'll also need to connect a ZonePlayer or the ZoneBridge (discussed below) to your computer to allow ZonePlayers in remote rooms to play your PC music.
There are two types of ZonePlayers. The décor-friendly ZonePlayer 120 has built-in amplification, so all I needed to add was a pair of speakers. An updated version of Sonos' popular ZonePlayer 100, the 120 improves upon its predecessor in three ways. First, it's smaller — about half the size of the already compact ZonePlayer 100. Second, it gives a little more power to your speakers for fuller, more detailed sound. Finally, it nearly doubles the wireless range, streaming music up to 200 feet. That means a Sonos system would work well even in very large homes.
The ZonePlayer 90 — an updated version of the ZonePlayer 80 I reviewed before — can also wirelessly stream music up to 200 feet. It also features an even more compact footprint than its companion, the ZonePlayer 120. The main difference between the two models is that the ZonePlayer 90 doesn't have any built-in amplification. You'll need to connect it to an amplifier, receiver, or set of powered speakers via its stereo RCA outputs. I opted to connect it to my home theater system in my living room.
Easy-to-use controller
No Sonos system is complete without the user-friendly handheld Controller. When it comes to this piece, the name says it all: the Controller gives me total control over all my ZonePlayers. I can turn zones on or off, select the music for each zone, adjust the volume, and edit playlists from this smart device.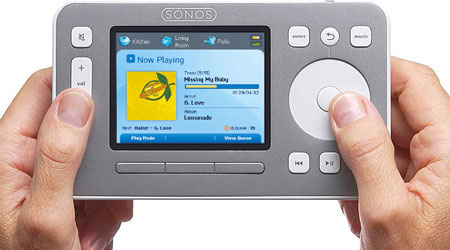 The user-friendly remote gave me complete control over my entire Sonos setup.
I should mention that Sonos also offers an option for charging the Controller — a cradle, which you can purchase separately. The cradle can be placed on a table or mounted on the wall, keeping your Controller in a safe place while it charges.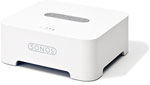 The ZoneBridge can also connect to your computer, allowing you to use all your ZonePlayers to enjoy music in other rooms.
The ZoneBridge 100
Like the Controller, this little device does just what its name says: when placed between ZonePlayers, it serves as a wireless bridge that lets you extend the range of your system — to your garage, for example, or a guesthouse.
It's also a relatively inexpensive way to add another room to your Sonos system; while it can't play music the way a ZonePlayer can, it can take the place of a ZonePlayer connected to your computer, allowing you to use that ZonePlayer to enjoy music in one additional room. I chose to connect it to my computer so that I could enjoy my PC music in three rooms total.
Setting up my Sonos system
Because I live in a busy household with two small children, I was praying that setup would be as easy this time as it has been before. I knew I would have to make time just to open the box, and following a bunch of complicated, time-consuming setup instructions was not an option.
Fortunately for me, installation is still as simple as can be. First, I plugged in the Controller to start charging its rechargeable battery. I decided to connect the ZoneBridge to my PC, and use the ZonePlayer 90 in my living room, where I keep my home theater system. I connected it to my home receiver using its stereo RCA outputs. In my bedroom, I was able to connect the ZonePlayer 120 to a pair of speakers. (Remember, speakers are not included with the Sonos system.) I put the Sonos installation CD in my computer and followed the simple prompts that let the Sonos desktop software "see" my ZonePlayers.
I have to say, setting up the Sonos system is remarkably easy. The components use a proprietary wireless network to communicate automatically, so you don't have to be a computer expert to install the system. You just follow some simple prompts, and the system does the work for you. Altogether, I was listening to music about twenty minutes after I opened the box.
Versatile music playback and services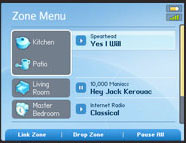 Sonos offers many ways to listen. The Controller let me select different music for each listening zone, or play the same music in every room at once.
Although I could control music playback using Sonos' desktop software on my PC, I preferred to use the elegant, intuitive handheld Controller. The first time I reviewed the Sonos system, I raved about this device. I stand by my first assessment of it. Although it provides plenty of options, it's still impressively simple to use. I simply pushed the "music" button to access my PC's music library and select music by artist, album, or song title — the computer doesn't even need to be turned on.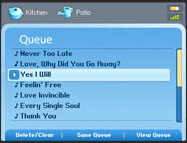 I added songs to my queue using the remote's intuitive controls.
By pushing the "zones" button, I can select a zone — my bedroom, for instance — and see what's playing, and what's coming up next. The Controller let me easily adjust the volume, shuffle or repeat songs, edit the song "queue" (or playlist) for each zone, and play the same music in all zones (what Sonos calls "Party mode"). I'm not even limited to PC music — each ZonePlayer provides an audio input for a source such as an FM tuner or CD player.
I'm still impressed by the integrated motion sensor that "wakes up" the Controller whenever I pick it up, so I don't have to turn it on. I also noticed some handy features I didn't see the first time I reviewed the Controller: a clock with sleep timer and alarm. Now I can fall asleep to my favorite music, or wake up to it.
And here's another cool feature: Sonos now offers a free app that allows you to control your system with your iPhone™ or iPod® touch. I didn't get a chance to try this out, but you can read about it in Amanda's blog post.
Even more music to enjoy
Some very cool extras are included with the Sonos system software; namely, integrated access to Napster, SIRIUS Internet Radio, Pandora, and Rhapsody. You can easily sign up for each of these services through the Sonos Controller or the desktop software on your PC, as a free 30-day trial subscription is included for each with the BU-150.
Here's a breakdown of what each of these services offers:
Napster

allows you to play an unlimited number of songs for $12.95 per month

SIRIUS Internet Radio

provides 65 channels of 100% commercial-free music
provides 20 channels of news, talk, sports, and comedy programming
subscription costs $12.95 per month

Pandora®

lets you create your own radio "channel" based on music you like
suggests music based on your preferences
lets you create up to 100 channels per account

Rhapsody®

lets you stream unlimited music for $12.99 per month
also allows you to stream "channels" organized by genre
Flexible setup options
This system really impressed me with its flexibility. I could choose to configure my system in a number of ways: I could keep the ZoneBridge plugged into my PC and listen in two additional rooms, or plug one ZonePlayer into my PC and use the ZoneBridge to extend the system's wireless network beyond its specified 200 feet — into my garage, for example. Since the ZonePlayer 120 could power my speakers, I didn't need an amplifier in each zone. And this system is easily expandable — if you want to listen in more rooms, you can have up to a total of 32 ZonePlayers in your system.
High-quality wireless sound
How did it sound, you ask? Fantastic, just like it has in the past. When I listened in Party mode, the music was perfectly synchronized. I had no problem with sound quality or interference, even when the microwave was running.
As for the ZoneBridge 100, it did its job well, sending a clean wireless audio signal to the ZonePlayers in the system. It was also just as easy to set up as the ZonePlayers are. Plus, its compact, straightforward design allows for easy placement just about anywhere.

The ZonePlayers in my bedroom and living room both provided clear, high-quality stereo sound.
A system that never becomes obsolete
One impressive trait of the Sonos system is the fact that Sonos can, and does, regularly update the system software. The downside to this is that you will probably need to download new software when you install your system. Fortunately, that's really easy to do.
The upside — and it's a big one — is that these software updates can keep the system up-to-date with the latest file formats and music services, and full of fresh, useful features. That gives me peace of mind: as new music technology comes down the pike, I won't have to spend more money on a new system anytime soon. I can just go to Sonos' site and download the latest update for free.
Still an elegant solution for multi-room PC audio
My hat's off to Sonos. Two years ago, their innovative digital music system made me a believer in the reality of great-sounding wireless multi-room music. Now, by adding increased wireless range and power output, along with an even smaller footprint for the ZonePlayer 120, Sonos' BU-150 bundle has improved on an already fantastic system.