Make the TV room a family room again
Steve Kindig has been an electronics enthusiast for over 30 years. He has written extensively about home and car A/V gear for Crutchfield since 1985. Steve is also a volunteer DJ at community radio station WTJU, where he is a regular host of the American folk show "Atlantic Weekly," as well as the world music program "Radio Tropicale."
More from Steve Kindig
Heads up!
Welcome to this article from the Crutchfield archives. Have fun reading it, but be aware that the information may be outdated and links may be broken.
"Please turn off all personal electronics"
His Android™, her iPad®, their 3DS player. With nonstop communication and instant entertainment at our fingertips we can sit side-by-side with family or friends without actually sharing what we're watching, playing, or listening to. And sometimes that's exactly what we want. But there's a lot to be said for engaging with others — talking, listening, laughing.
In these busy times simply enjoying a movie together may present a scheduling challenge, but give it a try. Read on to learn how three Crutchfield families use their audio/video systems to share the fun. You'll also find some options for putting together a system your whole family will love.
Mighty Machines, movie nights, and more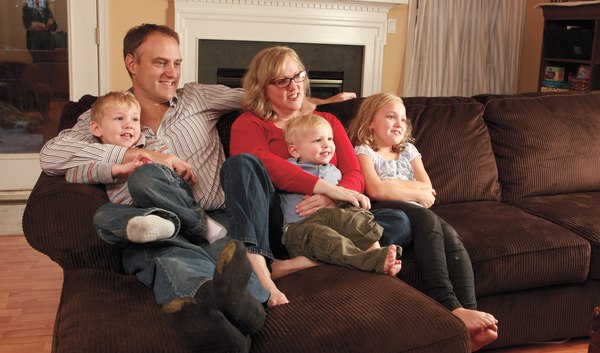 Crutchfield Human Resources Manager Trista and family
"We don't watch that much TV, but we're big fans of Netflix® instant streaming. Our two boys (3-1/2 and 2) love Mighty Machines, and we all get a kick out of YouTube™. Especially our 8-year-old daughter, who will suddenly appear, microphone in hand, belting out karaoke tunes to music videos.
"The TV never stays on during dinner, except for our 'indoor picnic' movie nights.We spread out a blanket on the living room floor, lay out the food and drinks, and let the kids pick the movie." -Trista, Human Resources Manager
A no-hassle system for streaming video at your house
The Sony KDL-46HX750 combines a spectacular picture with access to great Internet content, like movies and TV shows from Netflix. The room-friendly Bose® CineMate® 1 SR home theater speaker system produces amazingly big sound. Its low-profile sound bar goes near your TV, and the wireless Acoustimass® module can be placed just about anywhere and still pump out the bass. The Sony Tablet S can stream music and video to the TV via Wi-Fi®, and its colorful touchscreen is a fun way to control this entire system.
Video gaming: Screen time is team time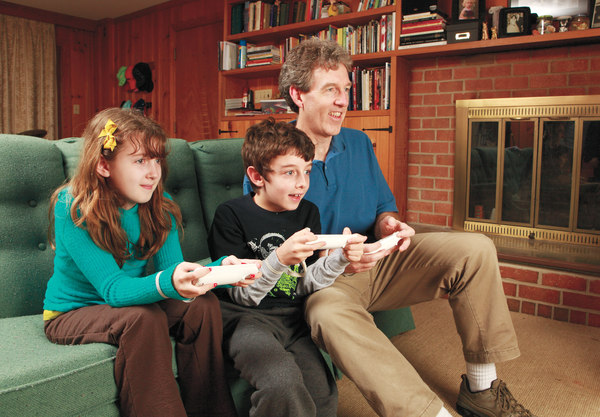 Mike, Crutchfield Senior Creative Director, and his kids
"The home theater system in our family room really gets a workout. But with busy schedules including homework and after-school activities, it can be tough to find time for the whole family to sit down and watch a movie together. Luckily, there are shorter chunks of time that are perfect for firing up our Nintendo® Wii™. My 8-year-old son and I alternate between the team play of Super Mario Galaxy™ 2 and going head to head in the Mario Kart™ driving game. My 10-year-old daughter got us into DanceDance Revolution™, which really gets you up out of your chair and moving." -Mike, Senior Creative Director, Home Electronics
How to pump up the gaming experience at your house
Sony's KDL-55EX720 is modestly priced as 3D TVs go. Its 1080p screen provides a vivid picture for games and movies, yet the TV is fairly compact. The Denon AVR-1912 connects to your network and is one of our most affordable receivers to offer built-in Apple® AirPlay®, which lets you use any iPhone®, iPad®, or iPod touch® as a wireless music source. And the Energy RC-Micro 5.1 is an amazing value in a compact speaker system. Its clear, spacious sound can fill a small- to medium-sized room, and it gets rave reviews from our customers.
| | | |
| --- | --- | --- |
| | Denon AVR-1912 Home theater receiver with 3D-ready HDMI switching and Apple AirPlay® | |
A projector turns our house into a movie house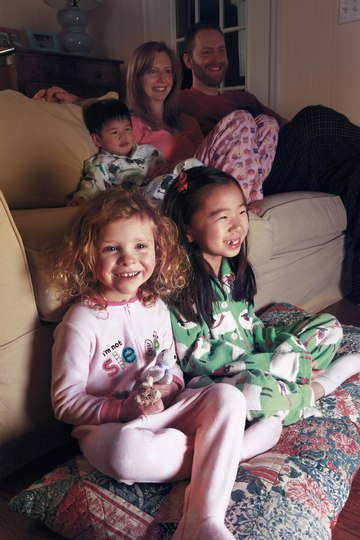 Crutchfield Brand Manager Julie with her family
"We have a dedicated TV room for movie and TV viewing. But we also have a projector that we can pull out when we want more of a movie theater experience. Between our three kids (7, 3, and 2 years old) and their friends, we can end up with quite a roomful!
"In our long family room we put the projector on a dresser on the back wall, and set up a portable screen in front. Our video source is our Apple TV®. It's super-compact, and lets us download movies from iTunes® or stream video from Netflix®. It accesses the content wirelessly, so we don't have to run a cable from our computer." -Julie, Brand Manager
How to create a movie theater at your house
The Epson 3010 projector produces a razor-sharp 1080p picture, and handles 3D video sources, too. The Apple TV media streamer can instantly download an astounding variety of movies and TV shows, as well as play everything in your iTunes music library.
If you're planning a full-on home theater, the Marantz SR7005 receiver lets you hear the full sonic impact of movie soundtracks and music. And the voice-matched Definitive Technology speakers are anchored by powered towers in front for a double dose of deep bass, plus an unusually muscular center channel speaker and matching surrounds.
| | |
| --- | --- |
| | |
| | Apple TV® Digital media receiver with Wi-Fi® and AirPlay® |