Wireless microphone buying guide
For musicians, public speakers, video producers, pastors, and anyone else who wants the freedom to move around while performing
Ken Nail has written about car audio for Crutchfield since 2003, after four years as Crutchfield Sales Advisor, and 10 years as a music teacher. He's an avid music listener, whose favorites are classical and film music. When not chained to a desk, Ken spends most of his time training for triathlons and marathons, and likes getting outside for backpacking, downhill skiing, and bicycle touring. He attended West Virginia University, where he received a Master's Degree in Music Performance and a Bachelor's Degree in History.
More from Ken Nail
Wireless microphone systems give you more flexibility in your performance. But a quick glance at the wireless microphone systems and components available can be confusing. With these guidelines and tips, you'll be ready to make a smart choice when purchasing a wireless system.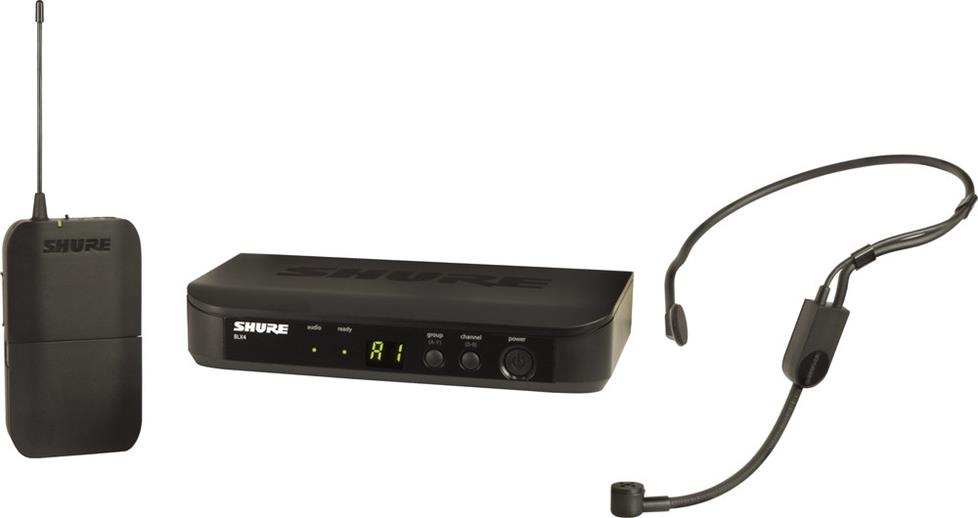 Most wireless microphones system have three elements — transmitter, receiver, and microphone.
What's in a system?
Most wireless systems have three components:
1. A microphone, which can be handheld, worn on your head, or clipped to your clothing
2. A transmitter, which can be built into the mic or housed in a separate body pack
3. A receiver, which plugs into your PA system
Wireless systems for guitar players don't have a mic, just a body-pack transmitter into which you plug your instrument.
Which type of microphone is right for you?

Wireless microphone systems are a great choice for video production.
Choose the style that best suits your application:
Public speaking
Giving a lecture, corporate presentation, or leading a worship sevice? A tiny lavalier mic that clips to your clothing is your best bet.
Taking questions from the crowd? Get a dual channel system that includes a lavalier and a handheld mic that can be passed around by the audience.
Video production
Lavalier mics are great for video, too. If you're doing an interview, get a dual-channel system that comes with two mics, one for you and one for your guest.
Singing
Most singers use handheld mics. If you sing and dance at the same time, look at headworn mics. Headworn mics are great for group exercise leaders, too.

Wireless mics come in many shapes and sizes. From left to right, a headset mic, a bodypack transmitter for a guitar, and a lavalier mic.
Real-world recommendations
I enlisted the help of Dallas, one of our Crutchfield advisors and a wireless microphone expert, to walk through some different scenarios for selecting a wireless microphone system.
Case One – A single performer with a limited budget
In this case, our performer only requires one microphone, and doesn't have to worry about operating multiple systems at the same time. He wants a compact system that's easy to use, and relatively inexpensive.
Dallas didn't miss a beat in coming up with his recommendation – the AKG WMS40 Mini system. The WSM has a small receiver, so there's not a lot of gear to haul, and the transmitter will operate for up to 30 hours on a single AA battery.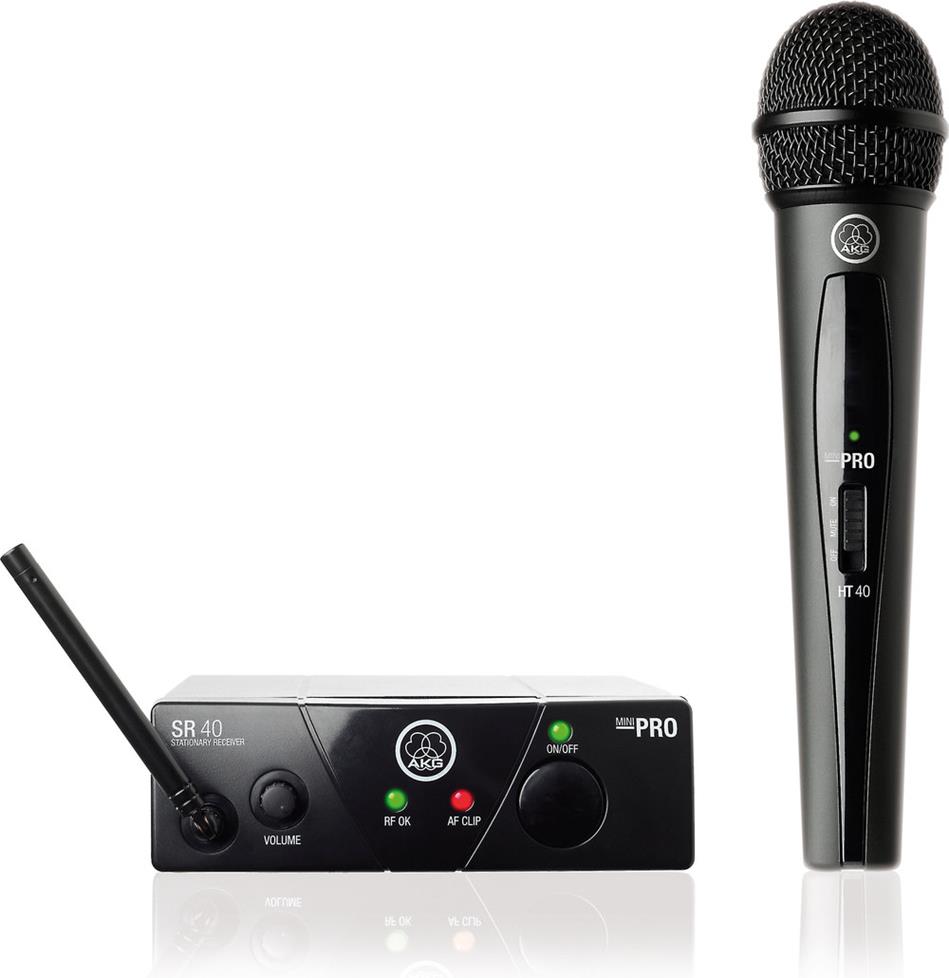 The AKG WMS Mini system is a smart choice for a single performer on a budget.
As he described it, the system is "a perfect choice when you know you'll only need one microphone. It's a good sounding wireless mic that's an exceptional value. It's perfect if you're just getting started and are watching your budget."
Case Two – A touring band
A four- or five-piece band will need multiple systems to provide microphones for vocalists and instrumentalists. They'll need a variety of different microphone types and transmitters to cover vocals and other instruments.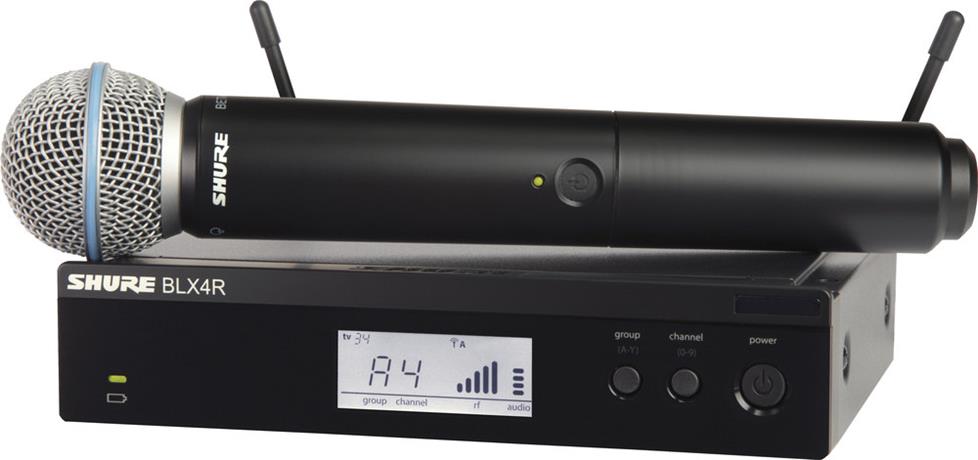 Shure's BLX series offers plenty of options, like this wireless mic and transmitter.
When helping a band that's putting together a system like this, Dallas likes the versatility and performance of the Shure BLX series. The BLX line up has microphones and transmitters for a variety of applications, plus single- and dual-channel receivers, and it'll support simultaneous operation of up to 12 systems.
This combination of versatility, performance, and reasonable price are why Dallas describes it as "my 'go to' system for many of my customers. I highly recommend the Shure BLX system for groups that need multiple wireless systems that are great sounding, reliable and economical."
Case Three – Moving up
When working to outfit a group that's moved past the "starving artist" stage, Dallas has a fond spot for the Sennheiser EW series. EW is high-quality gear, designed for great sound. As Dallas puts it: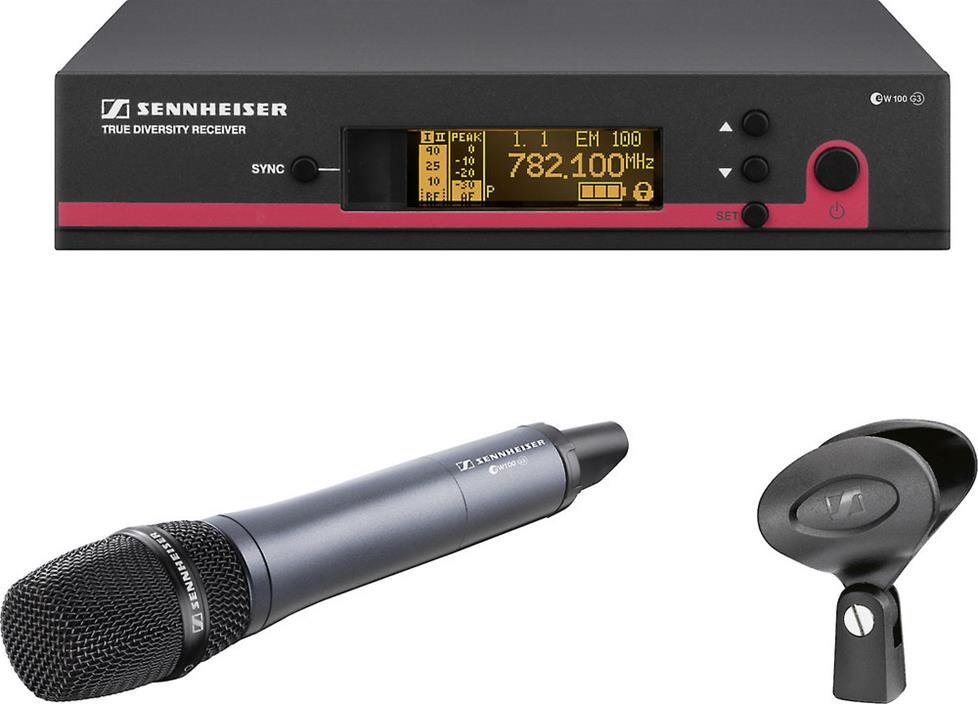 Sennheiser's EW series offers systems with high-end performance.
"Sennheiser is my system of choice. I spent many years on the road and in studios working with Sennheiser systems and the added detail and accuracy is well worth the step up in price to me."
Technical considerations
Frequency bands
To operate without interference or drop-outs, wireless microphone systems need clear frequencies. Two things to bear in mind while shopping:
1. You need the right frequency bands for your locale. Different bands are used in different parts of the country.
2. All of the separate components in your system need to be on the same band.
To make sure you get the right models, give us a call or use the online tools you'll find at the websites of manufacturers. Shure hosts an excellent, easy-to-use guide.
Analog versus digital
Analog systems convert the sound waves into radio waves that are transmitted to the receiver. Digital wireless systems add an extra step into the process, converting sound waves into digital form before transmitting them.
Digital systems are more resistant to interference. Since they operate in a different frequency band than analog systems, they don't have to contend with the possibility of interference from television stations. You can take a digital system on the road without worrying about finding clear frequencies in different cities.
In addition, digital systems offer lower distortion and better dynamic range. Digital systems use less power, so they offer better battery life than you'll get from analog systems. And some digital systems, like Shure's GLX-D4 series, even offer built-in bays for rechargeable batteries – eliminating the need to keep a supply of disposable batteries on hand.
The key advantage of analog is the number of compatible receivers you can use at one time. If you need to mic a performance with a large number of vocals or instruments, analog is a good choice.
Single- or dual-channel?
The majority of wireless systems are single-channel. That's one transmitter paired with one receiver box. Dual-channel systems let you transmit from two different mics to a single box that has two receivers built in.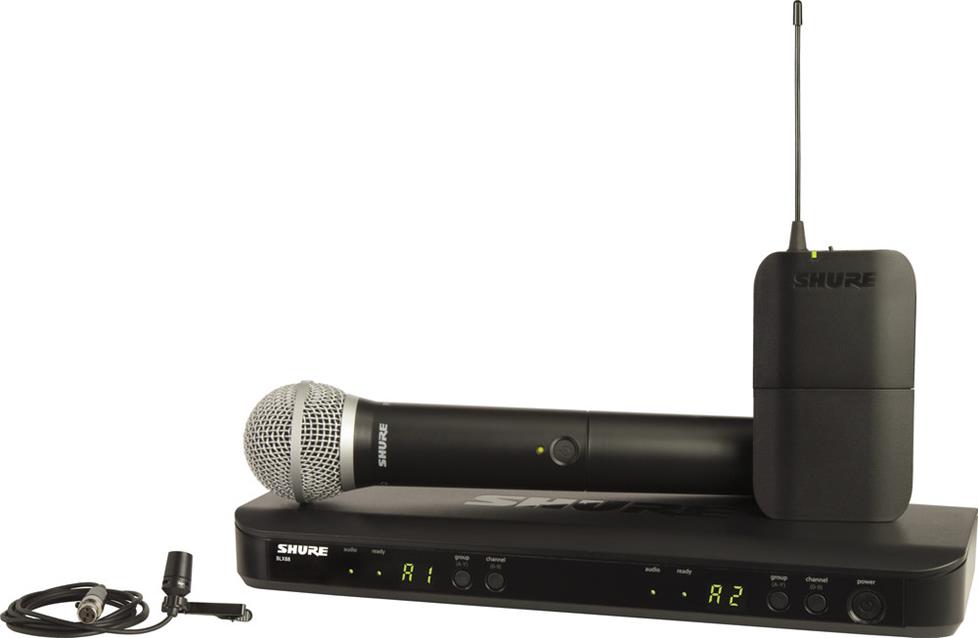 With this dual-channel system you can use both a handheld and lavalier microphone at the same time.
Rack mounting
If you're touring or traveling extensively, a rack-mountable receiver makes sense – they can be mounted into protective cases that'll protect them when you're traveling and simplify setup.
Removable antennas
You can place removable antennas in the best possible location to maintain a line of sight between the transmitter and the receiver – this ensures the most consistent reception, particularly in larger venues.