2003-2006 Infiniti G35 sedan
2003 • 2004 • 2005 • 2006
Rick Carlton has served as a professional automotive/motorsports journalist, writer, researcher, editor, and publisher for thirty years. He has also served as a press/media consultant for a range of professional motorsports organizations. He contributed several vehicle profile articles to Crutchfield's Research Garage.
More from Rick Carlton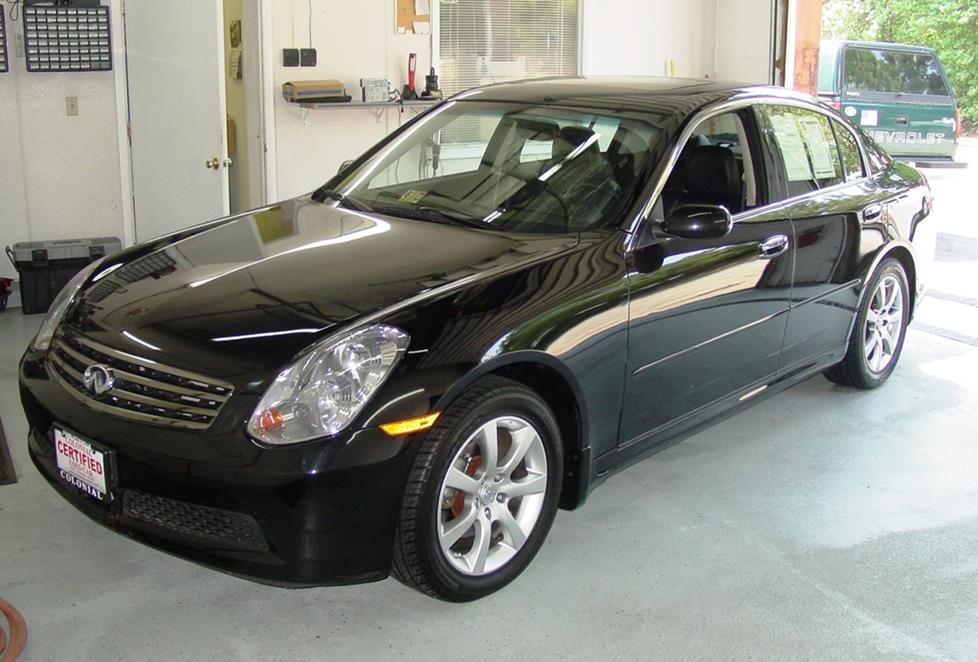 In a Nutshell
In this article, we'll tell you how to install car audio gear in your G35 sedan. The stock stereos aren't terrible in these cars, but you'll still see a real improvement when you replace the old gear with new aftermarket equipment.
Removing the receiver is a bit challenging, but it's not an impossible task for the do-it-yourselfer. Just stay organized, work patiently, and you can handle it.
Upgrading the speakers also comes with a few challenges, but it's worth the effort. These are well-built cars that can handle serious sound. Thus, adding amps and a subwoofer or two can really make a difference.
Full Story
Overview of the Infiniti G35 Sedan
Long before the successful G20 line closed out its run, Infiniti was already hard at work on the car they hoped would make them more than just another high-end Japanese import. The new car had to be luxurious, it had to be powerful, and it had to be good enough to compete on even footing with Europe's best luxury touring sedans. The car they created, the G35 sedan, was all that and more.
This nimble 4-door sedan certainly looked the part, with sleek, Euro-flavored styling and enough high-tech interior gadgetry to make a computer scientist blush. Infiniti made sure the "go" equalled the "show" by dropping in a torquey 260-horsepower 3.5 liter V6 engine and tuning the independent suspension system to provide just the right combination of ride and handling. Automotive journalists love this sort of thing, and they dutifully showered the G35 with well-earned praise and awards.
The G35 wasn't just another high-end Japanese import. In some ways, it may have been a better "European" sports sedan than some of its European competitors. Even now, the G35 is a smart purchase for anyone who values the practicality of a sedan and the performance of a sports car. The factory stereo wasn't bad in its day, but a new aftermarket system will really make your G35 sedan sing.
This article is an overview of your vehicle's audio system and its upgrade options. If you're looking for step-by-step instructions on installing a car stereo or speakers in your G35, we'll include a Crutchfield MasterSheet™ free with your Crutchfield order, or you can purchase one for $9.99.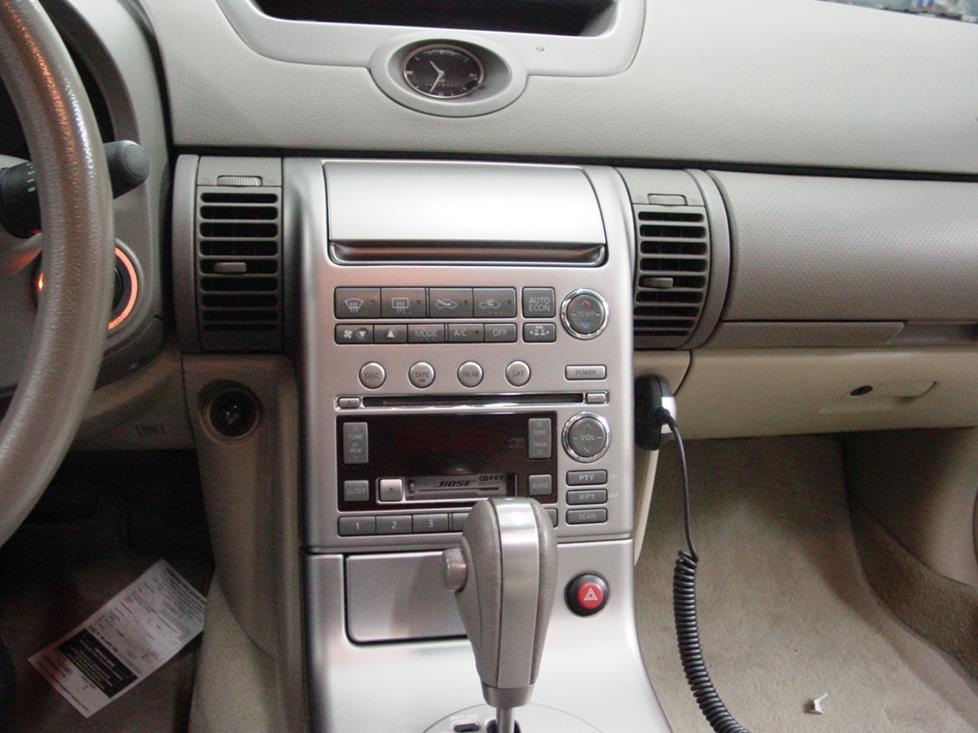 2003-2004 Infiniti G35 sedan console with Bose package (Crutchfield Research Photo)
Factory stereo system
The G35's factory AM/FM/CD receiver is located in an accessory stack situated between the front seats. The unit is surrounded by a series of plastic dash panels that help it blend in with the in with the interior's subtle, sophisticated aesthetic.
For the 2005 model year, the G35 got a freshened interior, which included a new dash and center console. Removing the 2005-06 factory receiver is thus a very different procedure than it is on the '03 and '04 models. No matter which one you have, you'll find detailed instructions in the Crutchfield MasterSheet™ that's included free with your stereo purchase.
The standard speaker system, which stayed the same throughout the model run, carries a combo tweeter/ woofer setup at the front of the cabin. You'll find 1" tweeters in each door's sail panel (at the top of the front door), in addition to 6-1/2" woofers placed at the bottom front of each door panel. In the rear cabin, 6-1/2" woofers are placed at the bottom front of each rear door, level with the edge of the floor well.
The optional Bose system adds a cassette player to the AM/FM/CD stereo, plus upgraded speakers, a trunk-mounted 200w per side amplifier and an 8" subwoofer in the rear deck.

It looks worse than it is, trust us! (Crutchfield Research Photo)
Replacing your factory radio
The dash disassembly process is somewhat involved on both versions of the G35, but the removal process really isn't as complex as it looks. The '03-'04 edition is a bit more complicated, but it's nothing the average DIY-er can't handle. You'll only need simple hand tools to disassemble the panels and brackets.
The factory stereo is thoroughly integrated into the center console on all G35 models, so replacing the unit requires the use of a dash kit that allows you to install a new single-sized (2" tall) or double-sized (4" tall) receiver in the G35's dash panel.
This kit, which is available at a deep discount when you purchase your new car stereo from Crutchfield, blends seamlessly into the interior and retains all heating, ventilation, and air conditioning controls. You'll also save money on the wiring harness and antenna adapter needed to install your new receiver.
Tools required: Panel tool, Phillips screwdriver, flat-bladed screwdriver
Shop for car stereos that fit your Infiniti G35
Steering wheel audio controls
It's relatively easy to retain the steering wheel audio controls when you install a new stereo in your G35 sedan. When you enter your vehicle information, our database will choose the adapter you need to make your factory steering wheel controls work with your new receiver.
Replacing your factory speakers
Replacing the speakers will offer a few challenges, but it's nothing the average do-it-yourselfer can't handle.

The G35 has midrange speakers in the front doors (Crutchfield Research Photo)
Front door speakers
The factory speaker system uses a hi/lo configuration, with tweeters placed approximately chest-high in the sail panels and a midrange woofer at the bottom front of each front door. To access these components you will have to remove the door panel.
Once the panel is free of the door, you can get to the tweeter by prying off two clips and lifting the entire sail panel/ tweeter assembly off the window pillar. The speaker itself is secured to the assembly by a retaining clip. After you remove the screws and disengage the plastic clip, the cone will come free of the assembly.
If your new tweeter is no more than 1.1" in diameter, you can try to mount it just like the factory tweeter. But due to the way the factory tweeter is arranged, it might be easier to mount the new tweeter directly to the back of the sail panel.
In the case of the woofers, simply unscrew four Phillips screws from the door bracket and lift the cone away from the assembly. The factory speaker is an "oversized" 6-3/4" speaker and many 6-3/4" replacements will fit. You can also install regular 6-1/2" or 5-1/4" speakers with the help of a mounting bracket, which is available at a discount with your Crutchfield purchase.
Bear in mind that there aren't any wiring harnesses available for the G35's speaker connectors, so you'll need to order Posi-Products speaker connectors.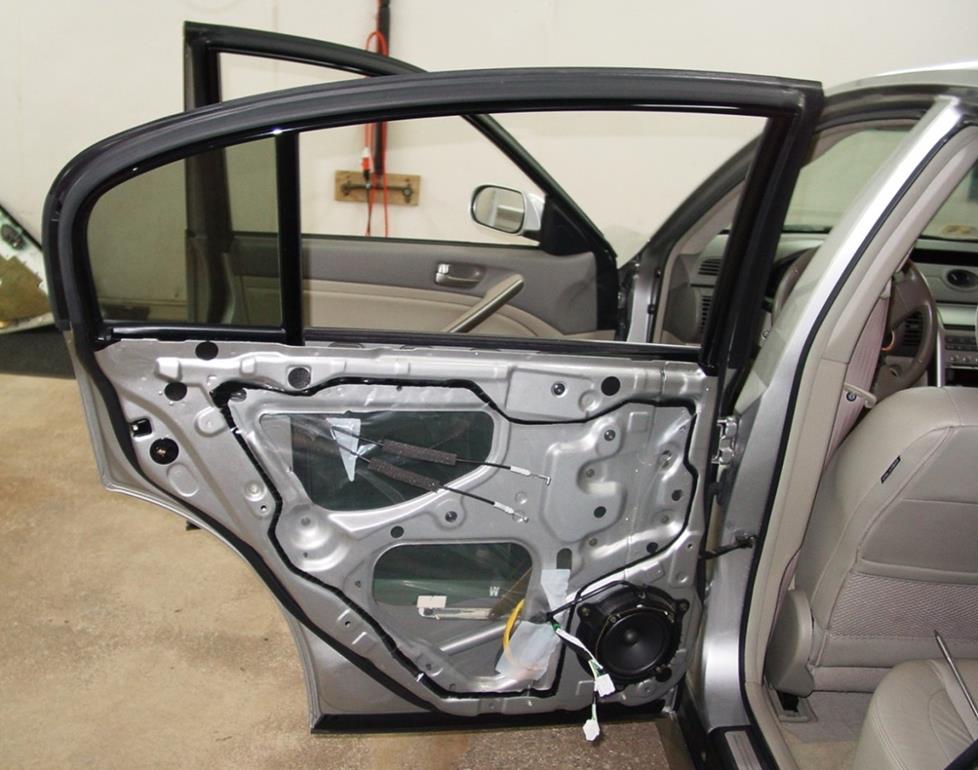 The rear door speakers are also pretty easy to deal with (Crutchfield Research Photo)
Rear door speakers
Rear speaker removal and replacement for the G35 offers a similar bracketing configuration as the front door woofer installation.
The rear doors use the same speaker sizes as the front door. There isn't as much room between the speaker and the door panel as there was up front, so the range of available replacements is a bit smaller. If you choose 6-1/2" or 5-1/4" speakers, you'll need mounting brackets, which we'll include at a special discount price with your new speakers.
Speakers in the Bose system
With the Bose system, door panel removal is the same, but the speaker sizing is a little different. The front doors fit mostly the same speakers as the standard system: 6-3/4", 6-1/2", or 5-1/4" speakers. The rear doors use a 5-1/4" speaker, but if you're willing to drill new screw holes in the door, you can fit a 6-1/2" speaker. Otherwise, you won't have to drill new screw holes when replacing speakers in the Bose system.
Luckily, wiring harnesses are available for G35's equipped with the Bose speaker system, so it'll be a tad bit easier to install new speakers. These harnesses – and mounting brackets, if needed – are available at a special discount price with your Crutchfield speaker purchase.
Tools required: Panel tool, Phillips screwdriver, flat-bladed screwdriver, and maybe a drill and 1/8" bit
Shop for speakers that fit your Infiniti G35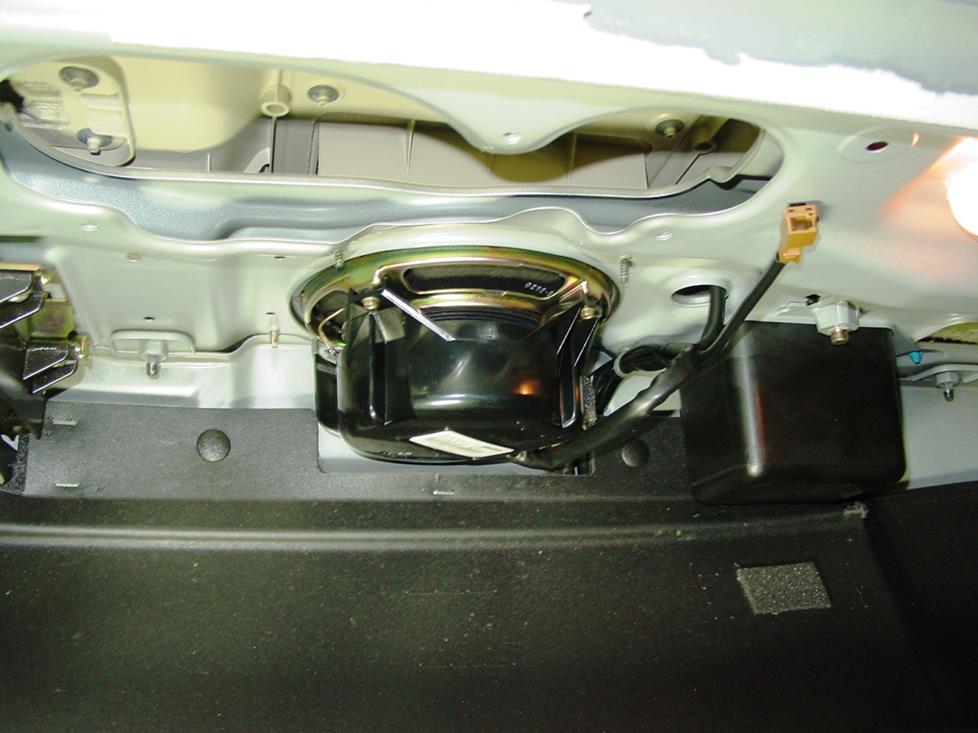 The factory Bose subwoofer is mounted in the rear deck. The amp is just to the right. (Crutchfield Research Photo)
Bass in your Infiniti G35
The G35's Bose system includes an 8" subwoofer installed in the rear deck. There is no wiring adapter for this system, so if you replace the factory subwoofer, you'll have to splice the wires and drill new mounting holes in the deck to secure it.
The Bose system uses a low-impedance woofer and a low-powered amp. If you replace this subwoofer, you should also replace the amplifier.
There's plenty of room in the trunk for a subwoofer box and amplifier, so you can add a bass system to provide the bottom-fill that the door speakers can't recreate.
Other options for your G35
There are plenty of other ways to improve your G35 sedan. Here are a few suggestions:
iPod® and satellite radio adapters
Crutchfield carries a variety of adapters that let you add iPod control or satellite radio to your factory stereo system. Of course, if you're replacing the factory stereo, your new receiver will most likely feature built-in iPod control. You can also add satellite radio to most aftermarket stereos.
Security systems
Installing a security system in your G35 sedan isn't easy (security systems rarely are), but it's definitely a good idea. Our Crutchfield Advisors can help figure out what you need to get the job done, but we usually recommend taking your car and new gear to a professional installer.
Shop for car security systems for your Infiniti G35
Find the audio gear that fits your car or truck
Visit our Outfit My Car page and enter your vehicle information to see stereos, speakers, subs, and other audio accessories that will work in your vehicle.