2003-2008 Hyundai Tiburon
2003 • 2004 • 2005 • 2006 • 2007 • 2008
Jon Paulette is a veteran automotive writer who has spent a fair portion of his life hanging out at racetracks and talking to amazing people who make extremely loud cars reach ridiculous speeds. Despite all that, he still has enough hearing left to enjoy a stupidly large music collection. A native Virginian, Jon lives in the Charlottesville area, roots for the Nationals and would like a good BBQ sandwich right about now.
More from Jon Paulette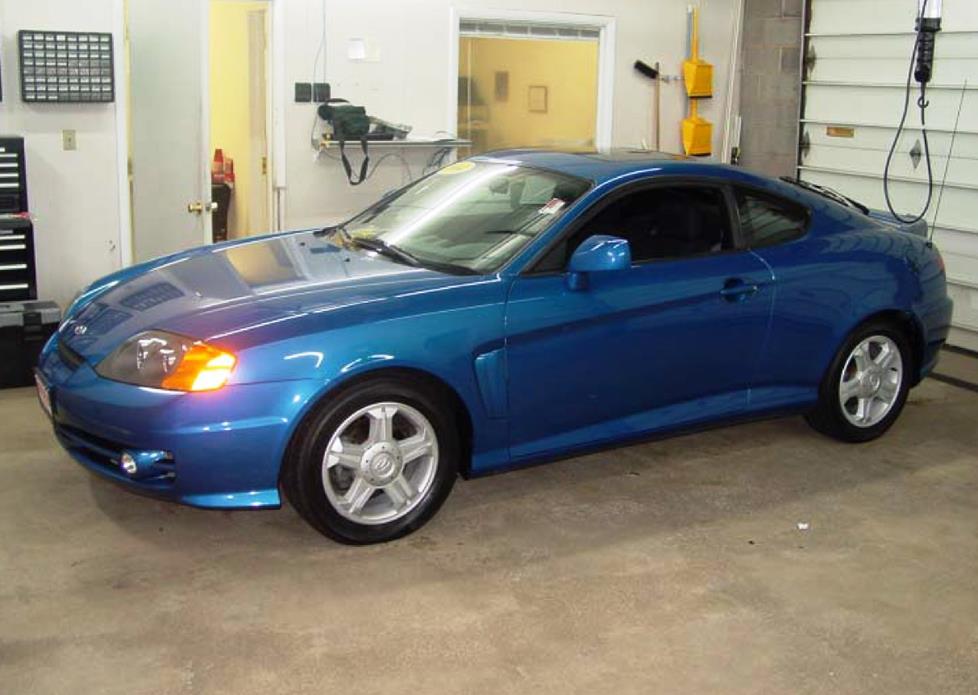 In a Nutshell
This article will explain how to install new car stereo gear in your Tiburon. Check it out and then use our vehicle selector to find the gear that will fit your car.
Replacing the stock radio is a good first step in this car. There are a number of receivers that let you enjoy the convenience of hands-free calling and music streaming, plus things like sound-shaping technology, HD Radio, and more. The Tiburon's stock radios changed a bit over the years, but the removal and replacement process stayed largely the same
Installing new speakers in the Tiburon is pretty straightforward, but you'll want to budget some time for the rear side speakers. The work is pretty simple, but there's a lot of stuff to remove. If you're into big bass, there's room for a subwoofer and some amps, or you can choose a powered sub and conserve cargo space.
Full Story
Overview of the Hyundai Tiburon
The 2003-08 Hyundai Tiburon was yet another indication that Hyundai was serious about making cars that people actually wanted. A lot of people bought brand-new Hyundai Excels back in the day, but let's face it, not many of those people were buying their dream car. The Tiburon was something completely different. This was no bargain-bin econobox, it was a sleek little sports coupe designed to capture the hearts and minds of people who'd probably never thought about buying a Hyundai before.
With a slippery shape, peppy engine, and agile handling, the Tiburon certainly came with everything needed to compete in the sports coupe segment, right down to the big rear wing available on the super-sporty models. All that good stuff was accompanied by a very nice list of available amenities, and the whole package still came in at a very affordable price. All in all, the Tiburon was proof that serious people can create a seriously fun car.
Today, the Tiburon remains an affordable, available choice for anyone looking for a sporty runabout with plenty of potential. Whether you're planning a full-on tuner treatment or just looking to make your daily drive a little more enjoyable, the Tiburon gives you plenty to work with. It's the kind of car you want to buy — not just because it's cheap, but because it's actually kind of cool. And if you want to make it even cooler by upgrading the stereo, you've come to the right place.
This article is an overview of your vehicle's audio system and its upgrade options. If you're looking for step-by-step instructions on how to install a car stereo or speakers in your Tiburon, there's nothing better than our exclusive
Crutchfield MasterSheet
™. This detailed, well-illustrated document is free with your Crutchfield order, or you can purchase one separately for $9.99.

The AM/FM/CD/cassette receiver found in the Hyundai Tiburon (Crutchfield Research Photo)
Factory stereo system
A variety of stock systems were available in the Tiburon at various times during its run, including a base 6-speaker AM/FM/CD/cassette package, a 7-speaker Infinity system, and a 6-speaker Kenwood system that was standard across all trim levels by 2008.
If you're upgrading the gear on an Infinity-equipped car, the factory amp is located behind the left rear quarter trim panel, just forward of the speaker. It can be used with an aftermarket stereo, and you won't have to use an OEM interface.

This Kenwood receiver was new for the 2008 model year (Crutchfield Research Photo)
Replacing your factory radio
Though the Tiburon's stock radios changed a bit over the years, the basic removal and replacement process stayed largely the same. The photo above shows a 2003-07 radio, but while the 2008 model looks different, it comes out the same way. You can replace the stock unit with a wide variety of single-DIN (2" tall) or double-DIN (4" tall) aftermarket models.
Start by prying around the receiver/climate control trim panel to release six retaining clips. Pull out the trim panel, disconnect the wiring harnesses, and remove the trim. Remove the four Phillips screws securing the factory radio to the dash, then pull out the radio and disconnect it.
Installing the new unit depends a bit on the car and the receiver you're working with, but the differences are minor and the whole process is reasonably simple. There are minor differences in how you install a single-DIN receiver in a 2003-07 Tiburon and the 2008 model, for example, but they're very minor. On the other hand, if you're installing a double-DIN receiver in your car, the installation process remains consistent throughout.
The aftermarket dash kit used for some installations can interfere with receivers that have fold-down faces, so you may need to modify the kit or fabricate a spacer.
Complete, detailed installation instructions for installing a new receiver in any Tiburon can be found in the Crutchfield MasterSheet included free with your stereo purchase. You'll also get deep discounts on the dash kit and wiring harness needed to install your new receiver.
Note: If your car is equipped with the Kenwood EZ500 receiver, there is a jumper harness between the receiver and the factory harness. This jumper should be removed with the factory radio.
Tools needed: Panel tool, Phillips screwdriver.
Steering wheel audio controls
The Tiburon didn't come with steering wheel controls until 2005, but it's relatively easy to retain them if your car is so equipped. When you enter your vehicle information, our database will choose the adapter you need to make your factory steering wheel controls work with your new receiver.
Shop for car stereos that fit your Hyundai Tiburon
Replacing your factory speakers

The Tiburon's front door contains a 6-3/4" woofer and a tweeter (Crutchfield Research Photo)
Front door speakers
The Tiburon's factory front woofers are 6-3/4" models that can be replaced by same-size, 6-1/2", or 5-1/4" aftermarket speakers. This isn't an especially difficult swap, but you will be dealing with a lot of small steps on the way to the big goal. Use care when you're prying away the plastic panels, and be sure to use a jar or tin can or something to keep all the screws together. You'll want to have them handy when you're putting everything back together.
First, you'll need to gently pry out the top edge of the sail panel to release the retaining clips. Disconnect the tweeter harness and remove that, then remove two Phillips screws from the door panel located under the sail panel. Moving down a bit more, you'll then remove one Phillips screw from the door release assembly.
On the rear of the door panel, you'll see three screw covers. Remove them, then remove the Phillips screws underneath. Next, you'll pry off the front portion of the door pull handle, remove three exposed Phillips screws, and remove the door release trim. From there, you'll pry out the door panel from the bottom edge, lift it up, disconnect the electrical harnesses and remove the panel. Remove the four Phillips screws that hold the speaker in place, then disconnect everything and remove the speaker.
All that's left is to connect the new speaker and test to make sure everything's working. If it is, use those screws you saved to button everything up again.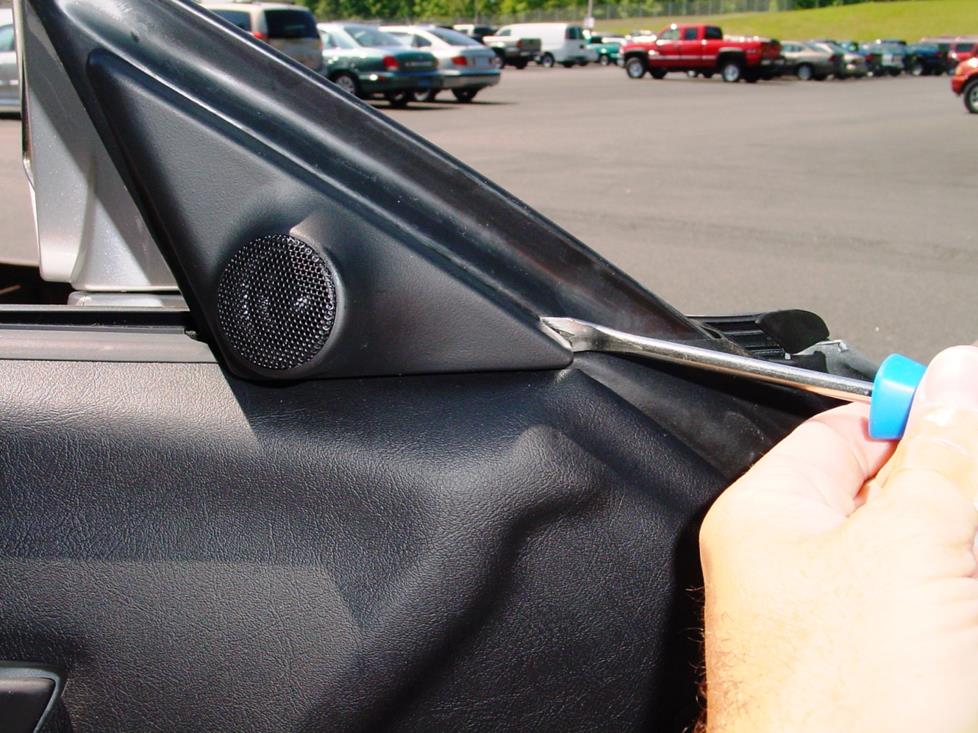 The tweeters are mounted in the sail panels (Crutchfield Research Photo)
Front tweeters
The tweeters, found on most Tiburons, are 1-1/4", 4-ohm models that are glued to the inside of the sail panel. They can be replaced by similar-sized component tweeters, but you'll want to work very carefully. The glue is old, but that doesn't necessarily mean it's weak.
You'll need to fabricate a speaker mounting bracket or spacer to install the new tweeters, or you can use our universal backstrap to keep them in place. A wiring harness is not available, so you'll either need to splice the vehicle's speaker wires to your new speaker wires, or (better idea) use a set of Posi-Products connectors to make an easier, better connection.
Tools needed: Panel tool, small flat blade screwdriver, Phillips screwdriver.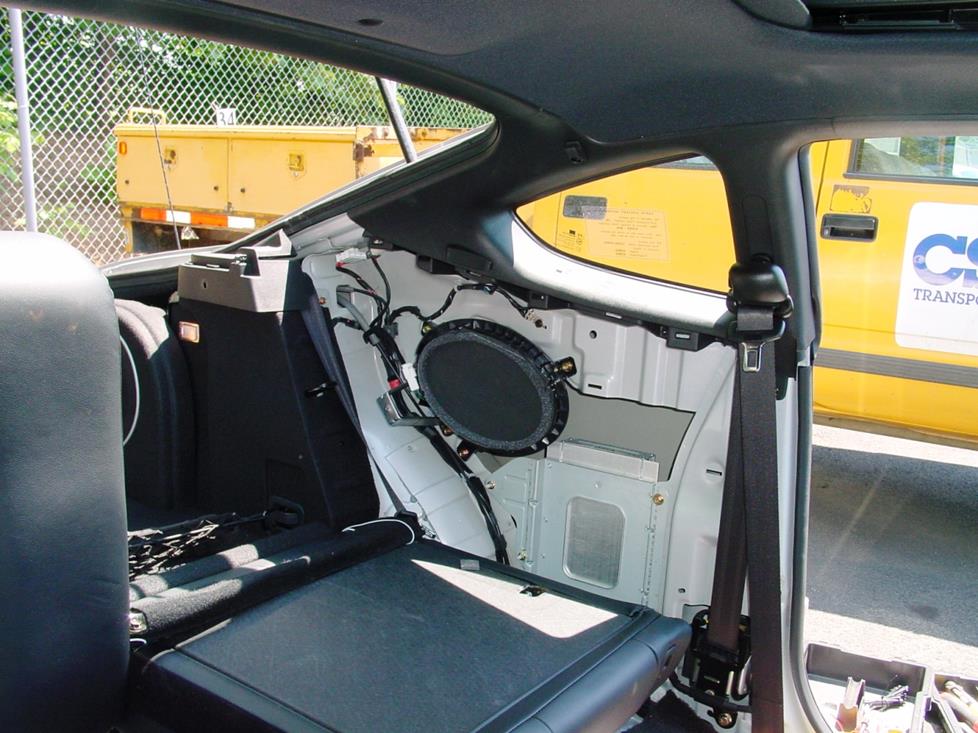 The Tiburon's rear side speakers are kind of hard to reach (Crutchfield Research Photo)
Rear side speakers
The Tiburon's rear seat isn't a great place for most adults, but it's a fine place for a pair of speakers. The stock 6"x9", 2-ohm models can be replaced with same-size, 6-1/2" or 5-1/4" models. You'll need adapter brackets, which are included free with your speaker purchase.
Reaching and removing the factory speakers isn't a technical challenge as much as it's a time challenge. There's nothing awfully complex to be done, there's just a lot of things that need doing. If you're an average DIY-er, you can probably handle the work, but don't be in a hurry to be someplace else that afternoon. You will be removing a sizable portion of the rear seat area, so be patient, take your time, and do it right.
Start by folding the rear seat back cushion down halfway. Remove the two 12mm bolts located between the seat back and bottom cushions, then press in the two black release buttons you'll find under the front edge of the cushion. Once you feel the seat come free, remove it and store it someplace safe until you need to put it back in. Now, fold the seat back cushions all the way down. Next, pry out the retaining clip in the front portion of the door scuff plate. Pry the rear edge of the scuff plate off of the rear side panel; then remove one Phillips screw from the rear side panel located just behind the speaker grille.
Remove the cargo cover, then unscrew the cargo net hanger and get that out of the way. Pry the front edge of the seat belt cover trim toward the center of the vehicle enough to release it from the side panel, then pry out the rear side panel at the top edge to release the clips. Lift the panel and pull it toward the front of the vehicle to remove it. With the speaker exposed, remove four Torx T20 or Phillips screws (could be either, depending on which stereo you have) securing the speaker. Pull out the old speaker, disconnect it, and install the new one.
Be sure to "listen-test" your new speakers before you go to the trouble of reassembling everything. You'll also want to double-check the seats and seat belts to make sure they're safe and secure.
Tools needed: Panel tool, Torx T20 driver, socket wrench, extension, 12mm socket, and Phillips screwdriver.
Shop for speakers that fit your Hyundai Tiburon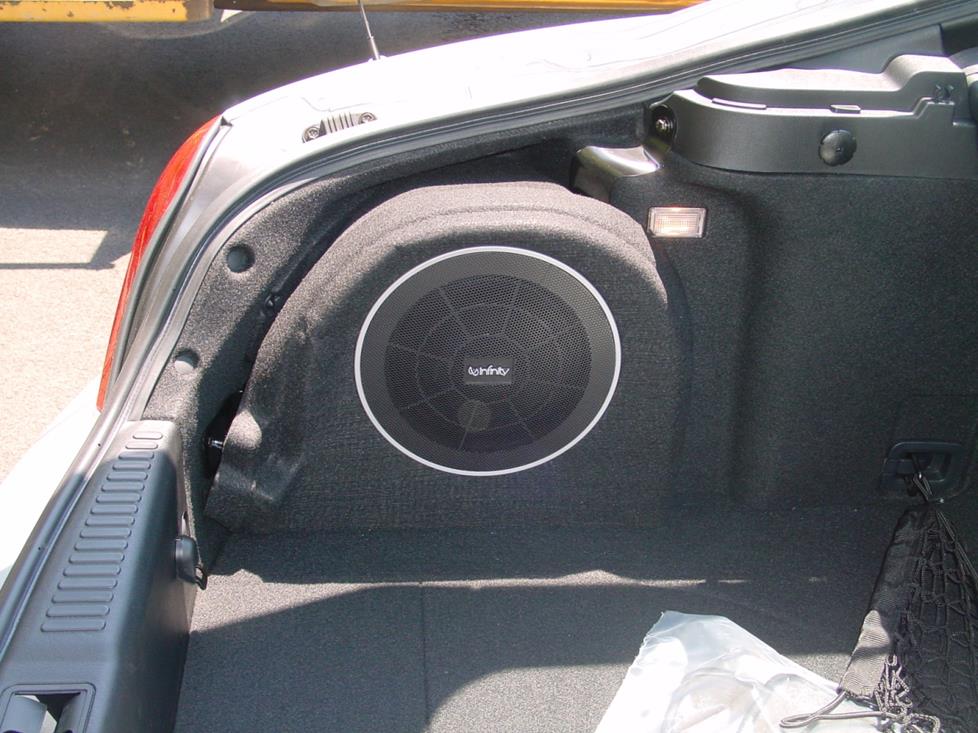 The factory sub isn't pretty, but at least it's easy to remove (Crutchfield Research Photo)
Bass in your Hyundai Tiburon
Infinity-equipped Tiburons feature a subwoofer on the driver's side of the rear cargo area. The factory installation is somewhat awkward-looking, but it does the job. If you want something that does a better job, you'll need to remove and replace the entire assembly.
We ordinarily suggest simply replacing the factory sub, but this car is a bit different. The subwoofer is actually glued into the enclosure, which is itself glued together with some seriously industrial-strength stuff. It's a solid package, to say the least, so attempting to replace the sub will most likely damage the sub, the box, or both. It's a lot easier to remove the enclosure (it comes out in one piece), store it someplace safe, and start over.
If you want to design your own component subwoofer system and mount a sub box in the rear hatch, you have a 33" W x 16" H x 27"/32" D (top to bottom) space to work with. On the other hand, if you're looking to add bass without taking up the entire cargo area, you can also opt for a powered subwoofer. Either way, you'll get the bass boost you want. You can always re-install the factory sub when it's time to sell the car.
Shop for vehicle-specific subwoofers for your Hyundai Tiburon
Other options for your Tiburon
There are plenty of other ways to improve your Tiburon. Here are some of the ways Crutchfield can help.

Speaker baffles
Noise damping
Like a lot of entry-level sports coupes, the Tiburon can be a noisy, rattly place — especially if it's been driven with, er, enthusiasm in the past. If you're looking to seal in your sound and seal out road noise and rattles, install Dynamat in the doors when you replace your front speakers.
A set of speaker baffles is another way to ensure that your speakers give you the performance you want without the rattling and booming you don't.
Security
Installing a security system in your Tiburon isn't easy (security systems rarely are), but it's definitely a good idea. Our Crutchfield Advisors can help figure out what you need to get the job done, but we usually recommend taking your car and new gear to a professional installer.
Shop for car security systems for your Hyundai Tiburon
Find the audio gear that fits your car or truck
Visit our Outfit My Car page and enter your vehicle information to see stereos, speakers, subs, and other audio accessories that will work in your vehicle.