2005-2009 Ford Mustang
2005 • 2006 • 2007 • 2008 • 2009
Rick Carlton has served as a professional automotive/motorsports journalist, writer, researcher, editor, and publisher for thirty years. He has also served as a press/media consultant for a range of professional motorsports organizations. He contributed several vehicle profile articles to Crutchfield's Research Garage.
More from Rick Carlton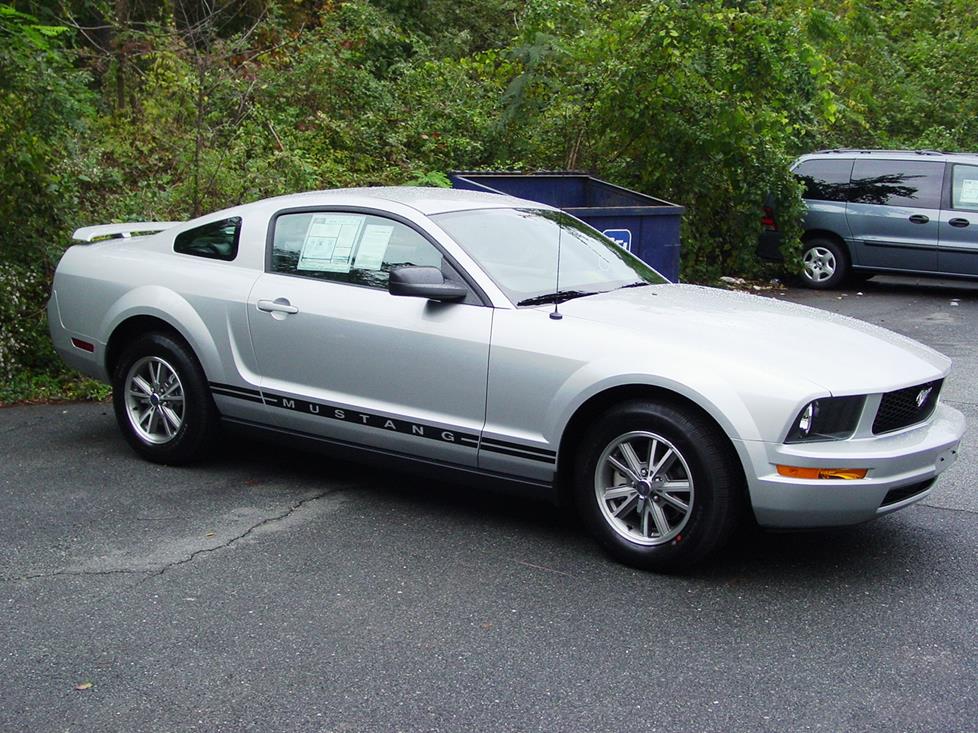 In a Nutshell
In this article, we'll tell you how to install car audio gear in your Mustang coupe or convertible. The stock speakers are decent, so replacing the factory stereo first might be the best course of action. Almost any car stereo will fit in that opening, but there's no denying that a big touchscreen receiver looks great in the Mustang's dash.
Next, you should replace the speakers. If you're keeping your stock radio, you'll want to pick some efficient speakers with superior tweeters. The speakers sit pretty high up in the Mustang's door, so you'll get really good high-end details from aftermarket models.
And if you're into big bass, add a sub enclosure made for the Mustang, then add an amplifier to power all the door speakers.
Full Story
Overview of the Ford Mustang
The 2005-09 Mustang re-ignited the "pony car" wars with its combination of retro style and modern performance. The design was an obvious homage to the classic Mustangs of the Sixties, but the styling and the stance still managed to be totally contemporary.
With the disco-era Fox platform finally retired after 25 years of loyal service, this new Mustang also sported a long-awaited new chassis that provided balanced handling no matter which V-6 or V-8 engine was under the hood.
With instantly recognizable looks and a wide variety of options and trim packages, the 2005 - 2009 Mustang offers something for almost every enthusiast. Whether you're looking for a stylish daily driver or a bellowing muscle car, there's a Mustang for you. And once you find your Mustang, we're here to help you build the perfect stereo system.
This article is an overview of your vehicle's audio system and its upgrade options. If you're looking for step-by-step instructions on how to install a car stereo or speakers in your Mustang, there's nothing better than our exclusive Crutchfield MasterSheet™. This detailed, well-illustrated document is free with your Crutchfield order, or you can purchase one separately for $9.99.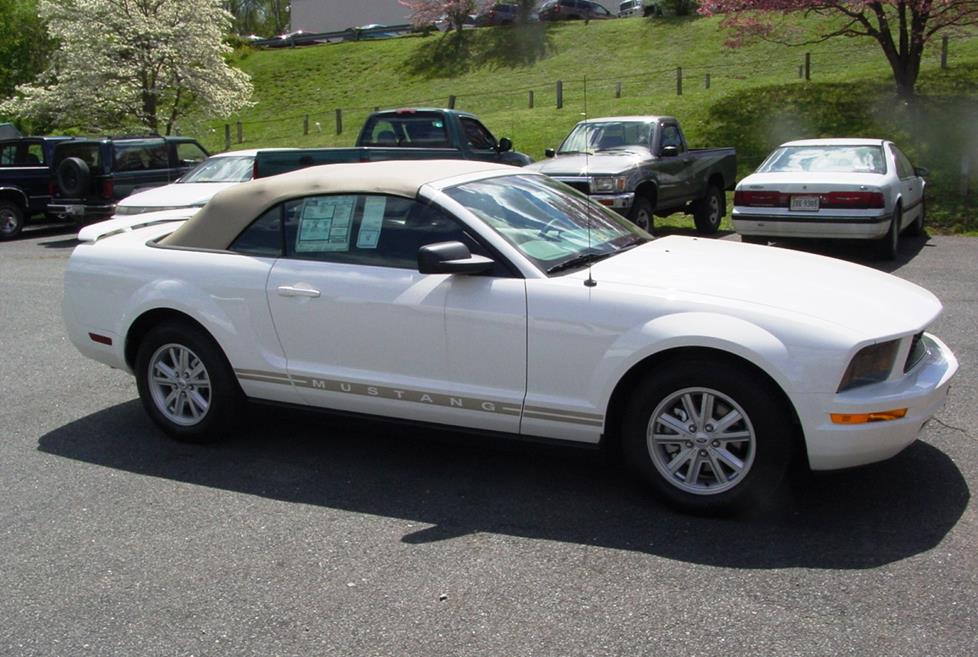 2005 Ford Mustang convertible (Crutchfield Research Photo)
Factory stereo system
The factory stereo is located at the front of the car's center console. The AM/FM/CD receiver lives in a double-bay assembly, and Ford offered three audio system options:

The Mustang's Shaker system stereo (Crutchfield Research Photo)
4-speaker system: Features 6"x8" speakers in the front doors and on the rear deck, powered by a AM/FM/CD receiver.

Shaker 500 system: Adds two 8" dual voice coil woofers located at the mid-line of each door, powered by two amplifiers located in the driver's kick panel.

Shaker 1000 system: Adds two 10" dual voice coil subs in a trunk-mounted enclosure that's powered by four amps (one per voice coil) behind the enclosure.

The Mustang's standard receiver (Crutchfield Research Photo)
Replacing your factory radio
The replacement process in the Mustang depends a bit on the stereo you're replacing. We'll hit the high points below, and detailed instructions can be found in your Crutchfield MasterSheet.
4-speaker system
The factory radio is fully enclosed by the console and several trim panels. Installing a new car stereo is fairly straight-forward, but it'll take a little time and effort.
You'll need a dash kit to install a DIN (2" tall) or double-DIN (4" tall) radio. It's possible to hard wire a new stereo to the factory wiring but getting a wiring harness will keep you from having to cut into the factory wires. You'll also need an antenna adapter that allows you to connect the Ford antenna lead to your new receiver. The dash kit, harness, and antenna adapter needed for this installation are available at a very nice discount with your Crutchfield order, along with our free step-by-step Crutchfield MasterSheet instructions.
To begin the radio replacement process, open the center console and remove two Phillips screws at the back of the unit. Then, using the pry tool, remove the gearshift trim, followed by the console trim. Next, pry away the side trim panels located on either side of the accessory stack, followed by removal of the six 7mm screws securing the receiver/climate control trim panel. Next, remove the four 7mm screws securing the receiver to the accessory bay. Now pull out the stereo and disconnect it from the factory plug. The process takes a little time, but it's not complicated.
Installation note: The mounting kit that trims out the new radio in the Mustang dash includes a pocket that protrudes a little. As a result, you can't install a car stereo with a fold-down face in this Mustang.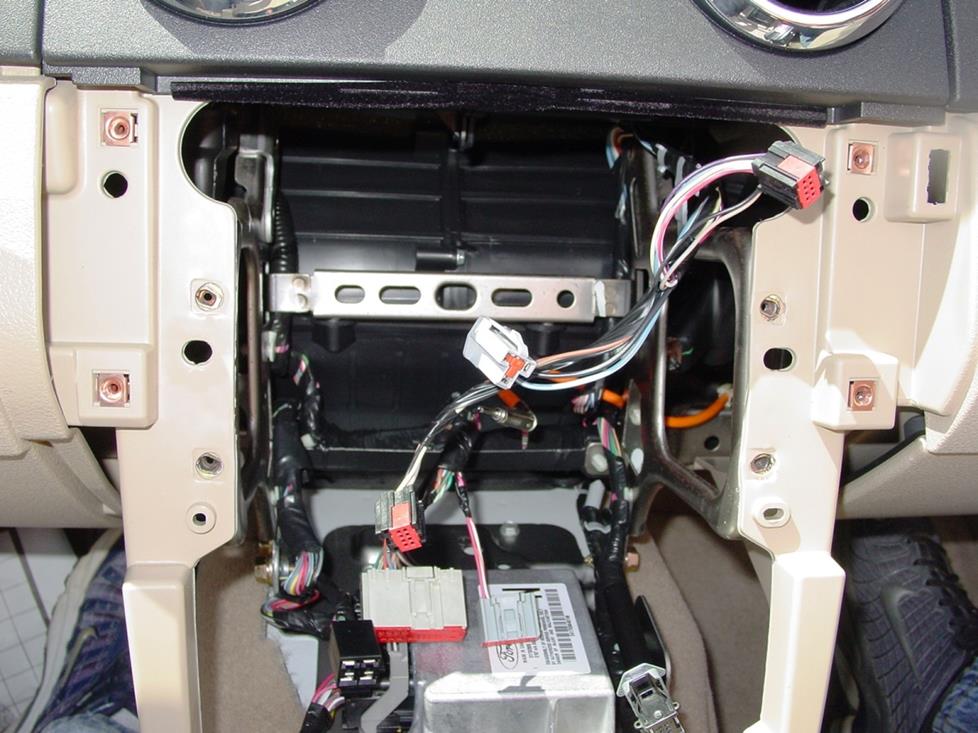 A look inside the Mustang's dash cavity (Crutchfield Research Photo)
Shaker 500 and Shaker 1000 systems
You'll go through the same procedure to remove the radio in the Shaker systems, with one change. Unless you plan on gutting the entire system, you'll need a special adapter in order to connect your new car stereo into the Ford amps that run the woofers in the doors (and in the trunk with the Shaker 1000 system). There are several adapters available, depending on the model year of your Mustang. You can find the right one by using our Vehicle Selector to identify your vehicle or by talking to one of our advisors. Your new receiver must have subwoofer RCA preamp outputs, because this special adapter has RCA plugs that connect to the preamp outs. This allows you to adjust the factory subs with the sub control on your new stereo.
Special technical note: If you experience a transient pop during turn-on/turn-off after installing a replacement receiver, it may be due to the factory remote lead employing 5 volts (instead of the normal 12 volts). You can eliminate this pop by installing a 12V-to-5V interface on the remote lead. The special adapter we recommend for this installation will also take care of this voltage conversion.
Tools needed: Panel tool, Phillips head screwdriver, 7mm socket wrench and extension
Steering wheel audio controls
It's relatively easy to retain your Mustang's steering wheel audio controls when you install a new stereo. When you enter your vehicle information, our database will choose the adapter you need to make your factory steering wheel controls work with your new receiver.
Shop for car stereos that fit your Ford Mustang
Replacing your factory speakers
Installing a new set of speakers in your Mustang isn't terribly difficult, but it takes some work in both the coupe and convertible models. Block out plenty of time to get the job done, and work patiently. This is an excellent DIY project that will product outstanding results.
4-speaker system (all models)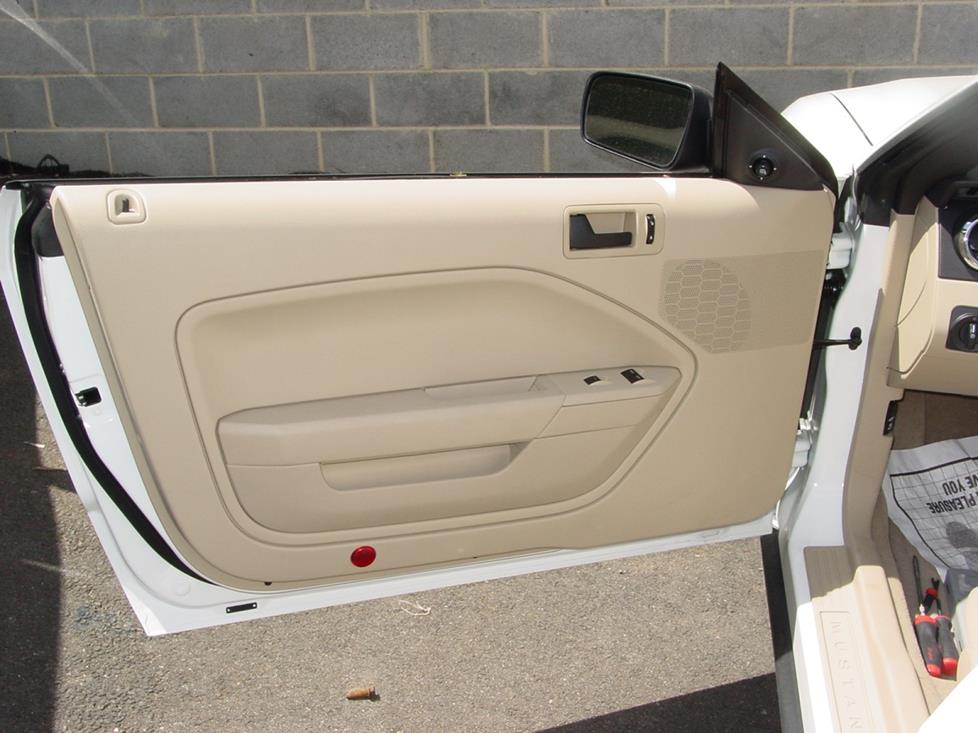 The Mustang's standard door panel (Crutchfield Research Photo)
Front doors
You can install aftermarket 6"x8" speakers in the front doors, and you also have the option of putting 5-1/4" speakers in there with the help of mounting brackets. Your choices are restricted slightly by the factory grilles. Our vehicle selector will filter out the speakers that don't fit, so you can see your available options. Wiring harnesses are available to connect the new speakers to your factory wiring. Harnesses and mounting brackets are available at a special discount with every speaker order at Crutchfield.
Again, the process of replacing your speakers is straightforward, but somewhat time consuming. You'll have to remove the front-window sail panel, then disconnect the electric door controls. Next, remove the center door-latch trim, pry away the internal arm-rest screw panel, and remove the two T30 Torx screws. Pry up the power option panel, and remove all of the 7mm Phillips screws at the bottom and side of the door panel.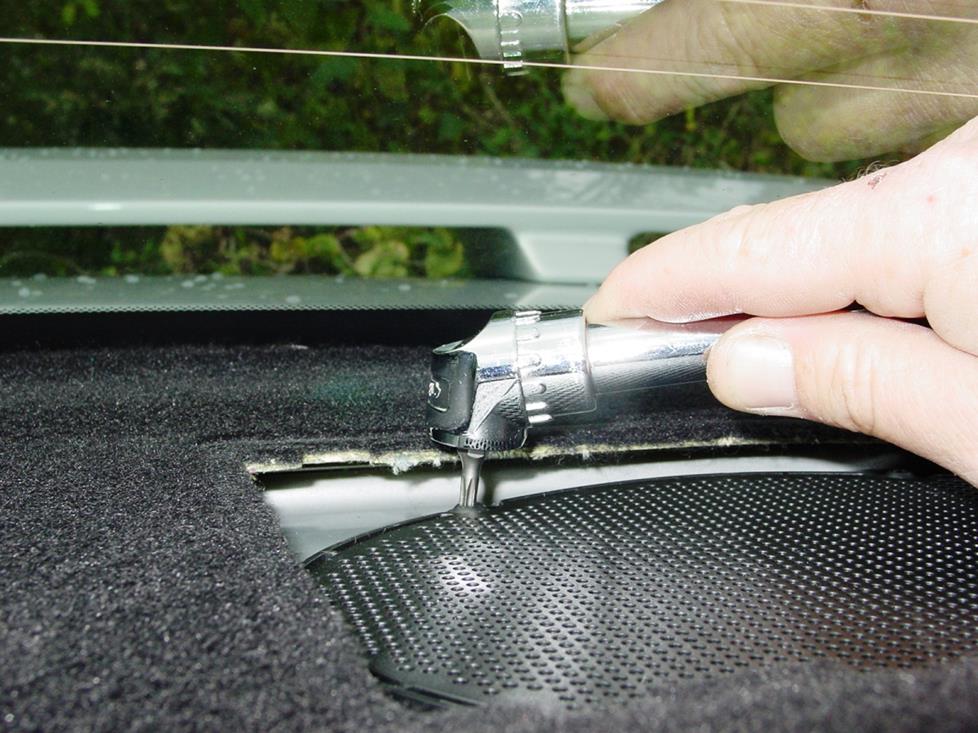 Removing the Mustang coupe's rear deck speaker (Crutchfield Research Photo)
Finally, go back to the options panel, unclip the door latch cable, disconnect the options panel, and lift the door panel away from the entire assembly. Once the factory speaker is accessible, remove all of the T20 Torx screws that secure the speaker, and disconnect the internal wiring harness.
Rear deck (2005-2006 models)
6"x8" speakers will drop right into the rear deck openings, and wiring harnesses are available for this location. You also have the option of installing 5-1/4" speakers in mounting brackets. There's plenty of room back here, so just about any speakers will fit. To replace the factory speakers, begin by prying the grilles up from the rear deck. Once you have the screens off, remove all of the Torx screws that secure the speakers, and lift each unit from its respective bracket. Disconnect the speakers from the internal wire harness, and discard the factory units.
Rear deck (2007-2009 models)
In these later models, the rear speakers require a little more work to remove. The grilles are integrated into the rear deck, so you have to remove the deck material to get to the speakers. This involves removing the trim panels beside and above the back seat. Once again, it's not that hard, especially with our instructions, but it will take some time.
Rear side panels: (convertible)
If you have a droptop 'Stang, the speaker replacement process is a bit different. You'll start by prying uyp and removing the top part of the side panel, then you'll pry the panel out until you release the retaining clips. You won't remove it all together, though. Hold it out far enough to remove the four Torx T20 screws that secure the speaker, then pull it out, disconnect it, and remove it. Connect it to the vehicle wires, test it out, and put everything back together.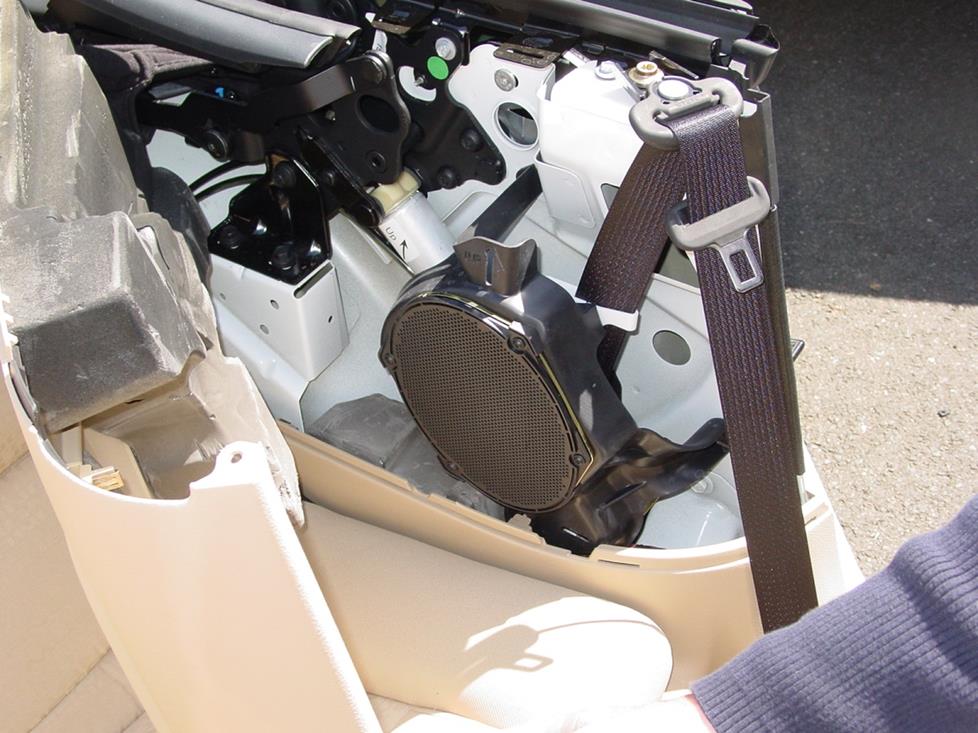 Getting to the convertible's rear speakers is pretty simple, really. (Crutchfield Research Photo)
Shaker 500 system and Shaker 1000 system
If you have one of the factory hot rod stereos, your options for replacing speakers are exactly the same as with the non-Shaker system. Harnesses are available for both locations, as well as brackets for 5-1/4" speakers if that's your preference.
Tools needed: Phillips screwdriver; small flat blade screwdriver; panel tool; socket driver with 7mm, 8mm, and 14mm sockets; T20 and T30 Torx drivers; drill and 1/8" bit
Shop for speakers that fit your Ford Mustang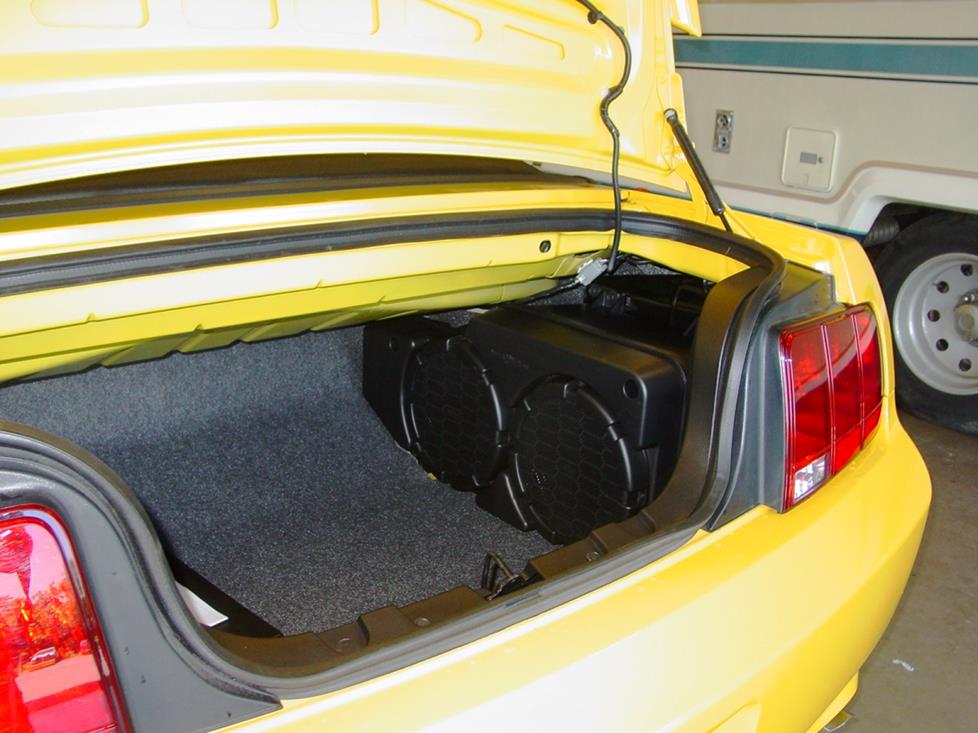 Shaker 1000 subs in the trunk (Crutchfield Research Photo)
Bass in your Mustang
If you have a Shaker system, you can replace the factory woofers in the doors, or in the Shaker 1000 system's trunk enclosure. But there are a few things you'll want to be clear on before you start your project.
First off, the factory amps for the door subwoofers are designed to drive low-impedance subs, so you'll get reduced output if you replace the factory subs but not the amps
You'll also have to drill new screw holes for any sub, as well as enlarge the factory cutout for some large frame subs. You'll also want to use Dynamat on the doors to prevent rattling.
You can get a lot of bass into a Mustang if you design your system properly. Our car audio experts are available by phone or chat if you need help.

Amps for the Shaker subs (Crutchfield Research Photo)
To make a long story (not to mention a long installation) short, you might want to check out some of the subwoofer enclosures made specifically for the 2005-09 Mustang. You'll get great performance, plus you get to avoid the headache of trying to guess which subs are going to work in the factory enclosures.

This MTX Thunderform is made to fit your Mustang (MTX photo)
One solution is an amplified MTX ThunderForm containing a 12" sub and a 200-watt amp. It installs in the passenger side of the trunk. Having the amplifier built into the enclosure simplifies installation and your shopping.
There's also the Kicker VSS™ SubStage™ SMUS05, which comes equipped with a 10" square sub powered by a perfectly matched 200-watt amp, all housed in a custom enclosure that's optimized for sound quality.This one also fits neatly in the passenger's side of the trunk.
Shop for vehicle-specific subwoofers for your Ford Mustang
Other options for your Mustang
As you might expect with a vehicle like the Mustang, there are plenty of ways to upgrade your car inside and out.
Sound processor
If you choose to keep the stock radio, install a sound processor to send a clear, clean signal to your new amp. Sound processors remove any limitations on the signal imposed by the factory radio. The better the signal, the better the sound. Read our article explaining factory sound processors to learn more.
Auxiliary input
If you have another device you'd like to connect to your Ford radio, you can use this auxiliary input adapter. If you have the factory satellite radio tuner, it won't work once this adapter's hooked up.
Security
Installing a security system in your Mustang isn't easy (security systems rarely are), but it's definitely a good idea. Our Crutchfield Advisors can help figure out what you need to get the job done, but we usually recommend taking your car and new gear to a professional installer.
Shop for car security systems for your Ford Mustang
Find the audio gear that fits your car or truck
Visit our Outfit My Car page and enter your vehicle information to see stereos, speakers, subs, and other audio accessories that will work in your vehicle.