2005-2012 Nissan Xterra
2005 • 2006 • 2007 • 2008 • 2009 • 2010 • 2011 • 2012
Rick Carlton has served as a professional automotive/motorsports journalist, writer, researcher, editor, and publisher for thirty years. He has also served as a press/media consultant for a range of professional motorsports organizations. He contributed several vehicle profile articles to Crutchfield's Research Garage.
More from Rick Carlton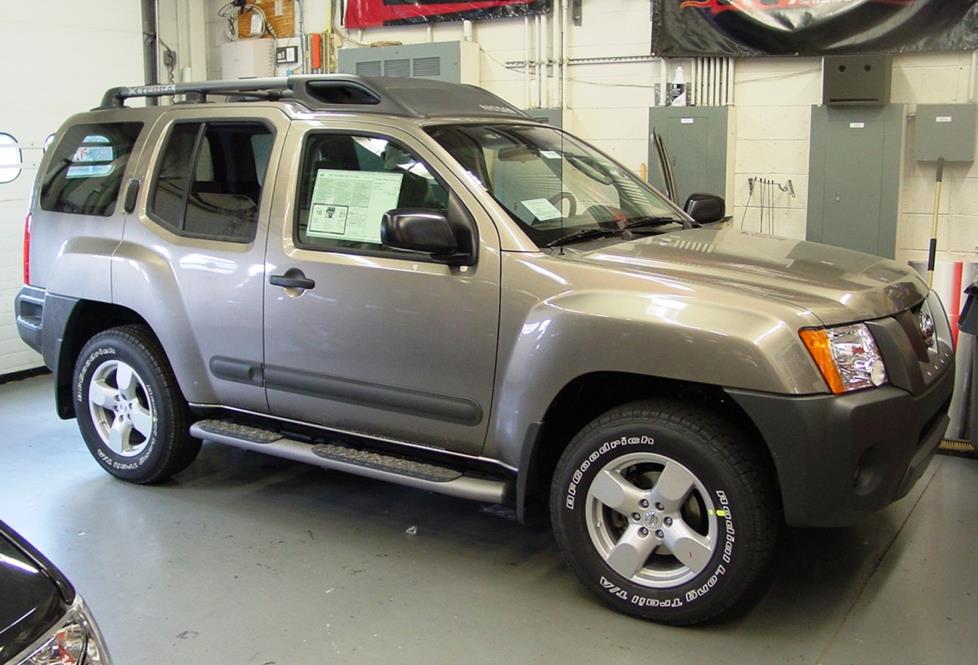 In a Nutshell
In this article, we'll tell you how to install car audio gear in your Xterra. The speakers are okay, but you'd do well to replace them, especially if you don't have the Rockford Fosgate system. If you do have the premium system, then start your upgrades by installing a new stereo.
Once you have good speakers and maybe a new stereo, it's time to add bass. No stereo system is complete without a subwoofer, and in a vehicle this size, maybe even two. If you have the premium system, then you already have the 8" powered sub under the front seat. You can still benefit from adding a 10" or 12" subwoofer in the back of the truck.
As a finishing touch, add a 4-channel amplifier. An amp will make your music sound better, especially when you're listening at lower volumes.
Full Story
Overview of the Nissan Xterra
For the second-generation Xterra Nissan increased the popular mid-sized SUV's overall size and upgraded the available performance and comfort content. The result was a big, spacious vehicle that looked equally ready for a cross-town shopping trip or a cross-desert rally raid.
Unlike a lot of "here today, totally revamped tomorrow" trucks, this basic Xterra design hung around for a good long while. Nissan largely resisted the urge to mess with a good thing, preferring a continual series of mild revisions, additions, and upgrades that helped keep an aging design somewhat fresh. The result is a solid, proven performer that's still a great choice for anyone who enjoys the outdoors or simply likes having a tall, purposeful-looking vehicle with tons of space.
This article is an overview of your vehicle's audio system and its upgrade options. If you're looking for step-by-step instructions on how to install a car stereo or speakers in your Xterra, there's nothing better than our exclusive Crutchfield MasterSheet™. This detailed, well-illustrated document is free with your Crutchfield order, or you can purchase one separately for $9.99.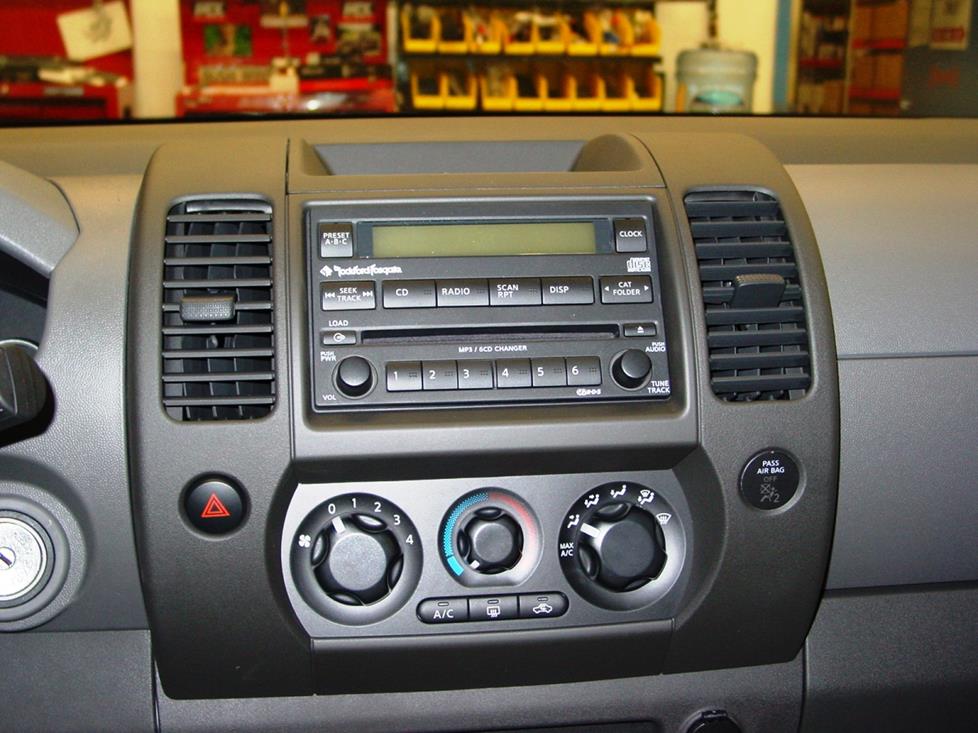 A Rockford Fosgate stereo was optional in some Xterra models (Crutchfield Research Photo)
Factory stereo system
The Xterra offered two stereo systems to choose from. The base package offered an AM/FM/CD receiver driving six speakers. All systems carried tweeters in each corner of the dash, with oval 6"x9" woofers mounted in the lower front doors, and circular 6-3/4" woofers located in the rear doors.
The Rockford Fosgate premium system had a 6-disc CD changer in the dash that featured MP3 playback. Later models also added an auxiliary input. The standard speaker package was replaced by a 9-speaker system powered by a Rockford Fosgate amplifier.
Besides having better speakers, the premium system added tweeters in the rear doors, and the ninth speaker was an 8" powered subwoofer located under the driver's seat

With the trim panel out of the way, it's time to remove the stereo (Crutchfield Research Photo)
Replacing your factory radio
Removing the stereo is fairly simple, unless your stereo is integrated into the dash panel (found on some 2009-up models). Those vehicles require a little more work once the stereo is out of the dash, but we'll get to that scenario in a minute. The Xterra offers plenty of room behind the dash panel and you can select either a single-DIN (2" tall) or a double-DIN(4" tall) stereo, so you'll be able to choose from many aftermarket models.
One quick note about the Rockford Fosgate system: When you replace the stereo in these systems, you can safely use the factory amplifier with your new stereo, and the receiver wiring harness you get from Crutchfield will enable you to connect it properly. However, your new receiver must have two sets of preamp outputs (front and rear) or you'll lose the ability to fade the music from front to back. Keep this in mind when shopping for a receiver.
When removing the stereo, you'll start by using a panel tool to carefully pry up the plastic tray on top of the dash above the radio. Remove the screw that you find underneath the tray. Pry out the trim panel around the receiver and climate controls, and unplug the harnesses from it. Remove the four Phillips screws holding the stereo in place, then pull out the stereo and disconnect the wiring plug and FM antenna.

Newer models have a factory stereo integrated into the dash (Crutchfield Research Photo)
2009-up integrated radio: For those newer models that have the radio integrated into the dash panel (shown above), the dash disassembly and removal process is the same. But when you pull the dash trim off, you'll find that the radio is attached to it, instead of the dash substructure. So once you've unplugged all the harnesses, flip the dash/radio assembly upside down and find the four screws that secure the radio to the dash panel.
No matter which type of factory stereo you have, you'll need a mounting kit to install the new receiver, a wiring harness to make the electrical connections without cutting into your Nissan's wires, and an adapter for the FM antenna cable. All of these are available at a deep discount with all receiver purchases from Crutchfield.
If you're installing a double-DIN receiver, you'll need to use the mounting brackets attached to the sides of the factory stereo. If you no longer have these brackets, you'll need to get replacements from a Nissan dealership. Follow the instructions included with the mounting kit to install it, then install the new stereo according to the instructions in your free Crutchfield MasterSheet™, and reassemble the dash.
Airbag light note: if your Xterra has a passenger's side airbag, there'll be an airbag light connected to the dash panel that you remove. You can safely detach this light from the panel by removing the screws holding the light in place. Do not take the easy road and unplug the cable from the light. Doing so will cause the computer to receive a fault code, causing the airbag light to trigger. You'll have to take the truck to a Nissan dealership, and pay a service fee, to reset the truck's diagnostic computer.
Tools needed: Phillips screwdriver, panel tool
Shop for car stereos that fit your Nissan Xterra
Steering wheel audio controls
It's relatively easy to retain your Xterra's steering wheel audio controls when you install a new stereo. When you enter your vehicle information, our database will choose the adapter you need to make your factory steering wheel controls work with your new receiver.
Replacing your factory speakers
The Xterra's stock speakers are adequate, but if you're serious about sound, you'll definitely want to upgrade.

The Xterra's factory tweeters (Crutchfield Research Photo)
Dash tweeters
You can remove the factory tweeters without much difficulty. All you need to do is pry off the grilles, then, depending on which stereo system you have, remove either two or four screws securing the tweeter. The only difficulty lies in the fact that these screws can be hard to get to with a screwdriver. A right-angle screwdriver will save the day.
When the screws are out, lift out the tweeter and unplug the wires. To mount a new tweeter, you'll have to fashion a bracket to hold it in place. You'll also have to tap into the factory speaker wires because there aren't any aftermarket adapters available for this location. We carry a universal bracket that will come in handy for this, and Posi-Product wire tap connectors can really help with the wiring.
Tools needed: Panel tool, right-angle Phillips screwdriver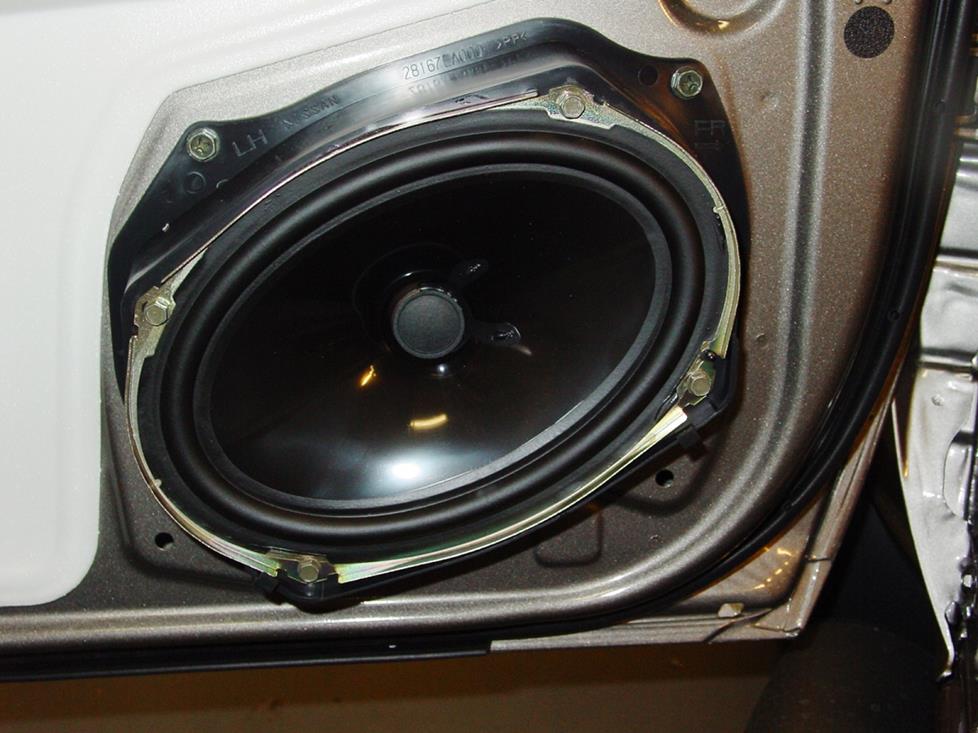 The front speaker in the Rockford Fosgate system (Crutchfield Research Photo)
Front speakers
As mentioned earlier, the front door speakers are 6"x9" ovals in both versions of the factory stereo system. The space in front of the speakers is a little tight, so only a few aftermarket 6x9's will fit. You can also install 6-1/2" or 5-1/4" speakers in this location, using adapter brackets that are available at a discount when you purchase your speakers from Crutchfield. Choosing one of these smaller sizes will give you more replacement options.
There are no wiring adapters available for the Xterra, so you'll have to splice the new speaker wires to the truck's wiring. This is another place where the Posi-Product wire taps will be very helpful. If you use these, you won't have to cut off the factory connectors.
The door panels will have to be removed to gain access to the speakers, but the process isn't terribly hard. There are three screws to remove, located behind the door pull, armrest, and power options switch panel. After that, just use your panel tool to pry around the bottom and sides of the door panel until you release it. Full step-by-step instructions are detailed in your MasterSheet.
Tools needed: Phillips screwdriver, panel tool, 8mm socket, ratchet & extension,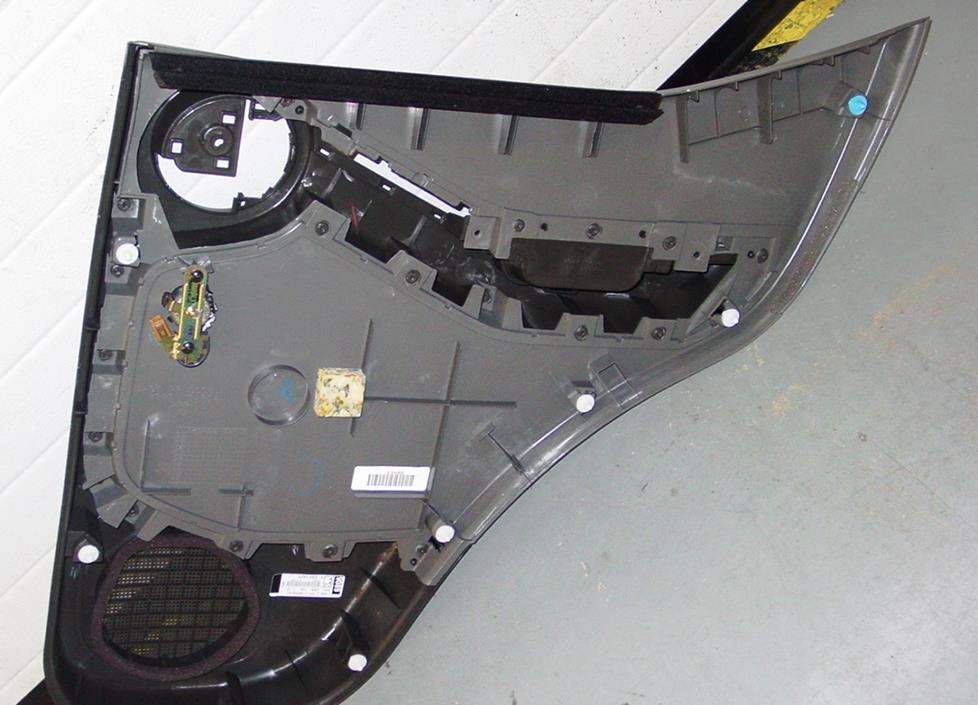 The premium sound system's rear tweeters are mounted on the underside of the door panel (Crutchfield Research Photo)
Rear speakers
Removing the rear door panel is nearly identical to removing the front door panel. Once you have the panel off, you can install 6-1/2" or 5-1/4" speakers, again with the help of a mounting bracket. You'll also have to drill new mounting holes for the bracket.
Simply attach the bracket to the new speaker, then hold it in place so you can mark the screw holes with a pen or marker. Set the speaker assembly aside and carefully drill the new holes. Once again, a wiring adapter is not available, so you'll have to splice the wires as you did in the front doors.
Rockford Fosgate systems: If you have the Rockford Fosgate audio system, you'll also find tweeters mounted on the inside of the rear door panel. They're held in place by two screws and can easily be replaced.
As with the dash tweeters, you'll need to fashion a mounting bracket and splice the wires. If your new tweeters have a threaded screw hole on the back, you might even be able to re-use the Nissan brackets. The factory tweeters are 1-3/8" in diameter, so your replacements shouldn't exceed this size.
Tools needed: Phillips screwdriver, panel tool, 8mm socket, ratchet & extension, drill and 1/8" bit
Shop for speakers that fit your Nissan Xterra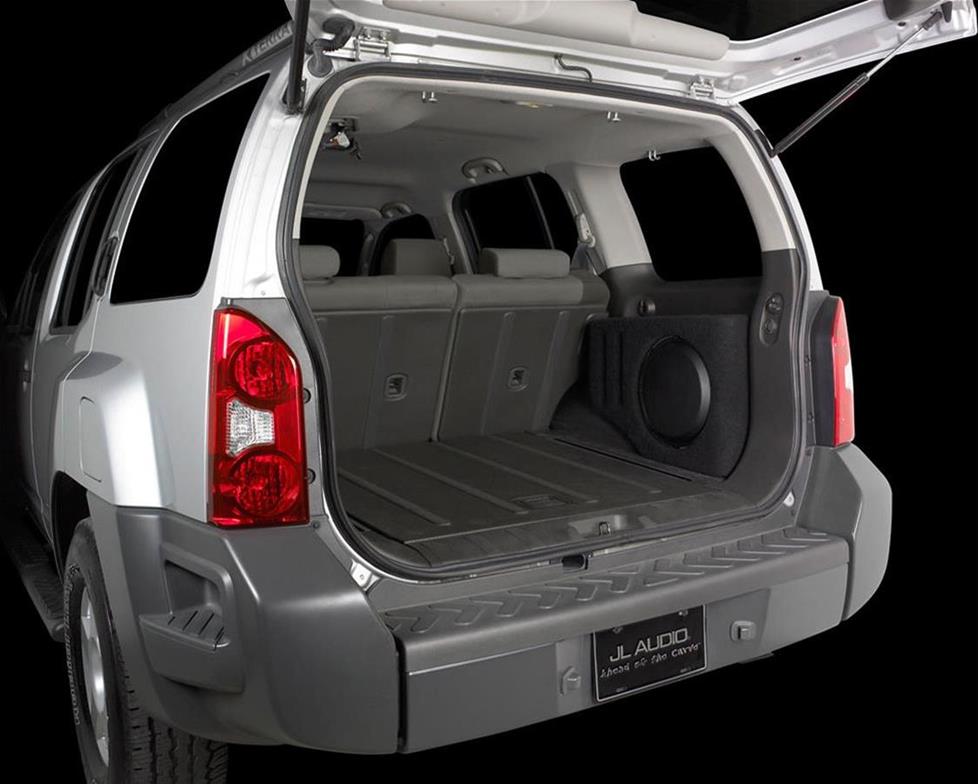 JL Audio Stealthbox for the Xterra (right) (Photo courtesy of JL Audio)
Bass in your Nissan Xterra
If you don't have the Rockford Fosgate system, your Xterra can certainly benefit from more bass. There's obviously plenty of room for a subwoofer box in the back. Shop our selection of bass packages to take the guesswork out of matching subs and amplifiers.
If you want a stealthy option that preserves your cargo space, consider the JL Audio Stealthbox® custom-fit subwoofer enclosure. It mounts against the passenger-side rear wall and contains a 12" JL Audio subwoofer capable of handling up to 500-watts RMS. Add an amp and fill your truck with hard-hitting bass.
Shop for vehicle-specific subwoofers for your Nissan Xterra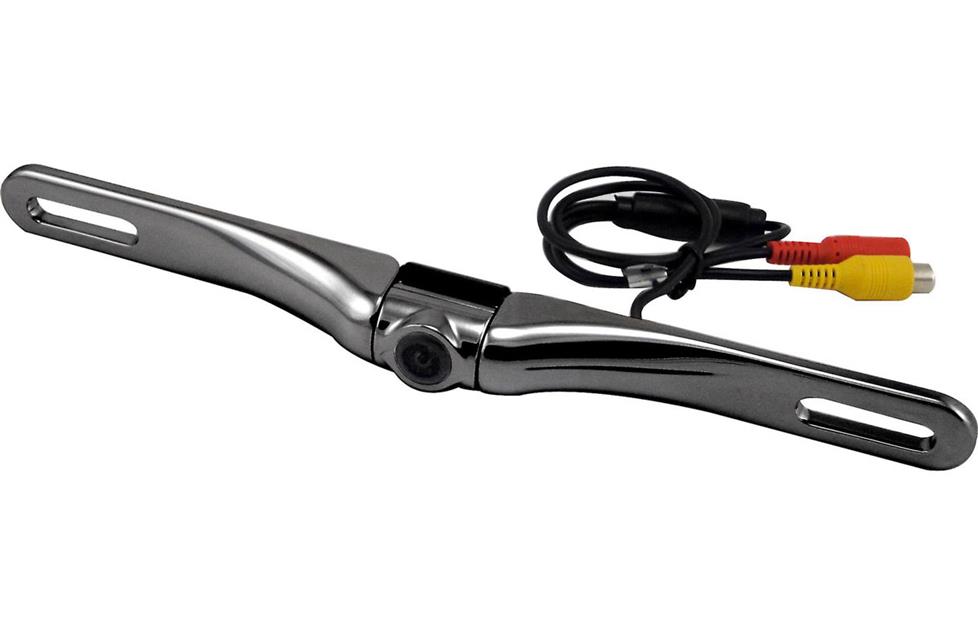 The low-profile Accele RVCLPMB camera will help you see what's behind you when you're backing up.
Other options for your Xterra
There are lots of things you can add to improve your Xterra. Here are some ways Crutchfield can help:
Rear-view camera
With a vehicle as big and tall as the Xterra, it's important to be aware of your surroundings. A rear-view camera is a big help when you're backing up in a crowded parking lot.
Sound processor
If you choose to keep the stock radio, install a sound processor to send a clear, clean signal to your new amp. Sound processors remove any limitations on the signal imposed by the factory radio. The better the signal, the better the sound. Read our article explaining factory sound processors to learn more.
Security
Installing a security system in your Xterra isn't easy (security systems rarely are), but it's definitely a good idea. Our Crutchfield Advisors can help figure out what you need to get the job done, but we usually recommend taking your car and new gear to a professional installer.
Shop for car security systems for your Nissan Xterra
Find the audio gear that fits your car or truck
Visit our Outfit My Car page and enter your vehicle information to see stereos, speakers, subs, and other audio accessories that will work in your vehicle.