2009-2012 Ford F-150 SuperCab
2009 • 2010 • 2011 • 2012
Jon Paulette is a veteran automotive writer who has spent a fair portion of his life hanging out at racetracks and talking to amazing people who make extremely loud cars reach ridiculous speeds. Despite all that, he still has enough hearing left to enjoy a stupidly large music collection. A native Virginian, Jon lives in the Charlottesville area, roots for the Nationals and would like a good BBQ sandwich right about now.
More from Jon Paulette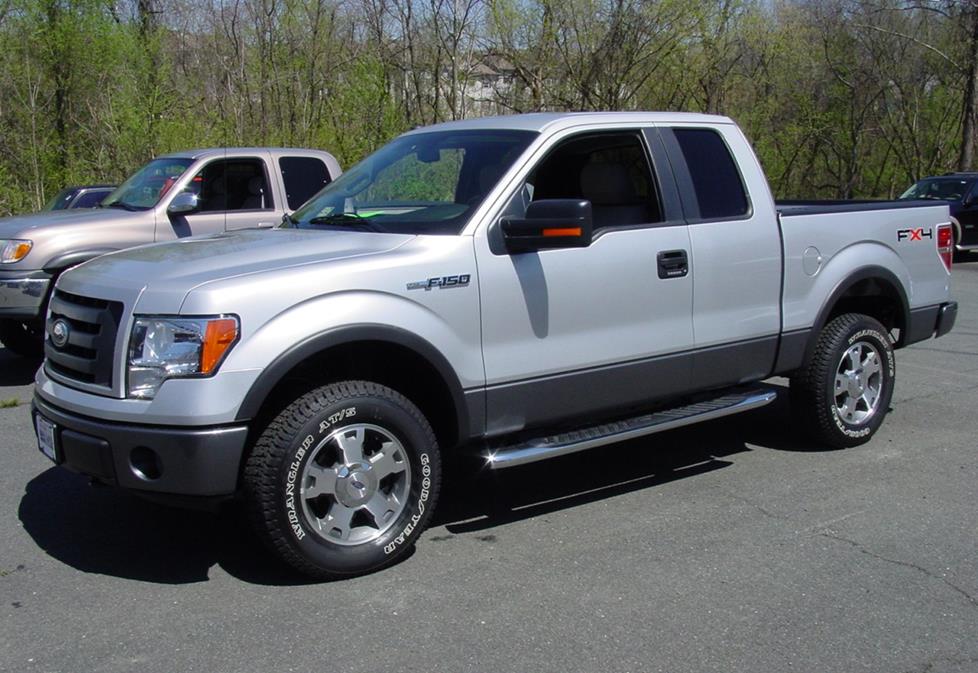 In a Nutshell
This article discusses how to install car audio gear in your F-150. Check it out and then use our vehicle selector to find audio gear that will fit your pickup.
The factory speakers are, at this point, probably the weakest link in your truck's audio system. Replacing them is the quickest way to really improve your sound quality.
Replacing the factory receiver (especially if it's the base AM/FM radio) will give you access to a whole new world of entertainment options, plus you'll finally be able to hear your new speakers at their full potential.
Adding an amplifier and a subwoofer might seem like a bit much in a pickup, but it really isn't. Even if you don't like to crank your music at maximum volume, you'll notice a distinct improvement in every aspect of your favorite songs.
Full Story
Overview of the Ford F-150 SuperCab
Even the most casual sports fan knows the clichés that flow out of every media outlet every time the previous year's champs prepare to open a new season: No matter the sport, we're all helpfully reminded that last year was last year, staying number one is tough, and that the other teams are really going to go after them because being the champ is like having a target on your back.
Is it boring, bland sports-speak? Of course it is. Alas, it's also true, which makes the Ford F-Series pickup's 3-decade-long (and counting) run at the top of the truck sales charts all the more amazing. Talk about your 3-peats.
Needless to say, with huge profits and prestige at stake, Ford had a lot riding on the 12th generation F-Series that debuted in 2009. The new line, led by the wildly popular F-150, didn't disappoint, with a tough new look, three useful body styles, an amazing array of trim levels and options, and the rugged versatility that people – lots and lots of people – want from a pickup. Not surprisingly, the F-Series isn't just the most popular truck in the country; it's one of the most popular vehicles of any kind.
This article is an overview of your vehicle's audio system and its upgrade options. If you're looking for step-by-step instructions on how to install a car stereo or speakers in your F-150, there's nothing better than our exclusive
Crutchfield MasterSheet
™. This detailed, well-illustrated document is free with your Crutchfield order, or you can purchase one separately for $9.99.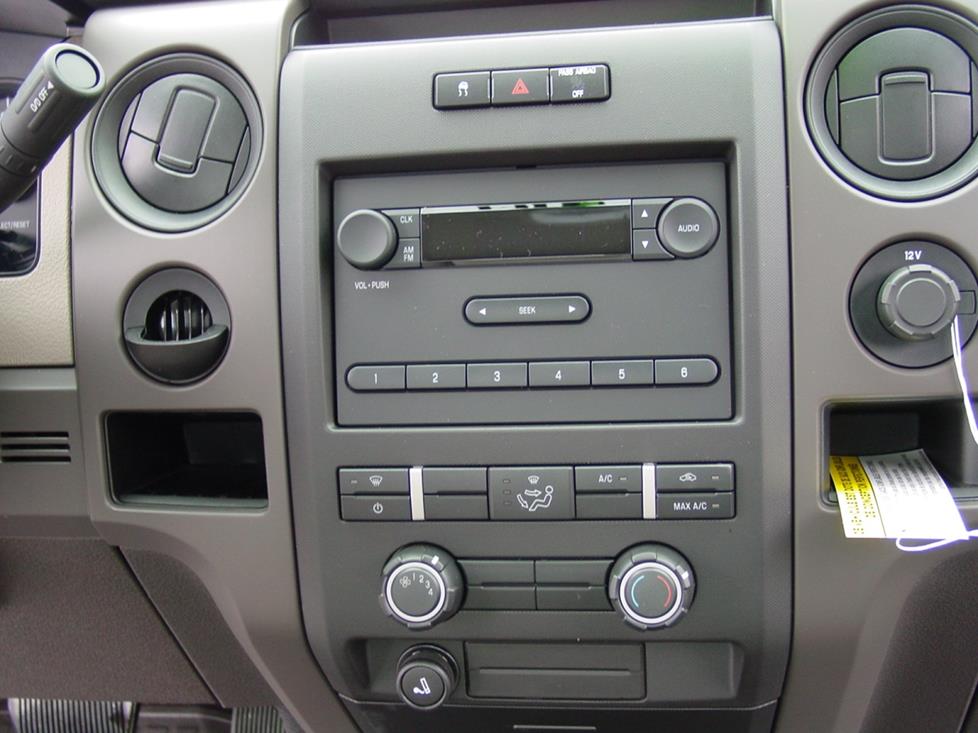 The F-150's standard radio (Crutchfield Research Photo)
Factory stereo system
The F-150 SuperCab was available in a variety of different trim packages with a variety of different stereos. The base stereo was a simple AM/FM radio, and the step-ups went from a CD player with an aux jack all the way to a Sony audio system. Satellite radio was an option as well, not to mention Ford's SYNC® system. No matter what's in the dash and doors, though, those factory stereos aren't as powerful and rugged as the truck that surrounds them. Thankfully, we know how to fix that.

This system is fully integrated into the F-150's dash (Crutchfield Research Photo)
Replacing your factory radio
In basic terms, the F-150 has one of three radios: integrated, non-integrated, and a navigation receiver. Details between receivers vary, of course, but for our purposes, the type means a lot more than the specs.
The integrated and non-integrated radios require a dash kit, which is available at a discount with most Crutchfield stereo purchases. These kits, which work with single-DIN (2" tall) or double-DIN (4" tall) aftermarket stereos, do a very nice job of integrating your new receiver into your existing dashboard.
Depending on which radio you're replacing, you'll lose functions like the factory aux input connection, satellite radio, or SYNC. Thankfully, the right combination of adapters and gear will let you get those features back, better than ever. Our Advisors can help you choose the right package for your needs, and give you the advice you need to do the job right.
If your truck is equipped with the top-of-the-line nav radio, though, there's an issue. The climate control system is integrated into the factory radio, so there's (currently, anyway) no way to replace it and retain those functions.

Here's a look at what's behind the fully-integrated factory radio (Crutchfield Research Photo)
Removing the radio
To get started on replacing your radio, open the lower dash storage tray. Push out the SYNC panel (or, if you don't have SYNC, a blank plate) from behind to release the retaining clips. Disconnect the harnesses and remove, then remove the exposed 7mm screw.
Pull up the rubber mat in front of the dash display and remove two exposed 7mm screws. Then, carefully pry out the inside edges of both radio side panels to release the retaining clips — but don't remove them.
What's next depends on which factory receiver you have. Pry out the faceplate (integrated radios) or trim panel (non-integrated) to release the retaining clips, disconnect the wiring harnesses, and remove the faceplate or panel.
If you have an integrated radio, remove the screws securing the radio/chassis to the dash, then disconnect wiring harnesses and antenna and remove the entire assembly. If you have the non-integrated radio, just remove the screws, disconnect the harness, and remove the radio. Complete, illustrated instructions can be found in the Crutchfield MasterSheet that's included free with your order. You'll also get a deeply-discounted receiver wiring adapter that you'll use to connect the new receiver to your vehicle's wiring.
Steering wheel audio controls
It's relatively easy to retain the steering wheel audio controls when you install a new stereo in your F-150. When you enter your vehicle information, our database will choose the adapter you need to make your factory steering wheel controls work with your new receiver.
Tools needed: Panel tool, socket wrench, extension, and 7mm socket
Shop for car stereos that fit your Ford F 150 FX2
Replacing your factory speakers
Depending on the factory stereo package, the F-150 SuperCab will have speakers in the front doors, front pillars, center dash, and rear doors.

This F-150 has power windows (Crutchfield Research Photo)
Front speakers
The F-150 SuperCab is a relatively uncomplicated truck, so replacing the front door speakers is a relatively uncomplicated process. How much so depends on your DIY skills, of course, but if you're reasonably handy with tools, it really isn't that bad.
Another factor is whether your truck has power windows or good old-fashioned crank windows. Either way, you'll need to remove the door panels. The important thing is to work slowly and carefully to avoid breaking or damaging the plastic bits.
The factory 6"x8" speakers can be replaced by same-size or 5-1/4" models. If you go with the smaller speakers, you'll need a speaker adapter bracket, which is included free with your speaker purchase from Crutchfield.
Tools needed (power windows): Panel tool, socket wrench, extension, 5.5mm, 7mm, 8mm & 1/4" sockets
Tools needed (manual windows): Panel tool, socket wrench, extension, 5.5mm, 8mm, & 1/4" sockets, Torx T-20 driver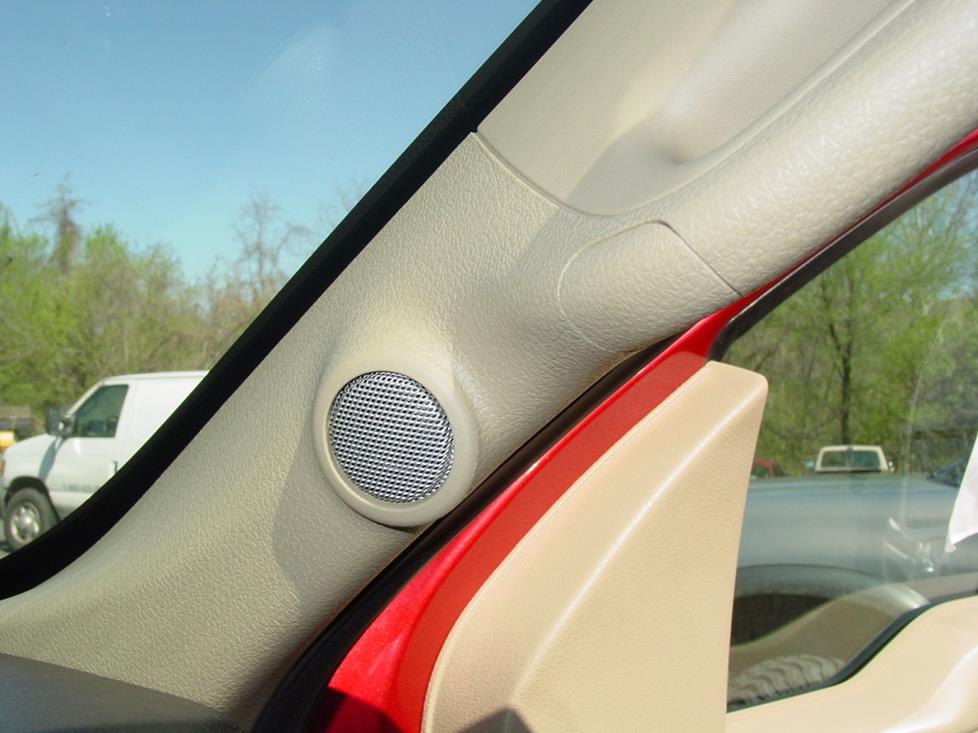 The tweeters are located in the front pillars (Crutchfield Research Photo)
Front pillar tweeters
Trucks equipped with the factory Sony audio system include a few more speakers than the average F-150, including a pair of 4-ohm tweeters located in the front pillars. Replacing isn't difficult, but there are some things you'll want to know about before you start.
For one thing, there's a bit of a difference in how you remove the driver's side and passenger's side tweeters. It's nothing major – on the driver's side, you pull down the door gasket and pry out the plastic trim; while on the other side, you have to remove the pillar pull handles before you can get to the door gasket – but it's good to know. Complete instructions can be found in your Crutchfield MasterSheet.
To mount the new tweeters, you'll either need to make your own mounting bracket, or use one of our universal backstraps. A wiring harness is not available for this location, so you'll want to make the connections using a set of Posi-Products connectors. This is a lot easier than splicing, plus you'll get a much stronger connection – a good thing, considering how often you open and close the front doors.
Tools needed: Panel tool, Phillips screwdriver, socket wrench, 7mm socket, and extension (passenger's side only)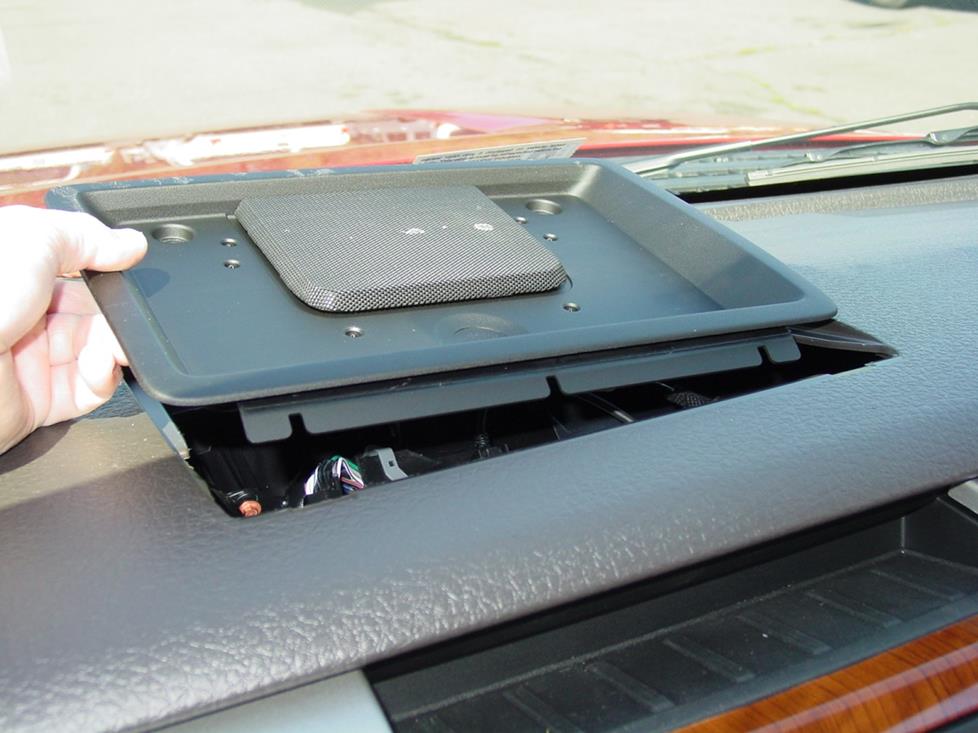 The center dash speaker is easy to reach and replace (Crutchfield Research Photo)
Center-channel dash speaker
Trucks equipped with the Sony factory system also have a 3-1/2" speaker in the center of the dash. This speaker is easy to reach and easy to replace, but you'll want to use another set of Posi-Products connectors to create a strong, long-lasting hookup.
You'll also need to cut off two plastic location pins from the factory speaker bracket before you mount your new speaker. This modification does not affect the bracket's structural integrity.
Tools needed: Socket wrench, 5.5mm and 7mm sockets, extension, small flat blade screwdriver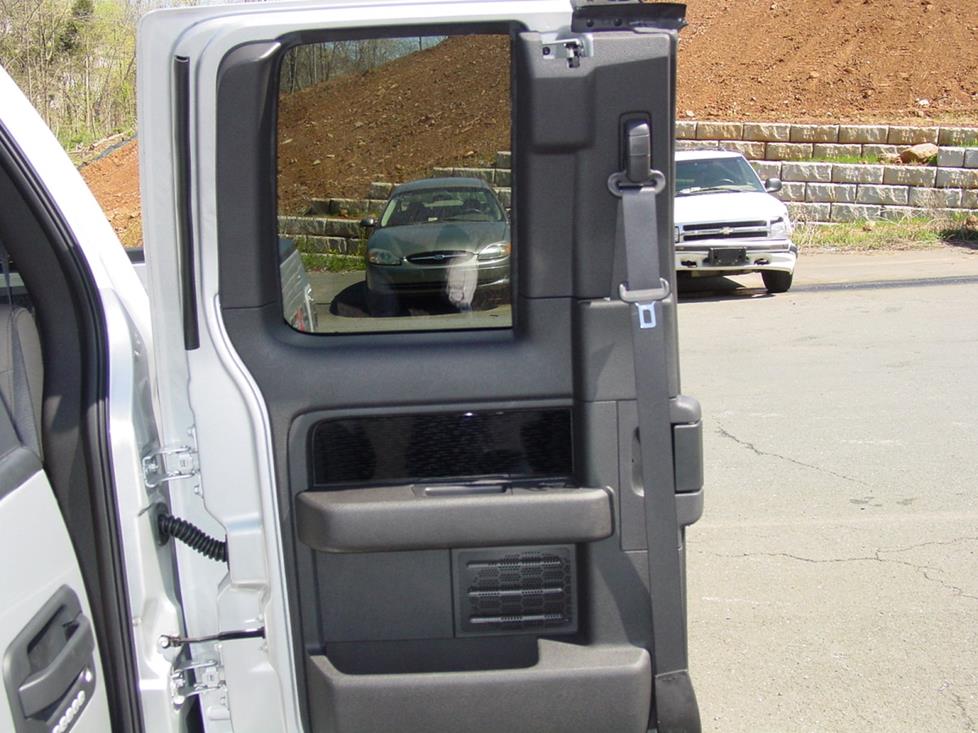 The F-150 SuperCab's rear door (Crutchfield Research Photo)
Rear door speakers
The handy rear door is a big part of what makes the SuperCab super. A better set of rear door speakers makes it, um, super-er. Okay, let's just say that new speakers are a definite improvement over the factory models.
As with the front doors, the factory 6"x8" speakers can be replaced by same-size or 5-1/4" models. If you go with the smaller speakers, you'll need an adapter bracket, which is included free with your speaker purchase. Removing and replacing the speakers isn't hard, but there are a lot of steps and you'll definitely put your socket wrench set to good use.
Because you'll be dealing with three different screw sizes, it's a good idea to make sure you have some cups or bowls handy to keep them (and the extension bits) organized. It's also important to work slowly and carefully when you're removing the various plastic bits and panels.
The complete, illustrated instructions in your Crutchfield MasterSheet will guide you through every step of the process, and our Tech Support team is only a phone call away – even on weekends.
Tools needed: Panel tool, small flat blade screwdriver, Torx T-50 driver, socket wrench, extension, and 5.5mm, 6mm, and 10mm sockets
Shop for speakers that fit your Ford F 150 FX2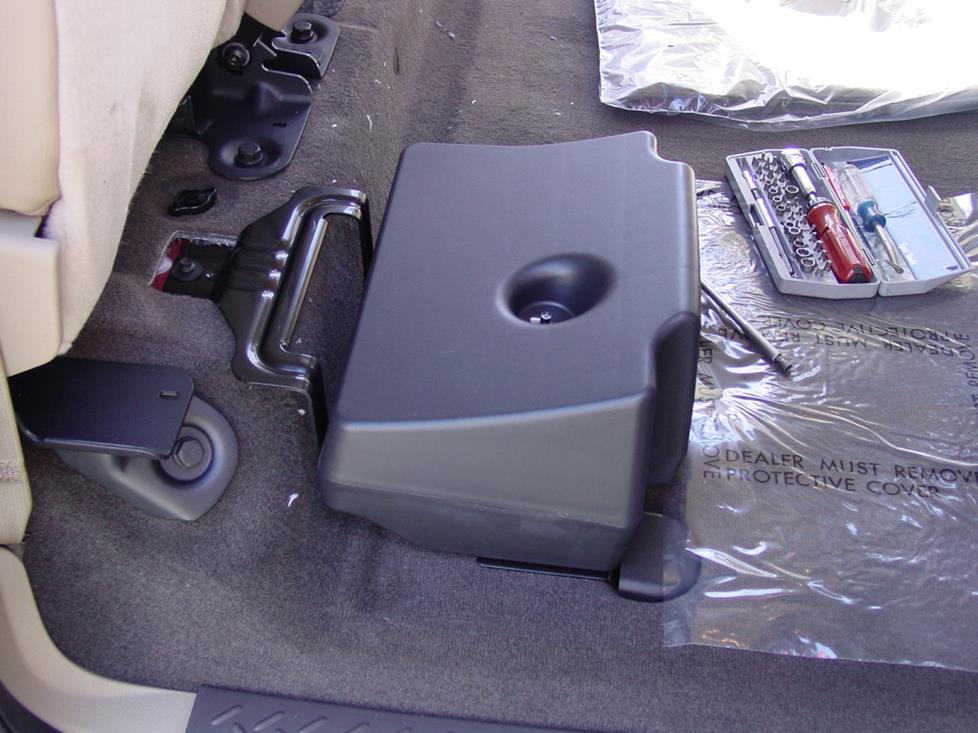 Some models feature a factory subwoofer underneath the rear seat. (Crutchfield Research Photo)
Bass in your Ford F-150 SuperCab
The factory 8" subwoofer, also a part of the Sony system, is located under the right rear seat. This down-firing, dual voice coil sub is quite easy to remove and replace, and a wiring harness is not needed. The factory amplifier won't have enough power for an aftermarket subwoofer, so if you replace this sub, you should also install a new amp.
To get started, lift up the seat; then remove the 8mm screw that secures the rear enclosure bracket to the floor. Pry off both front enclosure bracket covers and remove one 8mm screw under each one. Remove one 8mm screw on the back of the enclosure; then remove eight Phillips screws that secure the subwoofer to the enclosure.
Once that's done, disconnect the harnesses and remove the sub. You'll need to use self-tapping screws when you install your new aftermarket subwoofer. You'll need a Phillips screwdriver, a socket wrench, extension, and an 8mm socket for this job.
If you're thinking about going big and installing a custom sub box underneath the rear seats, you have a 52" W x 6" H x 11" D space to work with in the SuperCab. Of course, the easier option is to install a custom-designed sub package from Kicker or MTX Audio. These sub enclosures are custom-made to fit your F-150 perfectly. Some are even available in colors that match your truck's interior. To see what's available to fit your F-150, go to our Outfit My Car page and enter your vehicle information.
Shop for vehicle-specific subwoofers for your Ford F 150 FX2
Other options for your F-150 SuperCab
Floor mats
No matter how much you pamper your truck, you're eventually going to get involved in some sort of truck-like activity that gets you and/or it dirty. When that happens, it's a good idea to have a set of WeatherTech Floor Mats in your truck. These incredibly durable mats trap moisture, contain dirt, and keep your factory carpets looking good.
Sound damping
Your F-150 SuperCab is a big vehicle with big doors and the aerodynamic profile of, well, forget the cute analogies, a truck. To prevent wind noise and road roar from undoing the great work your new stereo is doing for you, make sure you install Dynamat when you're replacing your speakers. This soundproofing material is a great way to dampen the sounds you don't like and get more enjoyment out of the ones you do. For more information on installing Dynamat in a pickup, check out an informative series of articles on our 2004 F-150 project truck.
Security
Installing a security system in your F-150 isn't easy (security systems rarely are), but it's definitely a good idea. Our Crutchfield Advisors can help figure out what you need to get the job done, but we usually recommend taking your car and new gear to a professional installer.
Shop for car security systems for your Ford F 150 FX2
Find the audio gear that fits your car or truck
Visit our Outfit My Car page and enter your vehicle information to see stereos, speakers, subs, and other audio accessories that will work in your vehicle.