3 ways to 'pick up' the audio in your truck
Upgrading the audio in Toyota, Ford, and Chevy pickup trucks
Dave was born in Buffalo, NY, but spent the majority of his life in central and northern Virginia. He began his collegiate career at Virginia Tech, but completed his education with a degree in teaching from Radford University. His Crutchfield career began in 1997 as a Sales Advisor. His father had been a satisfied Crutchfield customer since the '80s, and when Dave saw the job opening, he knew it could be a good thing. In 2013, the Crutchfield creative staff grew tired of the corrections and suggestions Dave always threw their way, so they decided to give bring him on as a copywriter for the mobile electronics division.
When not dealing with these corrections and suggestions, Dave enjoys watching and playing ice hockey. Cooking intrigues him, although cleaning up after does not. Movies, music, and art take him away. Crime and forensic shows bring him back. History makes him pause. His interest in electronics stems from fond memories of making mix tapes from vinyl, radio, and the newest format at the time, the compact disc.
More from Dave Delamere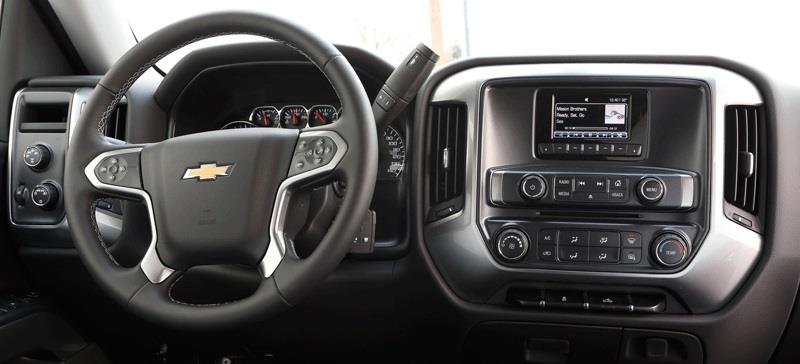 If you own a pickup, odds are you spend a lot of time in it for work and play — much of it with the audio system cranked. Many late-model trucks offer cool modern functions like steering wheel audio controls and integrated Bluetooth® hands-free systems.
But factory sound can often lack the fidelity and impact you want. So let's talk about some options for stepping up your sound, while keeping those conveniences and available interior space in play. We'll look at three approaches you can take to improve the sound in your truck:
Replacing the factory radio
Increasing the power of the factory system while keeping all of the stock gear
Upgrading the entire audio system while keeping the factory radio
---
Pro tip
Plan your attack. Before the installation, read and then reread the detailed Crutchfield MasterSheet™ instructions you'll receive with your order. These instructions give you a feel for the work ahead, and let you know what tools to have handy.
2002 Toyota Tundra — The conventional approach of replacing the radio
Todd, our director of E-Commerce, wanted much better sound for his 2002 Toyota Tundra. His ailing stock radio didn't have the crisp, clear output like his desktop system does, and it only played CDs and cassettes. That made his daily drive home a bummer after listening to a nice sound system all day.
So he took his first step by replacing the radio for more power and better clarity in his music. Replacing the factory radio in a vehicle really represents why Crutchfield was started forty years ago, and it's still one of the best ways to improve your vehicle's sound.
Todd had seen the cool factory systems that offer Bluetooth® connectivity, a USB port, and navigation, and he wanted these features in his new stereo. He also wanted the ability to connect and charge his iPhone®, and he was really excited about getting touchscreen controls. The Clarion NX404 DVD receiver delivered all of that and more.
Pro tip
Protect loose parts. When you're removing the old radio, keep a covered container handy for all the screws and fasteners you'll reuse for the new radio. This keeps them all in one spot, and you won't lose them if you knock it over.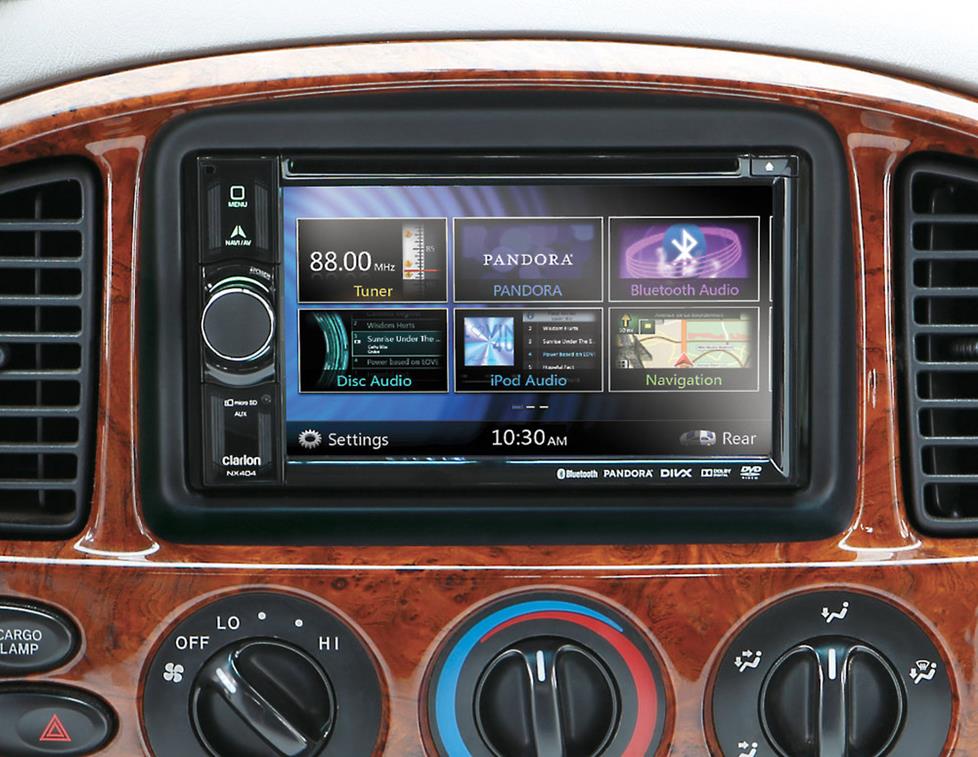 Todd installed a Clarion navigation receiver installed in his 2002 Toyota Tundra.
Prime benefits of a new radio
A new radio will deliver more power, a cleaner signal, and more features.
With a new receiver's expandability, you're ready for new speakers, an amp, and
a subwoofer down the road.
---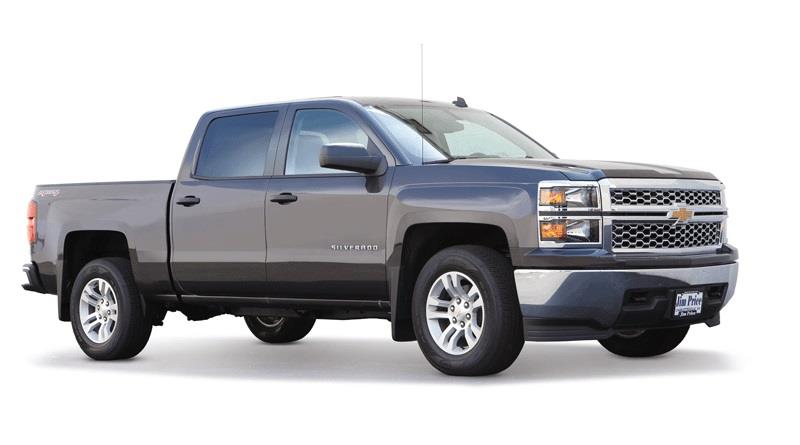 2014 Chevy Silverado — Kicker's VSS™ Powerstage™ enhances the factory system
Let's suppose that you like the look of a newer factory radio, such as the one in the new Silverado. It looks good in the dash, and you like the controls that Chevy provides. Systems like Kicker's PowerStage let you keep the look and feel you know, but upgrade what you hear.
Kicker's unique PowerStage system includes an amplified subwoofer and an amplifier with a built-in digital signal processor (DSP) that works with your factory speakers and radio for improved audio. We installed one in a 2014 Chevrolet Silverado Crew Cab to hear what it could do.
Pro tip
Reduce the friction. Before you run the amp's power cable to the battery through a grommet in your truck's firewall, spray a little lubricant on the cable jacket so it slides through easier.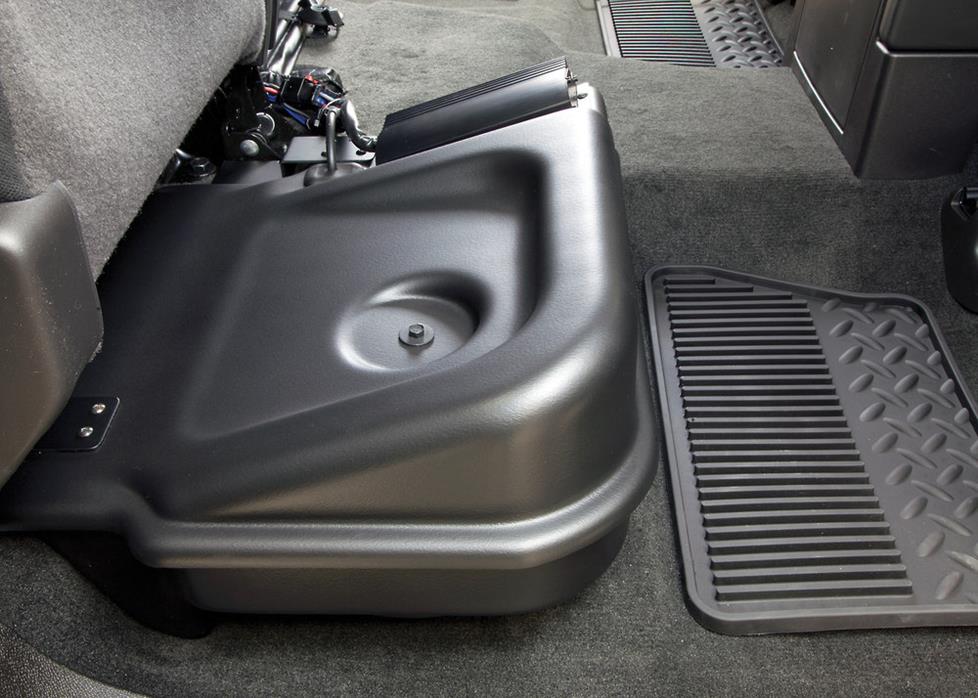 The SoundGate amplified sub mounts under the rear seat and delivers low-end bass.
Kicker technicians measured the interior acoustics of the Silverado, and with that data, they developed the DSP/amp to get the most power and clarity from your factory speakers. And once it's installed, it's outta sight...literally.
An audio upgrade wouldn't be complete without some added bass oomph. So as part of the PowerStage system, Kicker created a custom-fit subwoofer enclosure that includes a 10" sub with an attached 200-watt amplifier, all of which stays hidden under the rear seat.
Pro tip
Keep it neat and safe. When you run any cables to the engine compartment, use cable ties to secure the cables to existing wiring bundles. In addition to a tidy appearance, your cables won't contact hot surfaces or moving parts.
When listening to a few tracks on the factory system in the Silverado, we heard a narrow concentration on the mid-range, typical in factory systems. With the PowerStage installed, we immediately noticed a more pronounced and controlled bass response. The factory tweeters also came alive with renewed vigor for the higher frequencies. It sounded like a new system, while still using the factory audio gear.
Kicker includes a custom bracket that secures and hides the PowerStage DSP/amp under the dash.
Kicker's PowerStage system gets the most out of your factory speakers by providing more power and re-equalizing your audio.
The PowerStage sub tucks under the back seat to save space, but still delivers solid bass impact.
---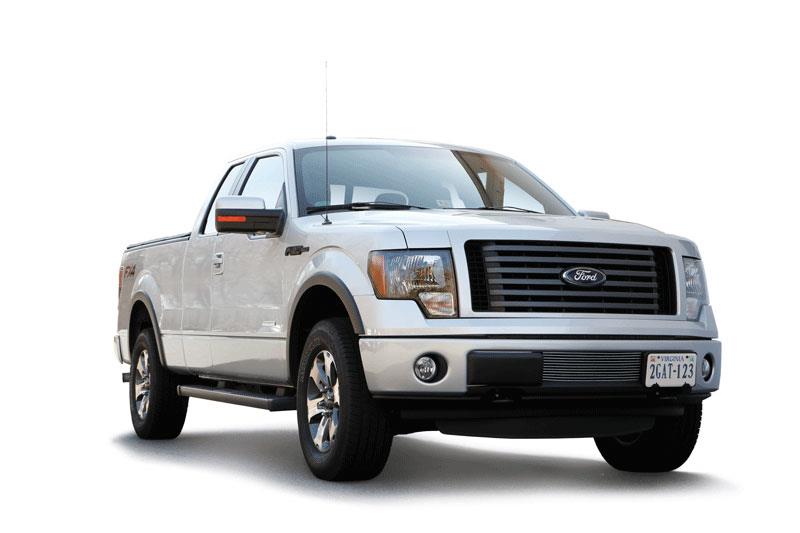 2013 Ford F-150 — JL Audio's stealthy solution
JL Audio's StealthMod® system includes an amp, new front door speakers, wiring, and custom brackets to secure your new gear. You keep the factory radio, but enjoy improved audio detail from new speakers and an amp. As its name implies, it stays conveniently hidden to conserve precious space.
Ed, our operations manager, decided to really do up his 2013 F-150 Supercab, but he wanted to keep his Ford SYNC® system and the look of the factory dash. We wanted the experience of installing the StealthMod into a Ford, so we joined Ed in completing the upgrade.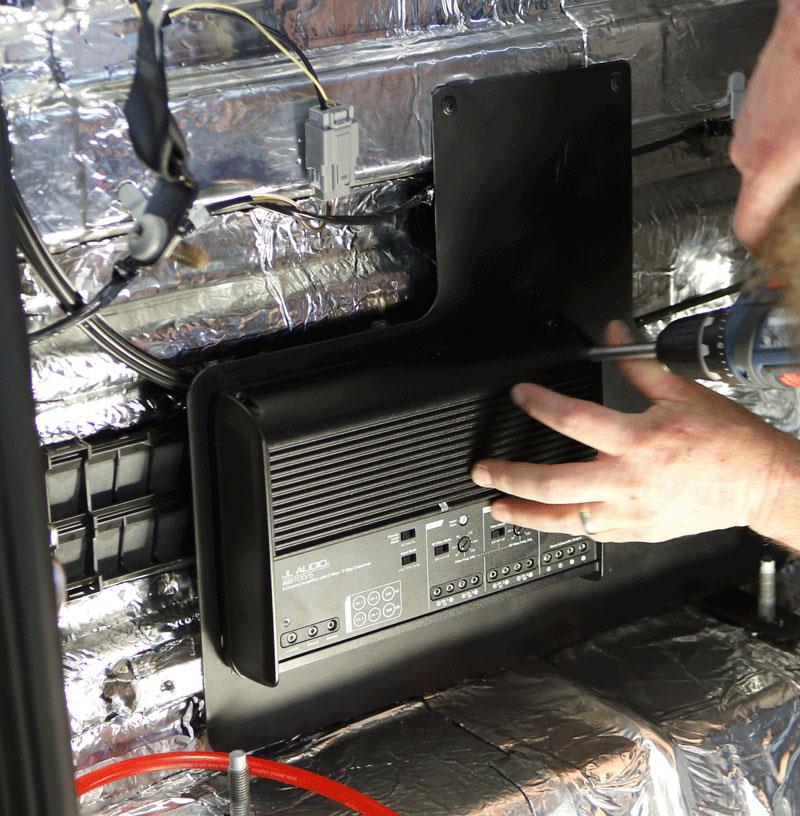 We mount the JL Audio amplifier to the custom bracket.
Pro tip
Quiet down. When your speaker installation requires that you remove your door panels, consider some noise damping material to get rid of road noise and improve your audio.
JL Audio includes its robust 5-channel XD700/5 amplifier to power the entire setup. The power matches the speakers we mounted in the front doors, while also offering speaker-level inputs to integrate the factory speaker wiring. JL Audio designed a custom bracket specifically for the Ford chassis, which allows you to tuck the amp behind the rear seat, neatly out of the way.
The amplifier has a dedicated fifth channel for a subwoofer, which makes JL Audio's Stealthbox® for the F-150 the perfect add-on to the StealthMod system. It let Ed round out his soundstage by adding some deep low end. The 10" W3v3 subwoofer works perfectly with the custom ported enclosure that bolts into brackets under the rear seat. Rear passengers can enjoy the great sound and still stretch their legs out.
Pro tip
Get more than enough cable. When you buy speaker, power, and ground cable, it's a good idea to get at least five feet more than you think you need for unexpected routing issues. Avoid the frustration of not having enough wiring to finish the job.
With the JL Evolution® speakers, you have the option to mount the tweeter and woofer separately or together depending on your application and fit. Ed chose to mount them together to replace the speakers in the doors. JL Audio included custom brackets to secure the crossovers behind the Ford door panels.
While the Ford system got the job done for Ed, his JL Audio upgrade delivered sound that was light years ahead of the stock gear. His bass was tight and clear, and unlike the factory system, the new system offered far wider and more spacious sound with smooth and accurate details.
He found the installation brackets to be a stroke of genius. He mounted the separate bass level knob in the dash, which he described as a "wife-saver," since she prefers a little less thump in her music.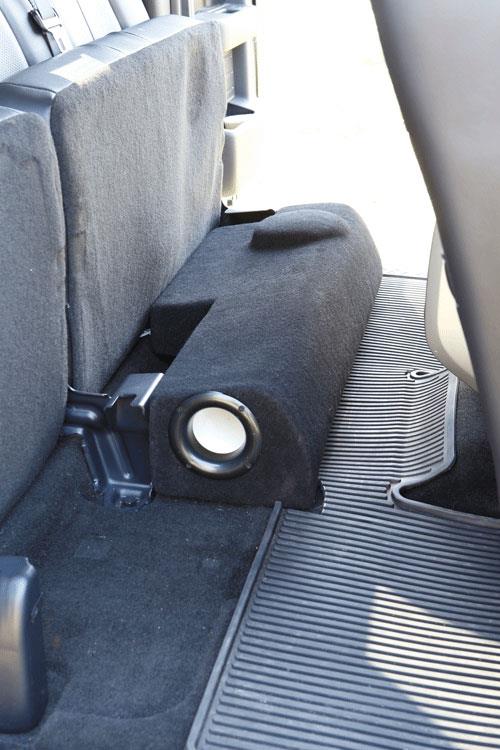 The subwoofer neatly tucks under the rear seat.
JL Audio designed the 5"x7" speakers and the crossovers to fit directly behind the Ford's door panels.
JL Audio's custom brackets secure the XD700/5 amp and the crossovers and keep them out of sight.
The Stealthbox bolted under the left rear passenger seat to add big bass, but retained some leg room.
---
What can you do to your truck?
These system-upgrade options are available for many of the popular trucks on the road today. To see if they're available for yours, and to find out what your other options are for improving the sound system in your truck, use our Outfit My Car tool or contact our advisors by phone, email, or chat.