3 ways to play game day
Fan-pleasing audio-video systems in 3 rooms
Steve Kindig has been an electronics enthusiast for over 30 years. He has written extensively about home and car A/V gear for Crutchfield since 1985. Steve is also a volunteer DJ at community radio station WTJU, where he is a regular host of the American folk show "Atlantic Weekly," as well as the world music program "Radio Tropicale."
More from Steve Kindig
Heads up!
Welcome to this article from the Crutchfield archives. Have fun reading it, but be aware that the information may be outdated and links may be broken.
We wanted to create the ideal whole-house viewing party for football fans. Our friend Ben's home provided the perfect setting, and our first stop was his basement home theater. It's the ultimate guy hangout: dark cherrywood shelves filled with books, bourbon, and cigars. His existing system is good, but we brought along some gear that that we knew would deliver all the excitement of the biggest game of the year.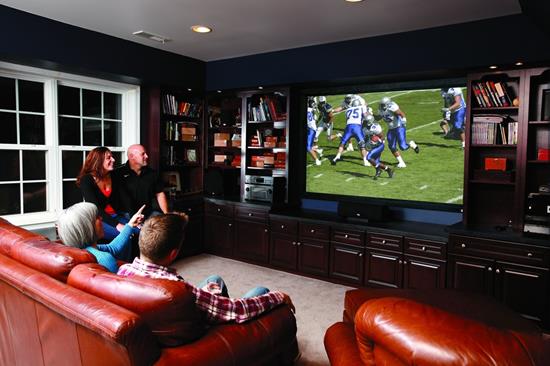 Ben's basement home theater is the kind of room guys love to hang out in. We replaced the 50" plasma TV with a projector and screen, which made the room even better for "event" viewing with a crowd.
Expanding the experience in a basement home theater
Ben's 50" plasma was pretty nice, but there's a special magic about projector-based systems. You just can't beat them for "event" viewing with a crowd. Ben's basement could definitely get dark, but savoring movies cinema-style wasn't the top priority — watching sports was. We chose Epson's excellent 5020e projector partly because it offers a wide range of brightness options: partygoers can keep a few lights on to refill beverages or grab another slice of pizza while still enjoying a crisp, high-contrast picture.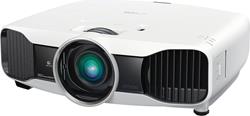 Epson's 5020e throws a spectacular picture, and features wireless HDMI for easier hookup.
Normally, a high-quality projector like the 5020e would be mounted to the ceiling, or at least placed on a sturdy shelf in the back of the room. But we just needed a short-term setup for the photo shoot, and that was another reason we went with the 5020e. Epson's wireless HDMI feature means that cabling simply isn't an issue. The wireless receiver is built into the projector chassis, while the small transmitter module goes near the equipment. Whether we used a Blu-ray player or high-def satellite box this combo delivered a flawless 1080p picture wirelessly — in 2D or 3D. No image stutter, no lip-sync issues, just a seamless high-def experience. We connected the player and satellite box via HDMI to a Denon A/V receiver, then used a single HDMI out to the Epson's wireless transmitter module.
Hey, don't forget the sound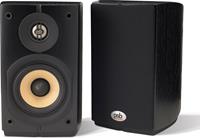 PSB's Imagine Minis produce a remarkably big sound from such compact speakers.
A great picture deserves great sound, right? One of our favorite small bookshelf speakers is PSB's Imagine Mini, and its winning combination of clear, spacious sound and good looks made it a natural choice for Ben's room. We went with the Black Ash finish to avoid having a wood finish that didn't exactly match the cherrywood shelving. A pair of the Minis slipped easily onto the shelves in front. Normally, we'd use another Mini or the Mini Center for the center channel, but we wanted punchier sound to better match the large projected image, so we upgraded to the Imagine C center.
A pair of the Imagine S surrounds went on the back wall. And after playing with a few subwoofers in the Crutchfield Labs, we chose NHT's B-12d powered subwoofer. It's surprisingly compact for a 12" sub, and it can bring the thunder for movie soundtracks, yet it also sounds exceptionally tight and tuneful with music. There wasn't a good spot to place it on the floor, so we improvised and tucked the sub into the front left corner, sitting on the counter. From the seating area it was difficult to locate the sub either visually or sonically, but it definitely contributed a satisfying amount of deep bass.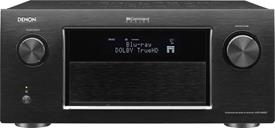 The Denon AVR-4520CI receiver has the brains and muscle to handle just about any system.
Denon's 9-channel AVR-4520CI receiver has more than enough brains and muscle to command this basement system. It drove the Imagine speakers with ease, creating a spacious soundfield that was very detailed and precise. There are a zillion ways to customize the sound, but we did like most people and took advantage of Audyssey Labs' MultEQ automatic setup and room calibration. It not only made things sound more balanced overall, but also seemed to anchor the front-stage dialogue and effects more effectively to the screen.
For the system's Blu-ray player our goals were top-notch picture and sound quality along with same-brand ease of use, so the obvious choice was Denon's DBT-3313UDCI.
Next stop: the upstairs living room
For Ben's living room, we wanted an uncomplicated system that delivered on picture and sound quality but didn't clutter the room with components and speakers.
Surround sound that hides in plain sight

Definitive Technology's SoloCinema XTR system has a sound bar and separate wireless subwoofer.
Our challenge: How to outfit Ben's beautiful living room with a real home theater system that wouldn't get in the way. The oak mantel below the TV screamed "sound bar." But a lot of sound bars create their surround effects by bouncing sounds off the room's walls and ceiling. Ben's room pretty much ruled that out — it has a stairway on one side, opens onto the kitchen in back, and has a 20-foot ceiling!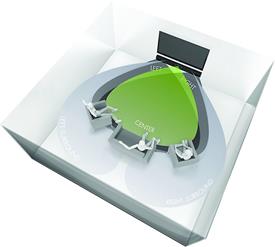 The SoloCinema's multiple drivers and advanced sound processing create the illusion of being surrounded by a roomful of speakers.
Our solution: Definitive Technology's SoloCinema XTR. It's a two-piece powered surround sound system that's a cinch to set up and use. The long and low sound bar is only 2-3/8" deep, so it's the ideal companion for today's ultra-slim TVs. It has dedicated speakers and amplification for five channels, all controlled by sound-shaping digital circuitry. We set it up in just a few minutes — just plugged it in and made single-cable HDMI connections to the TV and satellite box.
The SoloCinema's powered subwoofer is about the size of a stocky briefcase, and is easy to tuck out of sight behind or even under furniture (you can lay it on its back pointing up). It communicates wirelessly with the sound bar, so you can place the sub anywhere in the room and simply plug it in to an AC outlet. The system's remote gives you total control: volume, bass, and source without moving from your sofa.
A TV that gets people talking
We chose Samsung's über-sleek 60" ES8000-series TV for the place of honor above the fireplace. Its super-thin bezel creates an eye-catching "all screen" look. There are a lot of windows in the room and we were concerned about screen reflections, but the TV's anti-glare coating did its job. We saw deep blacks and vivid, accurate colors even with some lights on. The small bump on top of the TV is the camera/microphone for voice and gesture controls and Skype video calls.
If you can't stand the heat, get out to the kitchen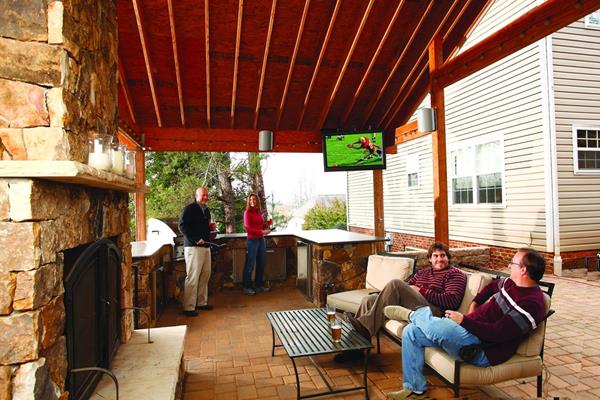 Our final A/V setup was outside the box — literally. We stopped by the house of our top TV guy, Scott. His outdoor kitchen demanded a TV and speakers that not only performed well but could stand up to the elements year-round.
An outdoor kitchen lets you take the party outside
If, like us, you're lucky enough to live where the weather is generally nice at post-season football time, you may have a great party venue on your hands that you've never considered.
Here's an example. Recently, our top TV guy, Scott, completed an outdoor kitchen in his backyard — a suburban Stonehenge he'd been planning for years. When a carload of us showed up at his door to do the photo shoot, he couldn't wait to show us around. With a built-in grill, fridge, and sink, and a weather-proof TV, we didn't want to leave! As the sun went down and the air chilled, Scott built a roaring fire in the huge fireplace.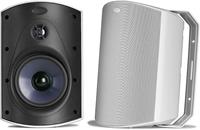 Polk Audio Atrium7 all-weather indoor/outdoor speakers.
For all-weather viewing he'd mounted a 46" SunBriteTV® 4660HD outdoor TV up where everyone could see it. Its high-impact resin exterior resists heat, cold, and moisture. SunBriteTV certifies this set to operate over an incredibly wide temperature range: 122ºF to -24ºF!
The TV was flanked by a pair of Polk's brawny Atrium7 all-weather speakers, which filled the space with rich sound. The rugged design meets or exceeds military specs for full exposure to the elements. These are a great option for any damp environment whether you're installing them in the backyard or in a bathroom.
The receiver and satellite box were placed safely indoors
Weather-proof TVs and speakers make being outdoors just that much more enjoyable. But the sensitive electronics in components like receivers, Blu-ray players, satellite receivers and cable boxes, etc. aren't designed for outdoor use — even if the location is sheltered. In fact, using components outdoors will usually void the warranty. The A/V receiver and Dish satellite box were located in one of the kitchen cupboards.

Marantz NR1603 receiver.
The receiver controlling this system is the Marantz NR1603. It's network-capable, which provided a neat solution to the challenge of operating the system from out in the outdoor kitchen. Once we downloaded the Marantz Remote App we were able to control the receiver with an iPhone® — basic stuff like power, volume, and input selection. And because the Marantz also has built-in Apple AirPlay®, it was easy to play music directly from the phone or to access any of the music in Scott's iTunes library on his computer.