What do you need for 4K TV?
4K Ultra HD TV: What it is and how to get it
Steve Kindig has been an electronics enthusiast for over 30 years. He has written extensively about home and car A/V gear for Crutchfield since 1985. Steve is also a volunteer DJ at community radio station WTJU, where he is a regular host of the American folk show "Atlantic Weekly," as well as the world music program "Radio Tropicale."
More from Steve Kindig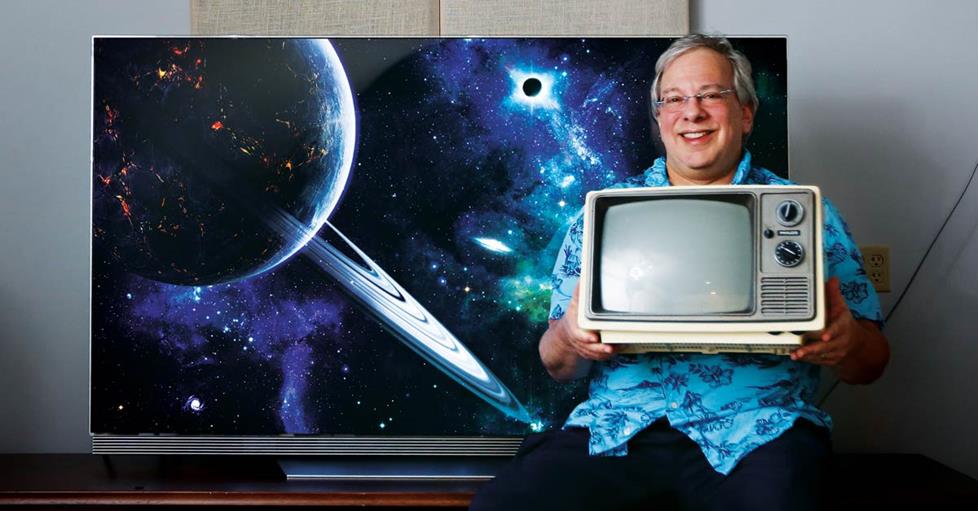 TV technology sure has come a long way since the days of tube TVs. The latest 4K TVs offer dramatic picture quality improvements.
In a Nutshell
4K Ultra HD TVs have four times the picture detail of 1080p HDTVs. A 4K picture has greater clarity and depth than an HD picture, but you may need to get a larger screen, or sit closer, to see all the added detail.
4K TVs come in screen sizes ranging from 40" to 85". If you want an even bigger screen, consider a 4K projector and 4K-rated screen.
4K enhances more than picture detail. Nearly all 4K TVs also support HDR (High Dynamic Range), which can show a wider range of contrast and color, giving images more pop.
Virtually all 4K TVs are smart TVs, with built-in web apps for streaming services like Netflix®, Amazon Instant Video, and Vudu. These services offer a growing selection of TV shows and movies in 4K. You may need to upgrade your internet service and/or router to stream 4K.
Other 4K sources include 4K Blu-ray players, select satellite TV receivers from DIRECTV® and DISH®, and the latest streaming media players from Roku, Apple®, and TiVo®. You can't get over-the-air 4K TV broadcasts yet, but they may begin sometime in 2018.
All the extra picture data in 4K signals places new demands on associated equipment. You may need to upgrade your A/V receiver, as well as your HDMI cables.
Full Story
4K Ultra High Definition TVs have four times the picture resolution of regular "full HD" 1080p TVs, and can display much more detail. Ultra HD TVs are often referred to as "4K" TVs, because they have a horizontal resolution of around 4,000 pixels.
You've probably seen a movie in 4K without even realizing it — 40% of movie theaters use 4K digital projectors to display Hollywood's latest hits with maximum detail and depth.
Now, imagine how lifelike watching at home would be with that many pixels on a 40" - 85" TV screen instead of a 30-foot theater screen. Or, if you want the most theater-like experience at home, combine a 4K Ultra HD projector and 4K-rated screen.
More pixels = more picture detail
Whether it's a TV, a tablet, or a smartphone, the more pixels a screen has, the more seamless and detailed the picture will look. The ideal is a screen where the "pixel structure" is invisible.
You already find that on high-end tablets and phones like those with Apple's "Retina" display. 4K Ultra High Definition models take television a giant step in that direction — you have to stand right next to an Ultra HD TV to notice any pixels at all.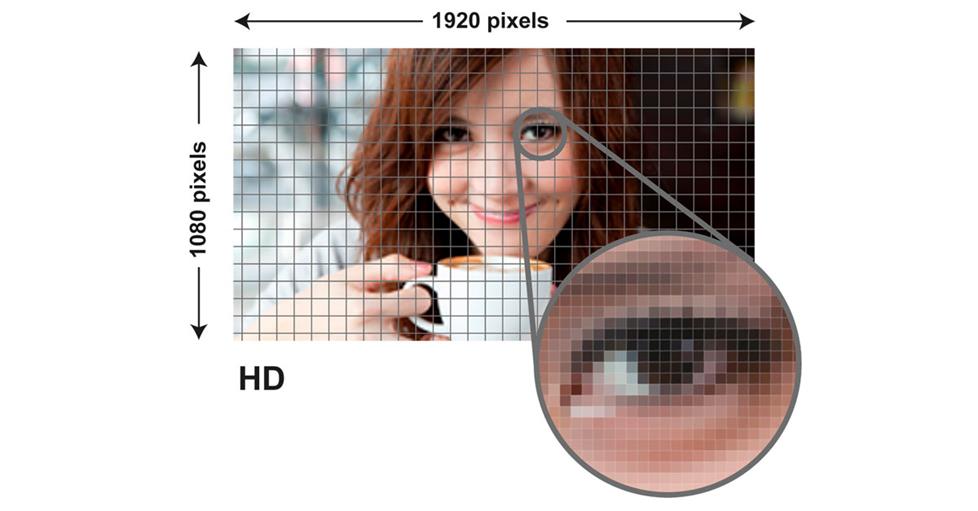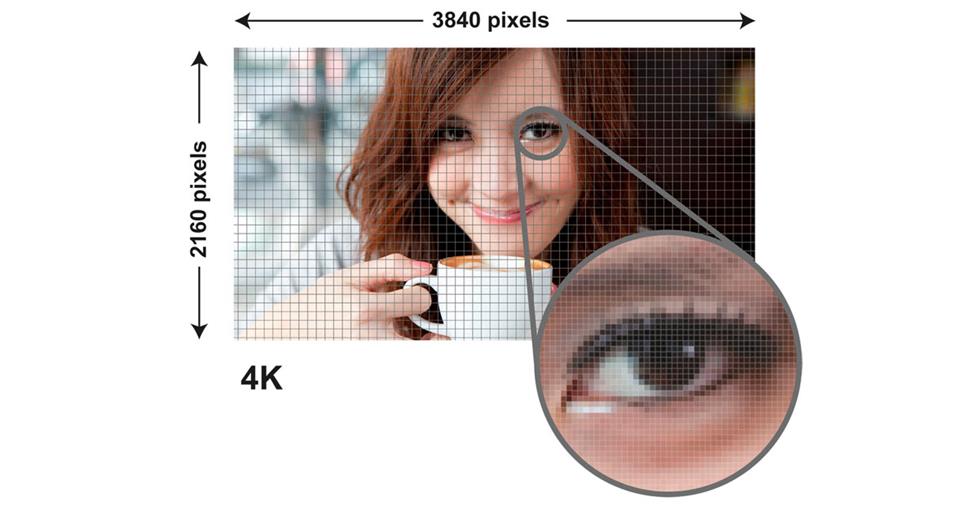 A 4K TV's higher resolution means you can sit much closer to the screen without seeing the pixel structure. Sitting closer — or getting a bigger screen — also adds to the sense of immersion. See our article on TV sizes and viewing distance for specific recommendations.
Another 4K TV picture quality advantage: HDR (High Dynamic Range)
Many people think that 4K is just about picture detail, but there's much more to it. Nearly all 4K TVs from major brands support a technology called HDR (High Dynamic Range). HDR allows TVs to reproduce a wider range of white to black. This not only improves the all-important picture contrast, but also gives colors more pop.
To get the full scoop on HDR, see our HDR article.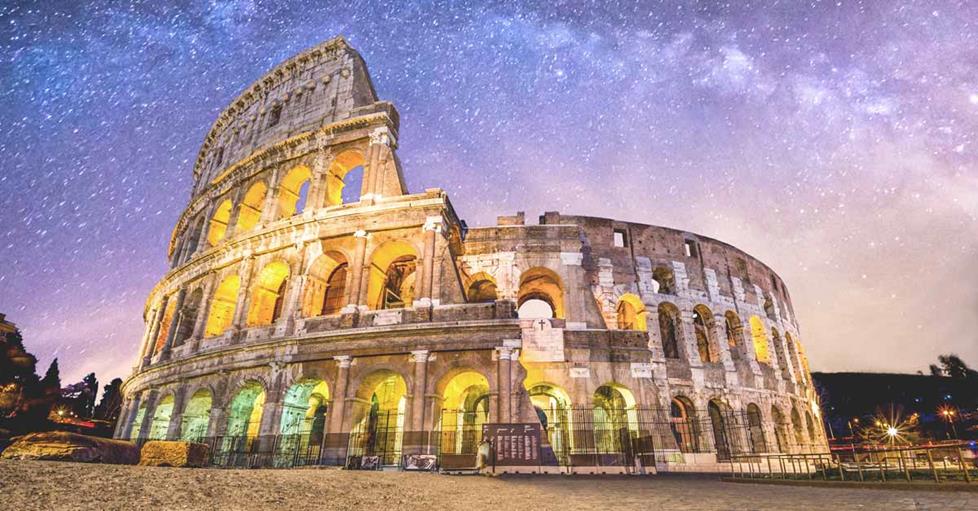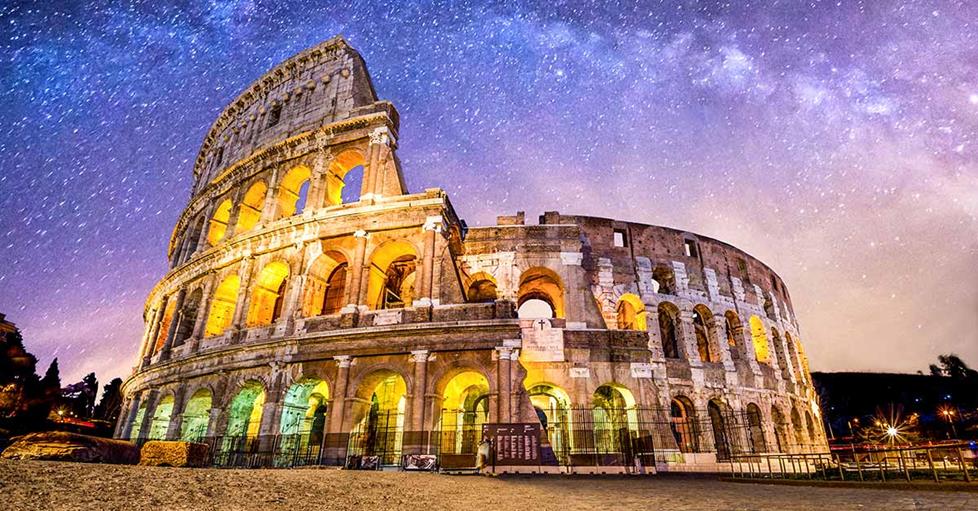 "Where can I find 4K content to watch?"
Start with the TV's built-in 4K streaming apps
Millions of people subscribe to Netflix® and/or Amazon Prime Instant Video, and both services produce most of their original TV series in 4K. These two services provide a great low-cost introduction to 4K viewing that requires no additional components. 4K streaming does require reasonably fast Internet service — TV makers recommend at least 20Mbps.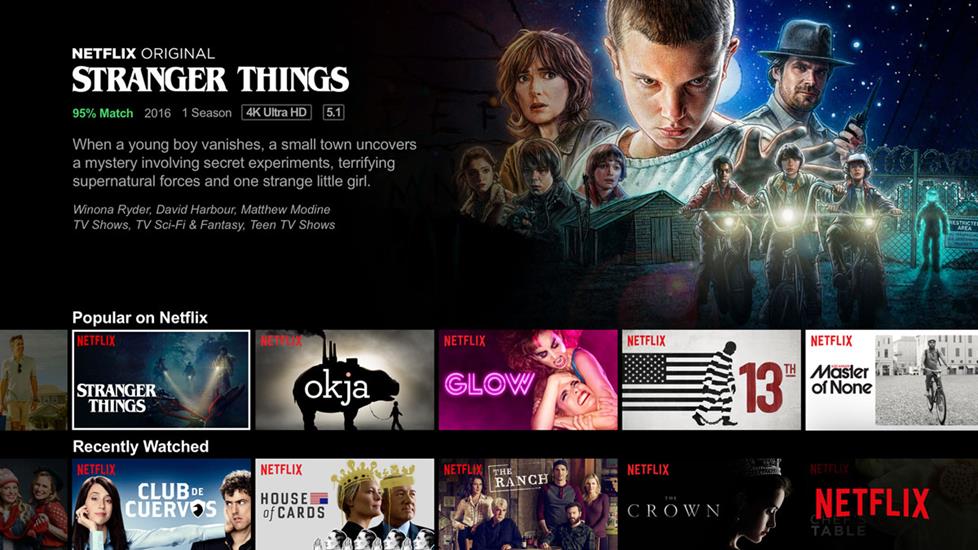 Netflix offers several of its highly-rated original series in 4K, as well as a few movies.
Netflix's large selection of 4K content includes original series, like Bloodline, Dear White People, Longmire, Marvel's Jessica Jones, Ozark, Stranger Things, and Unbreakable Kimmy Schmidt. You can also watch other high-quality 4K TV fare such as the complete Breaking Bad series, and Better Call Saul.
Some of Netflix's 4K content also has HDR: Friends from College, GLOW, Marvel's Daredevil, Santa Clarita Diet, and a few others.
What you'll need: a 2014 or newer 4K Ultra HD TV with HEVC decoding and a Netflix app, plus a Netflix 4K streaming subscription (currently $12.99/mo.). The Netflix app is included on most 4K TVs, but if you'd rather use an outboard media streamer, you can go with one of the 4K-compatible Roku models, the Apple TV 4K, TiVo's Bolt DVRs, and the latest version of Amazon's Fire TV.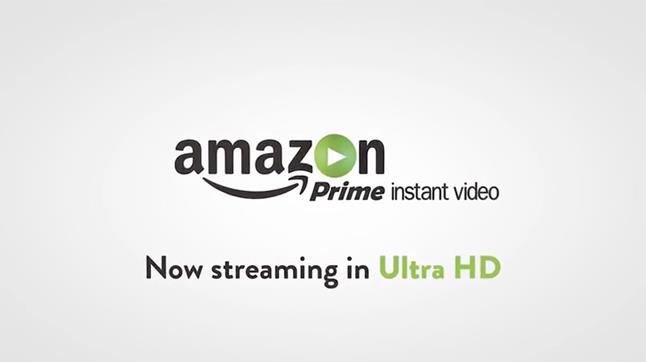 Amazon
If you're already an Amazon Prime member, you probably know that one of the perks is Amazon's Prime video streaming service, which includes a significant amount of 4K content. It's a terrific bonus — free access to some great content, including Amazon's impressive lineup of original TV series.
Most of these shows are in 4K, like The Man In the High Castle, Transparent, and Alpha House. A few shows, like Mozart In the Jungle and Bosch, also get the enhanced quality of High Dynamic Range (HDR), if your 4K TV has the necessary decoding capability. Amazon also has some 4K movies in their Prime catalog, like Hitch, Manchester by the Sea, and The Lost City of Z.
What you'll need: a 2014 or newer 4K Ultra HD TV with HEVC decoding and an Amazon app, an Amazon Prime subscription (currently $99/year). Outboard media streamers that can deliver Amazon 4K content include the 4K-compatible Roku models, the Apple TV 4K, and the latest version of Amazon's Fire TV. (Even if you're not an Amazon Prime member, you may still be able to rent or purchase 4K movies.)
There are also pay-per-view streaming sites with 4K content, like Vudu and UltraFlix™. Not all 4K TVs include built-in apps for these services, so if you're comparing TV models it's worth spending a few minutes to find out which services are supported.
YouTube has an eclectic and growing library of millions of 4K video clips. While you probably won't find your favorite movie or TV show, there are a few concerts in 4K, as well as some amazing nature documentary footage.
4K Blu-ray players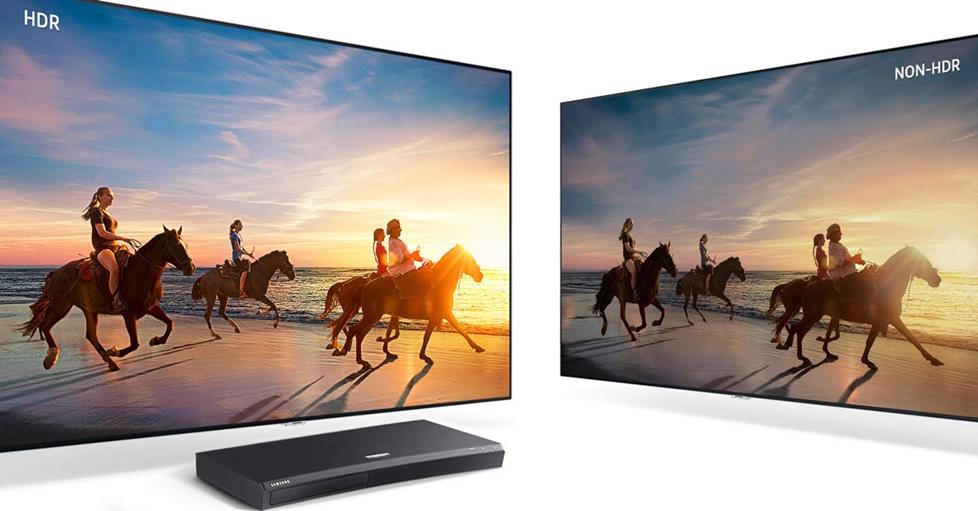 Like 4K Ultra HD TVs, Ultra HD Blu-ray players support resolutions up to 3840 x 2160 pixels. And because Ultra HD Blu-ray discs can hold a lot more data than standard Blu-rays, the picture can have not only more detail, but also higher contrast and a wider color range.
Most (but not all) 4K Blu-ray players include two HDMI outputs. You'll be able to run one HDMI cable directly to your 4K TV for video, and another one to your receiver for audio. Your 4K TV will need to have at least one of the latest HDMI 2.0 connections with HDCP 2.2 copy protection, but if you run a separate HDMI for audio, your receiver won't.
For the most complete and up to date info on 4K content options, read our 4K content article.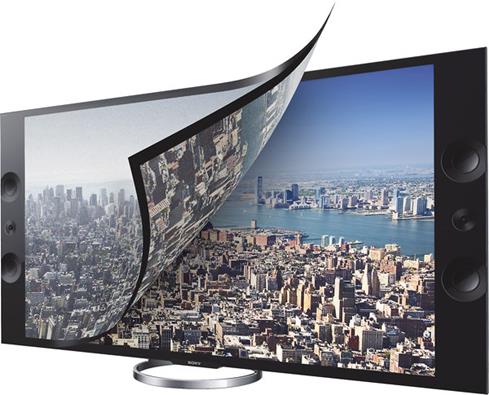 How will my current video sources look on a 4K TV?
Don't worry if you don't have access to any 4K video sources right away. All 4K TVs include built-in 4K upconversion, also called "upscaling," which takes the video signals from your Blu-ray or DVD player, satellite or cable TV box, or game console, and makes them fill the 4-times greater pixel count of the 4K screen.
Without upconversion, a 1080p Blu-ray signal would appear as a small rectangular image at the center of the screen, with black bars on all sides. While upconverted 4K isn't the same as true 4K, video processing has improved dramatically in recent years, so that non-4K video sources can look surprisingly good. Blu-ray, in particular, looks terrific on a 4K TV.
Want more information or advice?
If you'd like more information or some help picking out the right 4K TV for your setup, give one of our advisors a call at 1-888-955-6000.