Enjoying Music, Movies, and Photos from your Computer on your TV
Kristen is a former copywriter for Crutchfield. She wrote copy for both the web and catalog, covering a variety of home A/V products that included speakers, camcorders, and Blu-ray players. She also wrote a number articles and blog posts for the Crutchfield Know Zone.
More from Kristen Schaub
Heads up!
Welcome to this article from the Crutchfield archives. Have fun reading it, but be aware that the information may be outdated and links may be broken.
Many of us store all of our vacation photos, home movies, and MP3s on our computers or connected hard drives. Wouldn't it be great to review pictures and videos with friends on the biggest screen in your house? Or to play your entire collection of digital tunes on the speakers in your living room?
It's possible when your TV, receiver, game console, or Blu-ray player is connected to your home network. You just have to look for gear that's labeled "DLNA-certified." That means that these devices use an industry-wide standard for recognizing and playing digital media. Then, you can use that gear to access media stored on your computer.
Another popular route is Apple TV, a small component that can access audio, photo and video content from connected devices in a home network, and the Internet as well. It won't necessarily let you access all the content on your computer — for example, it can't access home movies — but it can be a very user-friendly option. Check out our article on Apple TV basics for more info.
What you'll need
To start off with, you're going to need a home network. Most people opt for a wireless home network, because they can connect their gear anywhere without worrying about running cables. If wireless isn't and option for you, then you'll need to set up a wired system. Check out our article on creating a home network to learn more about how to set one up.
Next, you'll need to make sure that your computer is on and connected to your network. If you're not sure how to do this, then check with your computer's operating system guide. Generally, you can connect your computer to your wireless network in the settings menu.
And of course, you'll need a DLNA-certified device connected to your network. A number of devices offer DLNA streaming, including some TVs, game consoles, Blu-ray players, and a few high-end receivers. These devices essentially act as a portal, allowing you to access information stored on your computer over your home network.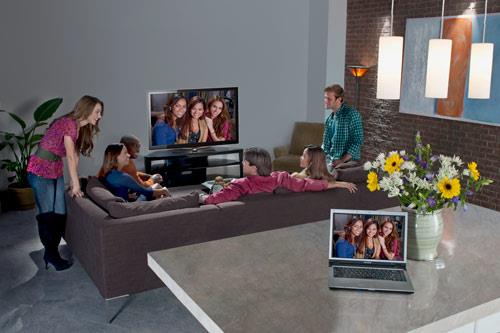 With DLNA, you can stream photos, videos, and music from your computer to your compatible TV, Blu-ray player, and other devices.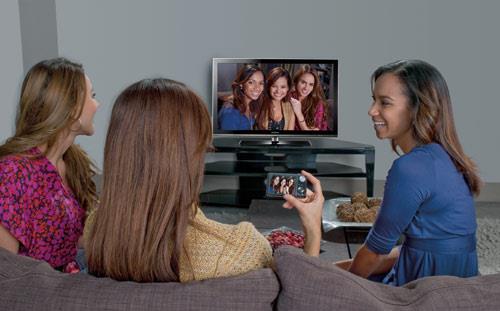 You can also stream media to select TVs from some smaller DLNA-certified devices, like select digital cameras.
What you can expect
Once your device and computer are connected to your network, you should be able to go into your device's menu and choose what you want to play, whether it be home movies, music, or photos.
Although every DLNA-certified device accesses media the same way over your home network, not all devices offer the same user experience. For instance, some manufacturers let you view album artwork or playlists that you may have created in your music library, while other just show the artists and album titles in alphabetized lists. Similarly, some devices require you to pull up each individual photo you want to view, while others will give you a slideshow presentation. It just depends on the device's menu. For this reason, it's usually a good idea to check the product's page on our site, on the manufacturer's site, or your owner's manual.
Getting more
As an added bonus, some DLNA-certified devices may also give you access to broadband Internet movie services like Netflix® and Blockbuster®, video services like YouTube™, and music services like Rhapsody® and Pandora®. If this is something you're interested in, then check out our article on Internet movie and music streaming.