The anatomy of an amazing car subwoofer
A closer look at Alpine's Type-R
Buck Pomerantz was born and raised in Philadelphia. His parents bought their first television set when he was born. He figured out how to run it by the time he was two. Besides athletics, his formative interests included electronics, amateur radio, music, and stage crew work. He got his BA in writing from Brown University. Then he joined a rock 'n roll band as their soundman and moved to Charlottesville, Virginia. After that venture failed, he spent time in Boston, New Orleans, and Berkeley. He worked in a music store in Austin manufacturing, installing, repairing, and operating sound systems for recording studios, clubs, and bands. He moved back to Charlottesville, ran a little recording studio and finally joined Crutchfield as a copywriter. He has 2 grown children and 3 grandchildren, but after a good nap he can still rock out.
More from Buck Pomerantz
What makes a great subwoofer sound so good? For Alpine, it's the blend of high-quality materials and acute attention to detail in design. Each part works in harmony to play your music loudly and clearly.
Take Alpine's Type-R subwoofers, for example. They utilize six patented (two pending) innovations in the technology of creating bass to bring you some of the loudest, cleanest-sounding, and longest-living subs in their class. It's not just the up-to-date materials of the individual pieces — it's also the way they're put together, and even their very shapes, that contribute to the production of superior sound.
We've highlighted some of the Type-R's finest features in the cutaway drawing below. Click on the numbers to read more.
HAMR surround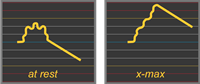 A HAMR surround unfolds as it straightens, so the cone can move to a very high position. This is called its maximum safe excursion point, or its "x-max."
Ordinary surround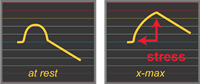 A normal curved surround resists straightening then pops suddenly to a stop, putting stress at its attachment points. The HAMR shape reduces that stress by moving more smoothly as it folds and unfolds.