The anatomy of an amazing car subwoofer
A closer look at Alpine's Type-R
In the 1950's, I'd take the family television's vacuum tubes down to Willow Grove Radio and TV Repair, check them with the giant tester machine, buy new replacement tubes, and reassemble the repaired television, so my mom and dad could enjoy their precious, respectively, Dean Martin and Red Skelton shows. In the 1960's, I studied radio and electronics at the Franklin Institute in Philadelphia. After college, in the early 70's, I joined a rock 'n roll band as the soundman, learning how to operate the electronics that make music sound good. Then, I worked in a music store in Austin manufacturing, installing, repairing, and operating sound systems and components for recording studios, nightclubs, and touring bands. I moved back to Charlottesville permanently in 1984 and opened a little demo recording studio. I also attempted to put to practical use the creative writing degree I had picked up along the way. In 2006, I finally came to my senses and got this job at Crutchfield where they actually pay me to ramble on, rant, and explain the things I love about music, electronics, and getting good sound.
More from Buck Pomerantz
What makes a great subwoofer sound so good? For Alpine, it's the blend of high-quality materials and acute attention to detail in design. Each part works in harmony to play your music loudly and clearly.
Take Alpine's Type-R subwoofers, for example. They utilize six patented (two pending) innovations in the technology of creating bass to bring you some of the loudest, cleanest-sounding, and longest-living subs in their class. It's not just the up-to-date materials of the individual pieces — it's also the way they're put together, and even their very shapes, that contribute to the production of superior sound.
We've highlighted some of the Type-R's finest features in the cutaway drawing below. Click on the numbers to read more.
HAMR surround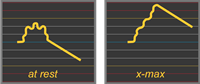 A HAMR surround unfolds as it straightens, so the cone can move to a very high position. This is called its maximum safe excursion point, or its "x-max."
Ordinary surround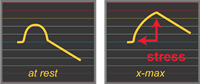 A normal curved surround resists straightening then pops suddenly to a stop, putting stress at its attachment points. The HAMR shape reduces that stress by moving more smoothly as it folds and unfolds.