Anatomy of a Center Channel Speaker
A look inside one of Definitive Technology's best home theater speakers
Dave Bar worked for Crutchfield from 1981 until his retirement in 2016. After a 23-year stint in the sales department, he joined the home A/V writing staff. Dave's expertise and good humor will be sorely missed.
More from Dave Bar
Heads up!
Welcome to this article from the Crutchfield archives. Have fun reading it, but be aware that the information may be outdated and links may be broken.
What you see when you look at the outside of a top-notch home speaker reveals only a fraction of the design and engineering that goes into it. To help you get a better understanding of what makes a high-performance speaker stand out from the crowd, we'll identify some of the various elements that go into one of the speakers we carry and explain how they make this speaker sound so good.
For our "test subject" we chose Definitive Technology's CS-8060HD center channel speaker. Why a center channel? Because in many respects it's the main speaker in a surround sound system, often handling 50% or more of the program material. With so much of your home theater's performance riding on the center, it's vital to choose a first-rate contender.
Sparkling clear highs
The '8060HD's pure aluminum dome tweeter is heat-treated to relax the crystal structure of the metal. It's then coated with a ceramic to help it produce crisp, extended highs that reveal subtle details and shimmer without a trace of edginess.
More support for less distortion
Most speakers use only a single surround to hold the cone in place. The midrange drivers in the CS-8060HD use a balanced double surround system (BDSS) that supports the cone at two points. This helps the cone remain far more stable as it moves back and forth, resulting in clearer, more accurate sound — even at high volume levels.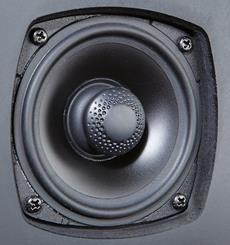 Linear Response Waveguide™
This speaker's unique, mushroom-shaped waveguide smoothes off-axis frequency response for broad, even dispersion and a more realistic sonic "image." That means everyone in the room gets to hear balanced sound with lifelike vocals and instruments, plus better movie special effects.
How about a sub with that center?
The CS-8060HD features an 8-inch subwoofer with a built-in 150-watt amplifier that powers and controls it for high-impact performance. This combo provides powerful, wide-range center-channel sound that blends seamlessly with your other home theater speakers.
Built like a tank for better sound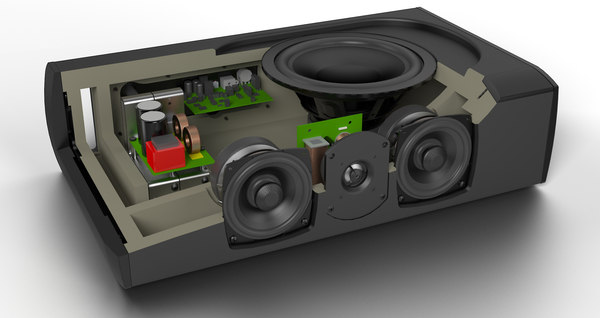 Cutaway view of the CS-8060HD's cabinet.
All the speaker technology in the world would be wasted if you put it into a flimsy box. That's why Definitive devotes as much attention to the construction of their speakers' enclosures as any other part of their design. Thick walls, strong internal bracing, and separate sub-enclosures for the midranges and tweeters keep unwanted cabinet vibration and driver interaction to a minimum for the cleanest possible sound.
Meet the family
Whether you're looking for home theater thrills or startling musical realism, Definitive Technology has you covered. All of the voice-matched siblings in their BP speaker line share the same vault-like cabinet construction, advanced driver array, and thoughtful design to give you spacious, natural sound and serious low-frequency output. They are available in a wide range of sizes and prices to fit every budget and room.