Anatomy of an Amazing Car Receiver
The Pioneer DEX-P99RS sets the stage for premium sound
Ken Nail has written about car audio for Crutchfield since 2003, after four years as Crutchfield Sales Advisor, and 10 years as a music teacher. He's an avid music listener, whose favorites are classical and film music. When not chained to a desk, Ken spends most of his time training for triathlons and marathons, and likes getting outside for backpacking, downhill skiing, and bicycle touring. He attended West Virginia University, where he received a Master's Degree in Music Performance and a Bachelor's Degree in History.
More from Ken Nail

For reference-quality sound — the Pioneer DEX-P99RS
Pioneer's DEX-P99RS flagship receiver is the first choice of many car audio audiophiles and sound-quality competitors. What makes it stand out from the regular run of car stereos? It's the combination of high-quality materials, advanced design, and sophisticated sound-shaping tools that puts this Pioneer Stage 4 product at the top of the heap. For music that's reproduced as accurately and faithfully as possible, you'll find few others that match its musical-reproduction capabilities.
And Pioneer takes many of the advances in technology and design employed in building this receiver and applies them to receivers throughout their product line — in much the same way that some of the tech developed for Formula One™ race cars will show up later in your family car.
Stage 4 - the apex of Pioneer audio engineering
To see the amplifiers, speakers, and subwoofers that make up an entire Stage 4 system, visit our Stage 4 store.

Stage 4 - the apex of Pioneer audio engineering
To see the amplifiers, speakers, and subwoofers that make up an entire Stage 4 system, visit our Stage 4 store.

Advanced equalization that operates automatically
Even the most advanced receiver won't sound its best if you can't tune the output to match the performance space. Pioneer's Auto EQ uses a microphone to analyze the acoustics of your vehicle's interior, then tunes the output automatically. Auto Time Alignment adjusts the timing of speaker output to create a perfect stereo "sweet spot" no matter where you're sitting. If you want to take a more hands-on approach, you can dive into the 31-band digital equalizer, with separate left- and right-channel EQ settings. You can save up to five custom settings, for equalization that matches the music you're listening to.

A display that's as clear as the sound
The bright white Organic Electroluminescent (OEL) display of the DEX-P99RS utilizes advanced organic compounds that emit light when exposed to an electrical current. The display is sharp and easy to read in any lighting conditions, and complements the clean, uncluttered lines of the receiver perfectly. You can choose from 25 colors for the receiver's button and knob backlighting. When you're ready to pop in a disc, just touch a button and the motorized face lowers to expose the CD slot.

Painstaking design and custom components
To achieve incredible sound, Pioneer combines outstanding design with high-quality components. On the design side, the symmetrical circuit board features equal-length trace paths for the left and right audio output circuits, ensuring the best sound possible. Dual power supplies send current independently to each channel for maximum dynamic range and an outstanding signal-to-noise ratio. And since "off-the-shelf" components weren't good enough, Pioneer insisted on custom-built capacitors designed specifically for the power supplies.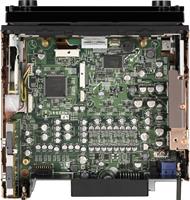 High-voltage preamp outputs
The DEX-P99RS has no internal amplifier - it's designed to send its signal output to Pioneer's Stage 4 amps. To ensure that the amps have the best possible signal to work with, the receiver's four pairs of preamp outputs (high, mid, low, and subwoofer) boast an impressive five volts of power.

Copper chassis for external noise rejection
Because the car is an electronically noisy environment, Pioneer built the DEX-P99RS with a noise-rejecting copper chassis, to make sure that electrical interference doesn't mar your music. Combined with internal circuit routing designed to isolate noise sources, this ensures an excellent signal-to-noise ratio.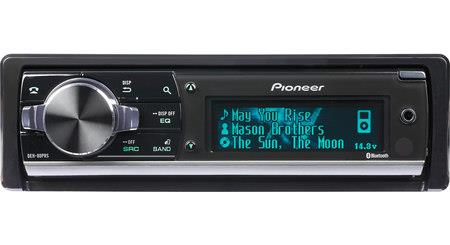 Trickle-down technology