Spotify® vs. Beats Music™
Comparing two of the top music streaming services
Our headphone guy Jeff Miller has helped Crutchfield customers for over a decade. We often see him testing out new headphones — you'll find his firsthand take on many product pages. He also stays connected to the brave new world of voice control.
More from Jeff Miller
Heads up!
Welcome to this article from the Crutchfield archives. Have fun reading it, but be aware that the information may be outdated and links may be broken.
Unlike automated Internet radio services, on-demand music streaming services let you listen to pretty much whatever song you want, whenever you want.
That's cool, but how do you cope with that much freedom of choice? The services offer different ways to find what you're looking for, discover new music, and organize your favorites. There are different versions for different devices. And there are big differences in the way they look and feel.
To help you choose a service that works well for you, this article compares Spotify, one of the longest-running and more popular services, with Beats Music, one of the newest services.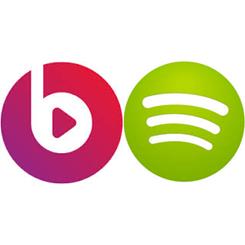 Getting started
Which devices will you listen with? Phone, tablet, computer, or an Internet-connected audio/video component, such as a home theater receiver or a Sonos® wireless music system?
Both Beats Music and Spotify are available for Windows PCs and Apple computers. They're also both available for Android and iOS® phones and tablets.
At this point, Spotify is built into more audio/video components, though both are present on Sonos systems. Either can be played through components that offer Bluetooth® or AirPlay® wireless connectivity. There are a number of Bluetooth-capable portable speakers, wireless home speakers, home theater receivers, and car stereos.
Another option is to make a wired connection from your phone or tablet to a home or car stereo, via USB or the headphone output.
How they integrate with home and car audio products
When you use a built-in service app, the component (such as a receiver, TV, or other networked device) communicates directly with the music service through a network connection. You are not draining the battery of your phone, tablet, or computer, and they are free to do other tasks. You can use the component's remote control to operate the music service.
At launch, Beats was only accessible through computer, mobile, and Sonos. Since then, they've added a tablet app and we expect many more listening options to emerge. Chevrolet announced in March that Beats will be available in some models of their new vehicles this fall.
Both Spotify and Beats Music will be supported by Apple CarPlay®. Apple describes CarPlay as "the smarter, safer, and more fun way to use your iPhone in the car. CarPlay gives iPhone users an incredibly intuitive way to make calls, use Maps, listen to music, and access messages with just a word or a touch."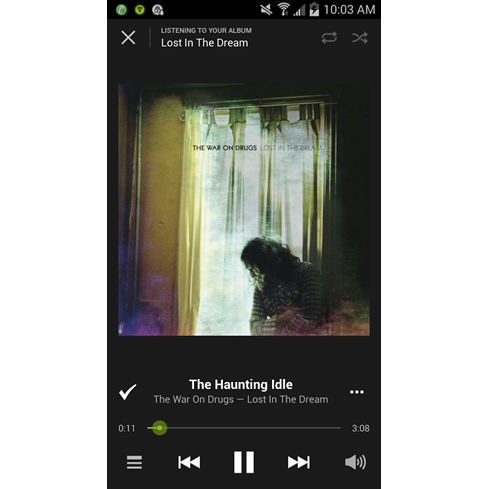 A Spotify Connect "speaker" appears in the bottom corner.
Spotify, with its relatively deep roots (three years in the fast-paced world of digital music is considered "well-established"), currently has built-in apps on many networked devices, including Samsung Smart TVs, and Parrot car stereo receivers.
A few months back, Spotify added a "Spotify Connect" feature to its Android™ and iPhone® apps. This feature was recently tested in the Crutchfield Lab. We used the Yamaha Aventage RX-A1030, one of many Yamaha receivers (with latest firmware upgrade) that offer Spotify Connect. Spotify Connect facilitated the marriage of the smartphone controls with the receiver's built-in app.
Once the receiver and phone were on the same wireless network, a speaker icon appeared onscreen and a tap synced them up. Now I could use either my phone or the receiver's remote to select music, skip tracks, and adjust the volume. We were still relying on the RX-A1030's connection to Spotify, saving the phone's battery life. While the music played, I could take phone calls, text, and use other apps on my phone. I even watched a basketball highlight on YouTube™ — the clip's video and audio played on the phone, but the tunes coming out of the audio system were never interrupted.
Sound quality
Both Beats and Spotify are capable of playing music at up to 320 kilobits-per-second (kbps), slightly above the typical 256 kbps rate of a song purchased from the iTunes® store or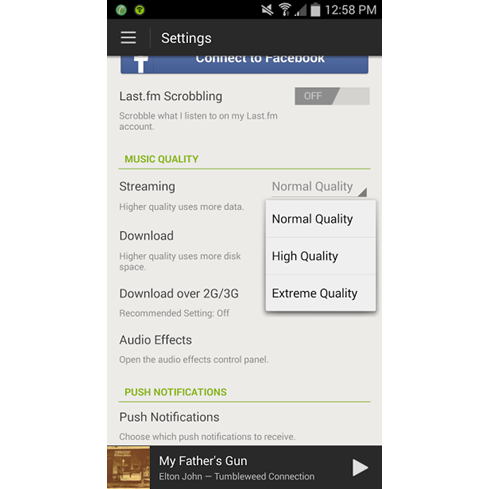 The ability to select audio quality is shown here in Spotify's settings.
Amazon Music. This is the default setting, but you can manually choose to stream at lower, more data-friendly rates when you're not on Wi-Fi®.
You can download songs to your phone with both services. This is useful when you're away from an Internet connection, or you don't want to use your data plan. For downloading, you can also go as high as 320 kbps, but you may choose to go lower to save storage space. Downloaded songs can only be played through the particular Beats or Spotify app, and you must have an active paid account.
Music selection
Both Spotify and Beats offer a staggering selection of songs — over 20 million in each and growing every day. So many songs are available that even with the millions of subscribers, a lot of music will never be heard.
The choices of songs, artists, and albums are largely similar in both Beats and Spotify. Deals have been made with many of the same record companies and artists. Notably absent from both services are some huge names — The Beatles, AC/DC, Garth Brooks, and Bob Seger to name a few.
User experience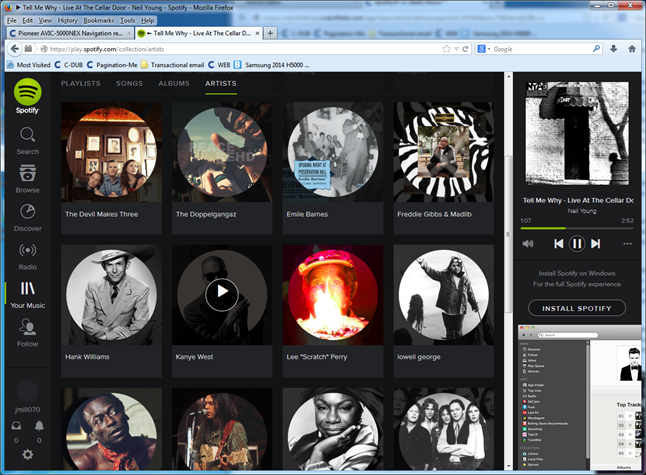 Spotify's web browser interface plays to Spotify's multi-windowed strengths.
In April 2014, Spotify updated their user interface for desktop, iOS, and Android. Perhaps the most exciting new addition is the
"Your music"
section, which makes it easy to organize and play your music. Rather than the cumbersome list of playlists previously offered, you can now sort by artist, album, recently added, and most played. Saving a whole album is a lot easier too. It's a simple click of a button rather than having to create a playlist, which took a few extra clicks and made the album hard to catalogue.
One of my biggest criticisms of the old design was switching and navigating from window to window. Things move much faster now, with more natural and fluid movement between the main menu, menu selection, and play screen. The tablet app is particularly intuitive. Spotify is tailor-made for multi-window control. Swiftly jumping from option to option on an iPad® makes browsing and selecting music a stress-free task. Playlists and albums saved to "Your Music" on one platform, say your desktop player, automatically syncs to the others, like your smartphone app.
However, it is that smartphone app that frustrates me. I found it hard to navigate. Even with the new design on the iPhone, things didn't seem to be where I thought they should. I've grown familiar with the layout, but it still takes several touches to get where I want to go. The smaller screen simply doesn't play well with Spotify's preferred multi-windowed presentation.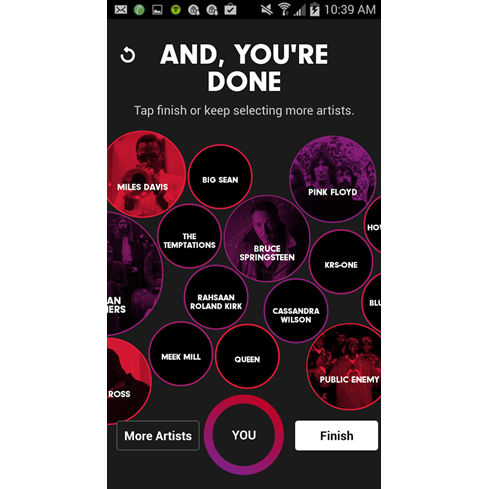 Beats Music learns your tastes through an "Onboarding" process.
The opposite is true of Beats Music. There is a web browser player, but it is clear that the service was created for the smartphone platform. In fact, when I set up my initial preferences, I was forced to go through the mobile app. Even the tablet app is essentially an enlarged version of the smartphone app.
When I opened the Beats app on my phone, the initial feeling was, "Wow, this is a state-of-the-art music service." The visual palette is original and slick. Soothing colors highlight graphics that seamlessly flow into one another.
Also, welcoming a new music service into my head has never been this fun. When I first launched the app, tiny bubbles containing artists' names fought for space on my phone screen. I tapped to inflate the bubbles of the artists I liked or loved (more Meters, please), and held them to pop away the artists I cared less about (sorry, Jason Aldean). What is unfortunate is that you don't get a chance to redo this "Onboarding" process as Beats calls it. You can keep Beats aware of your personal tastes, by "hearting" or "hating" songs, but this isn't as much fun.
Music Discovery
Beats has focused much of its promotion on this category. Employing a staff of musicians, producers and other experts (led by Trent Reznor), they have identified what they consider a vulnerability in Spotify's service and have loaded up in that area. Beats' criticism of Spotify largely stems from its perceived reliance on algorithms and computer programming to mechanically spit out music suggestions. Beats CEO Ian Rogers recently told Wired magazine that before Beats Music, "No one was doing a music service; everyone was building a music server."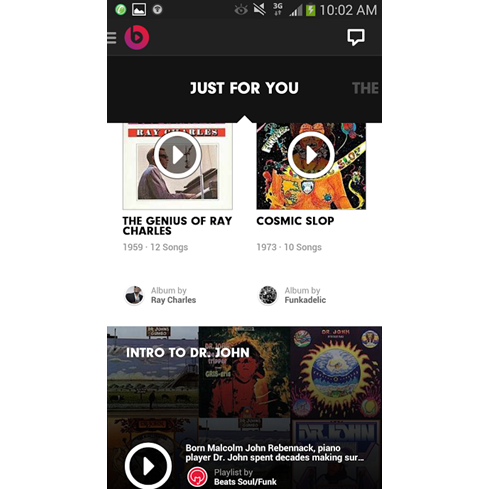 Beats' "Just for You" screen
In my own test, I didn't find Spotify's recommendations that far off-base. However, I did receive suggestions that struck me as too obvious. Since I had listened to Neil Young, Spotify suggested that I give the Eagles a "try." I think I may have heard of them.
Beats on the other hand, presents a more personalized experience. After you've gone through the "bubble" process we detailed earlier, Beats comes up with your custom music home page. It includes artists and albums, but also very specific and entertaining playlists curated by Beats' team of tastemakers. The genius in this page is the presentation:
Where Spotify "suggests" artists or meekly offers that "You may like" an album, Beats confidently states this is "Just for you." This manages to do two things- assures me that I'm hearing from a reliable, authoritative source who doesn't second guess or hedge, but also really knows me! Although I'll admit some could find this creepy or invasive. Reznor tried to dismiss this notion in a NY Times article back when the service launched: ""My phone knows where I'm at, what I'm up to, what temperature it is… What if music could be collected in little parcels and served up to me effortlessly?"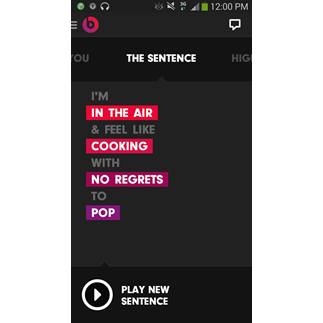 Beats Music's "The Sentence" didn't work well for me.
While the "Just For You" screen may be a psychological trick, it only truly works because Beats seems to get it right more often than not. You'll notice Beats learning your musical tastes and the page caters more toward you. Playlists will shift from "Intro to" a certain artist to their "Deep Cuts," all the while acquainting you with another performer. Beats seems to recognize when I want the comfort food of a familiar artist or I'm feeling inquisitive and want something new.
What didn't work for me was Beats' heavily promoted, gimmicky "The Sentence." It is a somewhat amusing concept that I didn't feel worked in execution. They offer a choice of words to playfully describe your mood, and produce a playlist based on your selection. Even with the "rigged" choice of mad libs, the generated playlist never totally matches the spirit of the sentence. I would dismiss it as a party trick, but I would only suggest using it at the lamest of parties. Stick to the excellent curated playlists instead.
Versions we compared
Spotify Premium service plays no ads and streams high-quality sound. It costs $9.99 per month. Spotify recently announced a discount for college students, offering the service for $4.99 a month. In May 2014, Sprint began offering low-price Spotify Premium accounts to members of their "framily" subscription plan. There's also a free low-fi version that is ad-supported and has some restrictions on how many songs mobile users can skip.
Beats Music has no service tiers. For $9.99 per month, you get high-quality sound and no ads. AT&T customers can purchase a family plan at $14.99 a month, allowing up to five users.
Conclusion
If an uncluttered, functional presentation is more important to you, go with Spotify. It shines when you're organizing and searching your way through the desktop or tablet mode. While I didn't touch on it earlier, I'm intrigued by some of their original content such as their "Behind the Music"-style oral history series Spotify Landmark. The Spotify Connect feature is also a real winner.
On the other hand, if you are more impressed with style and aesthetics, then Beats is the better choice. Just be warned that the window dressing really only works well on your phone. However, in my opinion, the expert-culled playlists were a step above those found on Spotify. Also, at the risk of sounding corny, I did get an intangible, harmonious feeling with Beats. It was cool seeing a phone app understanding my musical tastes, and complementing my daily routine with great tunes.
Quite honestly, neither of these services would be a bad choice. We found them neck and neck in terms of sound quality, music selection, and price. Both have their own quirks that you'll either find a deal breaker or be willing to live with. Your decision between the two chiefly depends on which features you'd like or need and which ones you don't really care about.