Some tips on installing outdoor speakers
Todd Cabell is the Senior Director of E-Commerce at Crutchfield. He drives a 2000 Ford F-150 with an Alpine stereo in the dash, Polk/MOMO speakers, a Rockford Fosgate amplifier, and an MTX Thunderform under the rear seat. He hopes to one day outfit his 1962 Mercury Comet with a worthy sound system as well.
More from Todd Cabell
Heads up!
Welcome to this article from the Crutchfield archives. Have fun reading it, but be aware that the information may be outdated and links may be broken.
We've had a run of warm weather here in Charlottesville, Virginia the past couple weeks, and with temperatures in the upper 70's, I've been spending a lot of time on my screened-in back porch at home. A couple of years ago, I installed a pair of Bose® 151® SE environmental speakers on my porch, and ever since, it's become my favorite "room" in the house.
Before the installation, I checked with a couple of people here at Crutchfield to see if they had any advice on the installation, and got a few helpful tips that you might be able to use if you're considering a similar installation.
1. Get good speaker cable
It sounds obvious, but you really do need to invest in durable, high-quality speaker cable for an outdoor speaker installation. I used 4-conductor in-wall speaker cable for mine. This stuff is great, as it packages the conductors for both speakers into a single jacket that is tough enough to withstand the friction of being pulled through walls and around corners. You only have to run a single cable, so it makes for a cleaner installation.
2. Protect the speaker cable
Because my house is about seventy years old and the majority of the "basement" is a dirty crawlspace, I chose not try to fish the speaker cable through interior walls or floors. Instead, I drilled a hole through the wooden window sill in the living room where my stereo is (don't forget to caulk the drill hole), and ran the cable around the outside of my house to the screen porch. This wound up exposing about 30 feet of the speaker wire to the elements and my haphazard weed eating skills.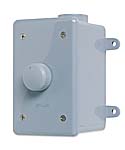 Instead of going through the hassle of buying and installing direct burial speaker cable (which Crutchfield does not sell), someone suggested that I pick up some cheap pvc electrical conduit and run the in-wall Monster Cable speaker cable through it. It works great, and is hardly noticeable run along the foundation.
3. Get a weather-proof volume control
This was by far the best piece of advice I got. Someone told me about a Niles volume controller, which saves me from having to walk into the living room to adjust to volume on the porch speakers. It's weatherproof of course, but even better, it's got built-in impedance magnification — so I won't blow my receiver by lowering the overall impedance load when running both the 5.1 speaker setup in my living room and the outdoor speakers at the same time.