Tips for car speaker shopping
Pay attention to the specs
Todd Cabell is the Senior Director of E-Commerce at Crutchfield. He drives a 2000 Ford F-150 with an Alpine stereo in the dash, Polk/MOMO speakers, a Rockford Fosgate amplifier, and an MTX Thunderform under the rear seat. He hopes to one day outfit his 1962 Mercury Comet with a worthy sound system as well.
More from Todd Cabell
The most important factor I consider when shopping for new speakers (aside from making sure that they will fit my car and my budget) is how they will handle the power I'll be feeding them. This is a lesson I learned from personal experience.
When I added new coaxials to my stock '96 Ford Ranger system some years ago, I was advised to make sure they had a high sensitivity spec and low minimum RMS ratings. That was because I was using the factory stereo to drive them, and I was told that if I went with more power-hungry models, I wouldn't be able to get decent sound from the low wattage the factory stereo put out. So I picked a pair of affordable Blaupunkts that sported a 92dB sensitivity rating and needed 2 watts RMS minimum. That was good advice: the new speakers connected to the factory head unit sounded dramatically better than the factory models.
When Crutchfield started carrying Alpine products, I upgraded to an Alpine CD deck with their "V-Drive" amp chip — this thing had to be connected directly to the battery power, and claimed an impressive 27 watts RMS output. With so much more power, I figured I could get away with speakers that were slightly less efficient and had a higher minimum RMS rating. A coworker gave me an older set of Infinity Reference 5-1/4" speakers for the rear pillars, which really gave some depth to the sound in the cab.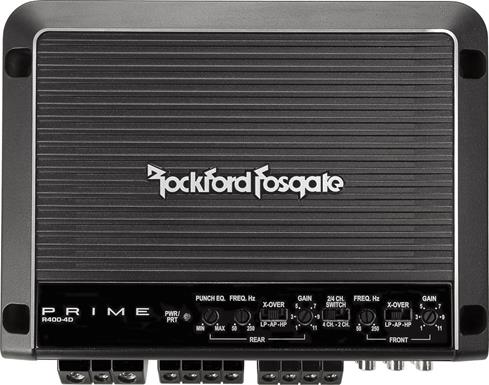 A quality amp will give your speakers the power they need.
A few years later, I bought a set of Polk/MOMO component speakers for the front doors in my 2000 F-150. These higher-end models had a sensitivity rating of 89dB and required a minimum of 10 watts RMS. I figured that my Alpine head unit would have enough juice to drive these speakers, but when I fired them up, they sounded just TERRIBLE. The sound was so bad that I figured I'd mis-wired something. I spent several hours checking the wiring, making sure the speakers were in phase, fooling with the sound shaping controls on the head unit, changing the tweeter output levels, and generally pulling my hair out — all to no avail.
It wasn't until I put in a Rockford Fosgate 4-channel amp and started feeding 100 watts RMS power to each side that the Polk speakers finally started living up to their potential. So the moral of the story is — don't underpower your speakers.