Friends don't let friends use a handheld cell phone while driving
Heads up!
Welcome to this article from the Crutchfield archives. Have fun reading it, but be aware that the information may be outdated and links may be broken.
Do you feel safe using a handheld cell phone while driving? I don't. Is it even legal where you live or plan to visit?
The answer to that question can be found in a complete roundup of cell phone laws published by The Insurance Institute for Highway Safety. According to the IIHS, five states and the District of Columbia have banned driving while using a handheld cell phone. Six states allow localities to ban cell phone use, and Chicago and Detroit are among the localities to have done so. To avoid a surprise ticket, take a look at the IIHS site before hitting the road.
Even where it's legal, driving while while using a handheld phone can be a hassle and a hazard. Please consider a Bluetooth® kit for voice-activated hands-free calling. If you're not holding the phone while using it, you're not breaking the law.
Here's the idea: You say "phone home" (or something like that) and your phone makes the call automatically — you don't have to lift a finger or take your eyes off the road. If your car stereo is on, it will mute itself when a call comes in. A dash-mount display tell you who's calling, so you can decide whether you even need to take the call right now. Your caller's voice comes in through your car speakers, and your voice is picked up by the microphone that's included with the kit. (Not all kits offer all of the features mentioned above.)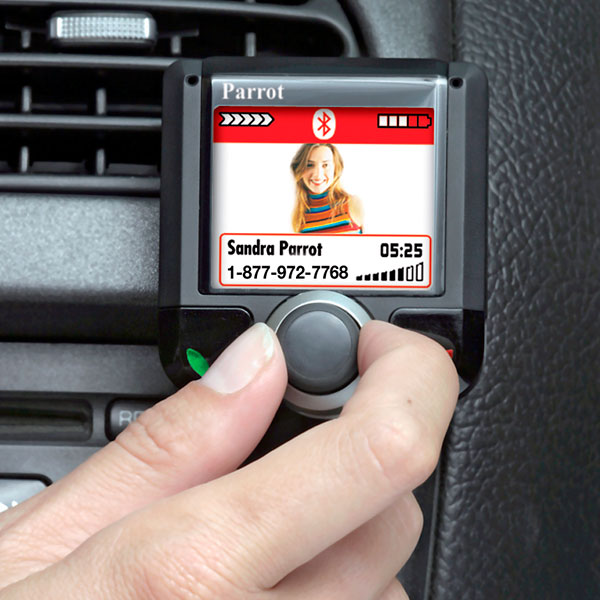 If you don't already own a Bluetooth phone, you'll have to upgrade your handset. But you'll make your drive easier, and you just might save a life.
The Parrot 3200 LS-Color (at right) includes microphone, dash-mounted color LCD screen/keypad, and control unit for hands-free cell phone use. It's compatible with all Bluetooth phones and works with most factory or aftermarket car stereos. For many vehicles, you'll find wiring harnesses that allow easy connection to a factory stereo.