How to set the gains on a 4-channel amplifier
A step-by-step way to tune your sound system
Buck Pomerantz was born and raised in Philadelphia. His parents bought their first television set when he was born. He figured out how to run it by the time he was two. Besides athletics, his formative interests included electronics, amateur radio, music, and stage crew work. He got his BA in writing from Brown University. Then he joined a rock 'n roll band as their soundman and moved to Charlottesville, Virginia. After that venture failed, he spent time in Boston, New Orleans, and Berkeley. He worked in a music store in Austin manufacturing, installing, repairing, and operating sound systems for recording studios, clubs, and bands. He moved back to Charlottesville, ran a little recording studio and finally joined Crutchfield as a copywriter. He has 2 grown children and 3 grandchildren, but after a good nap he can still rock out.
More from Buck Pomerantz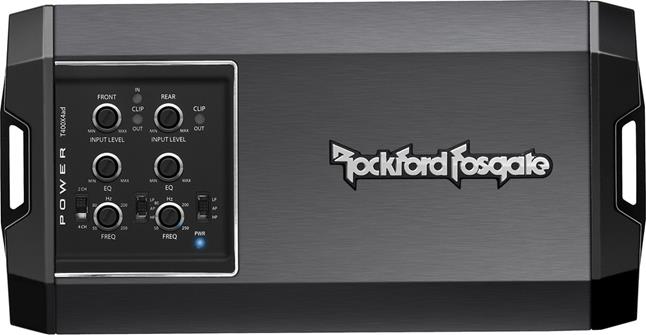 Rockford Fosgate Power T400X4ad 4-channel amplifier
Adding a 4-channel amp to your car stereo system — two channels to run the front speakers and two channels to run the rear speakers — not only raises the sound level, but also greatly increases the sound quality of your music. This is how I'd tune it up:
Before turning on your system, make sure your amplifier's gains are set to their minimums, their high- and low-pass filters are off (set to "all pass" or flat), and that any bass and treble boosts are also off.
Turn on all the units of your system. Set your receiver's tone or EQ controls, its balance, and its fade to their middle, off, or flat positions. Note where the settings were as you might want to restore them later. If you have a subwoofer in your system, turn its amp gain all the way down.
Play your test music. That's a recording you are very familiar with and know what it's supposed to sound like. It has plenty of sonic variety: lots of very high notes like flutes, brass, and cymbals, lots of mid-range content like piano, guitar, and vocals, and lots of very low notes like bass and drums. And you will listen to it over and over again. (For steps 4 through 10, while you're setting the amplifier's gains, it is best to play the loudest passages of your song selection.)
Set the receiver's fade control all the way to the front speakers.
With your amplifier's gain controls still all the way down, turn the receiver's volume up to ¾ full, or until the music sounds distorted. (If you don't hear any music at all, try turning the amp's front gain control up slightly until you do.) If you hear distortion, turn down the receiver's volume until the distortion goes away and the music sounds clean.
Now turn up the front gain control of your amp until the music distorts, then turn it down so it plays clean again.
Turn the receiver volume down.
Set the receiver's fade control all the way to the rear speakers.
Again, turn the receiver's volume up to ¾ full and turn up the rear gain control of your amp until the music distorts, then turn it down so it plays clean again.
Turn the receiver volume down.
If you have no subwoofer in your system, restore your receiver's original tone, balance, and fade settings now. Or, you can refer to "How to Tune a Car Sound System: Part 1" for help in tuning your stereo to sound its best. Another tip is to engage the high-pass filter on the front channels of your 4-channel amp, and tune it to eliminate some of the low notes coming from the front speakers in order to bring extra clarity to your soundstage. (That's the ability of your stereo to sound like a band is playing in front of you, live in your car.)
If you do have a subwoofer in your system, adjust the receiver's fade control to the front speakers only and turn up the volume until the music is loud, but not uncomfortable. Engage the high-pass filter of the amplifier's front channels and adjust it so the bass notes disappear. Fade the receiver to the rear speakers only and engage and adjust the rear channels' high-pass filter until the bass disappears there too. Return your receiver's fade control to its original position.
Slowly turn up the gain of your subwoofer amplifier until the bass notes sound balanced and smoothly blended with the rest of the music. Your sub amp's low-pass filter should already be tuned to reproduce only the low notes. You can refer to Tuning Your Subs, for help in fine-tuning your subwoofer system.
If your highs and lows seem balanced but the bass sounds like it's coming from the rear, adjust the sub amp's low-pass filter lower to "de-localize" it. Pay close attention to the "crossover area", the parts of the music played by both the full-range speakers and your subwoofer. Smooth any roughness by fine-tuning the filters. For instance, if the vocals sound tinny, you can adjust the high-pass filters on your 4-channel amp to include more low notes. If the vocals sound boomy, tune the high-pass filters higher.
Take your time and tune it all for your own ears and you will never go wrong.

Kicker 40KX400.4 4-channel amplifier