Buying an iPod Speaker?
Chris Egner is a former writer for Crutchfield. She concentrated on point-and-shoot cameras and speakers while she worked here.
More from Chris Egner
Heads up!
Welcome to this article from the Crutchfield archives. Have fun reading it, but be aware that the information may be outdated and links may be broken.
This picture shows how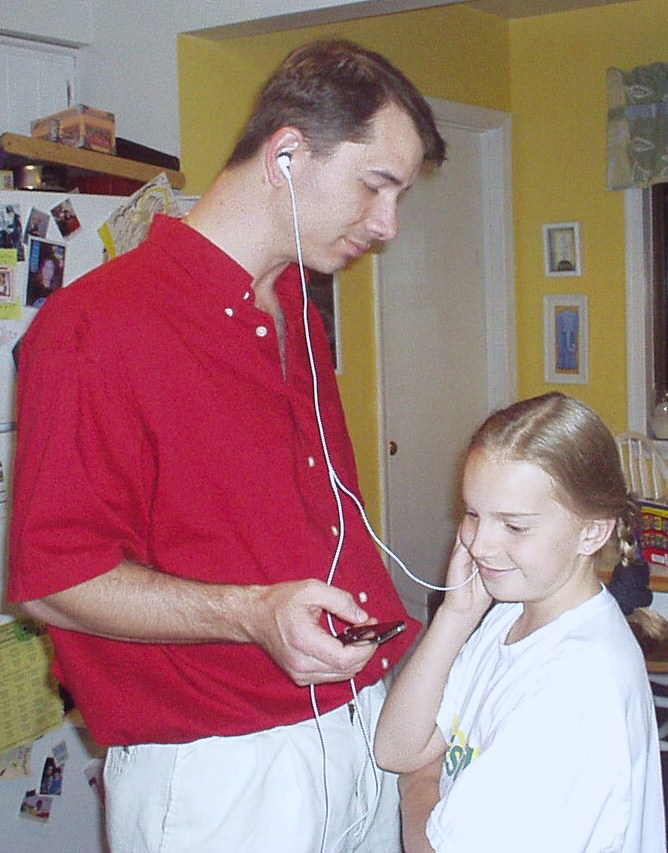 we used to share music. Then we gave our daughter Abby a portable iPod® speaker. It folds up into a book-shaped package and protects her iPod inside itself (great for trips). And it opens into an A-frame stand with the iPod dock in the center. It only weighs a couple of pounds, so she easily moves it from room to room all over the house. She cranks it in the bathroom while she showers, plays songs for me while I cook dinner, and takes it along to friends' houses.
Here are a few things we learned that you might want to consider as you choose yours:
Portable or stationary?
These speakers come in all shapes and sizes, from big boom boxes to super-sleek wall-mountable styles. Abby loves that she can carry hers around, but she wishes it were durable enough to take camping or to the beach. It's something we'll keep in mind for next time.
How does the music sound?
Abby wanted an easy way to share songs, play music out loud, and be free from headphone wires while she's cleaning her room or just goofing off. Her speaker's output is tolerable, and I'd say we got what we paid for. As with any speaker, you'll find a wide range of amplification and sound quality out there. Your level of "audiophile-ness," as well as your budget, will probably come into play as you compare options.
Compatibility is key.
Okay, time to fess up. We were in a big hurry, and we accidentally bought a speaker that doesn't dock Abby's iPod shuffle. Now, we could've added a separate adapter and hooked the shuffle up to the side of the speaker (less cool-looking). We decided to get her a compatible iPod nano instead. She scored big on this whole deal, huh? Anyway, make sure your particular iPod fits your speaker before you buy.
What else will it do?
Abby's speaker charges her iPod while it's docked, saving her the step of recharging at the computer. And she likes flipping through her tunes with the remote control. Her speaker has an internal battery, so it can play cordlessly for about 10 hours on a full charge, or she can power it with its AC plug. Her best friend has an iPod speaker that also serves as her alarm clock. You can find speakers that have video screens, connect to your cell phone, or offer multi-room listening. Abby wasn't looking for fancy features, so her basic model suits us fine.
Anyway, keep these four things in mind as you shop, and there's a good chance the iPod speaker you choose will give you the same satisfaction Abby gets from hers.