If your car stereo sounds bad, look at the speakers first
The first step to better sound might be new speakers
In the 1950's, I'd take the family television's vacuum tubes down to Willow Grove Radio and TV Repair, check them with the giant tester machine, buy new replacement tubes, and reassemble the repaired television, so my mom and dad could enjoy their precious, respectively, Dean Martin and Red Skelton shows. In the 1960's, I studied radio and electronics at the Franklin Institute in Philadelphia. After college, in the early 70's, I joined a rock 'n roll band as the soundman, learning how to operate the electronics that make music sound good. Then, I worked in a music store in Austin manufacturing, installing, repairing, and operating sound systems and components for recording studios, nightclubs, and touring bands. I moved back to Charlottesville permanently in 1984 and opened a little demo recording studio. I also attempted to put to practical use the creative writing degree I had picked up along the way. In 2006, I finally came to my senses and got this job at Crutchfield where they actually pay me to ramble on, rant, and explain the things I love about music, electronics, and getting good sound.
More from Buck Pomerantz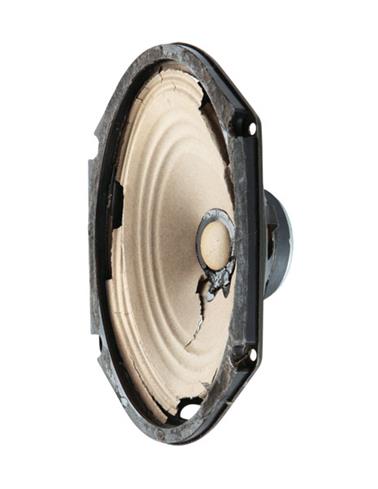 Your factory speakers might not look this bad, but they probably still don't sound that great. New speakers will really improve your in-car audio.
Case in point — bad sound on the road
My brother-in-law knew that his car stereo sounded bad. He didn't know why. He spends a lot of time, every day for his job, driving around town listening to classic rock radio. He came to me for help. "I'm willing to spend five hundred dollars to make it right," he said. "What do I need, a better radio?"
I gave it a listen. His stereo sounded muffled at low volume and downright distorted when I turned it up any. The vocals were indistinct and there were buzzing noises around the edges of every note.
These are the symptoms of blown speakers. A "blown" speaker is a speaker with something broken inside. There are a lot of things inside a speaker that can break, but the most vulnerable are the speaker cone and its supporting structures (surround and spider). These parts are usually made of paper, especially in a car's original factory speakers, and can tear because of sonic abuse, moisture, or even just old age. New aftermarket speakers replace the paper parts with much more durable materials like polypropylene and rubber.
I convinced brother-in-law that he'd get a much better bang for his buck by getting new speakers: all four – left, right, front, and rear – and matched, too, so that no one sound would dominate one corner of his car more than another. New speakers would not only clear up his sound, but also improve its overall balance.
Time for a shopping trip
So we drove up to our local Crutchfield retail store, with his favorite Foghat CD, and listened to "Slow Ride" on a bunch of 6-1/2-inch speakers. Despite the rolled eyes of the other customers over his choice of music, he finally picked the ones that sounded the best to him and would fit in his car. At less than $250 for the four of them, brother-in-law could still afford a new stereo if he wanted.
Installing the speakers
During installation, we found that the old factory car speakers were disintegrating. Their surrounds were completely gone and their paper cones were torn. It was amazing they made any sound at all.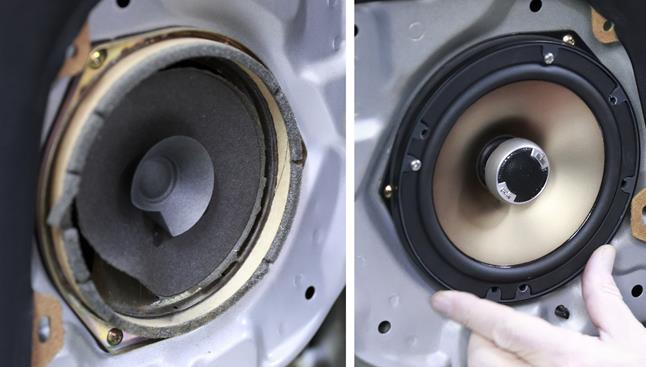 Blown speaker (left) and new speaker (right): which do you think sounds better?
After the installation, he was very happy with the sound. It was a vast improvement over what he had been listening to. Not only was there now bass in his car's system, the vocals were clear and understandable, and the guitars and cymbals sizzled with life.
In fact, he called me, the other day and said, "I just heard the new Jack Bruce/Robin Trower song on the radio and wow, it was awesome. I even turned it way up. I'm glad I talked you into putting in these new speakers."
Lesson learned
So, if the music in your vehicle sounds terrible at all volume levels, do yourself a favor and replace the speakers. Replacing your receiver or adding an amplifier won't do any good for your sound quality if you don't have good aftermarket speakers to play your music through.
The first step towards better sound is finding a set of speakers that fits in your vehicle. Our vehicle selector makes it easy to find out which speakers will work in your car or truck.